Free Hotstar Premium
---
Hotstar premium for FREE – Hi Guys, Hostar is charging almost ₹199 to ₹999 for mobile only, Super & premium plans. Its bit much for content it is offering. Nowadays hotstar is not even the official streaming partner of IPL. Thus, in this article, we are mentioning few working methods to get the Hotstar premium for free.
We Have Already Posted The Hotstar Premium Account For Free With Flipkart Supercoin Method. Now Yesterday On 3rd April , Hotstar has Launched Much Awaited Disney+ In India. Also Hotstar App Has Increased The Content In Hotstar VIP Subscription.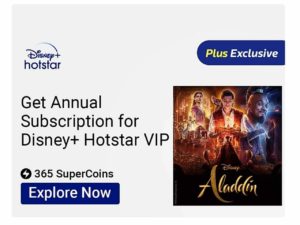 Disney+ Hotstar Premium Charges For 12 Month Plan is From ₹499 But With This Method You Can Grab Both Services For Free Without Paying Any Extra Cost. Hotstar Has Stopped The Free Hotstar Premium Trail In India So This is The Best Way To Enjoy The Premium Content For Free.
Hotstar Plans 2023 :
Hotstar Plan
499 Plan
(Mobile)
899 Plan
(Super)
1499 Plan
(Premium)
Device :
1
2
4
Watch on TV / Laptop
✖
✔
✔
Ads Free
✖
✖
✔
Video Quality
720p
1080p
4K
Audio Quality
Stereo
Dolby 5.1
Dolby 5.1
Benefits Of hotstar Free Premium Membership :-
Get full access to the latest English shows & movies.
Premium shows & movies will not play on mobile browsers. Download the Hotstar app!
Watch in HD on phones, tablets and computers.
This membership is currently available only in India.
The premium membership is a recurring monthly plan. This membership grants you access to all our premium titles which are currently available on the platform as well as the titles which we will add in future.
Few working methods for free Hotstar premium :
Method 1 : Hotstar cine quiz
Method 2 : Free Hotstar for Visa card users
Method 3 : Free Hotstar from Flipkart
Method 4 : Free Hotstar from TimesPrime
Method 5 : Free Hotstar for RuPay card users
Method 6 : Free Hotstar from Frenzi App
Method 7 : Free Hotstar for TataSky Users
Method 8 : Airtel Plans with free Hotstar
Method 9 : Jio Plans with free Hotstar
Method 10 : Vi Plans with Free Hotstar
Now let's check each method fully.
Hotstar has unveiled the 'Hotstar cine quiz' , this quiz is based on movies available on Hotstar. You will get 20 points on each correct answers & there is no negative points for incorrect answers. Play daily & claim as many points as you can. Reach the top of the leaderboard & you can win the free hotstar premium membership. Also, users will get the discount on membership plans of Disney+Hotstar.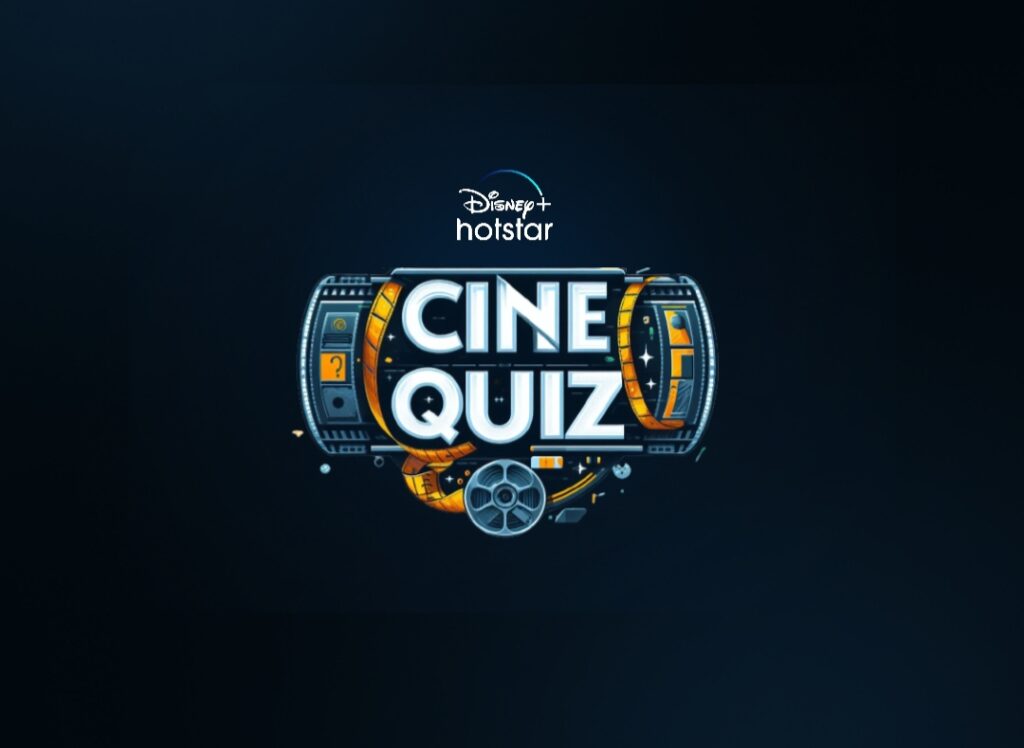 You can play a daily cine quiz, answering five fact-based questions from the platform's free movie collection. Utilize the 'Watch Hint' feature to navigate tricky questions and boost your score by participating daily. Share your results with friends for an extra 20 points.
We are adding Today's Hotstar Cine Quiz Answers to ease your gameplay. Also, Read out the guide to play this Hotstar Cine Quiz from below. Play and Get Free Hotstar.
2. FREE Hotstar Premium For Visa Card Users
Visa is giving away free TimesPrime membership for 1 year for select Visa debit & credit cards, and from TimesPrime , you can activate the Hotstar Premium membership absolutely free. Follow below steps to claim your free Hotstar premium.
First of all just visit this – Visa TimesPrime offer page
If you have Visa Signature Credit Cards from select banks then just put card info there
Claim the free TimesPrime premium
Go to TimesPrime benefits section
You will see Hotstar Super membership free for 6 months option
Claim the offer
Activate the Hotstar premium for FREE.
---
3.

FREE Hotstar Premium With Flipkart Supercoins
Redeem Supercoins – We Have Already Posted The Methods To Earn Free Flipkart Supercoins. Most Of Us Here Use Flipkart Plus Membership Which Requires Minimum 200 Supercoins, So I Assume Most Of Us Will Have 999 Flipkart Supercoins
Flipkart is now giving away new Hostar premium Mobile plan in just 299 supercoins. Follow below steps to claim new mobile premium plan of hostar for free.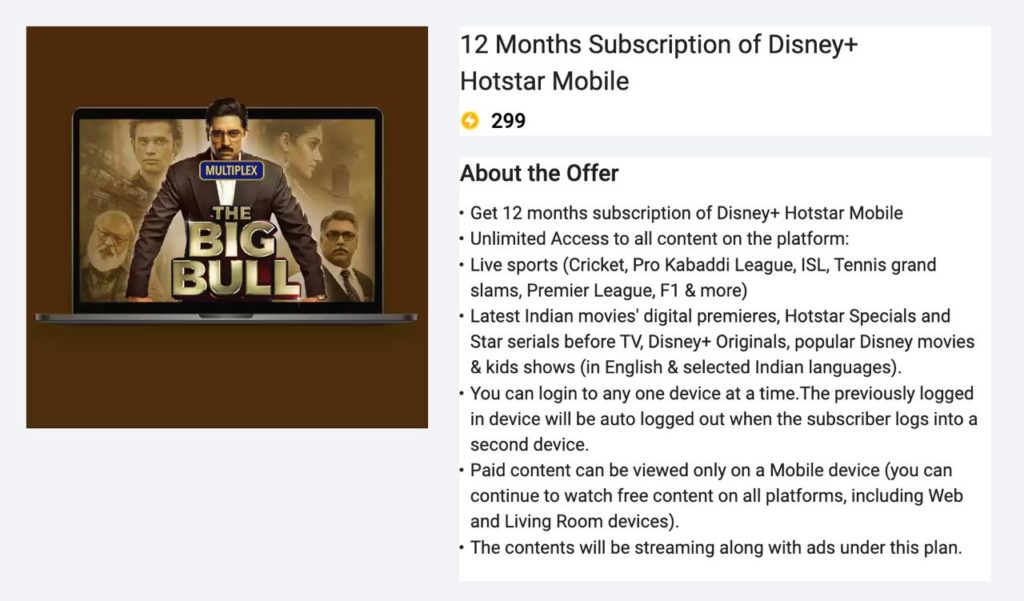 1. First Of All Just Visit Flipkart Supercoin Section & Scroll Down Below & You Will See "12 Months Subscription of Disney+ Hotstar Mobile" banner or Click Here To Directly Go To Offer 
2. Just Click On That & Click On "Claim Offer" 
3. You Will Instantly Receive Coupon Code Of Hotstar Premium Free Subscription 
4. Now Just Go to this hotstar Promo Code Redeem Page – Hotstar Promo Redeem 
5. Login Into Your Disney+ Hotstar Account 
6. Enter The Code You Received From Flipkart Supercoins Page. 
5. Done !! Your 12 Month Free Disney+ Hotstar Premium Membership Will Be Activated Instantly 
6. Enjoy Free HD Premium Service from hotstar
More Details Of This Hotstar Free Premium Offer

:-  
Get 12 months subscription of Disney+ Hotstar Mobile
Unlimited Access to all content on the platform:
Live sports (Cricket, Pro Kabaddi League, ISL, Tennis grand slams, Premier League, F1 & more)
Latest Indian movies' digital premieres, Hotstar Specials and Star serials before TV, Disney+ Originals, popular Disney movies & kids shows (in English & selected Indian languages).
You can login to any one device at a time.The previously logged in device will be auto logged out when the subscriber logs into a second device.
Paid content can be viewed only on a Mobile device (you can continue to watch free content on all platforms, including Web and Living Room devices).
The contents will be streaming along with ads under this plan.
---
4. Free Premium Of Hotstar From TimesPrime
TimesPrime has recently launched the Hotstar Super Subscription in their all in 1 premium bundle. TimesPrime is Popular All in One Membership Source To Grab The Free Coupons & OTT Platforms Premium Memberships. We Have Already Posted Methods To Grab The ZEE5 Premium Membership For FREE & SonyLIV Premium Membership Free With TimesPrime. Now , In Newly Announced Offer – TimesPrime is Giving Away Free 6 Month Premium Subscription Of Hotstar Super.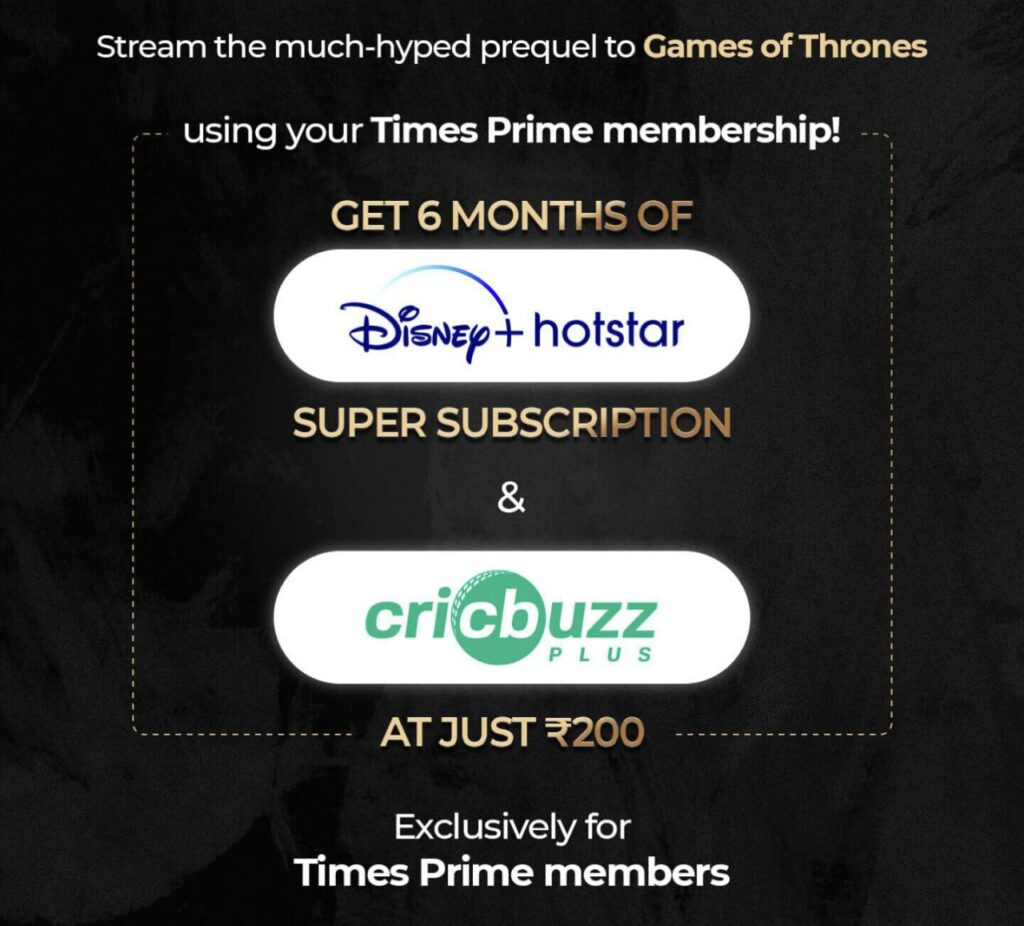 If You Have Purchased Full TimesPrime Membership Then You Can Collect The Hotstar Super Subscription Code From Panel. Follow Below Steps :
How To Activate Free Hotstar Premium Membership With TimesPrime :
Open TimesPrime App [New User can Join Using TimesPrime Referral code to Get ₹350 Off]
Go To Rewards Section
Find Out Hotstar Super Membership Coupon Page
Collect The Coupon
Go To Hotstar Premium Membership Page & Create Account With Same TimesPrime Number
Paste The Code Into Final Payment Page
Done !! Your 6 Month Free Hotstar Membership Will Activate Instantly
Now Follow this Trick to Activate the Hotstar Super Ad-Free For 1 Year in Just ₹200 Only
---
5. Free Hotstar Premium Subscription With RuPay Cards
RuPay Select Wellness debit card users can claim Free 1 year Amazon Prime, Hotstar, SonyLIV, Free ₹100 OLA, Uber gift vouchers using their Select wellness cards. RuPay Select Wellness credit card users also can try this offer.
1. Offer is applicable on RuPay Select Wellness Debit card users only. If you have this debit card then click on below link
2. Go to above mentioned link page. RuPay Select Card offers you premium benefits of various wellness products and services
3. Click on Log in or Sign up to redeem amazing offers
4. You will see lots of offers mentioned below on reward page
5. Redeem any according to your need.
---
6. 6 Month Free Hotstar Premium With Hotstar Referral Program
Recently , Disney+Hotstar app has launched the Referral program for android & web browser users. They are giving away 1 month free Hotstar Subscription if your friend joins using your link. He will also get 1 month extra free. You can earn upto 6 Month Free Hotstar premium membership through referral program.
Make sure you purchased full Hotstar membership to be eligible for refer & earn
First of all just visit the Hotstar Android app or Hotstar web browser
Now login into your account
Now visit My Account section in Android app
or Click On Profile Icon > Get Extra Months in Web Browser
Share your Hotstar Referral link with friends
You will Get 1-month Hotstar membership extension once your referred friend subscribes to any plan of Hotstar
---
7.

Hotstar Free Premium Account In Just ₹99
1. This offer is valid for only new users of Disney+Hotstar
2. So, download or Update the Disney+Hotstar app from Playstore
3. Create a new account and click on offer banner at homepage 
Or Just Scan This QR code to directly go to Offer page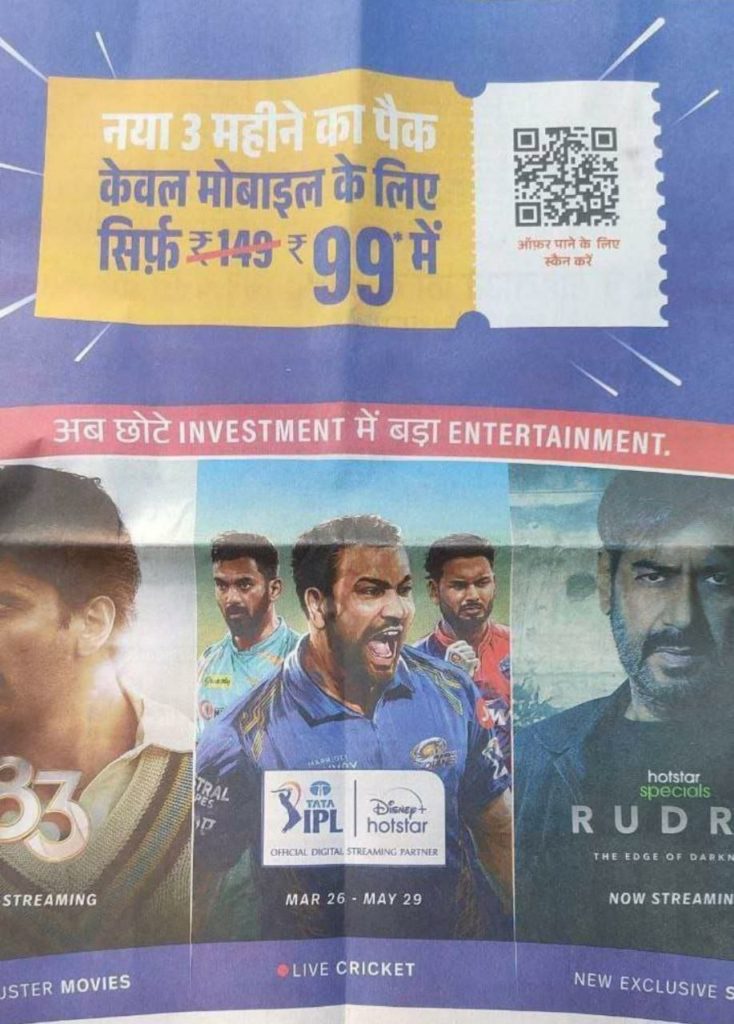 4. You will see ₹99 offer banner
5. Click On Add that Plan to cart & apply this Promo code
Disney+Hotstar 3 Months In ₹99 Promo code is –

HS_50_OFF_3M0
6. Code will auto apply & complete the payment & done !!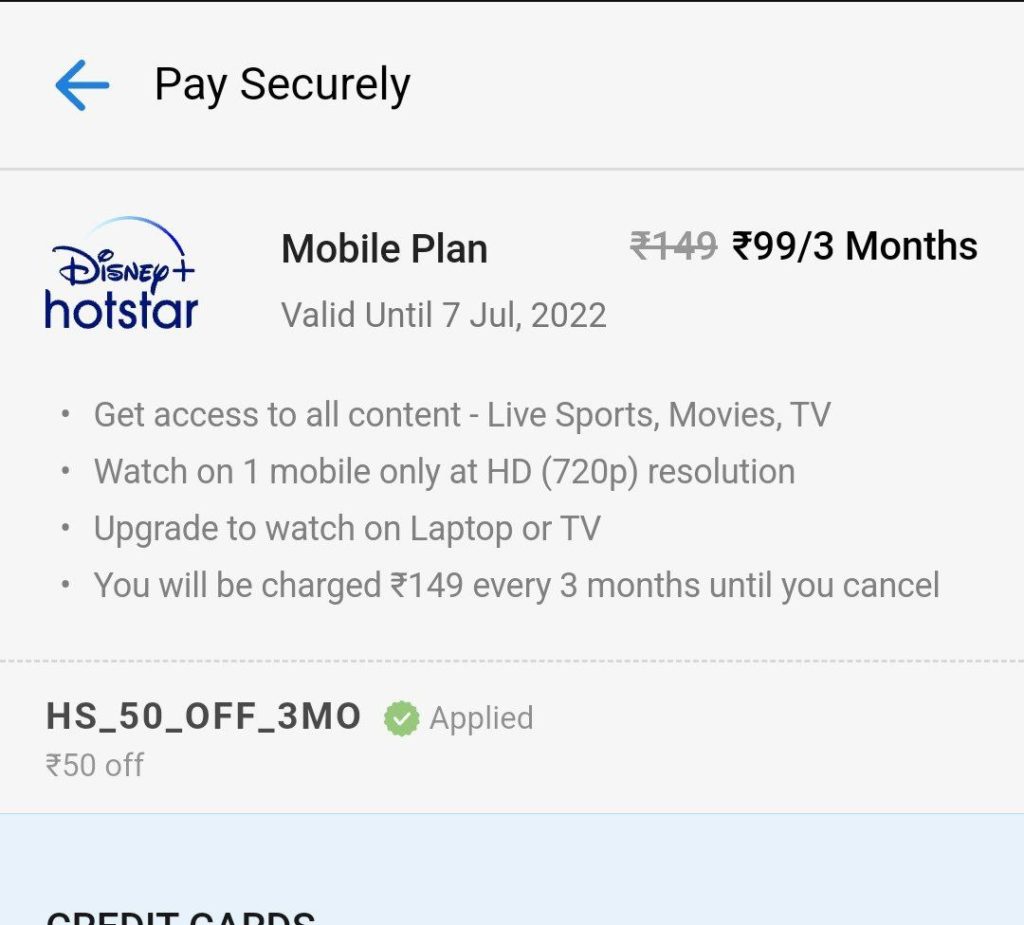 7. You can cancel subscription. After 3 months you will be charged ₹149 , so cancel it.
---
8. How To Get Free Hotstar Premium With Jio Plans
Now Jio Has Announced New Voice + Data & Data Only Plans With 1 Year Free Hotstar Premium Mobile Subscription. Users Will Get 1 Year Hotstar Premium Mobile Subscription FREE With Below Newly Announced Jio Plans.
Jio Packs with Voice + Data & Free Hotstar :
₹499:  28 days | 90 GB data ( 3gb/ day +6 GB)
₹666: 56 days | 112 GB  ( 2 GB / day)
₹888: 84 days | 173 GB  ( 2 GB / day + 5 GB)
₹2599: 365 days | 740 GB  ( 2 GB / day + 10 GB)
Jio Data only packs + Free Hotstar :
₹549: 56 days | 84 GB ( 1.5 GB / Day)
Also Recently, Jio has Launched Jio Cricket Dhan Dhana Dhan Plans Of ₹549 With Free Disney+Hotstar Benefits For 1 Year
All Jio Plans With Free 1 Year Disney+Hotstar VIP Premium
Jio Plans With Free Disney+ Hotstar Mobile Subscription
| Jio New Plan | Data | Validity |
| --- | --- | --- |
| ₹499 | 2 GB/day | 28 Days |
| ₹601 | 3 GB/day | 28 Days |
| ₹799 | 2 GB/day | 56 Days |
| ₹1066 | 2 GB/day | 84 Days |
| ₹3119 | 2 GB/day | 365 Days |
| ₹4199 | 3 GB/day | 365 Days |
Jio Free Hotstar
---
9. Get Hotstar Premium Free With Airtel Plans 
Same Like Jio , Airtel also Instantly Launched new Data & Voice Benefits Plans Combined With Newly Announced Hotstar Premium Benefits. Cheapest Plan Of Hotstar Start From Rs 499 & Airtel has Also launched 28 days validity plan of Rs 499 with Free Hotstar Premium Mobile subscription.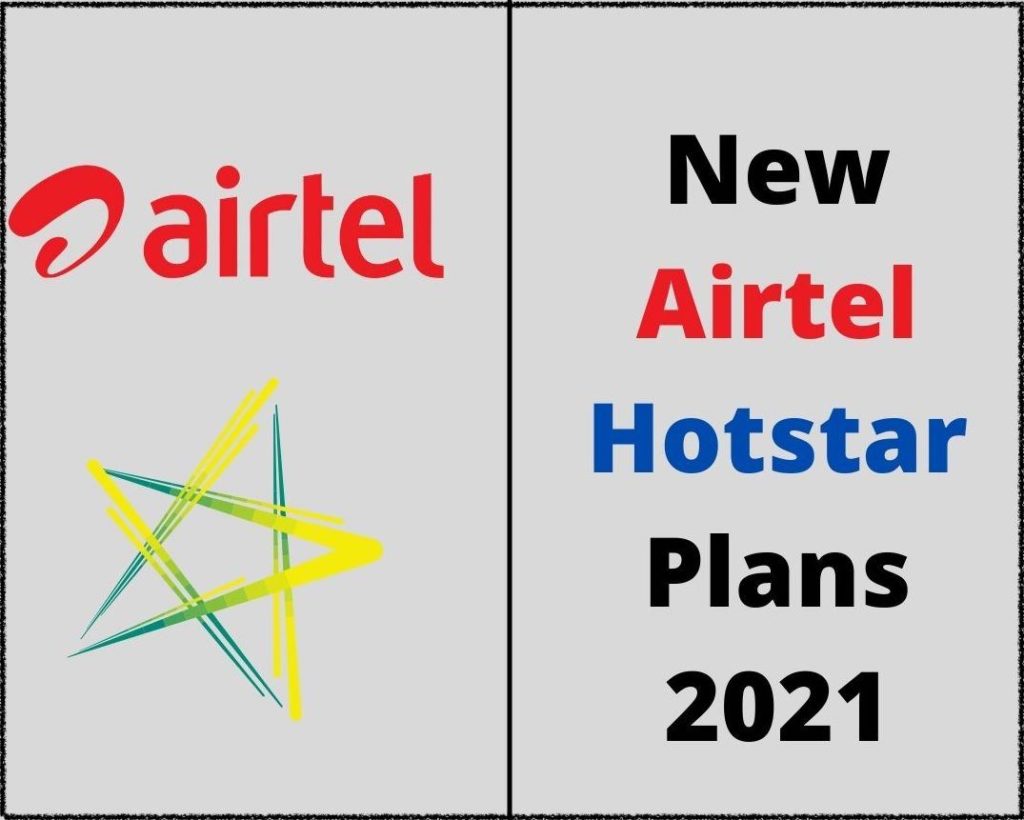 Airtel has launched Total 3 prepaid plans with Free hotstar membership. This plans comes with 28 days , 56 days and 365 days validity.
You Need To Download Airtel Thanks App To Redeem This Hotstar Premium Membership For Free Offer
Airtel Plans With Free Disney+ Hotstar Subscription
| Airtel New Hotstar Plan | Data | Validity |
| --- | --- | --- |
| ₹499 | 2 GB/day | 28 Days |
| ₹599 | 3 GB/day | 28 Days |
| ₹838 | 2 GB/day | 56 Days |
| ₹2999 | 2 GB/day | 365 Days |
| ₹3359 | 2 GB/day | 365 Days |
Airtel New Free Hotstar
Cheapest Amongst all is ₹499 plan which provides 3GB of data per day with 28 days validity. Another the ₹699 Airtel Prepaid plan comes with 2GB data per day with 56 days validity. There is also an annual plan of Rs. 2798 which provides 2 GB data daily for 365 days. All the Prepaid plans come with unlimited voice calling.
Full Details – How To Get Hotstar Free With Airtel? New Airtel Hotstar Plans
---
Benefits Of Disney+ Hotstar Free Premium Account

:- 
As a subscriber of Disney+ Hotstar VIP or Disney+ Hotstar Premium, you will have access to the vast library of movies & shows from Disney, Pixar, Marvel, Star Wars, National Geographic and kids shows such as Doraemon, Shin-chan & Chacha Chaudhary.
---
10. Get FREE Hotstar Premium With Vi Plans 
Recently, Telecom Operators Have Started Bundling Disney+Hotstar Membership With Their Prepaid Plans. We Have Already Posted The Airtel & Jio Plans With Free Hotstar & All Jio Cricket Plans To Watch IPL 2021 For FREE With Live Streaming Via Hotstar App.
Now, Vodafone Idea Has Also Announced 4 New Prepaid Plans With Free Hostar Subscription. All 4 Plans Will Include Free Data , Free Calling , Hostar 1 Year Plans & Unlimited SMSes In Pack. Read Down Below For More Details
Vi Free Hotstar Subscription 2023

:
| Vodafone Idea Plans | Validity | Data |
| --- | --- | --- |
| ₹499 Plan | 28 Days | 2 GB/Day |
| ₹601 Plan | 28 Days | 3 GB/Day + Extra 16 GB |
| ₹901 Plan | 70 Days | 3 GB/Day + Extra 48 GB |
| ₹1066 Plan | 84 Days | 2 GB/Day |
| ₹3099 Plan | 365 Days | 2 GB/Day |
Vodafone Idea New Free Hotstar Plans 2022
Vi (Vodafone-Idea) Also Confirms coolzTricks That this all 4 plans will be part of Free unlimited data benefits during the night hours (12 AM to 6 PM). All This 4 Plans will be part of Weekend data rollover offer in which you can carry the un used data weekdays data to weekend.
Subscribers of this plans can also enjoy the free Vi Movies & TV subscription during the validity period.
---
11.

Trick To Get Hotstar Premium Free With Jio Fiber Plans
Recently , JioFiber Has Launched The All Unlimited Free 30 Days Trail Welcome Offer. They Are Giving Away Free Unlimited Access to 12 Popular OTT Apps Including Free Hotstar Premium & Netflix. Below Are The Few Plans Of JioFiber With You Can Get Free Hotstar Premium Membership.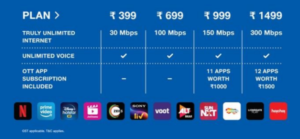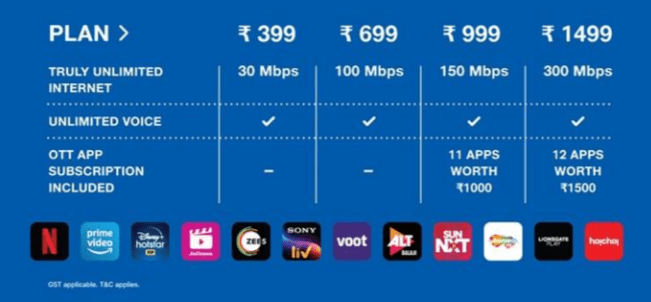 | Plan | Speed | Benefits |
| --- | --- | --- |
| ₹399 | 30 Mbps | Unlimited Calls + Unlimited Data |
| ₹699 | 100 Mbps | Unlimited Calls + Unlimited Data |
| ₹999 | 150 Mbps | Unlimited Calls + Unlimited Data + 11 OTT Apps Subscription |
| ₹1499 | 300 Mbps | Unlimited Calls + Unlimited Data + 12 OTT Apps Subscription |
| ₹2499 | 500 Mbps (Upto 4000 GB) | Unlimited Calls + Unlimited Data + 12 OTT Apps Subscription |
| ₹3499 | 1 Gbps (Upto 7500 GB) | Unlimited Calls + Unlimited Data + 12 OTT Apps Subscription |
| ₹8499 | 1 Gbps (Upto 15000 Gbps) | Unlimited Calls + Unlimited Data + 12 OTT Apps Subscription |
---
How To Get Hotstar Premium Free With BSNL Superstar Plans
Yesterday, BSNL has Launched Their Broadband Fiber Plans With Premium OTT Apps Benefits Same Like JioFiber & AirTel Xtream Fiber
1st Time In History , Telecom is Offering Free 1 Year Hotstar Premium Subscription With Their Broadband Plan. This is Hotstar Premium Not Hotstar VIP.
BSNL Superstar 300 & Superstar 500 Broadband Fiber Plans Comes With 300 GB FUP & 500 GB FUP Limit Respectively For 1 Month.  Both Plans Offers Hotstar Premium Free Account.
Validity Of This Plans Are 30 Days. Superstar 300 Plan Costs ₹799 & Superstar 500 Plan Costs ₹949.
---
Hotstar Premium Free Content On Jio TV & Jio Cinema Apps 
Jio Has Done Exclusive Partnership With Disney+Hotstar To Get The Rights Of Some Of Disney+Hotstar Contents. You Can Watch Free Cricket , TV Shows , Movies As Part Of This Deal
Free IPL Will Be Available On Jio TV Through Hotstar Premium App
Marvel Shows & Disney Shows Will Be Exclusive on JioCinema App Too
Popular Hotstar Only Movies Like 'Chichore' Etc. Are Available On JioCinema
Users Just Need To Download JioTV & JioCinema App
Login With Jio SIM Card Or Jio Number
Make Sure Your Jio Data Has ON
Enjoy The Free Contents Of Disney+Hotstar Premium For Free
---
Hotstar+Disney Premium VIP Show For Free 
To Watch The Exclusive English & American Shows Like Game Of Thrones Etc. You have To Download The Hotstar App In Your Smartphone
Now Create New Account Into Hotstar
Create New Account In Tata Sky App Too
Right Now There No Free Hotstar Premium Trail Offer is Working
Download The Tata Sky App From Google (You Need Valid Tata Sky Sports Pack Activated)
Run The Hotstar In Background & Open Tata Sky TV App
Now Search Your Any Favourite Show , TV Channel , Web Series In It & Enjoy It For Free
---
Frequently Asked Questions On Hotstar Premium For Free
1. If Hotstar Premium is Free Now? 
No! Hotstar Premium & Disney+Hotstar VIP Memberships are Not Free. Users Need To Purchase The Monthly Or Yearly Plans To Enjoy The Premium Contents. But With Above Given Tricks You Can Get Hotstar Premium For Free.
2. How Much is Hotstar Premium Membership?
Disney+Hotstar Premium Plans Starts From ₹299/Month or ₹1499/Year.
3. What Are The Exclusive Benefits Of Hotstar Premium Membership 
You Can Watch Latest American Shows & movies: Uncut, ad-free & minutes after America. Live Sports: Including Cricket, Premier League & Formula 1 On Free With Hotstar Premium
4. How Airtel Users Can Watch Hotstar Free? 
As We Discussed Above , Airtel is Offering Free Hotstar Premium Membership With Few Of Its Plans Like 401 Plan. You Need To Do Recharge Of That Plans & Then You Will Get Redeem Code Of Hotstar. You Can Redeem That Code On Hotstar Membership Page & Starts Enjoying Free Contents Of Hotstar
5. How Jio Users Can Watch Hotstar Free? 
Same Like Airtel , Jio Has Announced Special Hotstar Premium Plans. Also Jio Has Recently Launched The Jio Dhan Dhana Dhan Cricket Plans With Free Hotstar Benefits. We Have Already Listed All Jio & Airtel Plans In Above Article.