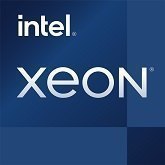 Intel finally officially presented the 4th generation Xeon Scalable processors (code name Sapphire Rapids). The new chips are expected to deliver significant gains in data center performance, efficiency and security, and provide new opportunities for AI, cloud, network and edge and the world's most powerful supercomputers. Originally, the layouts were supposed to appear many months ago, but constant production problems and numerous fixes stood in the way. Today the wait is over.
In total, the entire lineup of 4th Gen Intel Xeon chips will have almost 50 different units, so customers will have a wide choice. In addition, Intel announced that the premiere of the Workstation models of the Xeon W3400 and W2400 series will take place on February 15.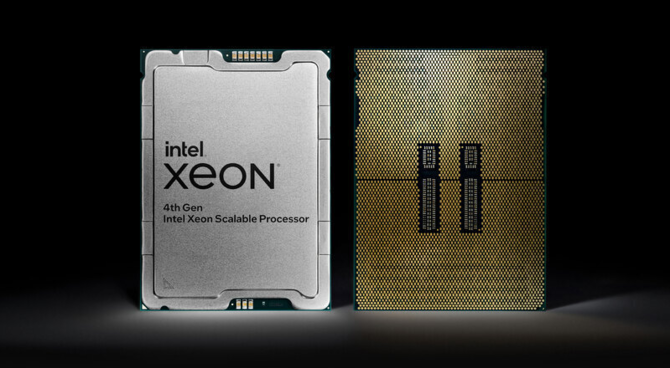 Intel declares that the new Xeon series of chips over Gen 3 models is expected to provide up to 53% average performance increase in general purpose computing, 10x higher AI inference and learning performance, 2x more capacity for vRAN workloads in the same power envelope (5G network vRAN), 2x better data compression with 95% fewer cores (network and storage), 3x better performance in data analytics, and 3.7x better performance for memory workloads in HPC (Xeon Max processor series). The systems were created in the Intel 7 technological process. The most powerful unit of the family (designation 8490H) offers 60 cores and 120 threads, 105 MB L3 cache and TDP up to 350 W. In total, the entire series will have almost 50 different units, so customers will have a wide range of choice.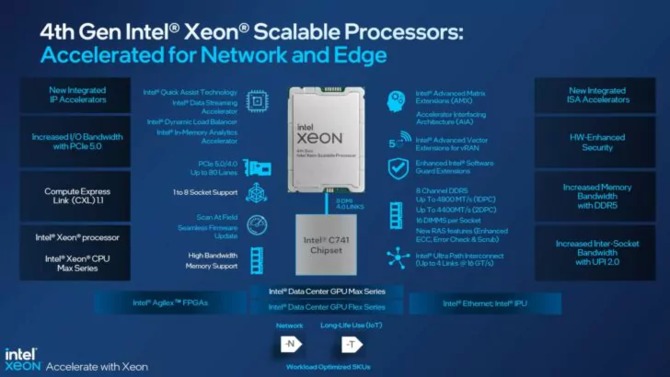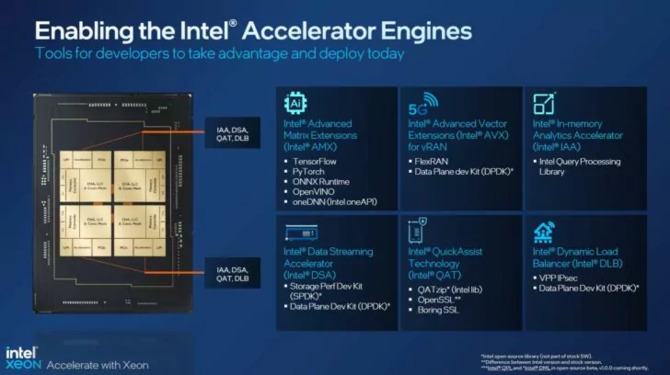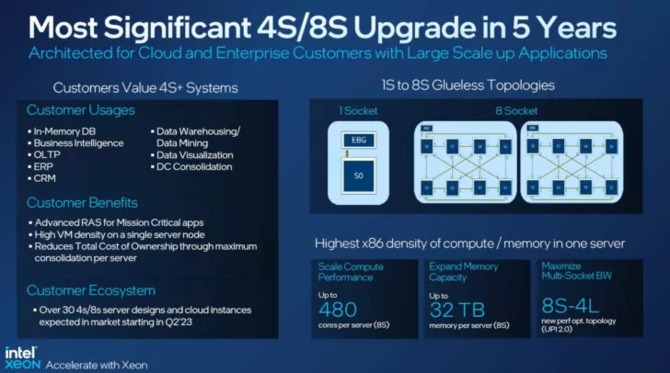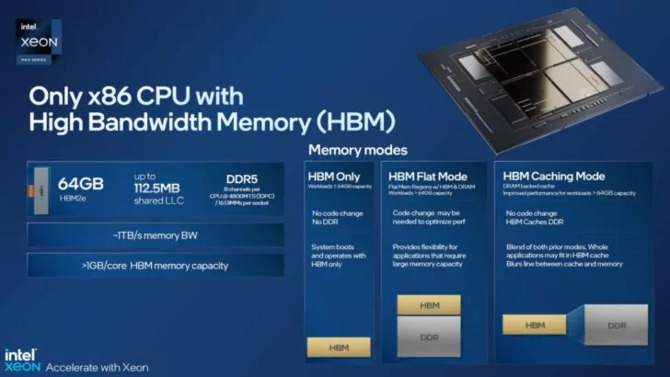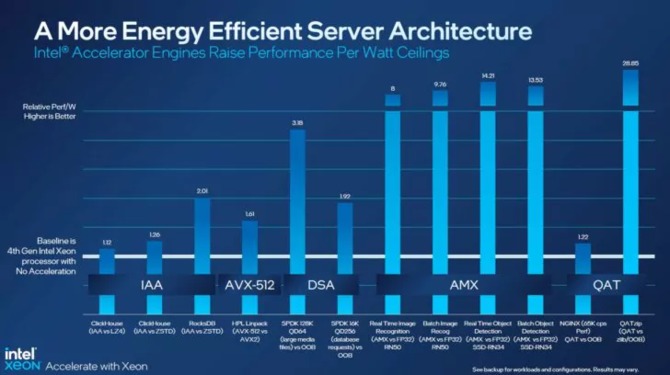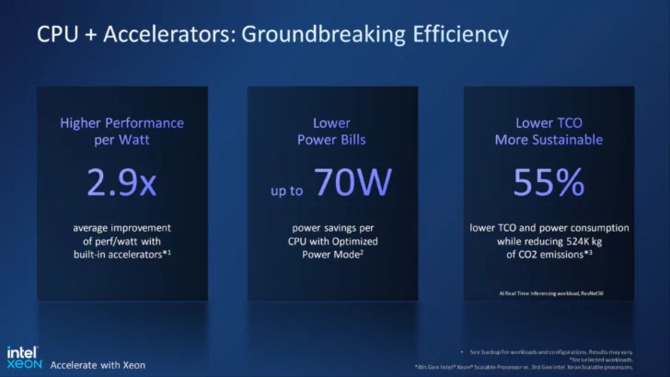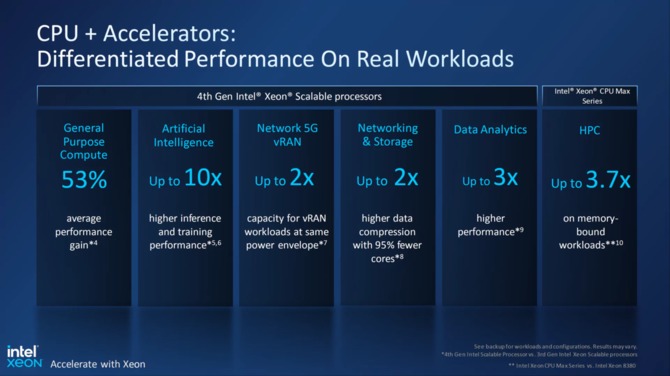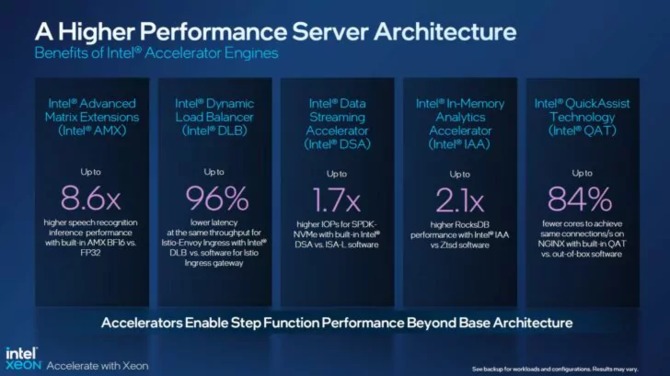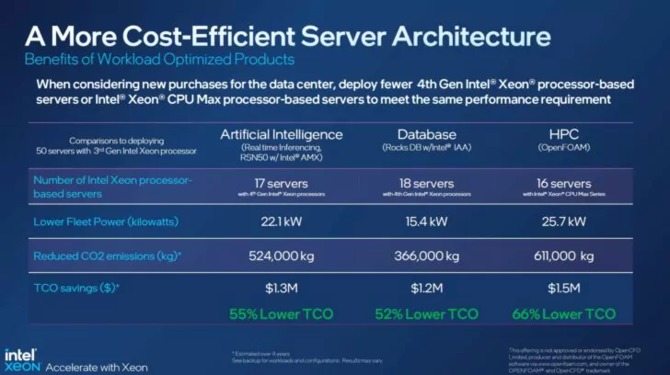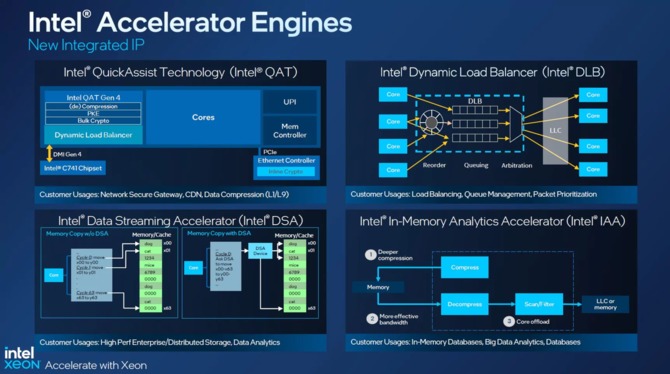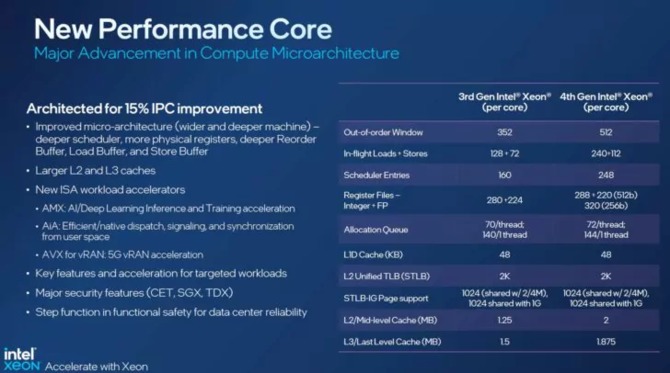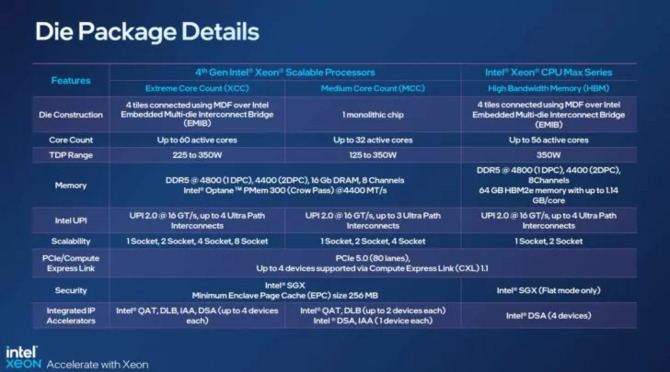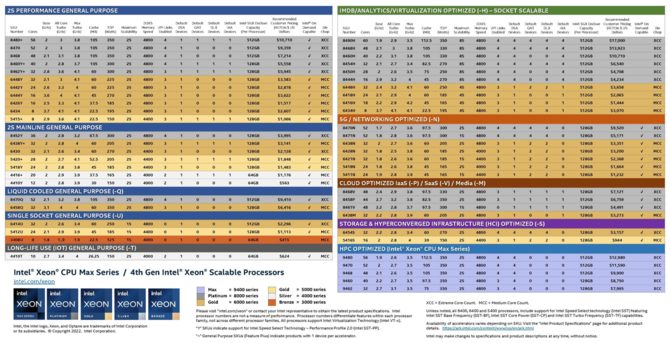 | | | |
| --- | --- | --- |
| | AMD EPYC GENOA | INTEL XEON 4th GEN (SAPPHIRE RAPIDS) |
| Lithography | 5 nm | Intel 7 (10nm) |
| Architecture | AMD Zen 4 | Golden Cove |
| number of cores | 96 | 60 |
| number of threads | 192 | 120 |
| L2 memory | 1 MB per core (up to 96 MB) | 2 MB per core (up to 112 MB) |
| L3 memory | 384 MB | 105 MB |
| RAM support | DDR5-5200 (12-channel) | DDR5-4800 (8-channel) |
| Supported RAM capacity | 12TB | 8TB |
| TDP | 320W (Max 700W) | 350W (Max 764W) |
| stand | LGA 6096 SP5 | LGA 4677 |
| The price of the flagship CPU | $12,000 | $17,000 |
| Premiere | November 10, 2022 | January 10, 2023 |
Intel also announced that the Xeon W3400 and W2400 Series Workstation models will be released on February 15. These systems will compete with up to 64-core AMD Ryzen Threadripper PRO units based on the Zen 3 architecture (Reds have not yet announced Zen 4 variants). All W-x400 models will be supported by the W790 chipset. They will offer up to 56 cores, 350 W of power and a clock speed of 4.8 GHz in turbo mode. Interestingly, there are also plans for special versions with the note X, which are supposed to allow overclocking. The new processors will support the PCIe 5.0 and DDR5 standards.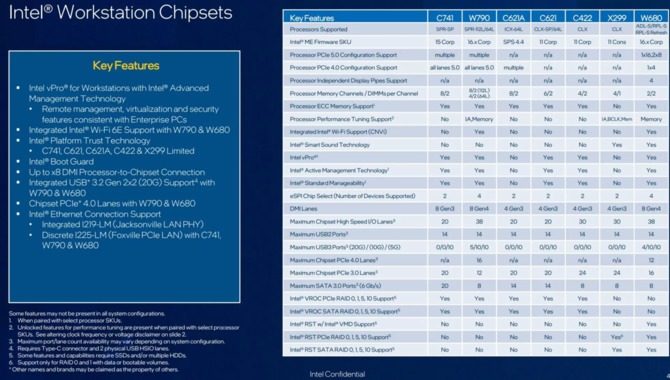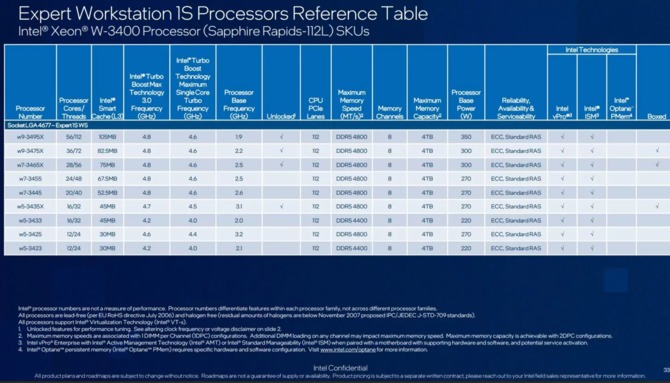 Source: Intel, WCCFTech