The tripod can be a very useful accessory for your mobile phone, we explain 5 reasons why it is worth using it.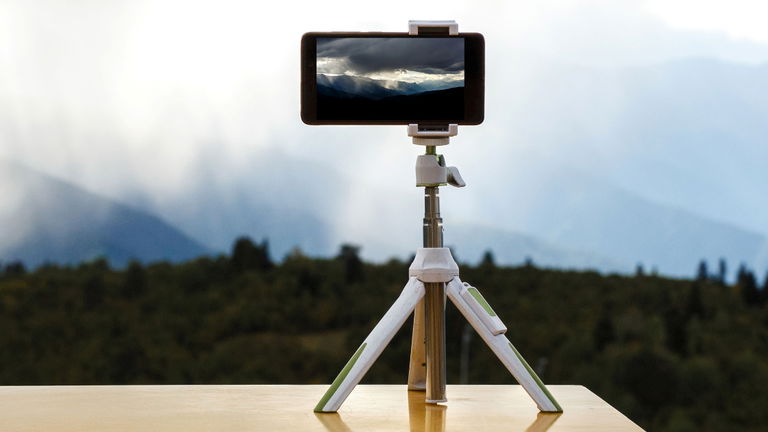 The tripod can become a very useful accessory for your mobile phone if you know how to use it. If you have never dared to use a tripod with your mobile, in this guide you will be able to know 5 reasons why it's worth it buy one. Be careful, it is not only useful for taking pictures, you can take advantage of it for other functions.
In case you are unaware of quality tripods, this guide also We recommend models that are very worthwhile. They are compact, so you can easily carry them in your backpack. In addition, they are also stable, tall and even some of them have Bluetooth connectivity. If you are considering the purchase of a tripod for your mobile, we give you 5 reasons to clear your doubts.
For night and star photos
Using a tripod is very necessary when you want to use your phone to take night and star photos. First of all, because it allows you keep it stable which you will not have if you hold it by hand. This stability is key so that night photographs do not appear moved and also for photograph the stars.
Secondly, the tripod is also more recommended than placing the smartphone on a fixed surface. And this accessory allows you comfortably move the mobile from side to side, or up and down, to focus just what you want to capture in the images. Furthermore, it is also the best option for do timelapsebecause you can move from left to right without losing stability.
In this case, one of The best tripods for mobile of the market, the Victiv brand. It has a height of up to 185 centimeters, non-slip rubber feet, and allows a 360-degree horizontal rotation. In addition, you can also use it with your professional camera.
for video calls
If you are one of those who regularly use your mobile phone to make video calls, even for work, the tripod can be very useful for you. You place the mobile in it, rest it on the table and that's it, you can talk for hours and hours without having to hold the mobile with your hand or without having to support it on a surface from which it always falls. If, as we mentioned, the video calls are for work, the tripod will also allow you to achieve a more professional touch.
If you are going to use the tripod for simple uses like this, we recommend the model of lunriwis brand. It is reasonably priced, but great quality and resistance. Its foam legs are not very high, so you can get the best image when you rest it on the table and also transport it more comfortably.
For group selfies
In those moments when you are with a large group of people and not selfie sticks They are used to take a complete photograph, the tripod can be the solution. Place the mobile phone on the tripod and position the latter at the appropriate distance so that it no person is left out of the catch. Many of the mobile tripods have a remote control to take photos from a distanceso you only have to press the button to take the photo.
For example, the polarduck tripod for sale on amazon it is compatible with most mobile phonesIt has a remote control and even comes with a case that allows you to transport it more comfortably.
To make the videos stable
Of course, you need a tripod to be able to make stable videos with your mobile phone. If the device does not have an optical stabilizer and you depend on your pulse, it is normal that the videos you record do not have the best quality and look unstable. Thanks to the tripod, instability will be a thing of the past and the quality of your videos will be much better. As we mentioned before, you can also move the mobile horizontally and vertically without losing stability.
The most complete tripods for SLR cameras you can buy
To watch videos more comfortably
Finally, another reason why you need to buy a tripod for your mobile is because you gain comfort when watching videos. If you are one of those who regularly watch videos on YouTube, broadcasts on Twitch or series on Netflix, the tripod will work for you as a support on which to place the mobile and place it in the best position to always have it in view.