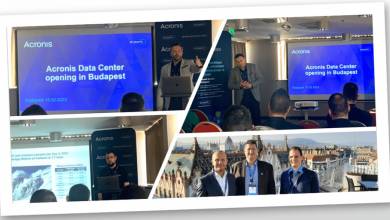 Acronis opened a new data center in Budapest at the beginning of the year. Acronis Cyber ​​Cloud makes a full range of cyber protection solutions available to service providers, on which they can build new services, while providing faster access, constant data availability and data sovereignty to their customers.
The global network of Acronis Cyber ​​Cloud data centers includes some Eastern European cities, including Warsaw, Prague, Tallinn and Riga. With the new data center in Budapest, service providers can store their partners' critical business data at a location within the country. Combining data management provided by local service providers with the full range of managed cloud and cyber protection solutions available through the Acronis Cyber ​​Protect Cloud platform is a win-win.
"Acronis is committed to making its services available worldwide, and this is another step towards our goal of providing all our partners with the best possible performance when using our products," said Artur Cyganek, Regional Director of Acronis Eastern Europe. "We are pleased to be able to provide our Hungarian customers with the best possible cyber protection, and at incredible speed."
After the ceremonial opening, the Hungarian distributor of Acronis, RelNet Technology Kft., was represented by project and service director Nándor Orosz and Stella Veréb, the product manager responsible for Acronis, who answered our questions.
Computerworld: Why is Acronis' data center in Budapest beneficial for the Hungarian market?
RelNet: Acronis, as a recognized cloud IT security and backup provider, installed one of the physical legs of its cloud in a data center in Hungary. The advantage of this is that it can function as a primary, local data center for our customers, which is further saved in the cloud. This ensures very fast and very high availability, which is an added value for the customer. Since Acronis has already made the investment, the customer no longer needs it, so the services can be used purely for a monthly fee.
The importance of the location in Budapest cannot be emphasized enough. Important regulations for the government and public administration are contained in Act No. 50, which is stricter in some respects than the GDPR, for example some data cannot leave the territory of Hungary. Thus, the Acronis solution is also suitable for public administration organizations (both in the area of ​​backup and disaster recovery).
All market participants within the European Union must comply with the GDPR, which has two essential points:
▪ The rules for the financial sector stipulate that the data must be kept within the EU.
▪ Since it is not only infrastructure backup, but also explicit data backup, the data center within the EU is an added value.
Financial sector regulations oblige them to build and regularly test a Disaster Recovery solution.
CW: What integrated cyber defense solutions are included in RelNet's product portfolio?
RelNet: As a value-added distributor, our company keeps its portfolio focused and concentrates on IT security solutions and networks. Within this, the Acronis manufacturer solution is unique because it is an integrated IT security and backup solution.
Unfortunately, successful ransomware attacks of recent times have damaged the reputation of well-known companies that have been in the market for a long time. Acronis' solution includes the anti-ransomware protection function at no additional cost. In addition, additional enhanced security, management, backup and DR solutions are available. Even organizations using O365 benefit from security-integrated packages, such as cloud-based email protection, which keep the most common attack vectors outside the organization.
Furthermore, Acronis has multiplatform support for Windows, Linux, Apple (Mac, IOS) systems.
CW: What advantages and opportunities do these service packages offer?
RelNet: Acronis' solution provides a complete IT security and backup solution, which functions would otherwise have to be collected and integrated from 4-6 manufacturers. In this way, savings can be shown not only on the license side, but also the operation can be done with more efficient use of live labor.
CW: Who should use these solutions?
RelNet: The business processes of economic organizations rely more and more on the server IT environment. Those organizations – be they small, medium or large companies – that have already identified how much economic risk/loss can be caused by, for example, an outage due to a ransomware attack, they can also quantify this.
They have reached the level of organizational maturity where it is worth using these services. The other group is the business organizations that need to be able to demonstrate their increased protection capabilities due to legal requirements or regulatory compliance – or perhaps regular audit obligations.
CW: What and how does RelNet help with this?
RelNet: We are a nearly 20-year-old professional workshop, our certified engineers support our MSP and integrator partners. Feel free to contact us regarding demo license requests, consultation requests, or the organization of an engineering presentation. We welcome interested end users and integrator partners to our e-learning platform.
Suitable for all purposes
The new data center in Budapest is one of Acronis' current global network of 49 data centers (over 100 by the end of next year) and is specifically designed to meet corporate and regulatory requirements and enable partners to exceed compliance, data sovereignty and performance goals. Acronis' global data centers use the highest physical security standards to limit unauthorized access and protect the security of customer data. Standards and reports concerning the Hungarian data center: ISO 27001:2014
Each facility is equipped with state-of-the-art equipment, best-in-class operational and security systems, and is proven to provide the highest level of data availability, enterprise data, application and system security. Acronis Cloud data centers also follow a need-plus-one (N+1) approach for greater redundancy in all hardware layers of the infrastructure, minimizing risk and eliminating single points of failure.
Advanced security for every situation
Acronis combines data protection and cybersecurity to provide integrated, automated cyber protection that addresses the security, accessibility, privacy, authenticity and safety (SAPAS) challenges of the modern digital world. With flexible deployment models to meet the needs of service providers and IT professionals, Acronis provides superior cyber protection for data, applications and systems with innovative, next-generation antivirus, backup, disaster recovery and endpoint protection management solutions powered by artificial intelligence. With advanced anti-malware powered by state-of-the-art machine intelligence and blockchain-based data authentication technology, Acronis protects all environments – from cloud to hybrid to on-premises – at low and predictable costs.
Acronis has two worldwide headquarters in Switzerland and Singapore. Celebrating two decades of innovation, Acronis has more than 2,000 employees in 45 locations. Acronis Cyber ​​Protect is available in 26 languages ​​in more than 150 countries and is used by 16,000 service providers to protect more than 750,000 companies.
Hardware, software, tests, interesting and colorful news from the world of IT by clicking here!