The American brand presented the exciting developments at CES.
Pickups are extremely popular in the United States, and with the spread of electric drive, the most popular brands have naturally already produced electric versions. Ford created the legendary F-150 series Lightning version, while one of their biggest competitors, the Dodge a Dodge Ram Revolution started the battle with his model – it says Electrek.
Fans of vans had to wait a bit for the latter, and the company a at CES 2023 pulled the hood off the impressively sized machine. Although little information about its capabilities has yet come to light, the novelties crammed into the on-board computer could be a serious competitive advantage for Dodge.
An example of this is the so-called head-up display (HUD), which uses augmented reality and can be seen in the video below. It is similar in today's modern cars, its role is to project the most important information, speed, navigation, etc. in front of the driver's eyes. However, Dodge's development makes visible, for example, pedestrians who temporarily disappear from the driver's view.
The Ram Revolution also received a so-called Shadow Mode, the essence of which is that the car can automatically follow its owner if the person is walking in front of the vehicle. This comes in handy on larger construction sites, for example, if the foreman walks around the area. THE Cabin Mode function can change the atmosphere of the passenger compartment at the push of a button: in addition to soothing lights and sounds, it can also be switched to party mode, but the productivity modeby selecting , you can even concentrate on a phone conference or work while standing inside the car.
Another interesting feature is the external projector, with the help of which the pickup can communicate various information to the outside world, but can also be used for movie projection.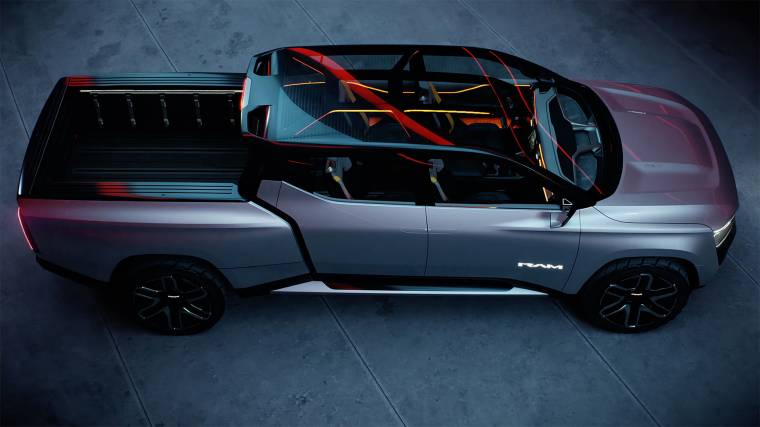 One of the strangest developments, however, is undoubtedly the charging robot, which was developed specifically for this vehicle. The small device is similar to a robot vacuum cleaner in that it can navigate by itself, recognize the car and roll under it, where it starts charging the vehicle automatically, without the driver's intervention. The charging robot can identify the pickup from up to 5-10 meters away, and it can charge with an induction solution without connectors. According to EFI Automotive, which developed the device, this enables 97 percent more efficient charging.
Intelligent software also works in the special charger, which charges the car taking into account the network load, i.e. preferring off-peak periods.
The Dodge Ram Revolution is expected to go on sale next year, but future owners will have to wait until 2025 for the charging robot.
We still have a lot to tell you, you can find everything interesting here!