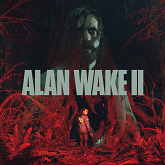 In just a week, another long-awaited premiere will take place – this time it will be a survival horror game called Alan Wake 2 from Remedy Entertainment. The production, which has been a long-awaited continuation of the title writer's adventures, will debut on PC, PlayStation 5 and Xbox Series. This will also be the first major AAA premiere where Path Tracing will be available from the day of release. How will this ultimately affect hardware requirements? The creators remained silent on this topic for a long time, but the veil of secrecy was finally revealed.
Remedy Entertainment has published the full hardware requirements for Alan Wake 2. It is significant that in all given requirements it is recommended to enable NVIDIA DLSS or AMD FSR techniques.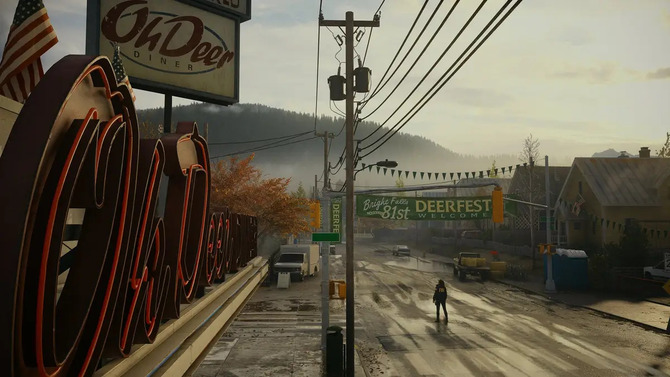 Remedy has published the hardware requirements for Alan Wake 2 and it must be admitted that they look so good that you may start to worry about how the game will work at launch. It is worth emphasizing that in all published requirements, one of the upscaling methods (NVIDIA DLSS or AMD FSR 2) should be constantly enabled. To play in Full HD at the lowest graphics settings and at 30 frames per second, we need cards such as NVIDIA GeForce RTX 2060 or AMD Radeon RX 6600, combined with 6 GB of RAM (it seems that Alan Wake 2 will not have an excessive appetite for RAM). . Next, Remedy issued "Recommended" requirements, divided into two subgroups: one for gaming in Full HD and 60 frames per second and the other for 1440p resolution and 30 FPS (medium details in both cases). In this case, you will need more powerful cards from the NVIDIA Ampere or AMD RDNA 2 generation. The recommended upscaling level (DLSS or FSR 2) is balanced for playing at 1440p, or performance for playing at Full HD and 60 FPS. To play in upscaled 4K resolution (using DLSS / FSR 2 in Performance mode), in high details and at 60 frames, we need more powerful cards, i.e. GeForce RTX 4070 or Radeon RX 7800 XT.
Minimal
Recommended (Quad HD)
Recommended (Full HD)
Ultra
Processor
Intel Core i5-7600K or AMD equivalent
AMD Ryzen 7 3700X or Intel equivalent
Graphics Card
NVIDIA GeForce RTX 2060
AMD Radeon RX 6600
NVIDIA GeForce RTX 3060
AMD Radeon RX 6600 XT
NVIDIA GeForce RTX 3070
AMD Radeon RX 6700 XT
NVIDIA GeForce RTX 4070
AMD Radeon RX 7800 XT
RAM
6GB
8GB
8GB
12GB
Disk
90 GB (SSD)
90 GB (SSD)
90 GB (SSD)
90 GB (SSD)
System
Windows 10/11
Windows 10/11
Windows 10/11
Windows 10/11
Resolution, details, smoothness
1920×1080
Low details, 30 FPS
2560×1440
Medium details, 30 FPS
1920×1080
Medium details, 60 FPS
3840×2160
High details, 60 FPS
Upscaling
DLSS Quality or FSR 2 Quality
DLSS Balanced or FSR 2 Balanced
DLSS Performance or FSR 2 Performance
DLSS Performance or FSR 2 Performance
The requirements increase significantly (in the case of cards, because the processors are still the same; usually AMD Ryzen 7 3700X or its equivalent from Intel) after enabling Ray Tracing. With medium details in upscaled Full HD (and Ray Tracing set to the lowest level), we already need NVIDIA GeForce RTX 3070 or AMD Radeon RX 6800 XT cards. We're only talking about playing at 30 frames per second. Higher RT levels do not take into account Radeons at all, which may mean that even the top Radeon RX 7900 XTX will be too weak here. The second column of requirements still concerns the upscaled Full HD resolution and generally medium graphics settings. RT is also available on Medium here, but Path Tracing is also enabled. Smoothness is 60 frames per second. In this scenario, we need at least a GeForce RTX 4070 and DLSS should be enabled in Quality mode. Finally, we have the highest details in scaled 4K resolution (with the help of DLSS Performance) – high overall details plus maximum Ray Tracing and Path Tracing at 60 FPS. In this case, it is recommended to have at least an NVIDIA GeForce RTX 4080 card.
RT – LOW
RT – MEDIUM
RT – HIGH
Processor
AMD Ryzen 7 3700X or Intel equivalent
Graphics Card
NVIDIA GeForce RTX 3070
AMD Radeon RX 6800 XT
NVIDIA GeForce RTX 4070
NVIDIA GeForce RTX 4080
RAM
8GB
12GB
16GB
Disk
90 GB (SSD)
90 GB (SSD)
90 GB (SSD)
System
Windows 10/11
Windows 10/11
Windows 10/11
Resolution, details, smoothness
1920×1080
Medium details
Ray Tracing – LOW
30 FPS
1920×1080
Medium details
Ray Tracing – MEDIUM
Path Tracing enabled
60 FPS
3840×2160
High details
Ray Tracing – HIGH
Path Tracing enabled
60 FPS
Upscaling
DLSS Quality or FSR 2 Quality
DLSS Quality
DLSS Performance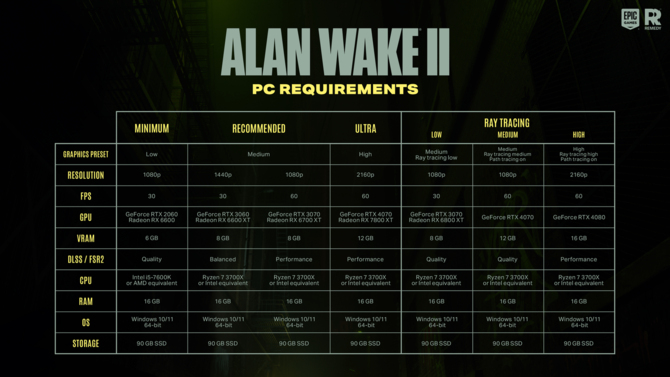 Source: Remedy