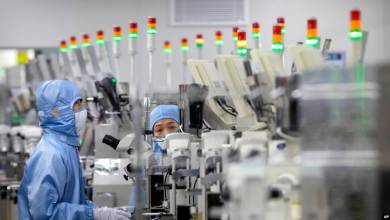 Is Samsung really the only company in the world that can replace TSMC?
During his three decades at Samsung Electronics, Yang Hyang helped shape the 84-year-old conglomerate's current dominance in global memory chip manufacturing. Now he pointed to a much broader challenge: Korea must remain relevant while it is The USA and China have become embroiled in a semiconductor war.
Yang rose from a research assistant to the head of Samsung's key memory chip development division, and now, as a member of parliament, is the lead designer of a national program to finance and stimulate the chip industry. His mission is becoming increasingly important as the United States, China and Japan pour billions into building their own chip supply chains, clouding Korea's future role in semiconductors, he told Bloomberg Television.
This is a matter of national security, he says, and thus echoes the opinion of those leaders in Washington and Beijing who support the development of the chip industry with talent, money and political patronage. And the new silicon chips are essential for running future technologies, from artificial intelligence to the metaverse to next-generation computing and especially military capabilities.
"We are in a chip war. Technological superiority is a way for our country to take the lead in any security-related agenda, such as diplomacy and defense, without being influenced by other nations," Yang said in an interview in December.
The politician-businesswoman heads a 13-member special committee set up by President Yoon Suk Yeol's ruling party this year to come up with a solution. They justified the move by saying that Seoul can only increase its position in the $550 billion global semiconductor industry through strong and direct intervention. The Korean president is one of a growing number of policymakers around the world who have embraced technology protectionism after logistical problems caused by the pandemic highlighted how dependent countries are on each other for key electronic components. Yoon joined Yang's call for more political power to help the country's chip sector, which includes SK Hynix and Samsung.
Last month, parliament passed the Korean version of the US chip law. The move initiated by Yang will speed up the approval process for building factories in the metropolitan area, while increasing the number of schools specializing in the technology. The parliament separately passed the first bill, which offers an 8 percent tax break to large companies investing in semiconductor manufacturing, which is, however, much smaller than Yang's 20-25 percent proposal.
These gestures fall far short of the billion-dollar subsidies that other countries spend on chip manufacturing, Yang said, adding that short-term political interests are blinding legislative colleagues in the National Assembly. Some, however, argued that overly generous incentives would jeopardize the government's finances and would only benefit big business.
On Tuesday, the Ministry of Finance announced that it would increase the tax discount for investments by large companies to up to 25 percent. It is unusual for a government to propose substantive changes so soon after lawmakers have passed a bill.
If the government doesn't step up incentives, more Korean companies may move their larger manufacturing plants to the United States, taking their best engineers with them, Yang said. Samsung plans to build a $17 billion semiconductor factory in Texas and has raised the possibility of spending nearly $200 billion on a series of plants in Austin and Taylor.
According to Yang, Korea has a unique opportunity to counter this trend. Taiwan – home to Taiwan Semiconductor Manufacturing – makes most of the high-end chips that power the latest iPhones, servers and supercomputers. It has sparked initiatives around the world to diversify production from an island that China claims and threatens to occupy.
"Samsung is the only company in the world that can replace TSMC," said Yang, whose chip policy fills his time. Escalating sanctions on advanced technology are putting increasing pressure on the country to choose between its security ally, the United States, and its biggest trading partner, China. Both have asked South Korea to expand chipmaking partnerships. According to Yang, this delicate situation highlights the need for Korea to build its own domestic technological capabilities or risk becoming increasingly vulnerable to foreign powers. According to the representative, it is time to offer Korean companies more incentives to build production capacity at home rather than abroad. According to him, the country needs to do more to retain young talent. "How else could our country survive?" – asked. The answer, according to him, is that "it could become a new technology colony," Yahoo News reported, citing Bloomberg.
Hardware, software, tests, interesting and colorful news from the world of IT by clicking here!