In this guide you will find all the procedures that you can carry out with My Citizen Folder, both from the app and from the desktop version.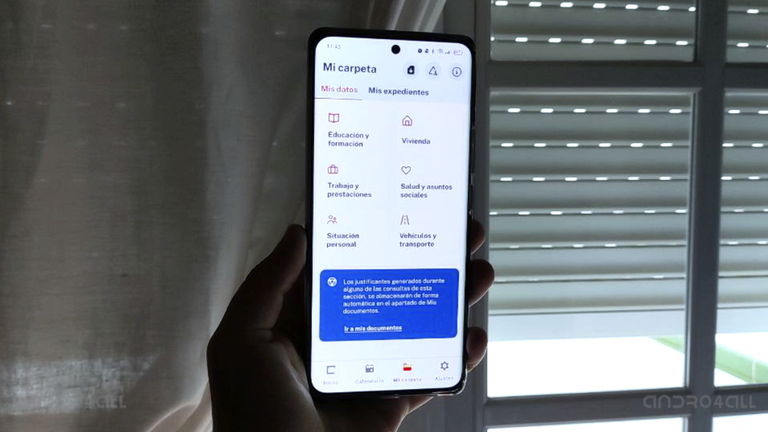 My Citizen Folder is an online platform that aims to facilitate your relationship with Public Administrations. we have already seen how to enter and use My Citizen Folderso in this guide it touches review all the procedures you can carry out comfortably from your mobile or from your computer. Thanks to this platform you will save a lot of time, as it allows you to do that paperwork from your home which before required physically going to a public office.
The procedures available in My Citizen Folder cover a wide range of fields, from housing to education, even going through procedures related to work and retirement. You have the possibility of taking full advantage of this platform from its web version or from the app for Android and iOS. Do not hesitate to use it, because with it you can do all the procedures mentioned below.
Education and formation
With My Citizen Folder you can consult all the data about your educational and training record, even download the degrees directly to your mobile. The related procedures are divided into these two sections:
Degrees: it shows to you all university and non-university degrees stored in the National Registries of Degrees. In fact, you can download your university degree on your mobile to always have it at hand. In addition, you can also see your college tuition and meet your scholarship status in a specific year.
Continuous training: from here you can consult the files and certificates you have both as a teacher and as a student at the National Institute of Public Administration (INAP).
Citizenship and residence
In this section you can see the information registered about your identity documents and address in which you are registered according to the data available in the register.
Identity and documentation: Displays personally identifiable data, as well as the data of your ID, your electronic ID and passport. Thanks to My Citizen Folder you can always keep in mind When do some of these documents expire?, so you can easily renew them before they cease to be in force. What's more, in the app's calendar you will see the renewal date better represented.
Home: in this section you can know as much the data of your address registered at the National Institute of Statistics (INE) as notify change of address to different organizations telematically, from your mobile and without having to leave home.
work and retirement
This section brings together some of the most useful procedures of My Citizen Folder, with just a few steps you can find out and download the following information:
Laboral life: You can see the data of your working life and download the certificate.
Benefits: shows you the data on benefits, social benefits and job demand.
public employment: from here you can access the Central Personnel Registry and consult your affiliation data and MUFACE benefits.
Health and social affairs
As its name indicates, this section focuses on the Digital Medical Record of the National Health System and other data on social affairs related to the Public Administration.
dependency and disability: you can see the dependency data and the aid received, as well as consult the data on the recognized degree of disability.
Health: Accede to your clinical history stored in the National Health System, with the possibility of downloading reports and certificates. In fact, you can download the digital COVID certificate of the EU.
Personal and family situation
In this section you can access the information related to your family and your personal situation. Specifically, the procedures are as follows:
large family title: If you have it, you can view and download this required title in many other procedures.
Justice: consult the absence of criminal records and the absence of a history of crimes of a sexual nature.
Game: check your situation in the General Register of Gambling Access Bans of the General Directorate for the Regulation of Gambling.
Vehicles and transportation
From this section you can know your data as a driver, that is, the address of the DGT notifications, the type of driving license what do you have and if you are Authorized to drive school transportation and dangerous goods. Here you can also check your points balancewith the complete history of points that you have lost or won in the last years.
If you have any vehicle in your nameyou will also be able to see all the data of it.
living place
In this section you can consult data related to your home and properties Registered by the Public Administration, they appear divided into urban and rustic properties. Also, you can download the certifications corresponding.
Transparency
In the area related to transparency, there is another of the procedures of My Citizen Folder, which gives you access to a summary of your personal data exchanged between administrations with your consent. In addition, you can download the related supporting documents.
files
Within My Folder > My files you can see the files you have registered with the General State Administration or with your autonomous community. The supporting documents that are generated during some of the consultations in this section will be automatically saved in "My documents".
As you see, the procedures of My Citizen Folder are many and varied, that is why it is so worth accessing the platform when you have to carry out some management related to the Public Administration. Thanks to My Citizen Folder, you can get your working life, your registration certificate or your large family title with just a few taps on your mobile.