For the first time since its release, the Kindle Scribe has received a discount, knocking up to $60 off its retail price.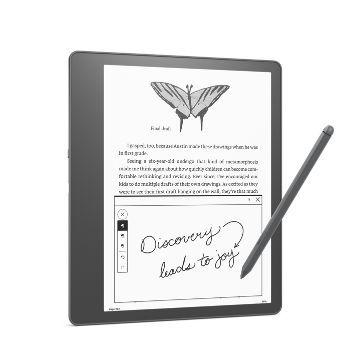 Amazon Kindle Scribe
For the first time, Amazon has introduced a Kindle that can also take notes using a pen.
The Amazon Kindle Scribe first made its debut back in September but wasn't made available for purchase until some months later. Now that the device has been out for a little over a month, it's finally getting its first discount, knocking up to $60 off of its retail price. If you've been interested in getting your hands on a Kindle that can also let you take notes and sign documents, this is going to be the one for you.
The Kindle Scribe comes in few different models, but the basics of the device will remain the same, with the main feature being its large 10.2-inch 300 PPI Paperwhite display. Much like other Kindle models, you'll have the ability to adjust the display, with calibration options for the warmth of the light and its brightness. If you're not really the kind of person that likes to dial in the settings, the Kindle has an option that will automatically adjust these settings. Of course, like any Kindle you purchase, you'll have access to over 13 million titles that are easily accessible from the Kindle Store.
While the 10.2-inch Paperwhite display is important, the pen that comes with the Kindle Scribe is what delivers the magic when it comes to taking notes. Although there are two different pen options, with Basic and Premium pen models, both are just as good when it comes to writing, with the Premium model just having some added features like an eraser and a dedicated assignable button that be set to switch between eraser, highlighter, and more. Best of all, the pen doesn't need charging, which means you can just use it whenever you feel, without feeling the need to top up its battery life.
Now, as far as model selection goes, you do have some choices when it comes to storage size, with the 16GB model being the base, the 32GB model being the mid-tier, and a 64GB model being the top-end. Once you select the 32GB or 64GB storage models, you'll automatically be upgrade to the Premium pen. When it comes to discounts, you're looking at $45 off for the base model and up to $60 off if you go with the top of the line. This Kindle might be a bit much if you're a first timer buyer, luckily, there are plenty of other Kindle options available.