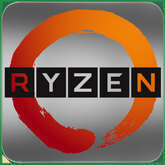 This year, AMD introduced two groups of Zen 4 processors for laptops: classic APUs from the Phoenix family with up to 8 Zen 4 cores and Dragon Range processors (Ryzen 7045HX), which are in fact desktop Raphael systems and adapted to laptop energy limits. The manufacturer is certainly already developing a new generation of processors, which will hit, among others, next year. for laptops. Meanwhile, the first unofficial details about the Strix Point series appeared on the web, which were confirmed by AMD last year.
The first unofficial details about next year's AMD Ryzen 8000 APU processors from the Strix Point family have appeared on the web. They are supposed to offer a maximum of 16 cores, including 8 Zen 5 cores.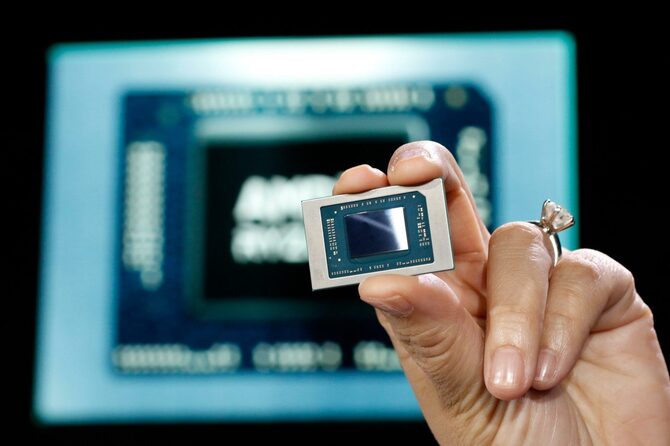 Everything indicates that in next year's series of AMD Ryzen 8000 Strix Point series processors, we will see systems using a solution based on big.LITTLE, where smaller, more energy-efficient cores are combined with larger, higher-performance ones. According to information published by RedGamingTech, next year we will see at least 3 variants of AMD APU Strix Point processors. The most powerful one is the only one to offer a total of 16 cores, including 8 cores based on the Zen 5 microarchitecture and 8 cores using the Zen 4D microarchitecture (or Zen 4c or whatever AMD will call them). Unlike Intel's solution, AMD's even "small" cores will support SMT, so such a 16-core system will also have 32 threads.
SKU #1
SKU #2
SKU #3
Processor series
Strix Point
Strix Point
Strix Point
Architecture
Zen 5 + Zen 4D + RDNA 3+
Zen 5 + Zen 4D + RDNA 3+
Zen 5 + Zen 4D + RDNA 3+
Cores/threads
8x Zen 5 + 8x Zen 4D
16C/32T
4x Zen 5 + 8x Zen 4D
12C/24T
2x Zen 5 + 4x Zen 4D
6C/12T
Layout
RDNA 3+
8 WGP / 16 CU
RDNA 3+
4 WGP / 8 CU
RDNA 3+
2 WGP / 4 CU
memory controller
DDR5 6400MHz; LPDDR5X 8533MHz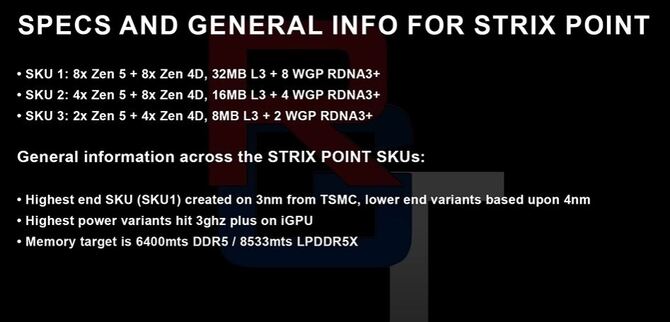 The top 16-core AMD APU Strix Point processor is also to have a 32 MB L3 cache and an integrated RDNA 3+ graphics chip with 8 WGP clusters, i.e. 16 CU blocks – four more than in the Radeon 780M, which has 12 CU. The second Strix Point APU will have a configuration of 4 Zen 5 cores and 8 Zen 4D cores (12 cores and 24 threads), while the third variant will only have 2 Zen 5 cores and 4 Zen 4D cores (6 cores and 12 threads). According to RedGamingTech, only the first of these systems would use the TSMC N3 lithography, while the others will remain with the current TSMC N4 process (Phoenix APUs are based on it). In addition, AMD engineers are working to further improve the memory controller. The Strix Point series of APUs would support DDR5 modules up to 6400 MHz and LPDDR5X modules with an effective frequency of up to 8533 MHz.
Source: RedGamingTech