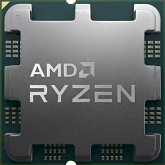 AMD presented many new products today. In addition to new mobile systems or Zen 4 processors with 3D V-Cache memory, the expected Ryzen 7000 processors with TDP 65 W could not be missing. As expected, three new models were shown: Ryzen 9 7900, Ryzen 7 7700 and Ryzen 5 7600. The systems are characterized by TDP 65 W and a much lower base price compared to the counterparts with the letter X. Let's move on to their specifications and prices.
The new AMD Ryzen 7000 processors will be available on January 10. We just have to wait for cheaper boards with the B650 chipset and budget A620 models…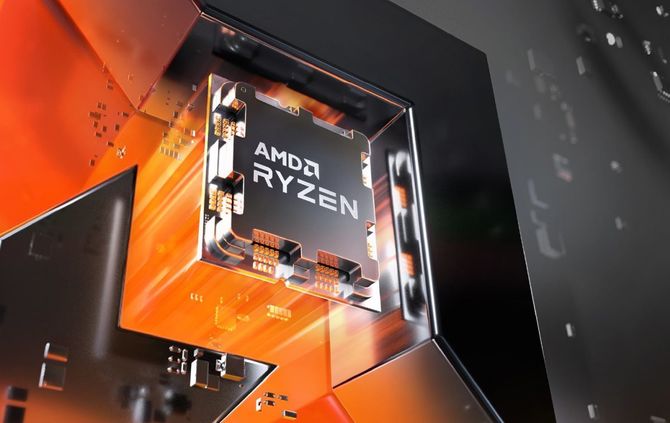 AMD Ryzen 9 7900 has 12 cores and 24 threads. This system has a base clock of 3.6 GHz, but in Boost mode it accelerates to 4.7 GHz. Its price is $429. The chip is to be a rival for Intel Core i9-13900 or Core i9-12900 processors. Another of the new processors is the 8-core / 16-thread Ryzen 7 7700 operating at 3.6 / 5.3 GHz. Its price is $329. The system is to compete with the Intel Core i7-13700 or Core i7-12700 models. Finally, we have the Ryzen 5 7600. This is a 6-core / 12-thread chip with 3.8 / 5.1 GHz clocks, which was priced at $ 229. The unit is expected to compete with the Core i5-13600 and Core i5-12600 models.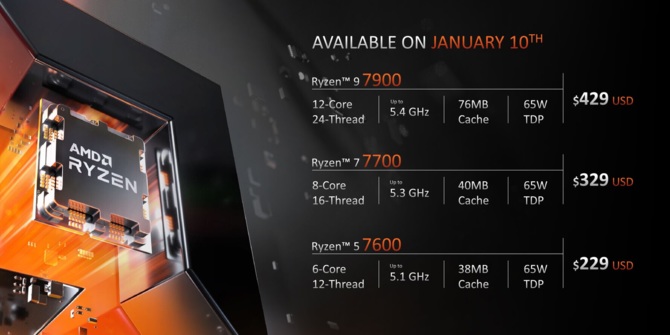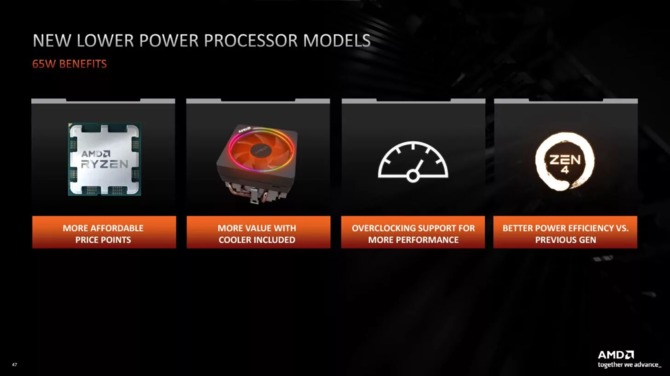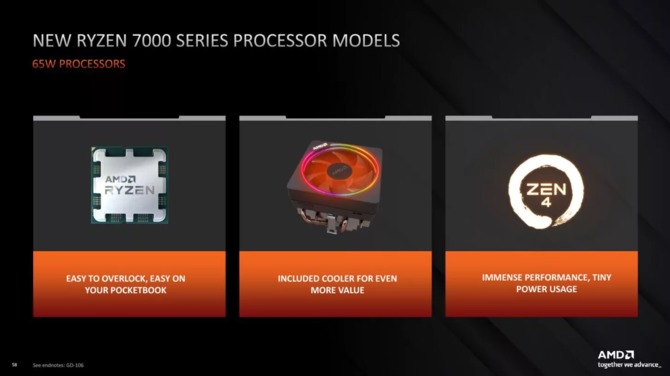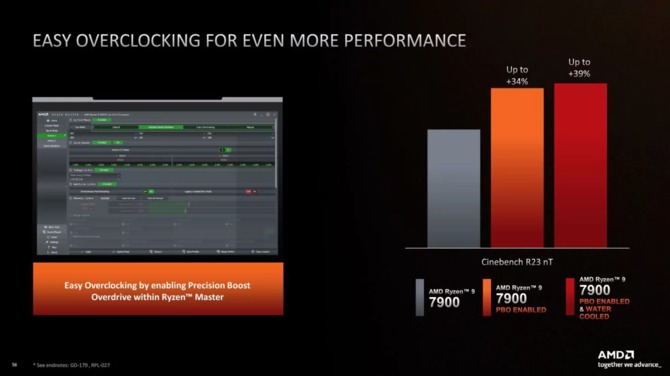 | | | | | | | |
| --- | --- | --- | --- | --- | --- | --- |
| | Ryzen 9 7900X | Ryzen 9 7900 | Ryzen 7 7700X | Ryzen 7 7700 | Ryzen 5 7600X | Ryzen 5 7600 |
| Architecture | zen 4 | zen 4 | zen 4 | zen 4 | zen 4 | zen 4 |
| Process | TSMC N5+N6 | TSMC N5+N6 | TSMC N5+N6 | TSMC N5+N6 | TSMC N5+N6 | TSMC N5+N6 |
| Cores/threads | 12/24 | 12/24 | 8/16 | 8/16 | 6/12 | 6/12 |
| base clock | 4.7GHz | 3.6GHz | 4.5GHz | 3.6GHz | 4.7GHz | 3.8GHz |
| Turbo clock | 5.6GHz | 5.4GHz | 5.4GHz | 5.3GHz | 5.3GHz | 5.1GHz |
| TDP | 170W | 65W | 105W | 65W | 105W | 65W |
| MSRP price | $549 | $429 | $399 | $329 | $299 | $229 |
AMD Ryzen 9 7900, Ryzen 7 7700 processors will have a Wraith Prism cooler in the set, while the cheapest Ryzen 5 7600 will receive a Wraith Stealth cooler. The manufacturer provides reasonable power consumption and overclocking capabilities. There are also performance charts that show the new models as significantly more efficient than the chips from the previous generation. The new AMD Ryzen 7000 processors will be available on January 10. We only have to wait for cheaper boards with the B650 chipset and budget models A620 …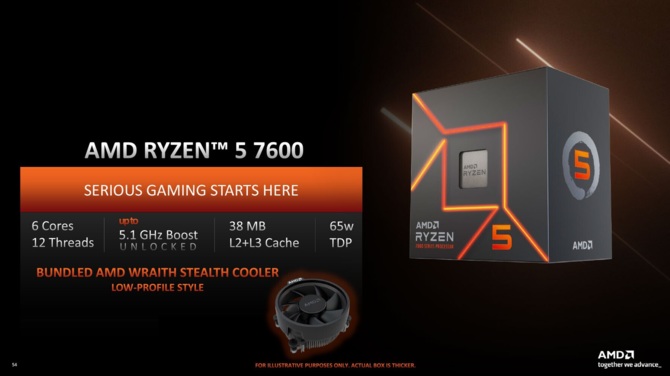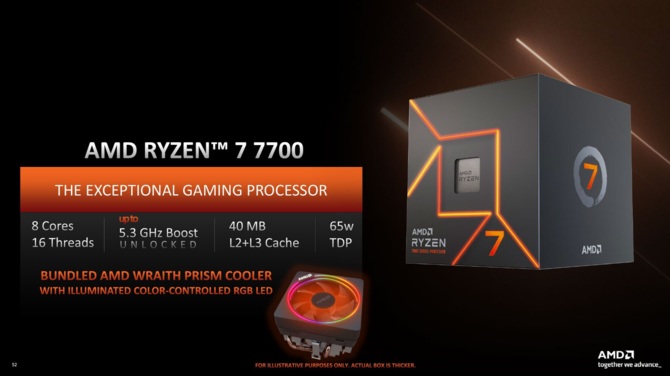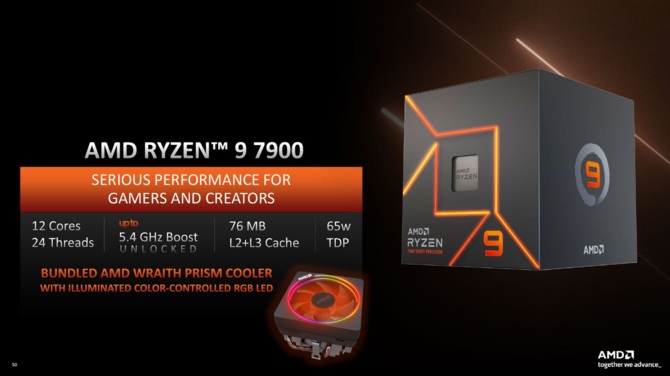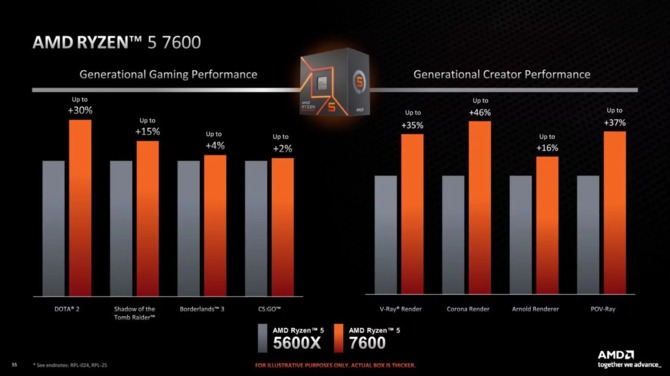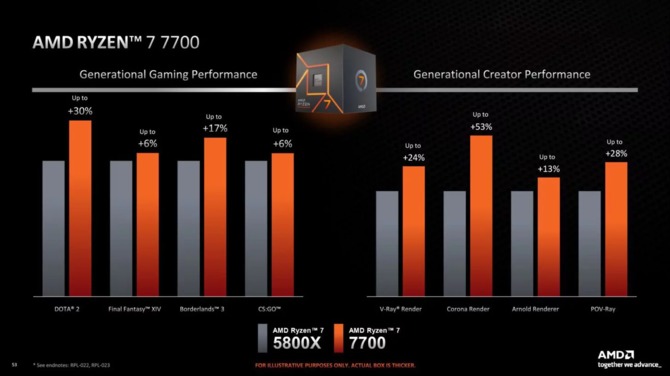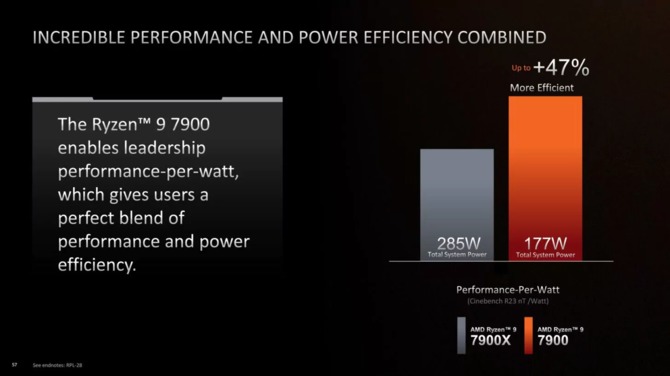 Source: AMD, WCCFTech