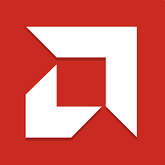 The AM5 platform did not have an easy start. The high prices of X670 motherboards and DDR5 memory effectively limited interest on the day of the premiere. A few weeks later, cheaper units equipped with the B650 chipset hit the stores, but many players still considered them to be inappropriately priced. Taiwanese today presented new motherboards that are aimed at the least demanding users. We also got to know the prices of models offered by the ASUS brand.
ASUS and ASRock presented seven motherboards equipped with the A620 chipset. The Taiwanese also gave the prices of some models. Those interested should prepare at least 139 euros.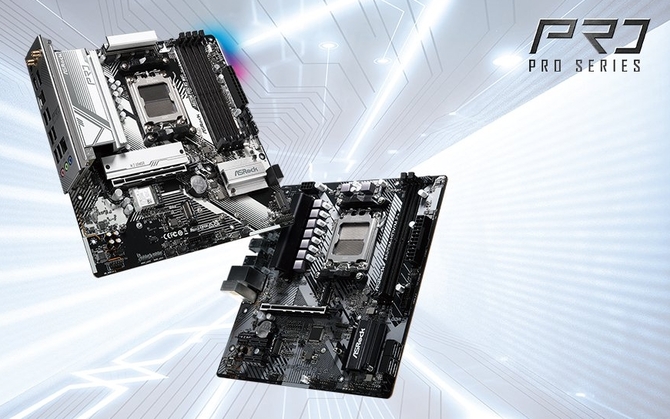 ASRock offers four motherboards. ASRock A620M-HDV/M.2 is a very budget design, because the manufacturer has provided users with only two SATA ports and the weakest 4+1+1 power section in the series. The model with the "plus" looks much better in this respect, but still offers only two slots for RAM. For those looking for a better design, two units from the PRO line have been prepared. On the power section (6+2+1) you can see a large heatsink. Interestingly, we will not find two PCI-Express 3.0 (x1) slots here, but the manufacturer has made it possible to connect an additional M.2 medium. It is worth noting that all boards support the BIOS Flashback function, which makes updating the firmware much easier.
ASRock A620M-HDV/M.2
ASRock A620M-HDV/M.2+
ASRock A620M Pro RS
ASRock A620M Pro RS WiFi
ASUS PRIME A620M-A
ASUS TUF GAMING A620M-PLUS
ASUS TUF GAMING A620M-PLUS WIFI
Nest
AM5
AM5
AM5
AM5
AM5
AM5
AM5
chipset
A620
A620
A620
A620
A620
A620
A620
power section
4+1+1
6+1+1
6+2+1
6+2+1
no date
no date
no date
Format
mATX
mATX
mATX
mATX
mATX
mATX
mATX
Supported memory
DDR5 5600+MHz (OC)
DDR5 6400+MHz (OC)
DDR5 6000+MHz (OC)
DDR5 6000+MHz (OC)
DDR5 6400+MHz (OC)
DDR5 6400+MHz (OC)
DDR5 6400+MHz (OC)
RAM slots
2
2
4
4
4
4
4
Number of SATA 6Gb/s ports
2
4
4
4
4
4
4
Number of M.2 ports
2
2
3
3
2
2
2
USB
USB 3.2 Gen 1 Type-C x1
USB 3.2 Gen 1 Type A x2
USB 2.0 x2
USB 3.2 Gen 1 Type-C x1
USB 3.2 Gen 1 Type A x3
USB 2.0 x2
USB 3.2 Gen 1 Type-C x1
USB 3.2 Gen1 Type A x3
USB 2.0 x4
USB 3.2 Gen 1 Type-C x1 USB 3.2 Gen1 Type-A x3 USB 2.0 x4
USB 3.2 Gen 1 Type A x2
USB 2.0 x4
USB 3.2 Gen 1 Type A x2
USB 2.0 x4
USB 3.2 Gen 1 Type A x2
USB 2.0 x4
PCI Express 4.0 (x16)
1
1
1
1
1
1
1
PCI Express 3.0 (x1)
2
2
–
–
2
2
2
LAN
Realtek RTL8111H
Realtek RTL8111H
Realtek RTL8111H
Realtek RTL8111H
no date
no date
no date
Wi-Fi
–
–
–
WiFi 6E + Bluetooth
–
–
WiFi 6 + Bluetooth
Sound chip
Realtek ALC897
Realtek ALC897
Realtek ALC897
Realtek ALC897
no date
no date
no date
Flashback
Yes
ASUS A620 motherboards differ much less from each other. Each model offers four RAM slots, six USB ports and two PCI-Express 3.0 (x1) slots. Users will be able to connect two M.2 media and four SATA drives. Unfortunately, the manufacturer did not provide detailed information about the power section, as in the case of the sound system or LAN controller. Instead, the prices of individual models were revealed, which may be disappointing for those planning to build an inexpensive computer set:
ASUS PRIME A620M-A – 139 euros (approx. 651 PLN)
ASUS TUF GAMING A620M-PLUS – 149 euros (approx. PLN 697)
ASUS TUF GAMING A620M-PLUS WIFI – 169 euros (approx. 791 PLN)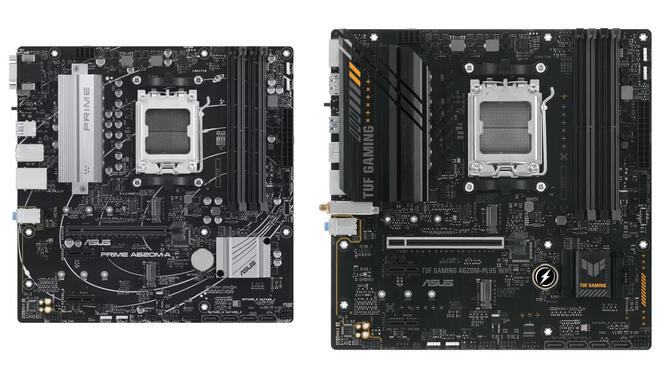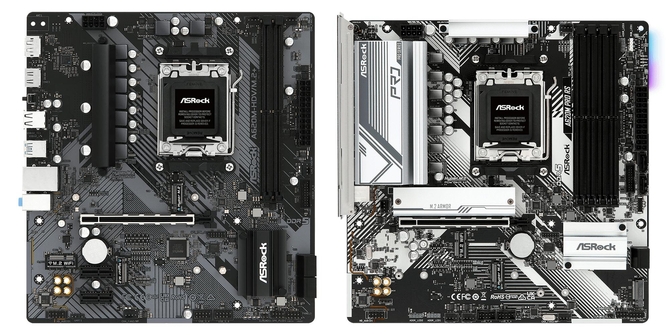 Source: ASUS, ASRock