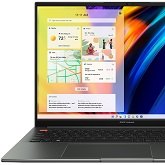 More laptops with 12th generation Intel Core processors and AMD Ryzen 6000 processors have recently started appearing on the Polish market, not necessarily costing five-digit sums. Even before the publication of the December recommended notebooks, I expressed interest in the ASUS Vivobook S 16X test, as it is one of the few devices on the market that offers powerful AMD Rembrandt APU processors and at the same time does not have an additional graphics chip. Such equipment can be used every day, for work or multimedia, especially since the integrated Radeon 680M system offers support for the latest codecs. For this reason, as promised, I did and borrowed the notebook from the x-kom store to check how it would cope in everyday use. Second in line is Lenovo IdeaPad 5i-15 with Intel Core i7-1260P – its test will appear shortly after ASUS.
Author: Damian Marusiak
ASUS Vivobook S 16X is a notebook with quite large dimensions. It has not only a full-size keyboard on board, but also a 16″ screen with a 16:10 aspect ratio. It turns out that the equipment is based on both an IPS and OLED matrix, with the OLED variant probably not available in Poland (and at least I haven't come across such a version). Nevertheless, the IPS matrix also performs very well here, especially since we are talking about a wide-gamut panel, which is great for multimedia consumption, while the 8-core AMD Ryzen 7 6800H processor offers sufficiently high performance that the hardware can cope with more demanding applications, and in addition, the laptop itself in combination with DDR5 and SSD PCIe 4.0 works very quickly, which ultimately affects high responsiveness in everyday use.
ASUS Vivobook S 16X is currently one of the few laptops that have an AMD Ryzen 7 6800H processor, but without a separate graphics system.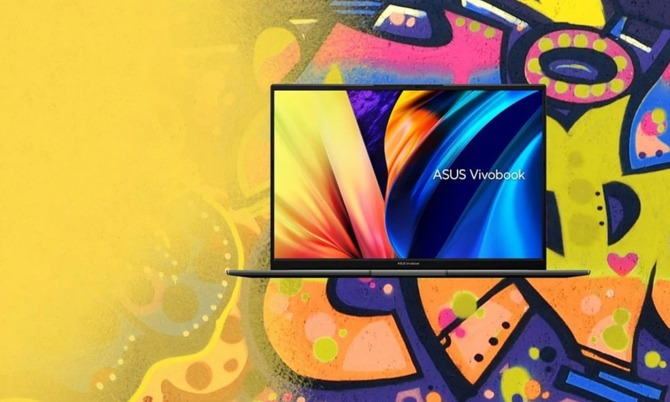 AMD Rembrandt processors are in many respects much more advanced pieces of silicon than were the APUs Renoir or Cezanne. Due to the development of integrated graphics systems, the surface area of ​​Rembrandt chips is slightly larger – 210 mm². For comparison, the APU Cezanne has a surface area of ​​180 mm². The latest AMD processors consist of Zen 3+ cores, in which more than 50 minor or major modifications have been introduced – their main intention was to increase energy efficiency, which plays an important role in laptops. Added to this are integrated graphics systems based on the RDNA 2 architecture. The Radeon 680M and Radeon 660M are the first iGPUs that accelerate Ray Tracing calculations in hardware. Of course, the quality of the performance itself is a completely different matter. The whole was developed in the 6 nm TSMC technological process. In the presented ASUS Vivobook S 16X laptop, we received an 8-core and 16-thread AMD Ryzen 7 6800H system with a TDP of 45 W.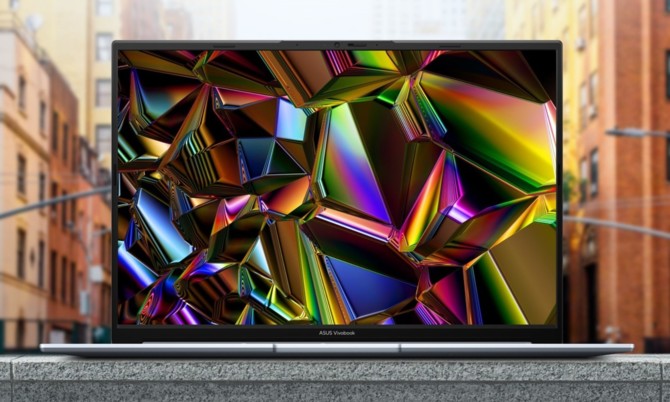 The integrated RDNA 2 graphics chips are heavily modified compared to what we got on the occasion of the Vega architecture. Increased e.g. by 50% the number of computing blocks – from 8 CU in Vega to 12 CU in RDNA 2. In addition, there are separate units for Ray Tracing, twice the backend or twice the L2 cache memory – from 1 MB (Vega) to 2 MB ( RDNA 2). Changes also took place in the graphics pipeline, which allowed to increase the clocks of the graphics core – for Radeon 680M it is a maximum of 2200 MHz (Ryzen 7) or 2400 MHz (Ryzen 9). At 2400 MHz, the iGPU's computing power reaches 3.4 TFLOPS (FP32) or 6.8 TFLOPS (FP16). Thanks to the new DDR5 4800MHz and LPDDR5 6400MHz controllers, it was also possible to increase the bandwidth by 50% over Vega-based graphics and DDR4/LPDDR4x. In the tested device, we have a Radeon 680M graphics chip with 12 CU RDNA 2 blocks and a clock speed of up to 2200 MHz. The iGPU itself also supports three image upscaling techniques: AMD FSR 1.0, FSR 2 and Intel XeSS.