There are plenty of options out there.
With the launch of the Apple Watch Ultra and Series 8, Apple expectedly discontinued the Series 7 model. Despite that, it's still one of the best Apple Watches today. If you have recently purchased an Apple Watch Series 7 and are looking for an alternative charger, there are plenty of excellent options out there. Some are basic and compact, while others are parts of larger stations. To help you find the right pick, we've compiled a list of the best chargers for the Series 7 model.



Apple Watch Magnetic Fast Charger


Fast Charger

This official USB Type-C charger supports 33% faster charging on the Apple Watch Series 7, when compared to the USB Type-A one.




Belkin MagSafe 3-in-1 Wireless Charger


Premium pick

This charging station has a MagSafe pad for your compatible iPhone, a Qi pad for your AirPods case, and an Apple Watch puck for your Series 7.




Apple Watch Magnetic Charging Cable


USB Type-A

$27 $29 Save
$2

This 1-meter USB Type-A charger is also official but lacks fast charging capabilities. It's ideal for those with a USB Type-A charging brick.




Apple Watch Magnetic Charging Dock


Official Dock

$69 $79 Save
$10

This dock from Apple is ideal for those who want to use their watches as an alarm clock, thanks to Nightstand mode in watchOS. It's only available in White, though.




ESR 3-in-1 MagSafe Charger Stand (HaloLock)


Modular Pick

$66 $77 Save
$11

This stand can charge an iPhone, Apple Watch, and AirPods wirelessly, all at the same time. Plus, the included Apple Watch charger is detachable and terminates in USB-C.




Apple MagSafe Duo


2-in-1 Charger

The MagSafe Duo is a dual charger for your Apple Watch and iPhone or AirPods case. It's great for those who dislike having many cables on their desktops. Though, it's available in white only.




Cabepow 2-in-1 iPhone and Apple Watch charger


If you're looking for a 2-in-1 charger that isn't as bulky as a dedicated station, then this compact cable is the one to go for. It can charge your iPhone and Apple Watch simultaneously.




Elago W2 Apple Watch charger stand


Nightstand Support

If you're on a budget and want to utilize watchOS' Nightstand mode, then this affordable stand is the one to go for. You simply insert your existing Apple Watch charger into it, as it doesn't include one in the package.
Our favorite Apple Watch Series 7 chargers

Personally, I love Belkin's MagSafe 3-in-1 wireless charger because it simultaneously charges my iPhone, AirPods Pro, and Apple Watch. Instead of having several cables and chargers on your desk, you can use this minimalist charging station. It works reliably, and, in my opinion, it's worth every penny. That's not to mention the visual indicator which confirms that your devices are indeed charging. It also alerts you when something stops them from charging. It truly is one of the best chargers for the Apple Watch.
If you're not looking for a charging station, then there are plenty of other individual cables that will charge your wearable just fine. Ultimately, you may also need a separate cable for when you're traveling and carrying around a bulky station is inconvenient. In this case, you could go for official Apple Watch Series 7 chargers or pick from the third-party ones we've listed.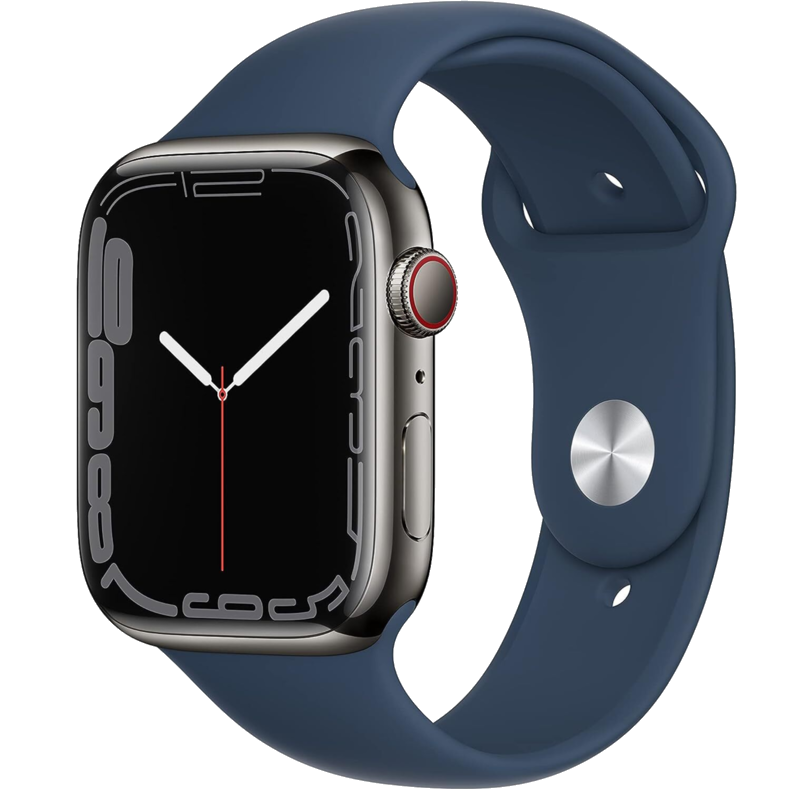 Apple Watch Series 7

$299 $399 Save
$100
The Series 7 costs as much as the Series 8. Only buy it if it's notably discounted and you find the SE 2 too lacking in terms of included offerings.