Bone conduction headphones have become increasingly popular over the years due to their comfort, long-term wearability, and general flexibility. Open-ear headphones allow you to stay connected to the outside world, limiting ear fatigue, and occasionally allowing you to listen underwater. So, whether you've just started investigating the benefits of bone conduction or you're a longtime fan looking for a new model; we've got you covered when it comes to the best bone conduction headphones. Despite being a relatively niche audio product, there are tons of models to choose from, and new models are regularly being released, so take the time to consider where and when you'll be using bone conduction. We're here to help you get started and introduce you to open-ear listening.
How do bone conduction headphones work?
Bone conduction headphones allow you to listen to your favorite songs or talk on the phone sans any interaction with your ear canal or eardrum. While this may sound like some sort of newfangled, tech-heavy sorcery, there is evidence that bone conduction has been around since the 1700s. Unlike traditional over-ear headphones which use air conduction, bone conduction completely avoids the eardrum by relying on a device, or transducer, like headphones, or a metal rod in Beethoven's case, to analyze sound waves, convert them into vibrations, and send those through the facial bones to be received by the inner ear or cochlea. Essentially, the vibrations received by the cochlea are the same no matter which way you "hear" them; they are simply sent via a different pathway. Now, bone conduction won't make your entire face shake. In fact, many report that these headphones are secure, comfortable, and easy to wear. However, if you are sensitive to pressure, there is a chance that you may experience dizziness or headaches after many listening for hours.
So, who can use bone conduction headphones? Anybody! An open-ear design is great for anyone who wants to stay connected to the outside world. Remember all those times your mom told you not to walk home at night with headphones in? Bone conduction keeps you aware of your surroundings at all times, providing for a more secure hike, bike, walk, or run. They are also great for swimmers who want to listen to music because the vibrations created by bone conduction can still be transmitted underwater, whereas air conduction is heavily suppressed. A waterproof pair of bone conduction headphones can keep you connected to your workout playlist lap after lap. While we have yet to discover a pair of amazing bone conduction earbuds if you're looking to round out your collection, check out our favorite wireless earbuds. But we do have some excellent recommendations for the best bone conduction earbuds.
Our favorite bone conduction headphones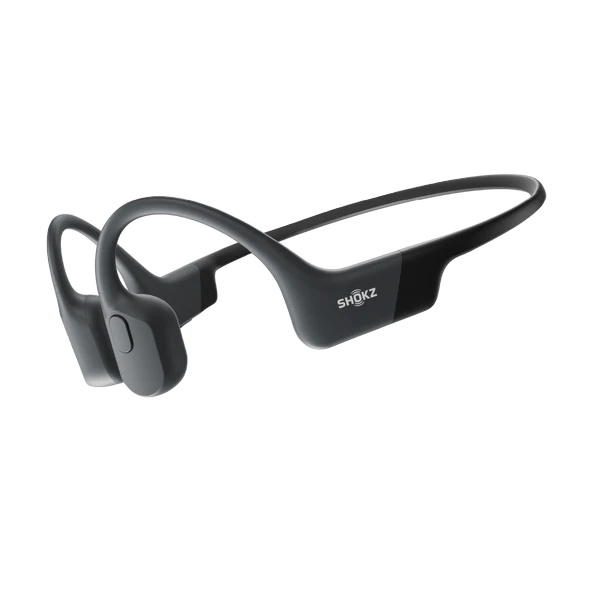 SHOKZ OpenRun
Best overall
A well-rounded pair of bone conduction headphones
$100 $130 Save $30
Available in four colors and two band sizes, the OpenRun fit gently, yet securely, around the back of the head, looping around the ears and resting against the temples. The headphones employ patented bone conduction technology, are equipped with Bluetooth 5.0, and feature PremiumPitch 2.0+, which prevents bleed, and minimizes distortion.
Pros
Sound quality
Waterproof
Quick-charge
Bluetooth 5.1
Cons
No mobile app
"Beep" with button press
Proprietary charging cable
You may have noticed that SHOKZ tops the charts when it comes to open-ear headphones. The brand has dedicated itself to producing high-quality bone conduction products for a variety of users, so it's no surprise that we've named the OpenRun headphones the best option for most people. An upgrade to the company's previous model, Aeropex, this model features Bluetooth 5.1 connectivity compatible with all mobile devices, and an IP67 rating, so you can work up a sweat without risking any damage. You'll also find three physical buttons to control power, volume, voice assistant access, call control, and EQ settings.
Gentle tension is used to keep the headphones in place, with the drivers resting snuggly against the cheekbone in front of the ear. PremiumPitch 2.0+ technology keeps sound quality high with angled transducers for better transference via vibration. Like most bone conduction headphones, this pair is lacking in sub-bass, but most users will still get enough satisfying low-end. You may also notice that sound quality suffers if you are actively using your jaw (lots of eating or talking can disrupt the vibration), but overall this is a great-sounding pair of open-ear headphones.
Because the fit of bone conduction headphones is so particular, you may have trouble with stability if you need to wear a helmet, thick hat, or safety goggles. However, most users won't have trouble finding a comfortable, secure resting place.
The only downsides to the OpenRun are a "beep" whenever your press a control button and a proprietary charging port and cable, which means adding another cable to your packing list that might be tough to replace if lost. Despite those annoyances, we still think the OpenRun has the sound quality and features that will work best for most listeners.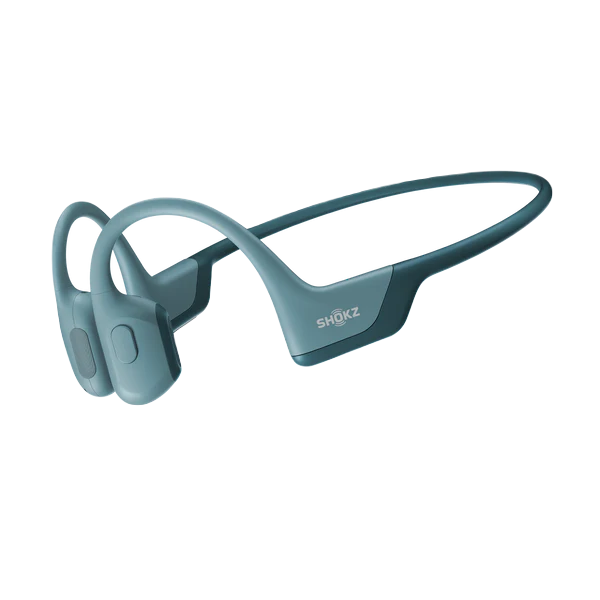 SHOKZ OpenRun Pro
Premium pick
Upgraded audio quality
$140 $180 Save $40
The OpenRun Pro is the elevated big sister to the OpenRun. Featuring a longer battery life, improved sound, and an updated design, this is the pair to reach for if you want the best of the best. The only downside is less protection from dust and water with an IP55 rating compared to the 8th generation's IP67 rating.
Pros
Battery life
Sound quality
Mobile app support
Bass enhancement
Cons
Pricey
IP rating isn't impressive
Proprietary charging cable
If you're able to spend a little more cash, you might like the OpenRun Pro model from SHOKZ. Though the IP rating is lower at IP55, this model features 9th-generation bone conduction technology, which produces slightly more present bass and more consistent audio quality as your face moves. You'll also get an improved 10-hour battery and 5-minute quick charging, as well as mobile app support on Android and iOS devices. The app lets you control multipoint connectivity settings and switch between Standard and Vocal EQ modes.
The OpenRun Pro still has the proprietary charging port and button press beep, but if you're after improved audio quality with an open-ear design, this might be just the pair for you.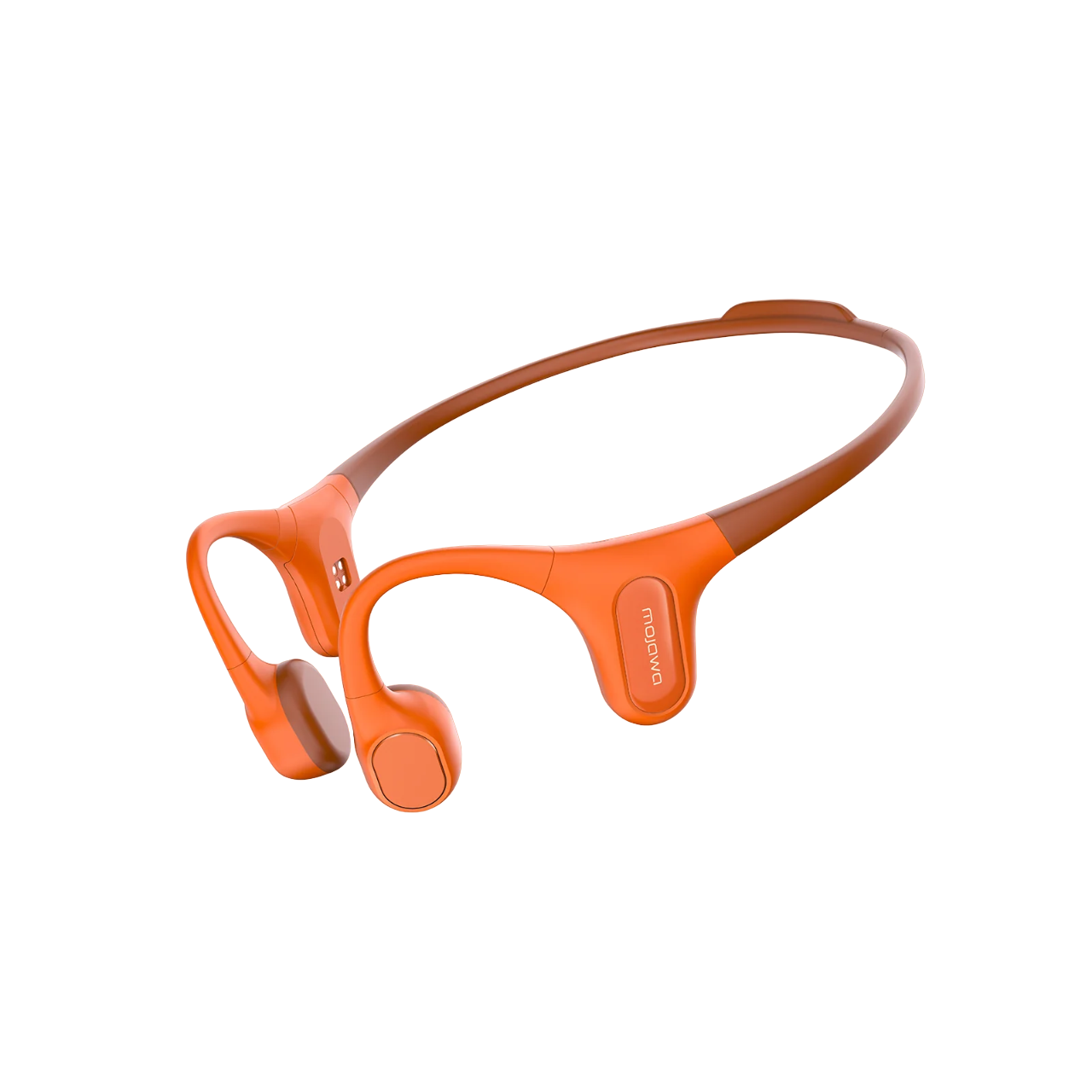 Mojawa Run Plus
Premium runner-up
New kid on the block
The Mojawa Run Plus bone conduction headphones feature an IP68 rating, Bluetooth connectivity, 32GB of storage, and a dual suspension anchor system to produce more resonant bass. 
Pros
IP68 rating
Multiple colorways
32GB of storage alongside Bluetooth
Cons
Pricey
Cannot stream Spotify or Apple Music
We've recently seen these Mojawa Run Plus headphones top a few charts, and based on the reported specs, they seem like a great contender for the top spot when it comes to premium options for bone conduction. Mojawa was founded in 2021, so its products are still quite new. The company currently sells three pairs of bone-conduction headphones, and the RunPlus has certainly caught our eye. Rated IP68, this pair is suited for all types of exercise including swimming; they can be submerged in up to 2 meters of water for two hours. You can also upload and store up to 32GB of music or roughly 8000 songs while touchpad controls allow you to play/pause, skip, and adjust additional features.
Notable premium features include voice assistant compatibility and patented noise-canceling technology which purports to reduce "echoes and external environmental noises by up to 40dB". This pair introduces the "world's first dual suspension anchor system" which works together with Physical Bass Strengthening tech to produce more present bass. User reviews report impressive audio performance across the board.
One thing to note, though this pair supports Bluetooth connectivity, you'll see a disclaimer from Mojawa that the Run Plus are not compatible with streaming services like Spotify or Apple Music. This just means that you won't be able to directly download songs from Spotify to the unit itself. When connected via Bluetooth, you'll still be able to use your favorite streaming services; this is true of most bone conduction headphones.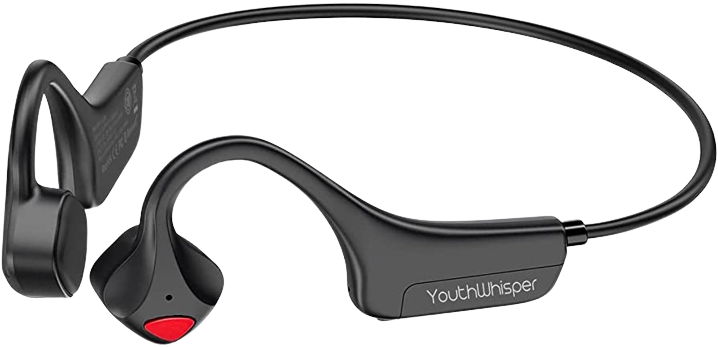 YouthWhisper Bone Conduction Headphones
Best value
A budget-friendly starter
The YouthWhisper bone conduction headphones are a more budget-friendly option that's great for folks just starting their open-ear journey. This pair is super lightweight with an IP54 rating and up to six hours of music listening time.
Pros
Lightweight
Purchase includes earplugs
Affordable
Cons
Call quality could be better
Getting the right fit can be a challenge
The YouthWhisper bone conduction headphones are a more affordable option and great for open-ear newbies. Though there isn't anything fancy about this pair, the sound quality is consistent, and the fit is suitable for various activities like yoga, hiking, and biking. Each pair is super lightweight, coming in at under 1 ounce, and comfortable for long wear, supported by a battery that lasts for up to 6 hours of listening, 8 hours of phone calls, and 20 days of standby time. An IP54 rating means that they are sweat-resistant, but you won't have to get them super wet, and you certainly can't submerge them.
This pair supports Bluetooth 5.0 and is compatible with iOS, Android, and PC devices plus, each pair comes with earplugs, so you can achieve some sense of noise cancelation when the time is right. It is worth noting that most headphones designed for kids will limit the maximum volume to 85 dB to protect their hearing. The YouthWhisper doesn't explicitly say if the volume is capped here or not.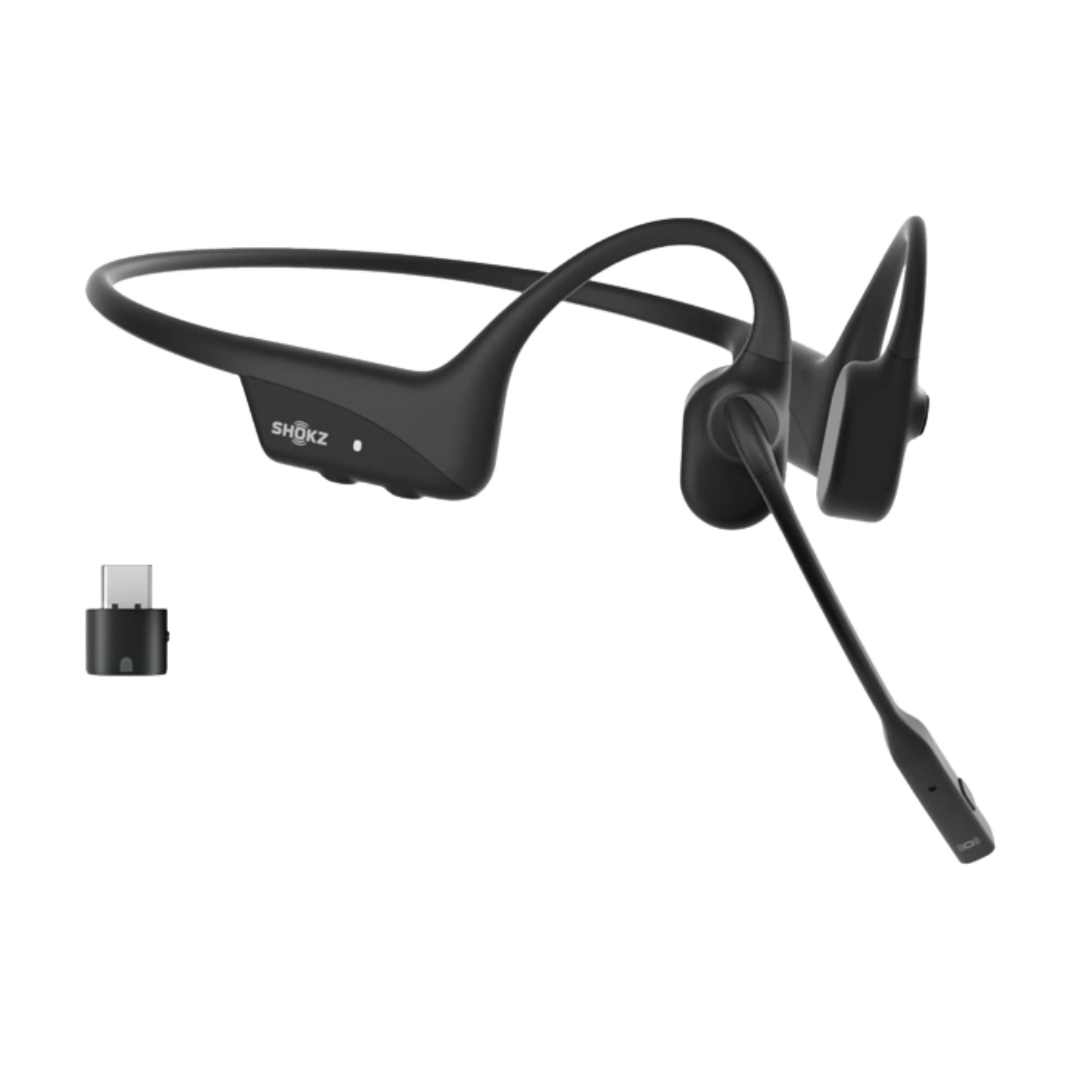 Source: SHOKZ
SHOKZ OpenComm2 UC
Best for calls
Stay connected with a noise-canceling mic
The Shokz OpenComm 2 is a bone conduction headset that specializes in call quality using a DSP noise-canceling boom mic, a Loop 110 USB-C adapter, and multipoint pairing. 
Pros
Zoom-certified
Dedicated boom mic
USB-C and USB-A adapters
We all know what it feels like to keep your traditional noise-canceling headphones on all day, shuffling from Zoom meeting to Zoom meeting and eventually suffering from headaches and ear fatigue. An open-ear design puts less pressure on the ear itself and can help you remain comfortable during a busy day. Call quality can be a struggle for many Bluetooth earphones, and bone conduction models are no different. If you need a pair of open-ear headphones to get you through stretches of those work-from-home meetings, reach for one specifically designed to handle high-quality phone calls like the SHOKZ OpenComm2 UC.
This is an updated model following the standard OpenComm UC. Though pricier than other models, this set comes with a DSP noise-canceling boom mic which makes a huge difference when it comes to clarity and vocal isolation. The boom is flexible and can be adjusted for optimal fit or rotated away when not in use. The battery is particularly impressive, lasting for up to 16 hours of talk time and 8 hours of music with an additional two hours from a 5-minute quick charge. Multipoint connectivity means you can switch quickly from chatting on your smartphone to FaceTiming from your computer. Each pair comes with a USB-A or USC-C Loop 110 wireless adapter, which helps establish a more secure connection between the headphones and your computer up to a whopping 98 feet away.
The OpenComm2 UC is particularly well-suited for computer calls while the OpenComm works best for mobile calls. The OpenComm2 is even Zoom-certified and features Zoom control functions that have been integrated into the headset buttons.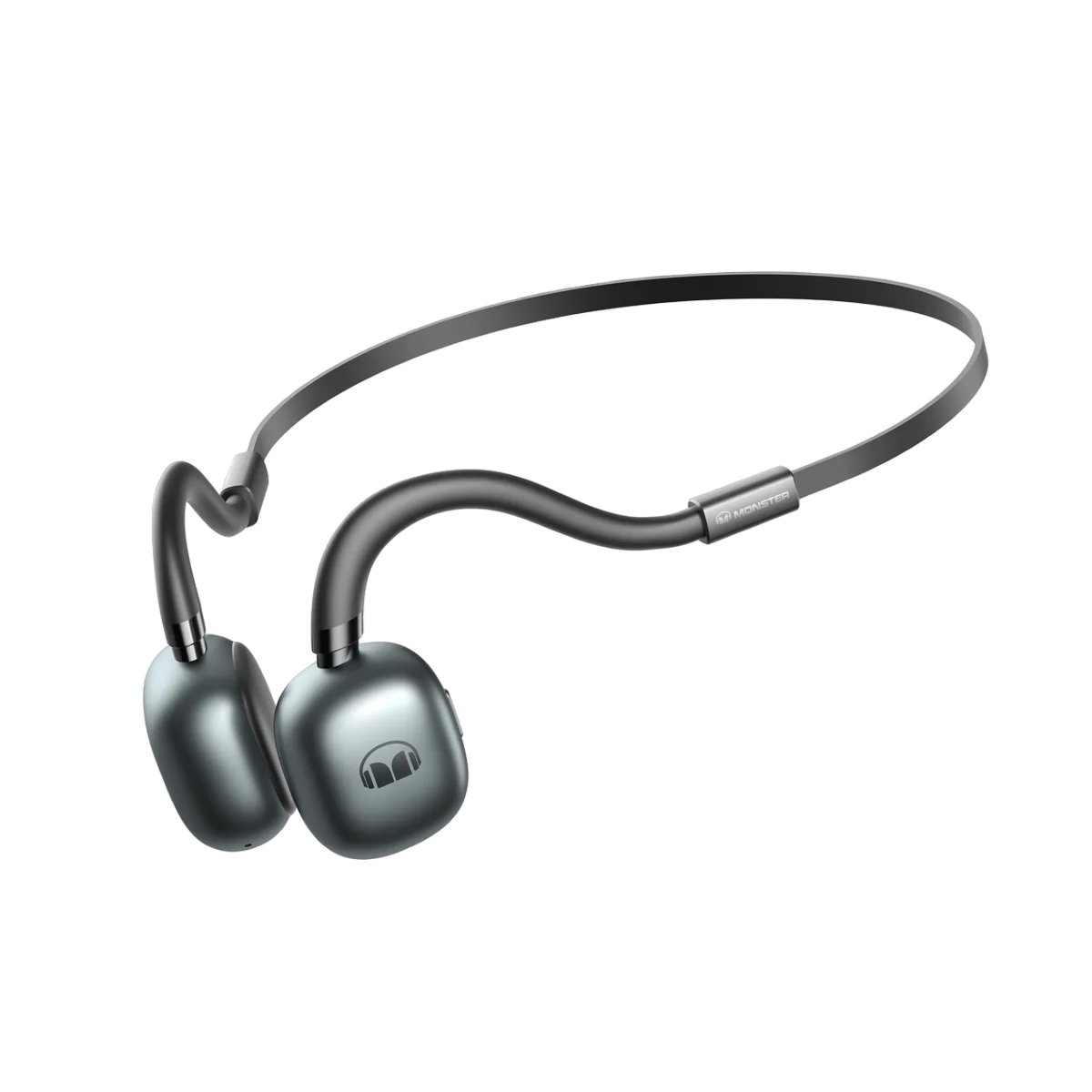 Monster Open Ear Headphones
Best for gaming
Low latency for a faster response time
The Monster Open Ear headphones combine bone and air conduction for a truly unique sound. Bluetooth 5.3 technology provides excellent connectivity and audio quality. Plus, this model includes Gaming Mode, which reduces latency, limiting it to 60ms, so you get the most from your round of Call of Duty.
Pros
Sleek design
Bluetooth 5.3
Gaming mode
Tap controls
Cons
Battery life is just okay
Some report issues with charging
Being an avid gamer can also result in ear exhaustion, which means keeping a pair of open ears on deck might keep you in the game longer. This pair from Monster is specifically designed to enhance your connection and minimize latency so an improved auditory experience. Bluetooth 5.3 keeps your connection strong, and 60ms low latency means imperceptible delay times, so you can respond swiftly to any auditory threats or commands. This model features 7 hours of playback, a magnetic charging dock, tap controls, and a sleek design that reminds us of a mini version of AirPods Max.
The Monster Open Ear design is technically a hybrid model supporting both bone and air conduction. While the fit seems to be the same as other open-ear models, on this pair, you'll find air ports facing the ear for a more robust listening experience. Nothing will occlude the ear canal itself: you'll still be able to hear your surroundings, but this added hybridity may result in better sound quality overall. We should not, however, that the additional air conduction will likely result in more sound bleed, so you likely won't want to use the in a work environment, or anywhere you want the utmost privacy.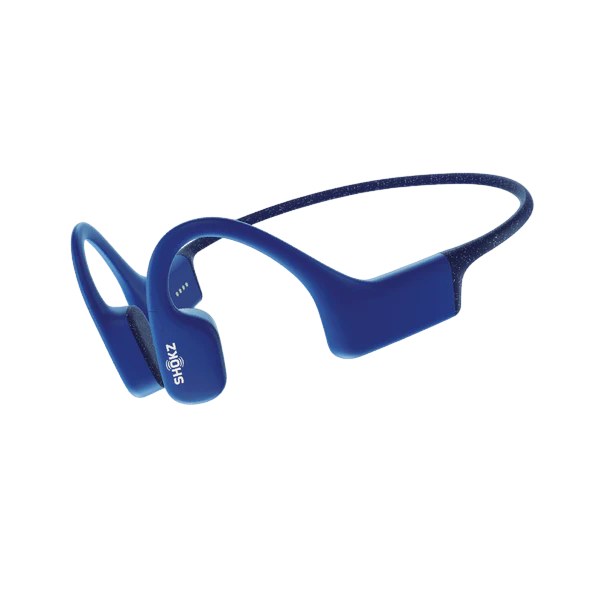 SHOKZ OpenSwim
Best for swimming
Underwater karaoke, anyone?
$125 $150 Save $25
The SHOKZ OpenSwim bone conduction headphones are designed specifically for swimmers with an IP68 rating which means you can submerge them for up to two hours. While you can't access streaming services underwater, they provide up to 4GB of storage, so you can pack your favorite workout playlists directly into your headphones.
Pros
Waterproof
Includes swim cap
Internal storage of up to 1,200 songs
Aside from one or two models, almost all headphones rated for complete submersion utilize bone conduction to connect swimmers to their favorite music. The SHOKZ OpenSwim can withstand submersion in up to 6.5 feet of water for up to two hours and holds up to 4GB of music (roughly 1,200 songs). Yes, it is a bummer that you can't just connect to your phone and cue up individual playlists, but Bluetooth doesn't exactly work well underwater yet. With the OpenSwim you'll have to upload songs the old-fashioned way: dragging and dropping them into the model's hard drive, but you can create separate music folders to maintain some control over your tunes. The OpenSwim accepts most file types, including WAV, MP3, FLAC, and AAC. An onboard multi-function button will let you access the music library, and the volume buttons will let you cycle through the different folders. Two EQ modes, Swimming and General, allow you to easily transition from land to water and vice versa without having to pause your content. Headband design hooks around the ears and fit easily underneath goggles and a swim cap. Eight hours of battery life will keep you in business, even during long swims, and onboard controls make for easy control, so you can skip tracks, change volume, and pause without missing a stroke.
If you're searching for a wired pair of bone conduction headphones, chances are you're coming up fairly short. While there aren't a ton of options out there, the GZCRDZ headphones should provide a solid analog connection. This pair doesn't have many bells and whistles, but it does provide a 3.5mm audio jack, a cable clip to keep your wires close to the chest, and a microphone with a mute button to answer or reject phone calls. This pair is water-resistant, so you're protected against sweat and splashes. Some users report low-level volume with frustration regarding the lack of onboard controls, however, because of limited options, this pair is your best bet when it comes to solid connection and sound quality.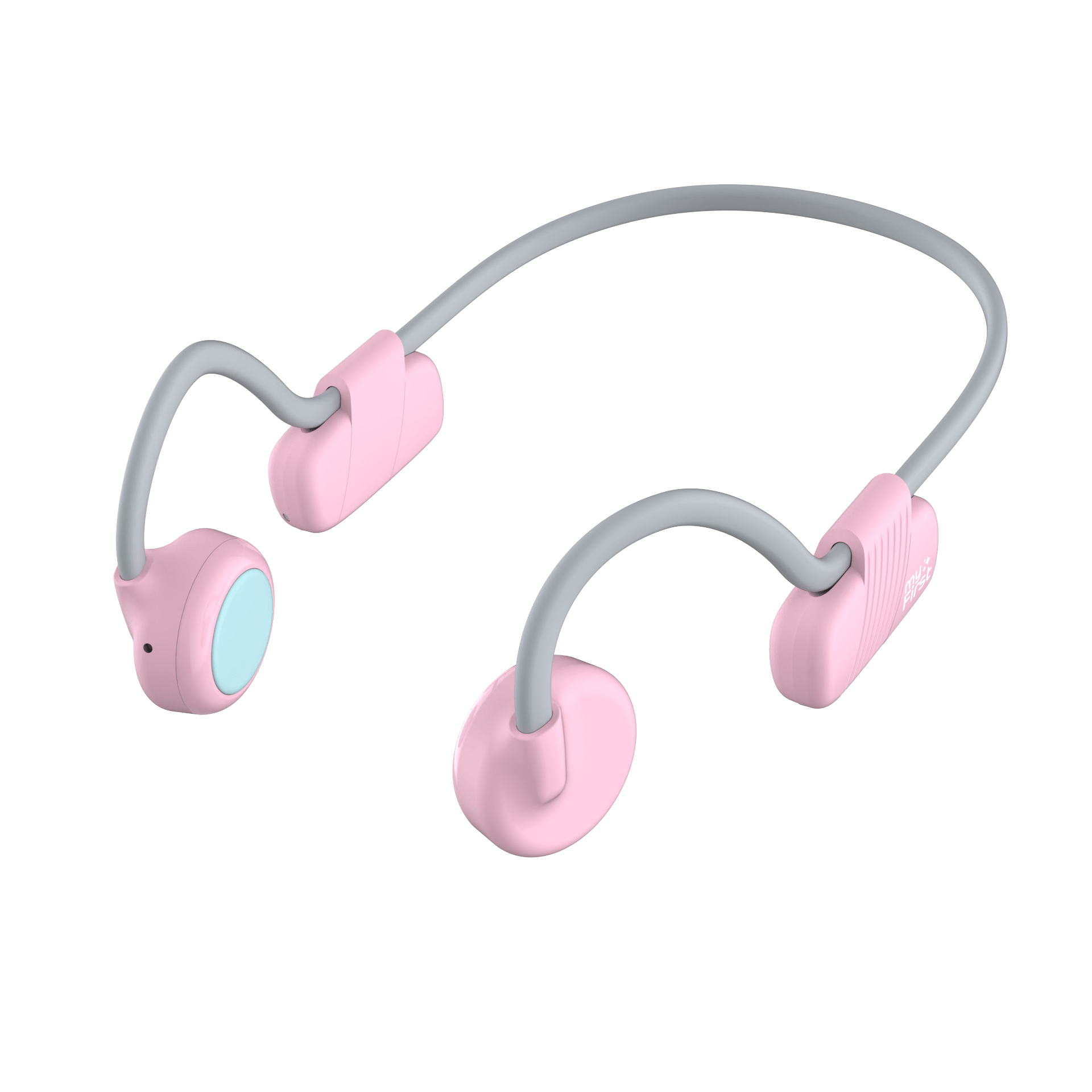 myFirst Headphones BC Wireless Lite
Best for kids
Baby shark meets bone conduction
myFirst Headphones BC is a great choice to keep kids attuned to their surroundings without limiting their ability to listen to music and movies. Cute and comfortable, this pair is also water-resistant with an IPX6 rating, so they won't succumb to your little one's spills and splashes. Volume is preset to support safe listening, and rubber ear pads make for a comfortable fit.
Pros
Built-in volume limiter
USB-C charging
Cons
Colors are limited
Battery life is just okay
The myFirst bone conduction headphones are our pick for anyone looking for an introductory pair for their kids. An open-ear design is a great way to keep kids safe while encouraging their independence. Leaving the ear canal open means your child can stay attuned to their surroundings; they'll be able to hear your instructions, pay attention to traffic, and monitor what's going on around them without turning off their favorite music. Plus, this pair had a built-in volume limiter, so there also won't be any risk of damage from the unit itself.
Beyond the safety measures, the myFirst BC headphones are IPX6 rated, so they'll be protected from your little one's spills or splashes, and 5 hours of battery life should keep them entertained for long periods of time. Each pair comes with earplugs to keep unwanted noise out and a versatile USB-C cable for charging, so you can minimize carrying around extra cables during travel. The fit is similar to adult models with rubber contact points that should be irritant free
The bottom line on bone conduction headphones
Overall, our favorite pair of bone-conduction headphones for most users is going to be the SHOKZ OpenRun. They come with most of the features we value in air conduction headphones, like onboard controls, solid battery life, and a water-resistant design. Plus, they actually sound good. If you're already a bone conduction expert, and you want the best of the best when it comes to connectivity and audio quality, try out the new and improved OpenRun Pro model. Just keep in mind you will be downgraded when it comes to water and dust resistance.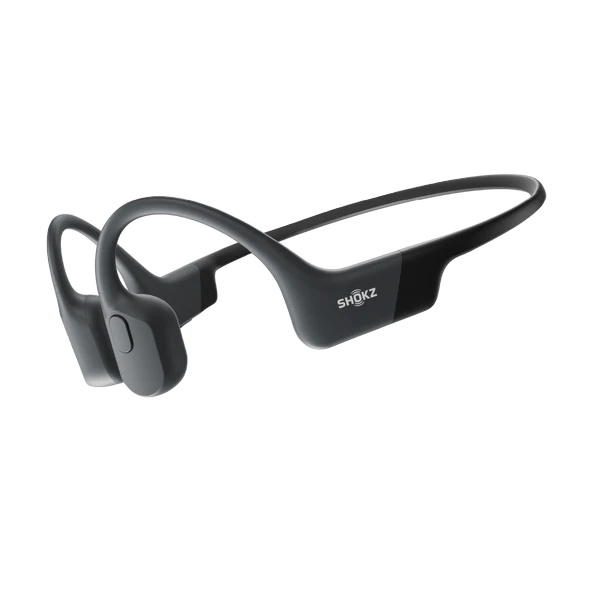 SHOKZ OpenRun
Best overall
$100 $130 Save $30
Available in four colors and two band sizes, the OpenRun fit gently, yet securely, around the back of the head, looping around the ears and resting against the temples. The headphones employ patented bone conduction technology, are equipped with Bluetooth 5.0, and feature PremiumPitch 2.0+, which prevents bleed, and minimizes distortion.
If you're just looking to try out a pair before spending the big bucks, reach for the YouthWhisper model to experiment and explore the fit and feel of bone conduction. If you want to get the absolute most from your new pair of bone conduction headphones, reach for the OpenRun Pro with updated conduction technology and a longer battery life.