Searching the web for a good pair of wireless earbuds when you're on a budget can quickly lead you down a rabbit hole; with so many choices, which should you choose? While the best wireless earbuds will give you all the bells and whistles, they might not be the wallet-friendly option. If you're looking for a pair of affordable buds that sounds good and want to get the best bang for your buck, it can be tough to narrow things down. Lucky for you, we've done the footwork through the endless offerings, distilling down only the best budget options.
You may be on a budget, but that doesn't mean quality is a world away. We focused on the features that make wireless earbuds great, including their audio quality, comfort, active noise cancelation (ANC), and battery life. Whether you're looking for the absolute best audio quality or just a pair that is as cheap as possible (and still rocks), we've got you covered. Whether you are looking for something inexpensive to take with you on runs, or you just snagged a new iPhone, and you're looking to upgrade your earbuds without going bankrupt, there is a pair of budget wireless earbuds out there for you.
Our favorite budget wireless earbuds in 2023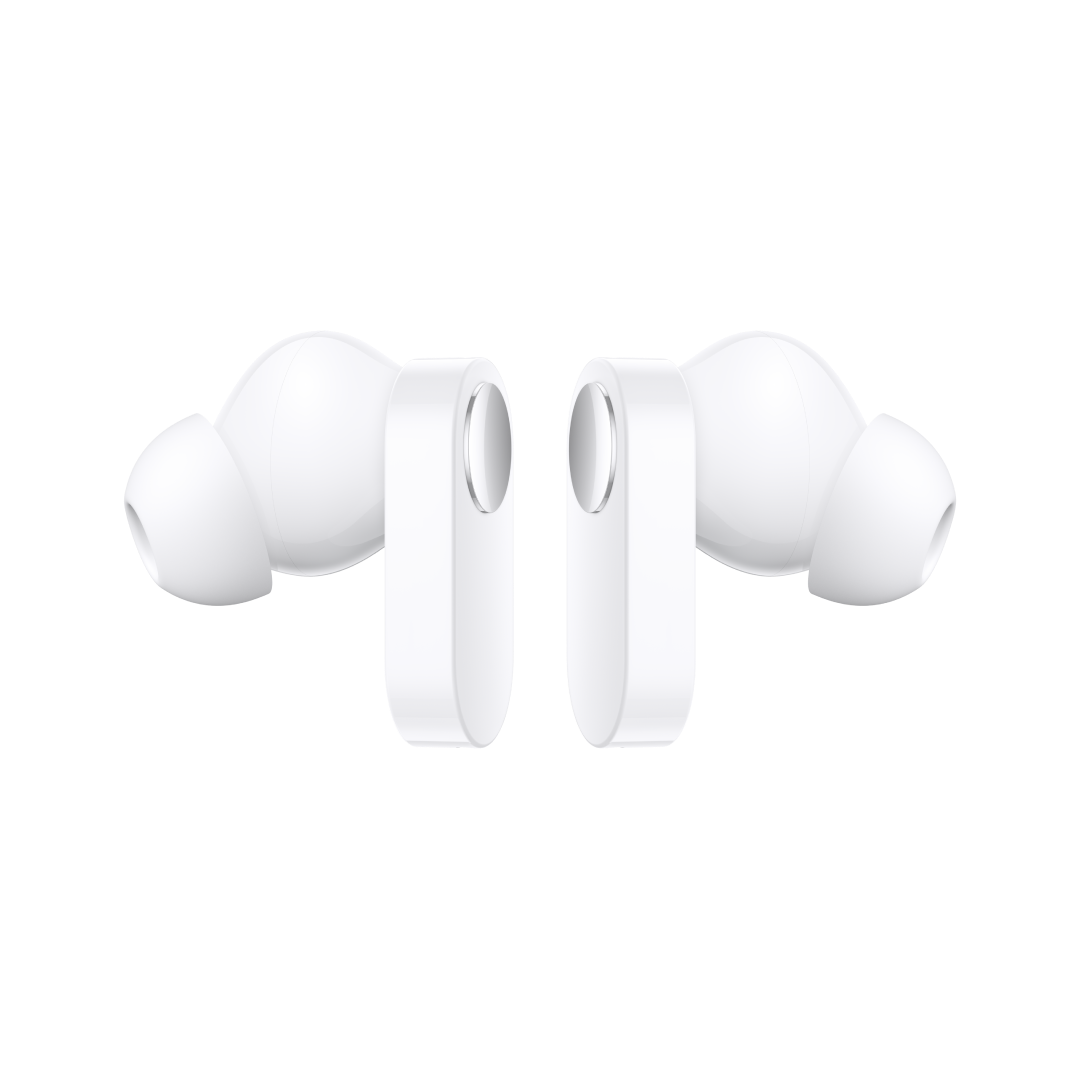 Source: OnePlus
OnePlus Nord Buds 2
Best overall
Doing a lot for a budget price
OnePlus offers up its Nord Buds 2 with 36 hours of playback per charge, active noise cancelation, and Dolby Atmos sound. Their lightweight design at only 4.7 grams per earbud and 37.5 grams for the case makes them a great option to slide into your everyday bag.
Pros
Active noise cancelation
36-hour battery life (with ANC off)
Solid audio quality
Cons
No wireless charging
Bulky case design
The best budget wireless earbuds should offer a balance comprising a comfortable design, solid audio quality, and long battery life at an affordable price, and the Nord Buds 2 are the ideal candidate. OnePlus, a company well-known for its Android smartphone options that live on the affordable side, offers up these buds with solid audio quality and long playback time, all in a lightweight package you can throw into your pocket and forget.
Despite the lightweight form factor, the folks at OnePlus have still managed to pack in excellent battery life — five hours with ANC on and seven hours in the buds with ANC off, with up to 36 hours total with the case's charges. You also get decent active noise cancelation (you'll never get the best ANC in earbuds since it's not a complete seal) and Dolby Atmos technology for a virtual surround sound experience. Sound quality will capture most music lovers' attention with boosted highs, although in our testing, we found it suffered a bit with bass-heavy tracks. The IP55 sweat and water resistance means you can even throw them in your gym bag for your next workout without worry.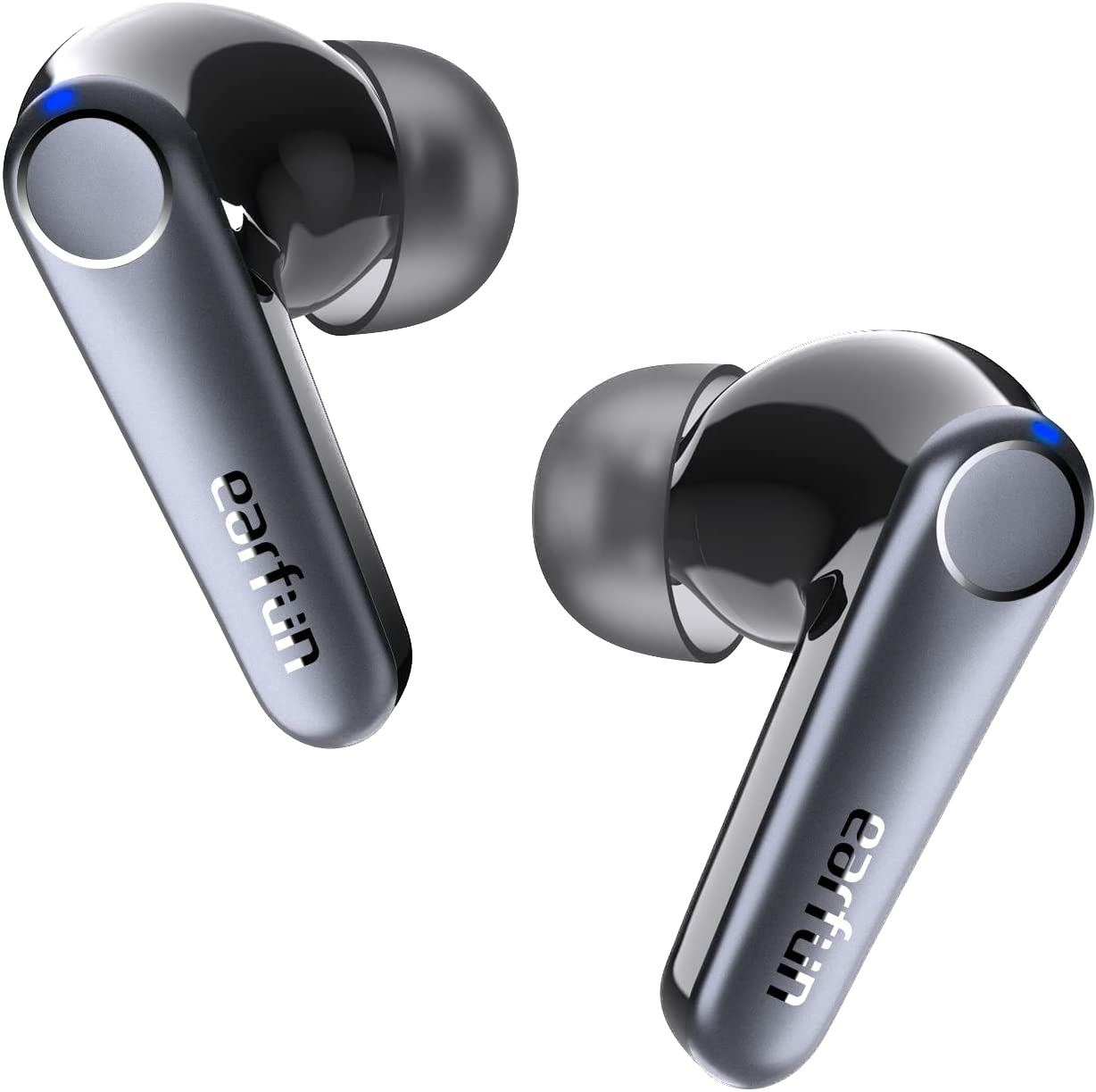 Source: EarFun
EarFun Air Pro 3 Noise Cancelling Wireless Earbuds
Runner-up
With excellent battery life, to boot
The EarFun Pro 3 is another great option for an all-around budget-friendly earbud. They have an IPX5 rating, aptX support, Bluetooth 5.3, active noise cancelation, and up to 45 hours of playback. This is a great option for well under $100.
Pros
aptX support
Solid ANC
Good battery life
Cons
App is just alright
Case design is also nothing special
While we love the OnePlus Nord Buds, we also really like the EarFun Pro 3. They support most, if not all, of our priority features, including ANC, ambient mode, aptX support for Android users, and impressive battery with nine hours of playback from a single charge and a total playtime of 45 hours. You even get access to wireless charging. Connectivity-wise, you get Bluetooth 5.3 with multipoint connectivity, so you can seamlessly move between devices.
It even has some unique features we wouldn't expect at this price point. For on-the-go gamers, you can trigger Game Mode, which reduces latency to less than 55ms. The EarFun app isn't necessarily special, but it does let you customize EQ, define touch controls, and toggle noise-cancelation modes.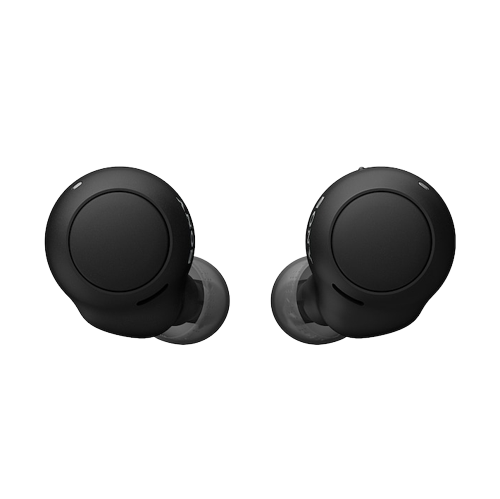 Sony WF-C500
Premium pick
Premium sound that won't drain your wallet
Sony's WF-C500 true wireless headphones deliver a premium listening experience that won't break your budget. With up to 20 hours of playtime, you can kick back and enjoy the strong bass and clear high notes. With an IPX4 rating, the WF-C500 earbuds are also both sweat-proof and splash-proof.
Pros
Premium experience, budget price
IPX4 water and sweat resistant
Excellent sound quality
Cons
Lackluster battery life
Lacks noise cancelation
Make way for the most premium offering we could find on a budget. Sony is known for making high-end electronics, particularly when it comes to wireless headphones. Despite being cheaper than their bigger siblings, the Sony WF-C500 still deliver excellent bass and clarity for the price, and you can customize the sound and some of the features from within the Sony Connect App. You won't get any noise cancelation here, but they're comfortable to wear thanks to the lightweight, rounded design (5.4 grams per earbud), and you can use them almost anywhere, including at the gym, thanks to their IPX4 sweat resistance.
The earbuds offer up to 20 hours of battery on a single charge with the case, and they can be quick-charged, allowing you to gain 1 hour of playback with only 10 minutes of charging time. With a stylish look in either black or white, you can wear these earbuds on your next work video call or take them on the run. It's challenging to find a fault when these earbuds pack such a premium listening experience at this low price.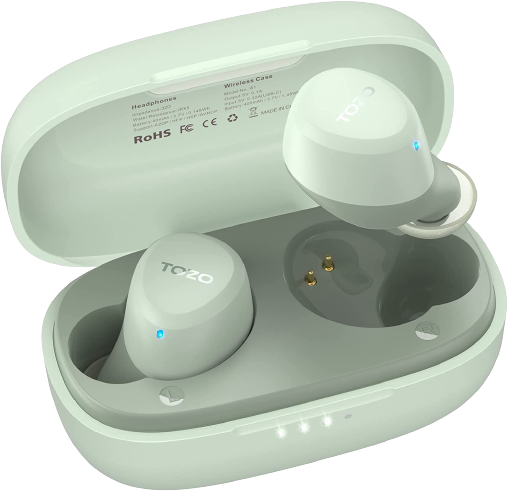 Source: TOZO
TOZO A1 Mini Earbuds
Best value
Colorfully affordable
$20 $30 Save $10
The TOZO A1 mini wireless headphones are pretty much the cheapest option for functional earbuds. While there aren't any fancy features, you will get smart touch controls, voice assistant integration, Bluetooth 5.3, and up to 5.5 hours of battery. Available in six colors, these earbuds are ultra-lightweight with a small charging case, USB-C charging cable, and five ear tip sizes.
Pros
Six colorways
Surprising sound quality
One-step pairing
Cons
Battery life isn't impressive
No ANC
The TOZO A1 earbuds are a sleeper set with over 35,000 five-star user reviews. Available in six fun colors, this model feature 6mm drivers, Bluetooth 5.3 technology, and one-step pairing with Android and iOS devices. They are super lightweight at just 3.7 grams and forgo any stems or protruding materials, making them a great option for easy listening, exercise, and even sleep. The buds themselves last for up to 5.5 hours on a single charge, and the case provides an additional 16.5 hours of battery life. The A1 earbuds have an IPX5 rating which means they are protected from spills, splashes, and sweat.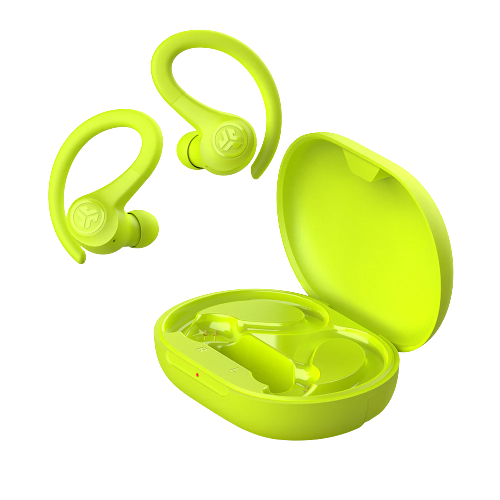 JLab Go Air Sport
Best for exercise
A cheap way to stay motivated
The JLab Go Air Sport wireless earbuds are the perfect pair to use for exercise (preserving your more expensive but perhaps less durable everyday listening set). Available in multiple colors, these buds have an IP55 rating that makes them essentially sweatproof, while the over-ear hook keeps them secure and stable. Touch controls eliminate the need to pull out your phone, and eight hours of battery life will keep you rocking out during your run.
Pros
Stabilizing over-ear hooks
Great price
IP55 rating
Cons
Sound quality is just okay
Volume level is not enough for some
Whether you are looking for a supplementary pair of earbuds for exercise or just want something cheap that you can't sweat out, the JLab Go Air Sport is a great option. While they don't necessarily outperform the other models regarding audio quality, they offer some unique features that will suit you well inside the gym. Stabilizing ear hooks keep the earbuds in place while you run, jump, and perform the other strenuous activities included in a HIIT workout. You'll also get eight hours of battery life which will cover multiple workouts, and the case provides an extra 24 hours of charge. The Go Air Sport have an IP55 rating which means they are protected from sweat (or rain if you're exercising outdoors). Tap controls will let you control basic playback as well as listening modes, including Signature, Balanced, and Bass Boost. Finally, this pair comes in some pretty stunning colors, including vibrant neon yellow, forest green, and light blue.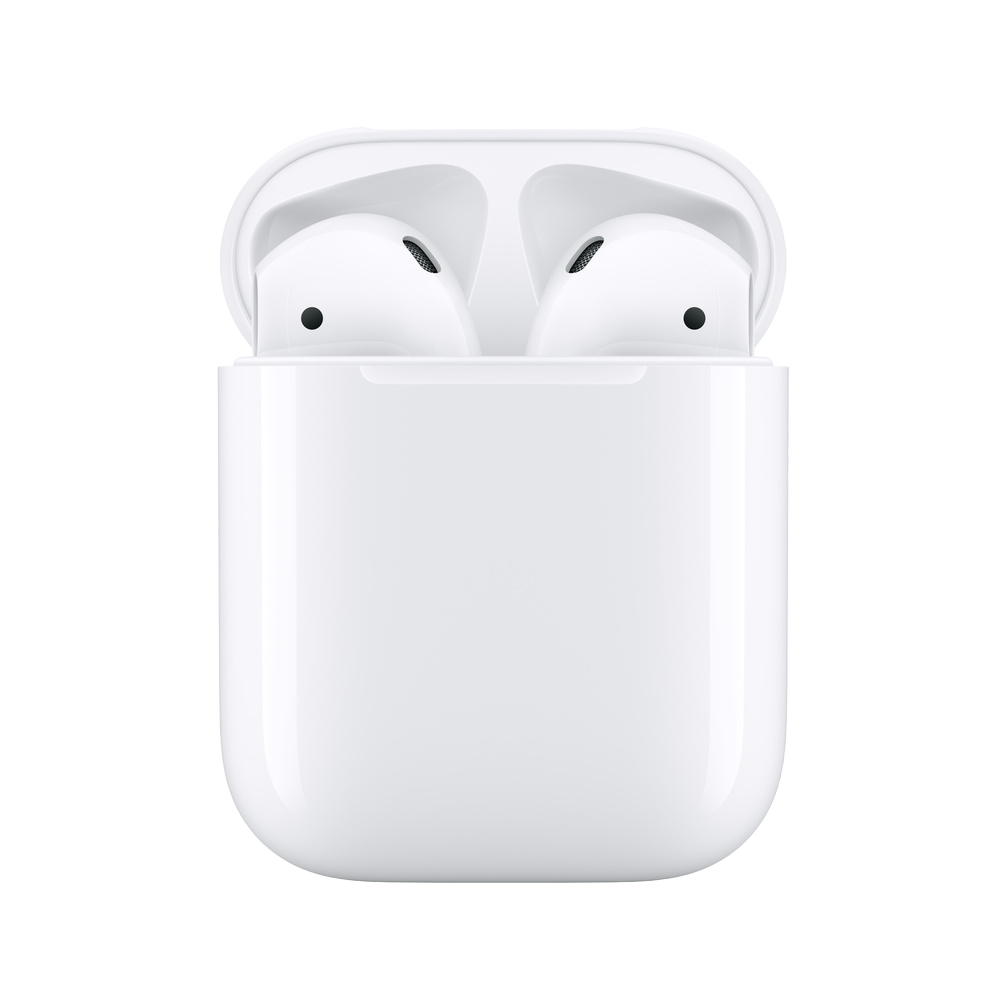 Apple AirPods 2
Best for iOS
Clean and classic
The Apple AirPods 2 are frequently available for under $100 and are a great option for any iOS user. While they don't provide ANC, they do feature excellent connectivity, good sound quality, and voice-assistant capabilities.
Pros
Easy setup
Multipoint connectivity
Solid call quality
Cons
Battery life is just okay
No ANC
Whether you've seen the marketing campaigns or you've tried them out in the past, you're likely already familiar with Apple AirPods. They don't often appear in our list of budget-friendly suggestions, but this AirPods 2nd Gen have been available for under $100 since the fall of 2022. If you're an iOS users who don't need active noise cancelation, this might be the pair to go for. They are supported by Apple's H1 headphone chip, which provides a low-latency connection and high-quality sound. Set-up is simple, with customization available directly in your iPhone's settings app. The AirPods 2 have in-ear sensors, tap control, and Hey Siri capabilities alongside five hours of listening from a single charge and a total of 24 hours of battery life.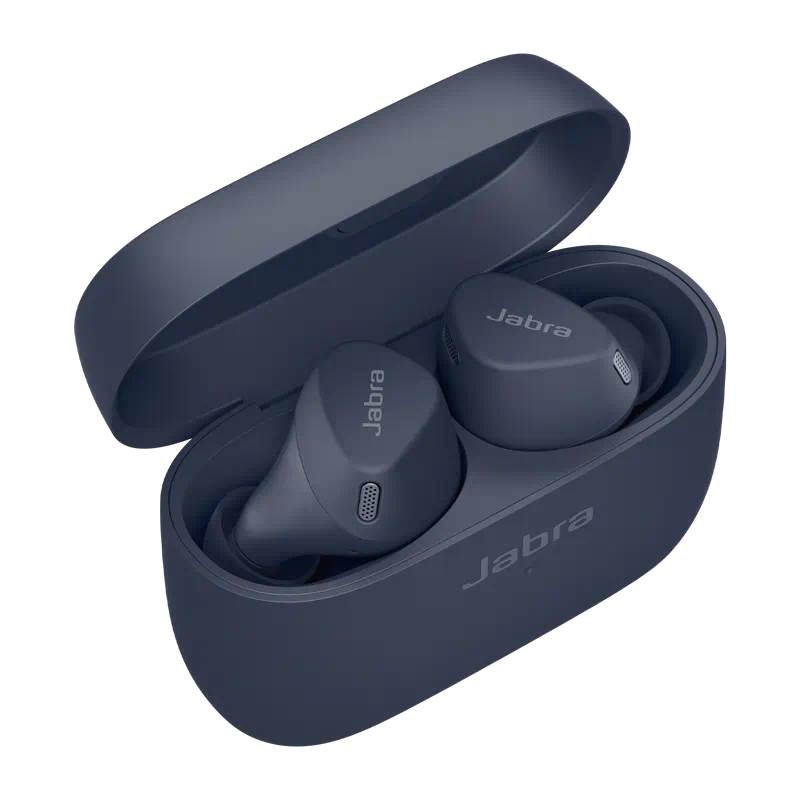 Source: Jabra
Jabra Elite 4
Best for Android
High-quality sound for less
The Jabra Elite 4 are $99 earbuds that hit all the basic fundamental checkpoints. You have good audio quality, solid ANC with transparency mode, and a comfortable fit.
Pros
aptX support
Active noise cancelation
Fast Pair technology
Cons
Pricey
Getting the right fit can be tricky
Okay, hear us out. We know that $100 earbuds aren't necessarily "cheap," but the Jabra Elite 4 offer the ANC and sound quality of a $200-plus pair which might just make those extra dollars worth it, especially if you're an Android user. The Elite 4 features Fast Pair for Android 6.0 and higher, Swift Pair for Windows 10 and higher for easy connections, and aptX codec support, which means low-latency listening, high-quality audio, and less battery drain specifically for Android users. Available in four colors, including Lilac and Navy, this pair offers active noise cancelation, Bluetooth multipoint, and an IP55 rating which means it's protected from dirt, dust, and liquids. The earbuds last for up to 5.5 hours on a single charge and 22 hours; 10 minutes in the case will provide a 1-hour quick charge.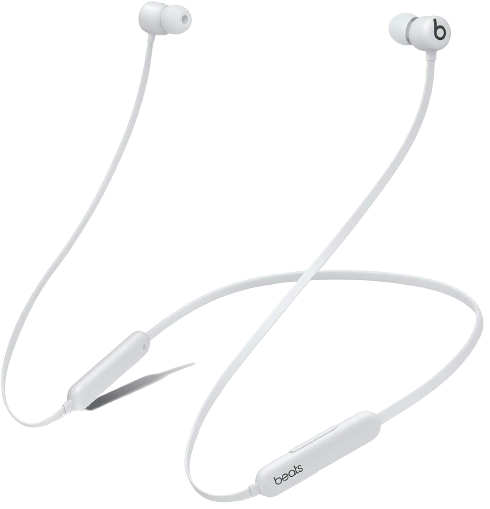 Source: Beats
Beats Flex
Best Beats
For when you love that Beats branding but want to pay less
$49 $70 Save $21
The Beats Flex Wireless earbuds are a good option for listeners who want to pay less. Often available for under $50, you get 12 hours of battery life, four ear tip sizes, the Apple W1 chip, and audio sharing.
Pros
Magnetic design
Great battery
Easy sharing
Cons
Sound quality is just OK
No IP rating
The Beats Flex are a budget-friendly option for anybody who has wanted to try out a pair of Beats (or established Beats fans who are looking for a supplementary pair). You can get them in some neat colors, like Yuzu Yellow, and they have magnetic earbuds that satisfyingly snap together while pausing your music. You'll also get four ear tip sizes and an anti-tangle cable. While most earbuds want to forgo wires entirely, we actually like the cable design. How many times have you lost a pod or bud in your pocket because you had to suddenly take them out to talk to someone? The cable means these earbuds can lay neatly around your neck whenever you don't want to wear them in your ears.
They also have a W1 chip, which means compatibility is a bit better with iOS devices, but Android users shouldn't have too much of a problem. Reported battery life is pretty stellar at 12 hours, and a 10-minute quick charge gives you an additional 90 minutes of battery. Plus, you can charge with USB-C, which cuts down on your travel cable count. Sound quality isn't necessarily premium, but for a cheaper price, this is a great pair of earbuds that perform well and will last.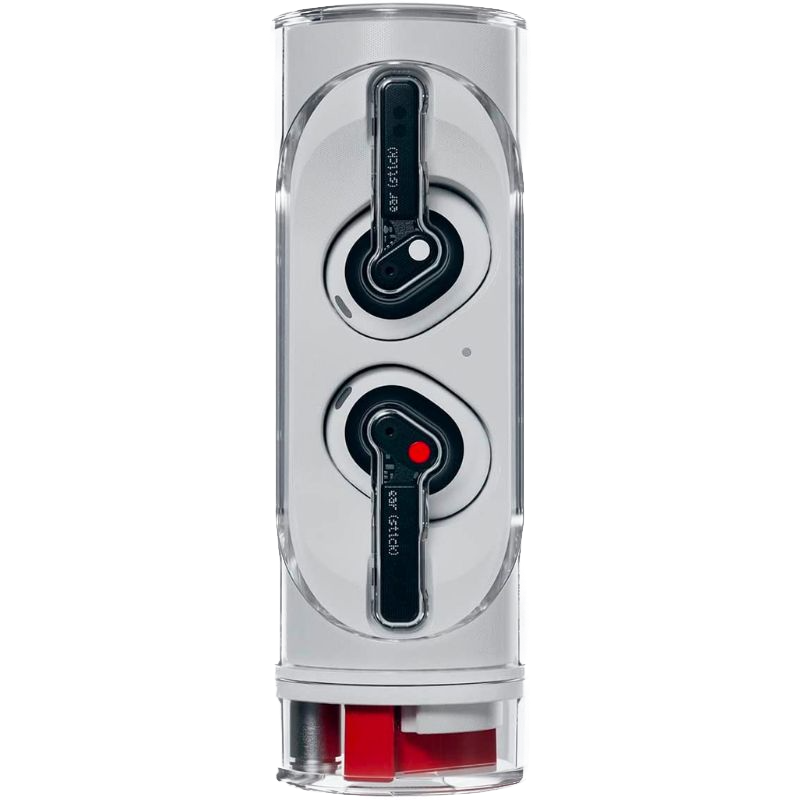 Nothing Ear Stick
Best open ear
Affordable earbuds that stand out
$64 $79 Save $15
Nothing offers an option that is certainly something. The Ear Stick earbuds showcase a unique transparent construction that makes them stand out among the crowd. Of course, they don't just look good. They also offer clear audio with a reasonable bass response and great battery life.
Pros
Striking translucent design
29 hours of battery life
Clear audio quality
Cons
No noise cancelation
No wireless charging
These earbuds are Nothing — or are they? The Nothing Ear Stick earbuds (that's a mouthful) deliver an eye-catching design that will grab attention, all while offering clear audio with clear audio and a decent bass response. The battery life clocks in at about seven hours on a charge, and around 28 hours total with the charging case, so you can rock out, enjoy podcasts, and play games all day, on your commute, or sitting on the couch at home.
The folks at Nothing have always sought to capture consumers with striking design, and the Ear Sticks do just that with a translucent design that carries over to the battery case. It all feels very 1990s, where everything was translucent, and we're here for that. And don't worry, just because they are translucent doesn't mean they are fragile; the Nothing Ear Stick earbuds feature IP54 dust, water, and sweat resistance.
They're also unique in that they feature a half-in-ear design. The tip doesn't sit inside your ear canal, which might be more comfortable for you. However, this means they don't block out a lot of noise, and they don't have any form of noise cancelation either.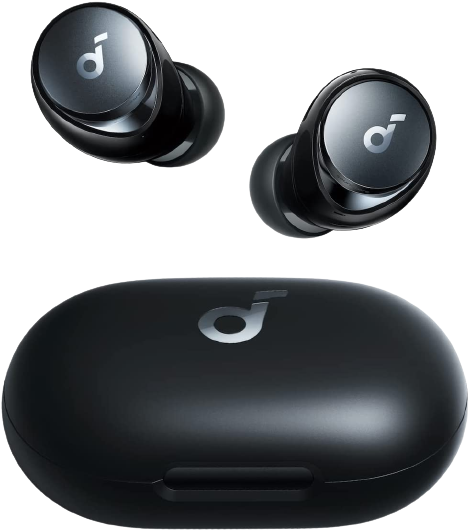 Source: Anker
Soundcore Space A40 Earbuds
Best ANC
Customize your cancelation
The Anker Soundcore Space A40 is one of our favorite pair of affordable earbuds. They're small but mighty, provide surprisingly excellent noise cancelation, up to 10 hours of battery, and sport a neutral sound profile that works for most musical genres. Each pair comes with four different ear tip sizes, and the case provides an additional 50 hours of charge. The Soundcore app also provides 22 preset EQ options with support for SBC, AAC, and LDAC codes.
Pros
Great ANC
Excellent battery
LDAC support
Cons
Call quality could be better
Pricey
If you want really stellar ANC while on a budget, we recommend spending the money to grab a pair of Space A40 earbuds. This model has an upgraded noise canceling system that "detects external noises and automatically selects a suitable level of noise canceling for your surroundings." This pair analyzes your environment and selects particular frequencies to cancel out with a unique profile for commuting, indoor, and outdoor use.
Budget-friendly earbuds aren't often able to preserve a neutral sound profile suitable for most genres; they frequently overcompensate on bass resulting in muddy mids and highs. The Space A40s don't have this problem, which means most listeners will be more than satisfied with the sound quality. If the flat sound isn't working for you, you can always cycle through one of the 22 EQ presents included with the Soundcore app. Finally, this model comes with four ear tip sizes, so those with small or large ears won't have to worry about them falling out.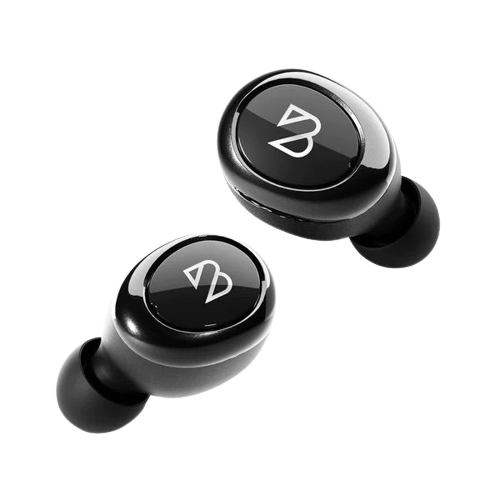 Back Bay Duet 50 Pro
Best battery life
You won't need to find an outlet for days
Black Bay's Duet 50 Pro Earbuds provide a wireless option with up to 130 battery life. The earbuds offer 8 hours of music per charge, while the additional case provides an additional 122 hours. The Duet 50 Pro earbuds are also sweatproof with an IPX5 water resistance rating. The large 2,600mAh charging case also doubles as a power bank.
Pros
Ultra-long 130-hour battery
Case doubles as a battery bank
IPX5 sweat and rain resistant
Cons
Bulky case size
Long charging time
If you are looking for budget earbuds with the most battery life possible, you'll want to consider the Duet 50 Pros from Back Bay Audio. The earbuds offer 130 hours of battery life, 8 hours in the buds, and 122 hours in the charging case, so we doubt you'll run out of power soon. These wireless earbuds are perfect for those taking extended outdoor retreats or anyone else who might be away from an outlet for long periods.
The best feature is its battery life, but its engineers still managed to pack in full-sounding audio with strong bass and a sweat-proof design. One extra feature Back Bay Audio threw into its earbud case is the ability to reverse-charge your smartphone. Plug your smartphone into the earbud case to begin charging. I just wish a few more colors were offered beyond black.
The best budget wireless earbuds for you
Finding the perfect wireless earbuds can be challenging; it's even more difficult when you want to find something that's affordable but still offers quality. Our top pick on the list, the OnePlus Nord Buds 2, deliver an experience that we believe anyone will be happy with for the low price. You'll get solid audio quality, up to 36 hours of battery life, and waterproofing, so you can take these earbuds wherever you need them. The EarFun Air Pro 3 are another great option with all-around great features and a stellar performance.
Suppose the price is the ultimate condition on your list. In that case, our best option for value, the TOZO A1 wireless earbuds, will deliver decent audio quality in a fun, colorful form factor. For those with a bit more to spend, you can't go wrong with Sony's CF-500 wireless earbuds that deliver Sony's well-known audio quality in a much more affordable package.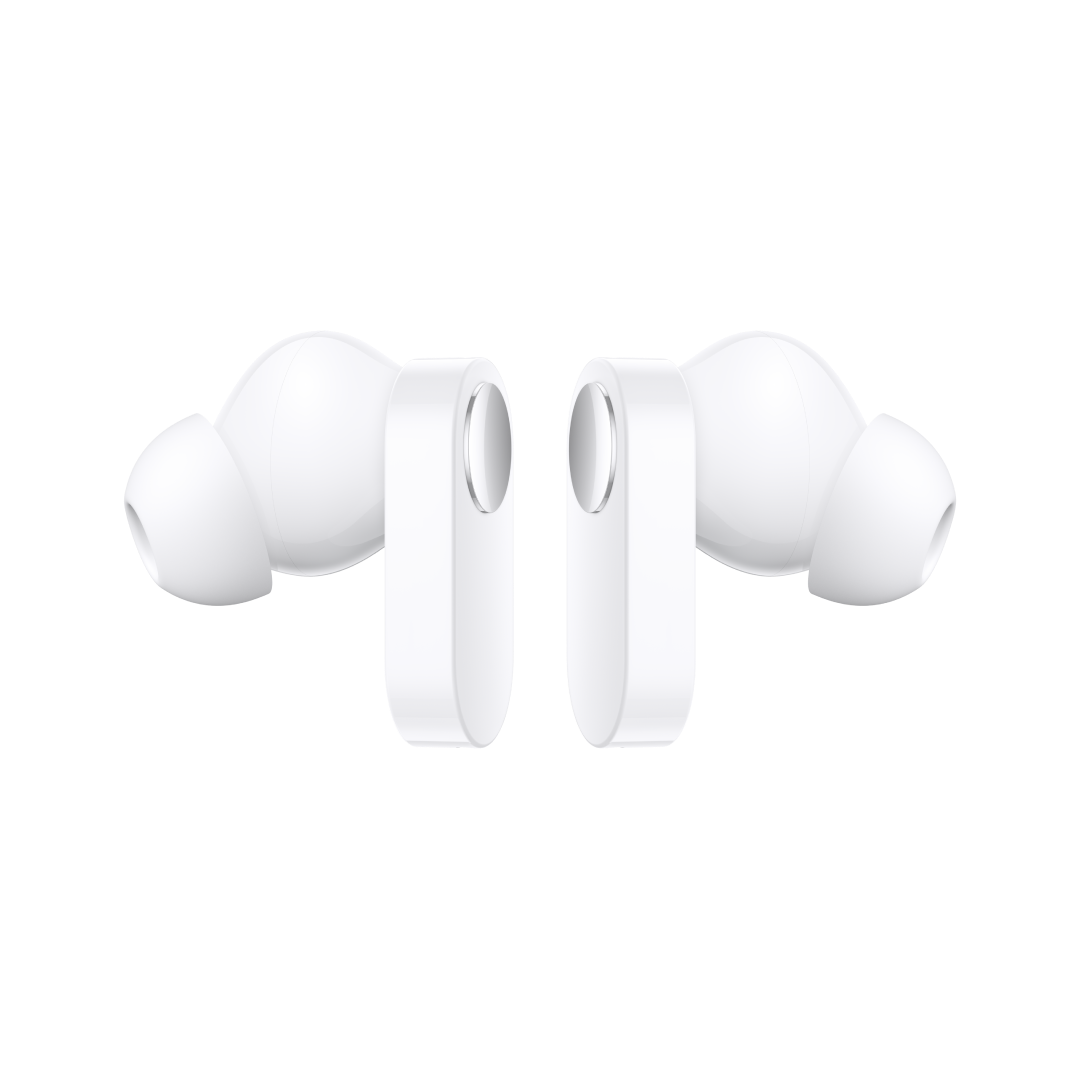 Source: OnePlus
OnePlus Nord Buds 2
Best overall
Doing a lot on budget price
OnePlus offers up its Nord Buds 2 with 36 hours of playback per charge, active noise cancellation, and Dolby Atmos sound. Their lightweight design at only 4.7 grams for the earbuds and 37.5 grams for the case make them a great option to slide into your everyday bag.