The Galaxy Tab S9 is now here, and we've got you covered for all the accessories you might need for this stunning Android slate.
The Samsung Galaxy Tab S9 is one of the best Android tablets, with a beautiful, high refresh rate AMOLED screen. It comes with the superlative S Pen in the box, so straight away, it's versatile for productivity tasks. The powerful Snapdragon 8 Gen 2 for Galaxy chipset is the most powerful Qualcomm chip on the market, so it's got the power you need. To keep that screen pristine and the power topped up, you'll want to pick up some accessories. A screen protector is my first suggestion, followed by a case to protect from falls. There are tons of other accessories for what is sure to be a popular device, so I rounded up some of my favorites.
Best cases




Source: Samsung

Samsung Smart Book Cover for Galaxy Tab S9


Editor's Choice

Samsung's Smart Book Cover magnetically attaches to the Galaxy Tab S9, providing slim and easy protection. It's also got an origami-style kickstand on the back to make hands-free viewing in portrait or landscape simple.




Source: Soke

Soke Case for Galaxy Tab S9


Stylish pick

$20 $23 Save
$3

The Soke Folio case is a stylish way to protect your new tablet, with reinforced corners, camera protection, two stand positions, and a carrying slot for the S Pen. It also has magnetic closures for the front cover, which supports sleep and wake functionality.




Source: Vodefox

Vodefox Case for Galaxy Tab S9


Stylish folio

This stylish folio case will keep your tablet protected and can be used as a stand for hands-free viewing in landscape mode. You also have three card slots inside to replace your wallet. It does cover the rear camera, though, so look elsewhere if you use the camera often.




Source: MoKo

MoKo Case for Galaxy Tab S9


Best Value

$17 $19 Save
$2

This folio case from MoKo has lots to offer. The sturdy polycarbonate case has cutouts for easy port and button access, including for the rear camera and S Pen charging area. It's also got an elastic loop to keep your S Pen safe during travel.



Source: Fintie

Fintie Hybrid Slim Case for Galaxy Tab S9


Editor's Choice

$13 $18 Save
$5

This hybrid case keeps the stylish back of the Galaxy Tab S9 in full view thanks to a crystal clear plastic to protect from scrapes and falls. It also has TPU bumpers for additional fall protection and a foldable screen cover that can be used as a stand.




Source: Supevo

Supevo Case for Galaxy Tab S9


Slim pick

$23 $26 Save
$3

This slim folio from Supevo looks like a composition notebook, keeping your tablet and S Pen safe from harm. It's got cutouts in all the right places for the design changes Samsung did this year, and an anti-slip front shell for landscape viewing use.




Source: Spigen

Spigen Ultra Hybrid Pro for Galaxy Tab S9


Two S Pen holders

Spigen's Ultra Hybrid Pro is one of our favorite case series, with ultra-clear polycarbonate welded to flexible TPU for the best of both types of protective materials. It's also got a foldable cover to use as a kickstand and two places to stow the S Pen safely.




Source: Poetic

Poetic Turtleskin for Galaxy Tab S9


Protective pick

Poetic's Turtleskin range offers some of the best bumper cases for tablets as the thick silicone protects from drops and bumps like a champ. The Galaxy Tab S9 version has a handy clip for keeping the S Pen secure while it charges on the back of the tablet.



Source: Samsung

Samsung Book Cover Keyboard for Galaxy Tab S9


Editor's Choice

Samsung's Book Cover Keyboard for the Galaxy Tab S9 protects your tablet with a magnetically-attached Bluetooth keyboard with a touchpad, so your tablet turns into a laptop replacement. It's got full-sized keys, a cover to protect the S Pen, and an adjustable stand.




Source: ProCase

ProCase Keyboard Case for Galaxy Tab S9


S Pen holder

$31 $35 Save
$4

This keyboard case from ProCase has a slim folio design, so you can prop your tablet up at a comfortable viewing angle. It's also removable from the case, so you can position the keyboard to where you want to work from.




Source: Samsung

Samsung Book Cover Keyboard Slim for Galaxy Tab S9


Premium Pick

If the full-sized Book Cover Keyboard is too thick for your tastes, Samsung has a slim version for the Galaxy Tab S9. It's got full-sized keys, but the touchpad got dropped to fit into a slimmer case, and you still get a S Pen protective cover.




Source: Fintie

Fintie Keyboard Case for Galaxy Tab S9


Best value

$30 $36 Save
$6

Fintie makes some great slim folio cases, and this one also has a removable Bluetooth keyboard to get that Tab S9 kicked into productivity gear. When open, you can view it from three viewing angles, and it has a magnetic, removable Bluetooth keyboard with up to 230 hours of battery life.
Rugged and waterproof cases




Source: Samsung

Samsung Outdoor Cover for Galaxy Tab S9


Officially rugged

Samsung's official rugged case is mil-grade tested for bump and drop protection. The inbuilt kickstand not only works for portrait and landscape viewing but it can also be hung from a hook or used as a carrying handle for more versatility.




Source: Spigen

Spigen Tough Armor Pro for Galaxy Tab S9


Best Value

Spigen's Tough Armor Pro has built-in storage for the S Pen, and a kickstand that's great for viewing movies or tilting the screen just enough for the optimal drawing or typing angle. It's also awesome at protecting your tablet from drops and knocks.




Source: UAG

UAG Metropolis for Galaxy Tab S9


All-around protection

UAG's Metropolis range is great for all-around protection of tablets, including the screen, as it has a flip-cover that does dual duty as a kickstand. That cover also keeps the S Pen securely fastened in its carrying slot.




Source: Spigen

Spigen Rugged Armor Pro for Galaxy Tab S9


Premium Pick

$26 $29 Save
$3

This rugged case for your tablet has an S Pen holder to keep it safe while charging, perfect cutouts around the speakers and ports, and sleek carbon fiber inserts. It's also got a foldable screen cover that turns into a kickstand or hand grab.



Source: Samsung

Samsung NotePaper Screen for Galaxy Tab S9


Editor's Choice

To get the best S Pen experience on the Galaxy Tab S9, the NotePaper Screen Panel covers the entire screen and makes it feel more like writing on paper. It attaches via magnets and flips out of the way when you want to use your fingers for scrolling or other navigation.




Source: Supershieldz

Supershieldz for Galaxy Tab S9


Best Value

$10 $11 Save
$1

Supershieldz has a reputation for good quality screen protectors. These tempered glass protectors will feel like your tablet's screen while protecting it from scratches and cracks. You also get a two-pack for this price, which is crazy good value.




Source: Spigen

Spigen Tempered Glass Screen Protector for Galaxy Tab S9


Premium Pick

Spigen is one of the most recognizable names in device protection, and its tempered glass screen protectors will save your display from damage. They go on quickly, too, with an included alignment tool to make it super simple to apply.




Source: Samsung

Samsung Privacy Screen for Galaxy Tab S9


Privacy screen

Samsung's Privacy Screen for the Galaxy Tab S9 goes on effortlessly, as it uses magnets to stick to the side of the tablet instead of making you use fussy applicators. It'll stop off-axis viewing when you're in landscape orientation, and it's just a flip away from uncovering the screen when sharing information.



Source: Budi

Budi 65W PD3 USB-C GaN Slim Charger


Editor's choice

This super slim charger uses GaN tech to support up to 65W of fast charging from its ports, more than enough for your Galaxy Tab S9 and another device. It also comes with conversion plugs for U.K., EU, and Australian sockets, so it's a perfect travel charger.




Samsung 45W USB-C Fast Charger


Official pick

$39 $50 Save
$11

The official 45W Samsung charger can charge your Galaxy Tab S9 in no time at all, so you can keep on enjoying the portable powerhouse you purchased. It even comes with a USB-C to USB-C cable, so you don't have to buy another one.




Source: Anker

Anker 313 Charger (Ace, 45W)


Best Value

The 45W Anker 313 USB-C fast charger will charge up the Galaxy Tab S9 at its fastest charge speed. It's also tiny, and the plugs fold down for storage and so they don't get snagged in your pocket or bag. It doesn't come with a USB-C cable though, so keep that in mind.

Anker 313 PowerCore Slim


Power bank

$15 $18 Save
$3

The Anker 313 PowerCore Slim 10K has 10,000mAh of capacity to fully recharge your Galaxy Tab S9 one time with a little to spare. It's also lightweight, slim, and can charge your other devices if needed.



Editor's Choice

$178 $230 Save
$52

You'll want a quality pair of Bluetooth earbuds to listen to media on your Galaxy Tab S9, and the Galaxy Buds 2 Pro are one of the best options for your new device. They've got noise-canceling, 3D audio, and a long battery life.




Source: QGeeM

QGeeM USB-C to HDMI Cable


For DeX users

$12 $20 Save
$8

You can turn your tablet into a desktop computer replacement with DeX mode and the right adapter, and this inexpensive dongle is just what you need to get going.




Anker USB-C Cable 2-Pack


Quality cables

Anker's braided USB-C cables are one of the few cables that haven't broken on me in all the years I've been using devices needing USB-C. Pick up a couple, and you'll (probably) never need another cable.




Source: Maxonar

Maxonar Adjustable Tablet Stand


Stylish stand

With the quality of the screen on this tablet, you'll possibly want a good stand to place it on your desk or nightstand for the best viewing angles. As a bonus, this one is almost as stylish as the Galaxy Tab S9 is.
Summing up the best accessories for the Galaxy Tab S9

The Galaxy Tab S9 is a premium and versatile tablet straight from the store, but you'll still need a couple of accessories to get the best from your new device. The first thing I recommend you do is to make sure to have a 45W or above USB-C charger handy. Samsung again didn't include one with the expensive tablet, and our best pick is the Belkin BoostCharge which can charge your tablet and another device at the same time.
The gorgeous surfaces of the tablet deserve some protection, whether that's a screen protector, a protective case, or an all-around case that protects every angle. Cases that fit every angle of the Galaxy Tab S9 are now out. That includes updated versions of our favorite keyboard case, the Samsung Book Cover Keyboard, and well-known brands like Spigen, Poetic, and UAG. Samsung decided to change the dimensions slightly on the Tab S9 and redesigned the camera bump, so cases for the Tab S8 won't work properly with the latest tablet.
There are also so many other accessories you could pick up, from wireless earbuds to speakers, stands, or keyboard cases for when you want to get some work done on the go. Or you could catch up on your Netflix backlog, as that AMOLED screen is deserving of watching all day long.
If you decide that the ultra-premium Galaxy Tab S9 Ultra is right for you instead, you'll definitely want to pick up one of the best cases to protect the expensive slate.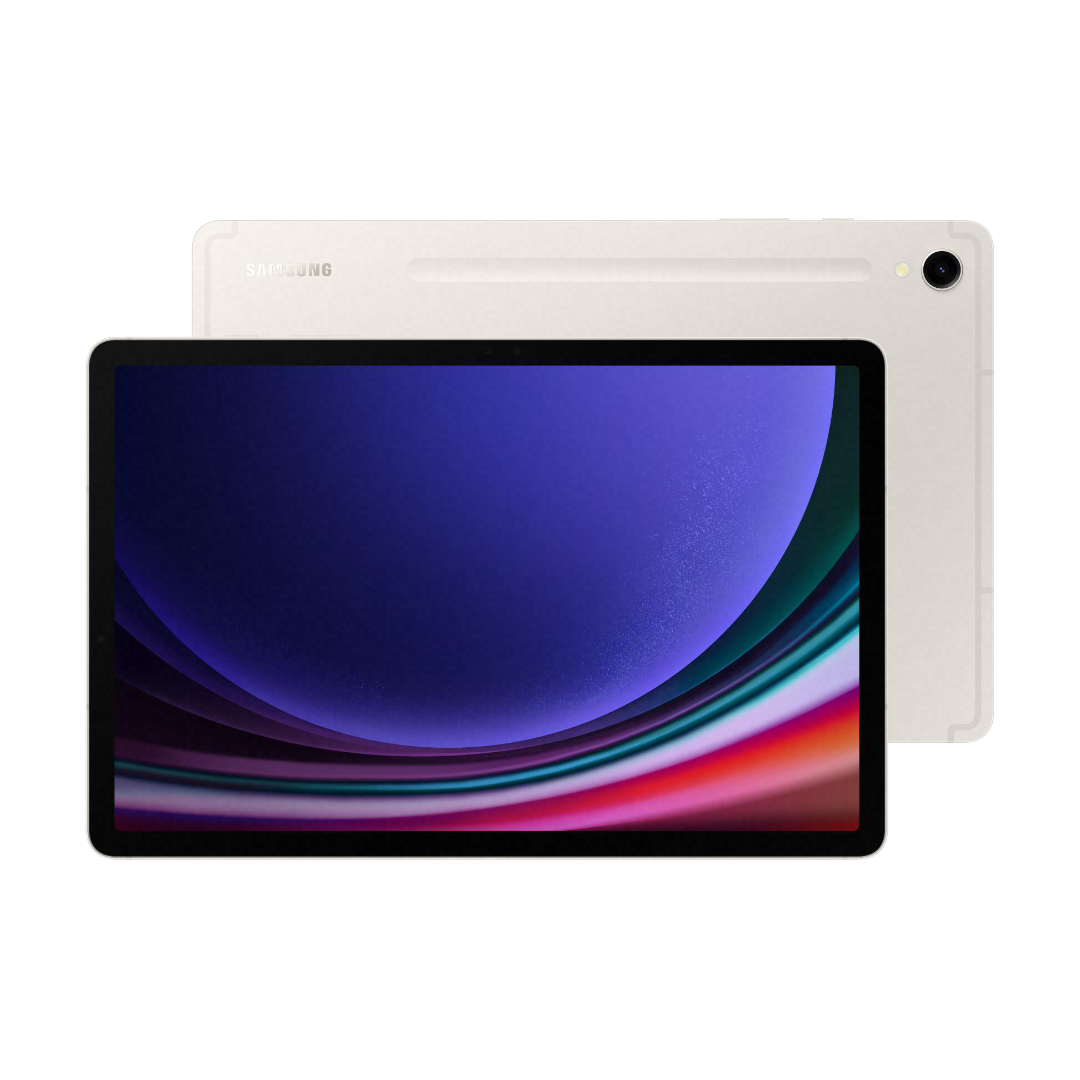 Source: Samsung
Samsung Galaxy Tab S9

Storage upgrade for free from Samsung
The latest refinement in the Galaxy Tab series, the 11-inch Galaxy Tab S9 has a Dynamic AMOLED screen with a 120Hz refresh rate and is powered by the Snapdragon 8 Gen 2 processor. It's loaded with great features like S Pen support and optional 5G connectivity and is one of the best-looking Android slates around.
Order from Samsung and get the official $140 Cover Keyboard Slim for FREE.