Make sure your new phone has a great pair of buds to go with it
The new Samsung Galaxy S23 FE has been on the market for just about a month, delivering camera upgrades, a waterproof IP68 rating, and new colors to the company's more affordable flagship line. It's already one of our favorite Android phones of 2023, especially for those shopping on a bit of a tighter budget. With the purchase of any new phone comes the opportunity to buy new accessories, like cases, chargers, and earbuds. Most of us use our phones to stream music, movies, and podcasts daily, which means a solid pair of earbuds is practically just as necessary as the phone itself. We've rounded up a couple of great options that will pair well with the new Samsung Galaxy S23 FE.



Samsung Galaxy Buds 2


Best overall

$106 $150 Save
$44

The Samsung Galaxy Buds 2 deliver a great experience for a pretty reasonable price (especially when they're on sale). If you don't want to spend a ton of money after getting a new phone, but you also don't need the cheapest option, these are a very solid, well-liked model. They have ANC, an ambient sound mode, and Auto Switch connectivity, which can auto-detect connections and content to shift to the appropriate Galaxy Device.




Source: Samsung

Official runner-up

$167 $230 Save
$63

The Galaxy Buds 2 Pro are the best Samsung earbuds available; though they come at a higher price point than the Buds 2. They offer great noise cancelation, 3D audio support, and more. Thanks to IPX7 water resistance, these are a solid option for workouts, and with transparency mode, you'll be able to hear what's going on around you if you want to.




Source: Samsung

Samsung Galaxy Buds FE


Best value

The Samsung Galaxy Buds FE are the newest earbuds from Samsung. They are more affordable than other Galaxy buds, plus, they have the longest battery life in the lineup, an impressive IP68 resistance rating, active noise cancelation, and they come with three sizes of ear tips and two sizes of wing tips.




Source: Sony

Sony WF-1000XM5


Best premium

The Sony WF-1000XM5 earbuds are an expensive but premium option. They feature spatial audio, a larger 8.4mm driver for increased clarity, and a more compact design overall. You'll get 8 hours of battery life with ANC on and an additional 16 hours delivered with the charging case. Upgraded memory foam ear tips come in four sizes and are a bit more rigid to improve passive noise cancelation.




Bose QuietComfort Ultra Earbuds


Premium alternative

The Bose QuietComfort Ultra Earbuds are the latest and greatest from a line dedicated to advanced active noise cancellation and impressive sound quality. The QC Ultras are Snapdragon certified, which means better audio on Android devices, plus they come with nine ear tips, so you can find the right fit to increase passive noise cancelation. The QC Ultra haven't been around long, so we are still gathering information about whether these earbuds could beat out the Sony WF-1000XM5.




Sennheiser Momentum True Wireless 3


Excellent audio quality

$200 $280 Save
$80

Sennheiser has been in the audio game for decades, and its latest wireless earbuds come with high-quality audio with aptX Adaptive support, ANC and transparency modes, and up to 28 hours of battery life with the case. They also have IPX4 splash resistance. This is a great option for Android users in general and Galaxy S23 FE users shouldn't be disappointed.

Jaybird Vista 2


Best for workouts

$120 $150 Save
$30

The Jaybird Vista 2 are a waterproof pair of workout buds with a military-grade build. They also incorporate a wingtip design for added stability with ANC and a transparency mode for great listening. The battery gives you up to eight hours of listening time on a single charge, with an additional 16 hours provided by the case.




Source: Jabra

Jabra Elite 8 Active


Premium exercise

The latest and greatest in the Jabra Elite line, the 8 Actives are said to be the world's toughest earbuds as they are dustproof, waterproof, and sweatproof (with an impressive IP68 rating). They are totally protected from damage in the gym, plus their silicone texture makes them easy to grip for adjustments in between sets.




Anker Soundcore Life P3


Best battery life

The Anker Soundcore Life P3 are affordable wireless earbuds with premium features like ANC support and impressive battery life. They support up to 50 hours of playback, which is practically unheard of in the earbud world, especially at this price range. You also get customizable EQ, a 10-minute quick charge, and three noise cancellation modes.




Nothing Ear Stick


Unique design

$64 $79 Save
$15

The Nothing Ear Stick are a fairly simple pair of earbuds with a unique design. They are a half-ear model, which results in a more open design, letting you listen to music while staying in tune with the world. There isn't any ANC, but the audio quality is good, and you get three mics in each bud for phone calls.




Source: OnePlus

OnePlus Nord Buds 2


Budget-friendly pick

The OnePlus Nord Buds 2 offer a comfortable fit and ANC at a more affordable price. The sound quality might not be the most impressive, but it's solid considering the cost. Pairing is simple Galaxy devices, and an IP55 means it's protected from water and dust.




Source: TOZO

TOZO A1 Mini Earbuds


Cheap and good

$15 $30 Save
$15

The TOZO A1 mini wireless headphones are pretty much the cheapest option for functional earbuds. While there aren't any fancy features, you will get smart touch controls, voice assistant integration, Bluetooth 5.3, and up to 5.5 hours of battery. Available in six colors, these earbuds are ultra-lightweight with a small charging case, USB-C charging cable, and five ear tip sizes.
What to consider before buying earbuds for the Samsung Galaxy S23 FE

There are a few simple rules to abide by before purchasing a new pair of headphones to go with your new phone, the biggest one being compatibility. It makes sense that the latest AirPods won't be the best choice for your Galaxy phone despite their ability to be connected. Instead, check out Samsung's line of earbuds that were specifically designed to support the needs (and codecs) of Galaxy devices. The new Galaxy Buds FE are an obvious value choice, but the older Galaxy Buds 2 Pro and Buds 2 are also great options.
Beyond compatibility, consider your top priorities when it comes to your listening experience. If you want the best of the best when it comes to ANC, consider the relatively new Sony WF-1000XM5. If battery is a major concern, the Anker Life P3 have you covered. Luckily, there are plenty of options out there when it comes to earbuds for your Galaxy S23 FE.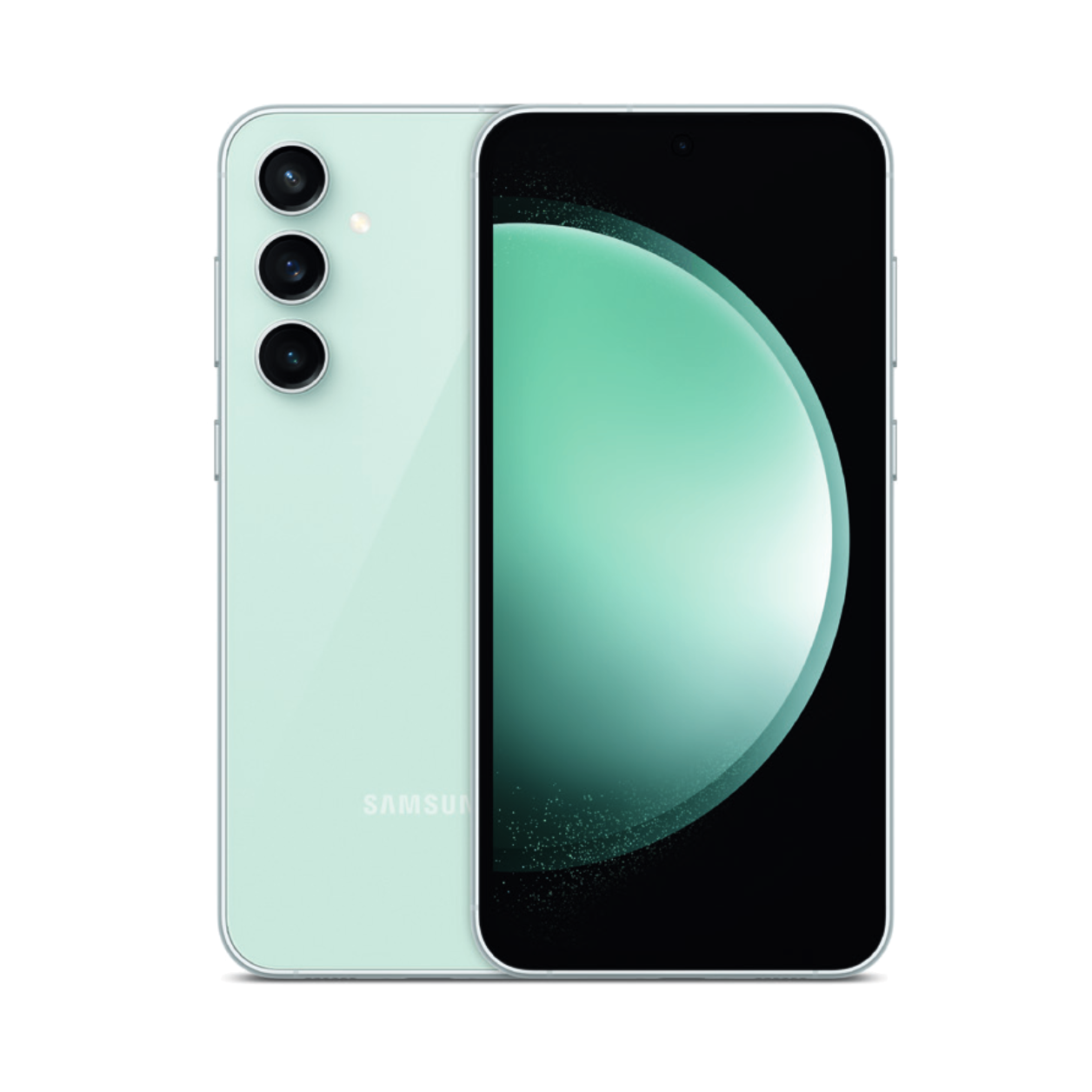 Source: Samsung
Samsung Galaxy S23 FE

The Galaxy S23 FE comes in tons of colors and gives you the core Samsung experience for a more affordable price.