These eight great chargers will juice up your convertible whenever the battery runs dry.
One area where the Lenovo Yoga 7i 2023 excels is in its battery life. I've tested and reviewed this great Lenovo laptop and put it through my daily grind of writing and browsing YouTube. With a surprisingly efficient 13th-generation Intel Core i7-1355U under the hood, it gets a battery life of up to eight hours and 30 minutes. When the juice runs dry, though, you'll need a charger. Lenovo includes the standard 65W charger in the box, but if you're on the go and need a spare charger, or just prefer one that can power up multiple devices, there are plenty to choose from. We collected eight of our favorites below.



Lenovo USB-C 65W AC Adapter


Editor's Choice

$40 $50 Save
$10

This charger is one that's most commonly included with Lenovo's laptops. It has a really long USB-C cable, and is great to keep as a spare.




Spigen 100W USB-C charger


Premium Pick

$45 $60 Save
$15

This 100W charger from Spigen is a premium option on our list. It has two ports, so you can charge multiple devices at once. It also provides enough power to charge the Lenovo Yoga 7i when one USB-C cable is plugged in.




Ukor 65W Universal Laptop Charger


Best Value

This charger from Ukor is similar to Lenovo's very own. The difference is that you can get it for significantly less, but you get the same long USB-C cable.




Anker 715 Charger (Nano II 65W)


Compact charger

The Anker 715 is the perfect travel charger for your Lenovo Yoga 7i. It's very compact and has collapsible prongs. It just doesn't come with a USB-C cable.




Satechi 200W USB-C 6 Port GaN Charger


Charging dock

$128 $150 Save
$22

We love the Satechi 200W USB-C 6 Port GaN charger because it offers six total USB-C ports for charging. Two of those ports charge your laptop at 140W, and the others are great for your phone and other accessories.




ZMI zPower Turbo 65W charger


Compact with USB-C cable

This charger from ZMI is very compact and comes with a USB-C cable. You'll be able to get up to 65W of power here, despite its small size.




UGREEN 145W Power Bank (25000mAh)


Charge up on the go

$93 $150 Save
$57

When you're on the road and away from a power outlet, this UGREEN 145W Power Bank will have your back. It includes a USB-C cable that you can plug into your laptop to power it up. It even has a LED display to read out the percentages and charge status.




Jackery Explorer 300


For emergencies

If you want to keep your laptop charged in the event of an emergency or on a long trip, you'll like this super-sized power bank. It also has a variety of AC outlets for other devices like a TV.
Recapping the best chargers for Lenovo Yoga 7i (2023)

The list has come to an end, and there are some great options here. The top charger to consider is the Lenovo USB-C 65W AC Adapter. It's one of Lenovo's official chargers for the Yoga 7i. The Spigen 100W USB-C charger, meanwhile, is a close second as a premium pick, since it charges at up to 100W. Those on a budget, meanwhile, will love the Ukor 65W charger, since it's cheaper than Lenovo's own offering. Don't feel limited to using these chargers with just the Yoga 7i (2023). These all are USB-C chargers, so they work with other great laptops, too.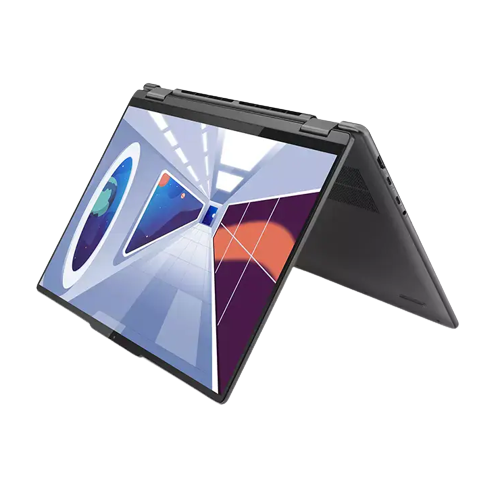 Lenovo Yoga 7i (2023)

The 14-inch and 16-inch Lenovo Yoga 7i comes with new 13th-generation Intel CPUs. There are not many design differences over the previous generations, and it's still a great 2-in-1.