One of these nine monitors can help you get more done on your ThinkPad by giving you an extra screen for multitasking.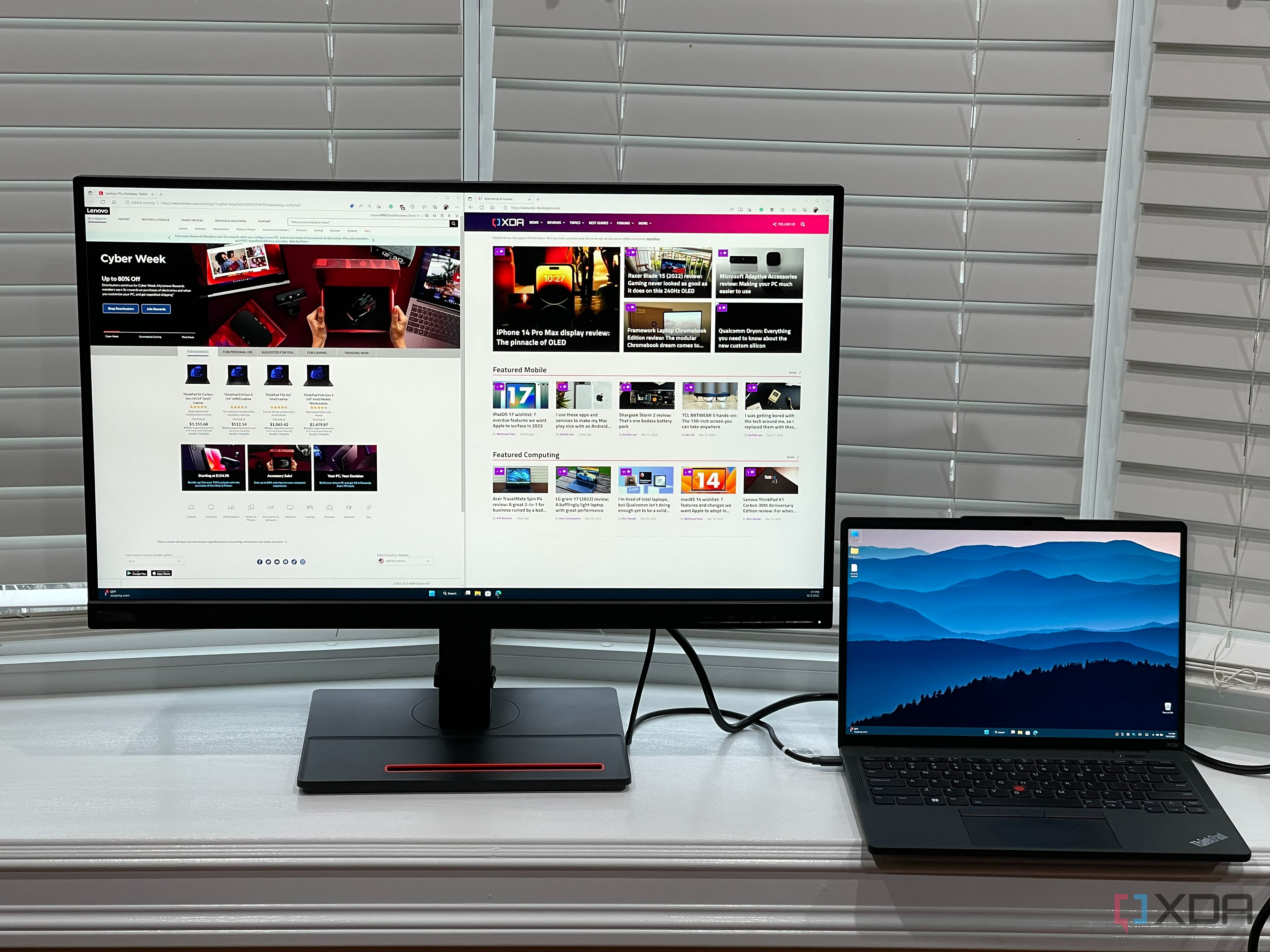 The ThinkPad X1 Carbon Gen 11 is yet another great upcoming business laptop from Lenovo, this time with the latest 13th-generation Intel CPUs and tweaks to software for improved web conferencing. As powerful as it is, though, the 14-inch 16:10 aspect ratio screen can only do so much.
If you're a professional planning on using the ThinkPad for business in an office or home, then connecting it to a monitor might already be at the forefront of your to-do list. You'll be able to multitask more efficiently, open multiple windows at once, and you can even use it with your other devices if it has multiple ports for connectivity. It's why we've put together this list of nine great monitors you can use with your new ThinkPad, from Lenovo's own to some made by Dell and HP.
ThinkVision P27u-20 27-inch Monitor

You can't go wrong with Lenovo's own ThinkVision monitor. This 27-inch 4K monitor packs in Thunderbolt 4 ports for charging your ThinkPad, and promises great color accuracy.

ThinkVision T24v-20 23.8-inch FHD VoIP Monitor

Lenovo ThinkVision T24v-20

The ThinkVIsion T24v-20 is another monitor from Lenovo that's great for folks who might be in video calls frequently. It has a built-in webcam, as well as dual microphones, helping you use your ThinkPad for Skype, Zoom, or Teams calls while the lid might be closed.

HP 24MH FHD monitor

If you don't have a lot of money to spend on a monitor, then this 24-inch FHD resolution display from HP will do the trick. It's often less than $150 and still connects easily and directly to your ThinkPad with HDMI.

ASUS ProArt PA329C

ASUS ProArt PA329C 32-inch 4K Monitor

This 32-inch monitor from ASUS is one of the most color accurate on the market. It not only has a big screen, but it can cover 100% of the all-important Adobe RGB spectrum, making whatever you're working on look true to life.

Dell U2723QE UltraSharp 4K USB-C Hub Monitor

The thing that makes this mid-range Dell monitor great for your Lenovo ThinkPad is the USB-C connectivity. It also has a sleek slim-bezel design and a sharp 4K resolution that gives you more pixels to play with and room to multitask.

Samsung Smart Monitor M70B

Samsung Smart Monitor M70B

This Samsung monitor is quite different from others on our list. It's a mix of a TV and a computer display. While it packs 4K resolution and USB-C connectivity, it also has Samsung's Tizen OS onboard, letting you access video streaming services and apps like Microsoft Office without even turning on your PC.

ASUS ZenScreen Portable Monitor (MB16AC)

ASUS ZenScreen MB16AC

This is a 15.6-inch FHD resolution portable monitor from ASUS for those who might be limited in desk space or travel often. It has a compact design and a USB-C port that makes connections easy.

LG UltraWide WFHD 29-inch monitor

LG UltraWide 29WN600-W

For the very best productivity with your ThinkPad, you might want an ultra-wide monitor like this option from LG. It has a 21:9 aspect ratio, 2560 x 1080 resolution, and is basically like having two monitors side by side.

Samsung 34 inch Curved QLED QHD FreeSync Monitor

Samsung CJ791 34-inch Ultrawide Curved QLED Monitor

The best way to get ultimate multitasking with the ThinkPad X1 Carbon Gen 11 is with an ultrawide monitor since it'll be like stacking two monitors side by side. This 34-inch monitor from Samsung packs a QLED display panel, which is not only curved but also produces accurate colors. It also has a 100Hz refresh rate and DVI, DisplayPort, and HDMI ports.
These are all the monitors we think will pair up great with the ThinkPad X1 Carbon Gen 11 when the product is released. Since it has Thunderbolt 4 technology, we highly suggest picking a monitor from Lenovo, like the ThinkVision P27 u-20, but there's nothing wrong with a cheaper HP 24-inch monitor that connects using HDMI. Whichever one you pick will get you an extra screen and more multitasking space. There are many great options out there, just like there are many great ThinkPad laptops.