Buying the best RAM for your PC build may not be as exciting as, say, picking the best CPU or the best graphics card. But it's important to make sure you've installed a sufficient amount at a fast enough speed to unlock the potential of your build.
It's about getting the right combination of capacity, good memory speeds, low latency, and more. In this article, we're going to take a look at some of the best RAM for gaming you can buy in 2022. We're at a point in time when both DDR4 and DDR5 RAM is relevant, depending on which CPU and motherboard combination you're using. Intel 12th and 13th Gen support both, for example, while AMD Ryzen 7000 only supports DDR5. In this guide, you'll find recommendations for both types.
Best overall DDR5 RAM for gaming: G.Skill Ripjaws S5 DDR5
If you are in the market in the market to buy some premium performance DDR5 memory kits, then you might want to consider checking out the G.Skill Ripjaws S5. The Ripjaws S5 has a very simple design. The company has decided to go with the same non-RGB aesthetics that we've seen in the past, but the new modules have a different heat spreader.
The new modules are available in both matte black and matte white variants, and we think they'll blend in nicely with a variety of different build themes out there. We also like how G.Skill has retained the low-profile design of the original Ripjaws. The new Ripjaws S5 is just 33mm tall, which means it shouldn't have any clearance issues inside most builds. This is a crucial factor to consider mainly because a lot of CPU coolers have big heatsinks now that tend to interfere with memory modules.
You can only buy a 32GB Ripjaws S5 kit on the market right now with two 16GB modules. The company claims tested memory speeds of 5,200MHz for these new modules. We're looking at 40-40-40-76 memory latency at 1.10V voltage. This is in line with most other DDR5 memory kits on the market right now, so no surprises here. If anything, the power consumption at 1.10V is among the lowest we've seen in the DDR5 memory space. Some of the highlights of the G.SKill Ripjaws S5 include XMP 3.0 support that allows you to easily tune the modules with saved profiles. Notably, you also get a lifetime warranty for this kit, which is good in case anything goes wrong.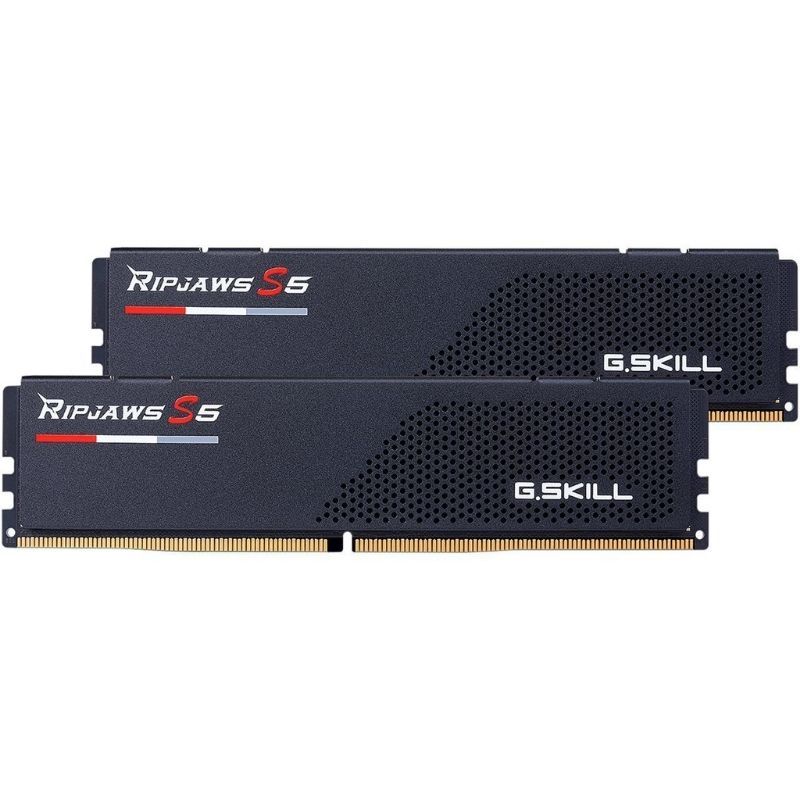 G.Skill RipJaws S5 DDR5
G.Skill Ripjaws S5 is a reliable DDR5 memory kit with reliable performance and a low-profile design.
Best overall DDR4 RAM for gaming: Oloy Blade DDR4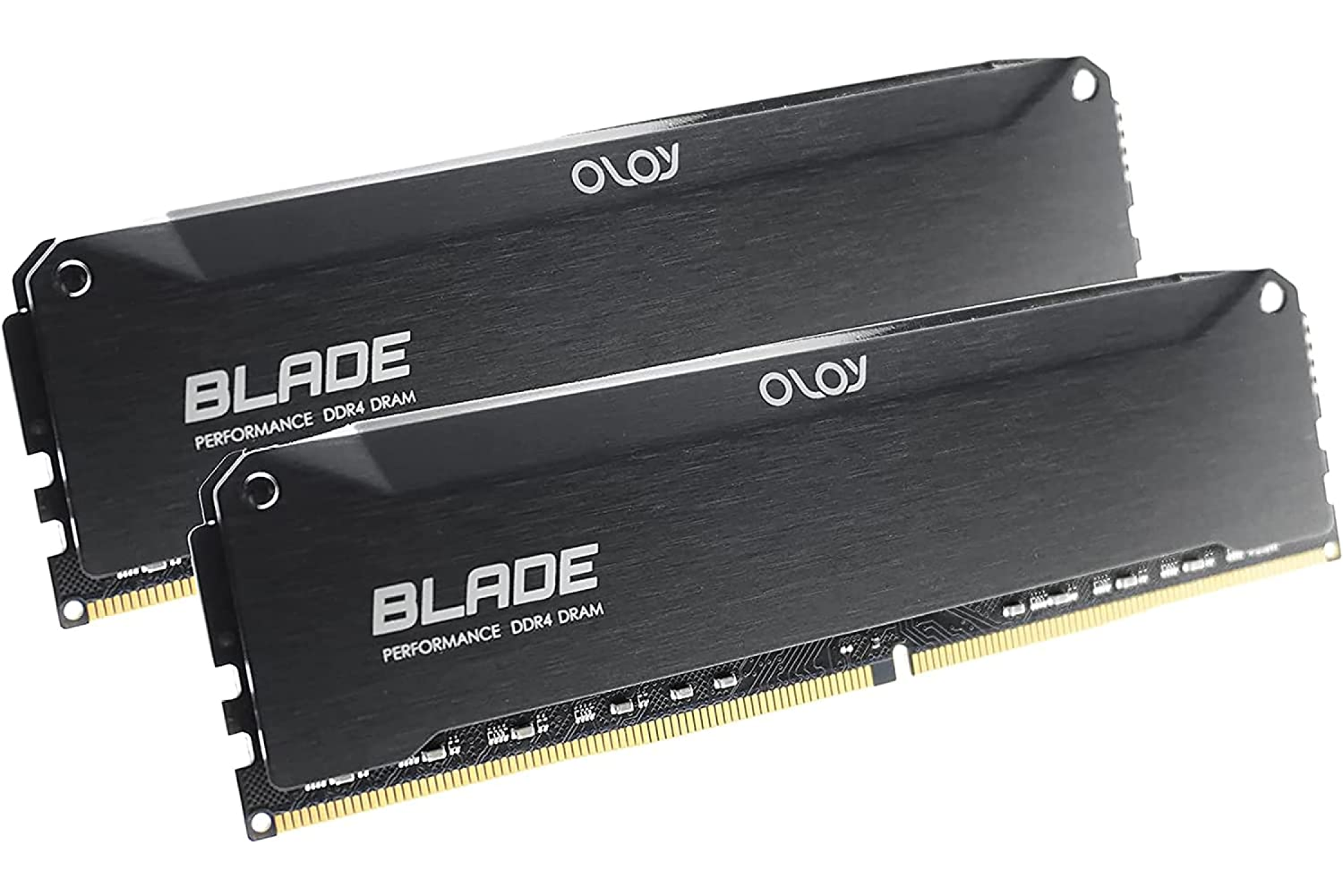 When it comes to gaming, RAM with a blend of low latency and high frequency is best, and Oloy's Blade memory kits fit the bill perfectly. These sticks of RAM use Samsung B-Die DDR4 and are compatible with both AMD AM4 and Intel LGA 1700 motherboards, though they won't work on an AMD AM5 board for Ryzen 7000 CPUs. At $115 for a 16GB kit, Blade memory is a little pricey but makes up for it with great specifications.
There are quite a few different Blade branded kits, but the one we're specifically recommending is the Black Hairline model. These RAM sticks come with a black, metallic heatspreader with a brushed finish, sans RGB; there are other Blade kits out there with RGB, but they also have different tech specs. The heatspreader sticks out a little bit over the PCB for a maximum height of 39mm, which is relatively short and good for cooler compatibility since many are incompatible with RAM equipped with taller heatspreaders.
When XMP is enabled, the Black Hairline Blade sticks are capable of 3,600MHz and rated at CL14 with timings of 14-14-14-34. The frequency isn't particularly high these days as there are DDR4 kits out there that can hit 4,800MHz, but those come with much higher timings and consequently higher latency. For the best overall gaming performance, you want a both a high frequency and low latency, and these Blade sticks get the balance just right.
The only real downside to this particular set of Oloy Blade RAM is that they only come in 8GB sticks, which means on mainstream PCs you can only install four sticks for a total of 32GB. That's more than enough for gaming, but if you're also doing something on the side that requires lots of RAM, you might find 32GB quite restrictive even if the performance is good.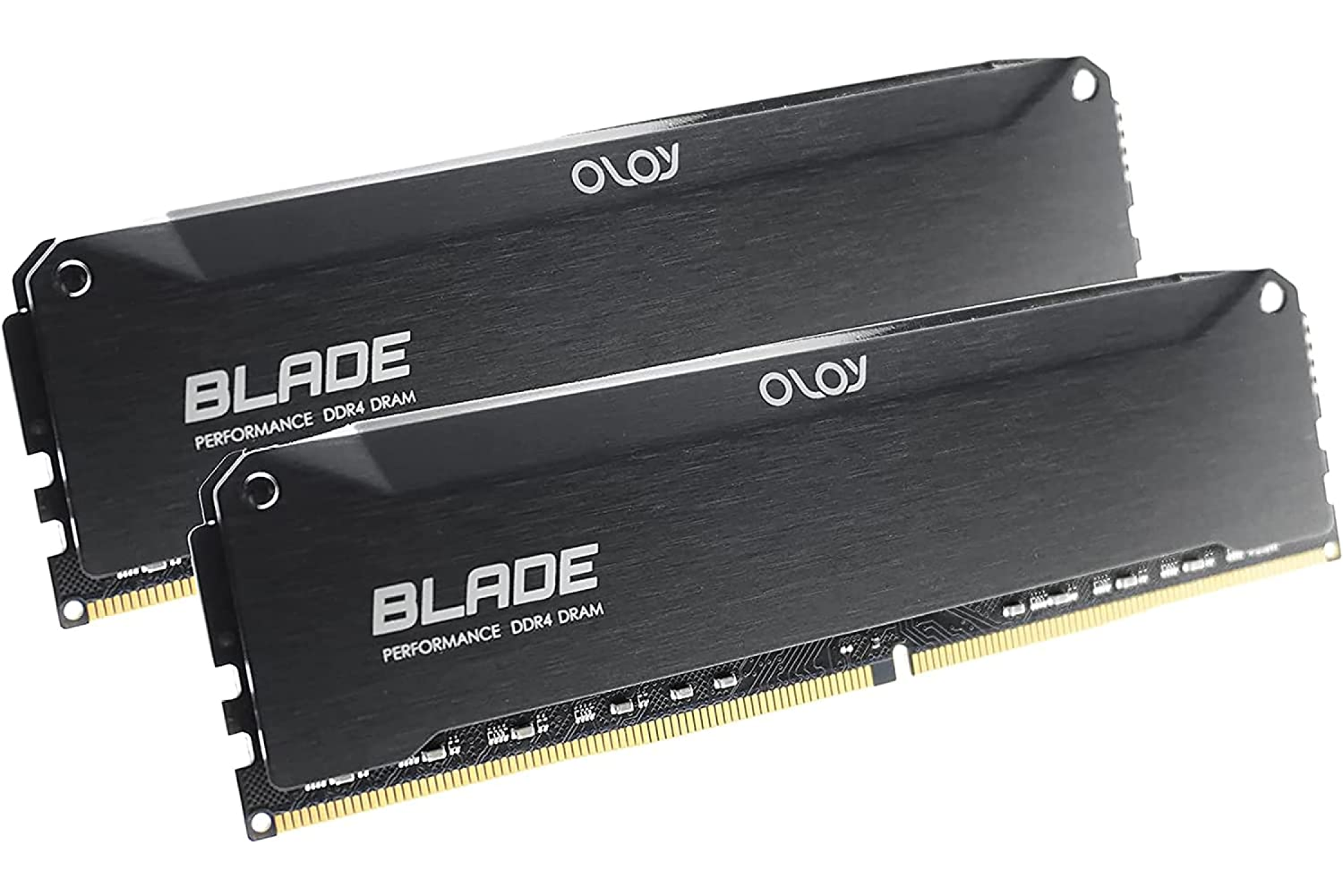 Oloy Blade Black Hairline 3600MHz CL14
Oloy's Blade Black Hairline kit of RAM supports a frequency of 3,600MHz and a CAS Latency of 14, making it one of the best overall DDR4 memory kits for gaming.
Best RGB DDR5 RAM for gaming: Adata XPG LANCER DDR5 Memory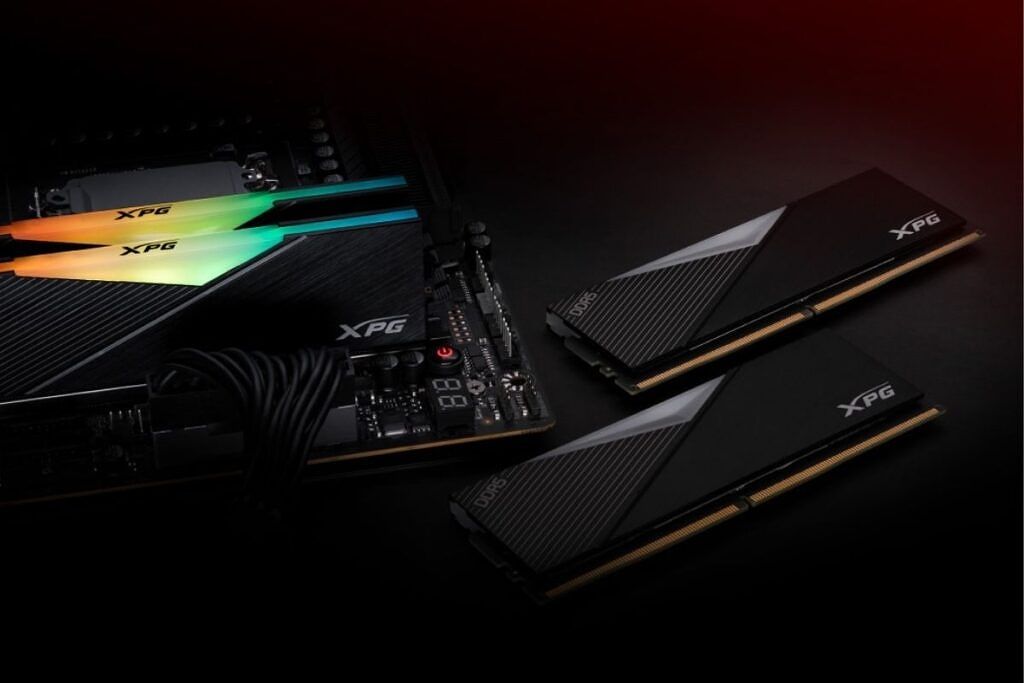 Adata is a popular name in the computing space and the company has a lot of reliable memory modules on the market. In fact, Adata was one of the first manufacturers to officially release consumer-grade DDR5 memory modules in the form of the XPG Lancer DDR5. Much like the Kingston Fury Beast DDR5 RAM modules, the Lancer DDR5 kit is capable of reaching frequencies of up to 5,200Mhz, with up to 16GB of memory allocation.
XPG says the Lancer DDR5 memory is also suitable for overclocking, but it's still somewhat limited. You get support for Intel XMP 3.0 for one-click overclocking and you should have no issues pushing these modules to the advertised speeds as long as your system is up to it. XPG's spec includes 38 CAS latency for this chip, which is pretty good. 38 CAS latency is among the lowest we've seen so far in the DDR5 space. Some other noteworthy features of the Adata XPG Lancer DDR5 memory kit include PMIC (Power Management Integrated Circuit), ECC (Error Correcting Code), and more.
This isn't the absolute fastest DDR5 RAM around, but it's one of the best-looking RGB kits. As the Ryzen 7000 and Intel 13th Gen CPUs come along, tech will keep pushing forward. For now, this is a great, reliable choice, that looks great in any gaming PC build.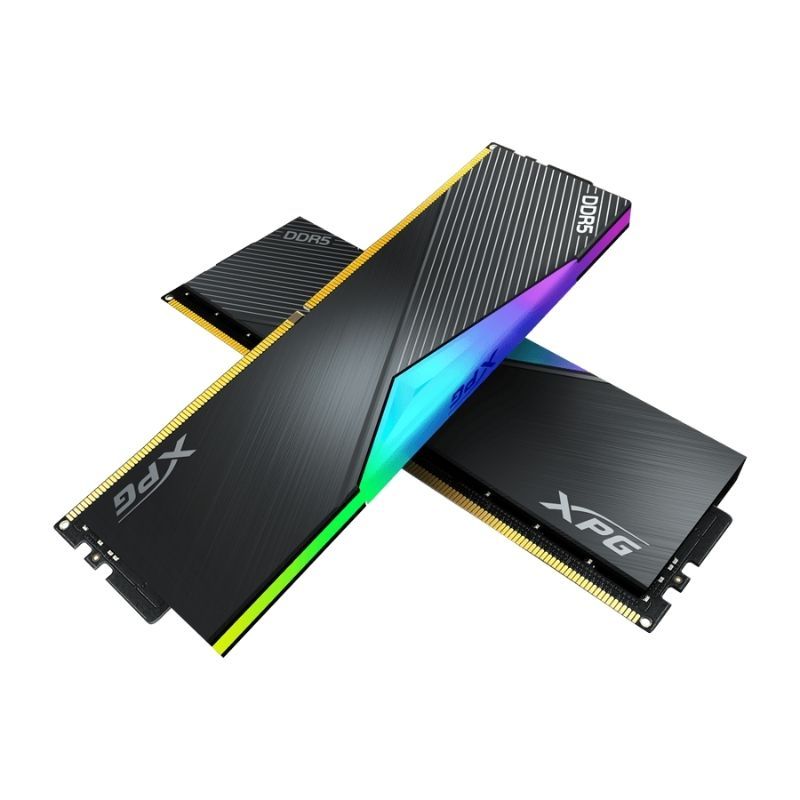 ADATA XPG Lancer DDR5 RAM
XPG's LANCER DDR5 memory is available in 16GB capacity with frequencies of up to 5,200MHz.
Best budget DDR5 kit: TeamGroup Elite DDR5-4800 32GB (2x16GB) Memory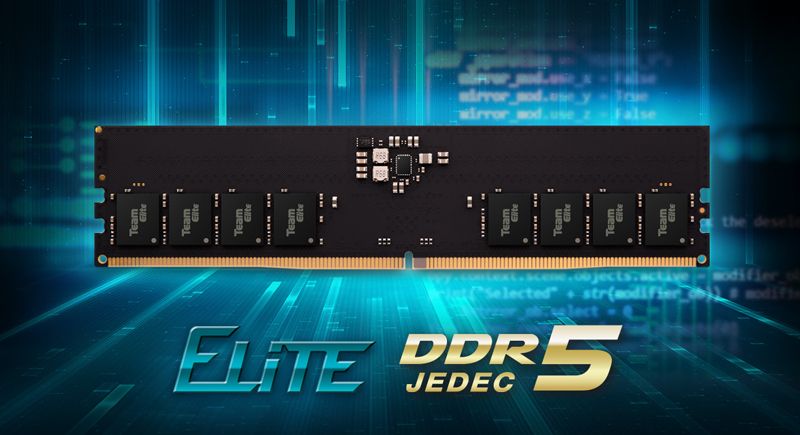 Unlike the other DDR5 memory on this list, TeamGroup's DDR5 module comes with a naked black-colored PCB. There's no fancy heat spreader or flashy RGB at play here. In turn, that helps keep the price down, making it accessible to more budget-focused builds that need DDR5 memory.
TeamGroup is offering two 16GB DDR5 modules in a dual-channel presentation. The RAM operates at DDR5-4800 with 40-40-40-77 timings and only requires 1.1V to hit the advertised speeds. TeamGroup's DDR5-4800 memory modules adhere to JEDEC's specifications for DDR5 and pack a built-in power management IC (PMIC) and voltage regulator module (VRM). This is exclusive to the DDR5 memory modules and it's expected to have a positive impact on the performance compared to the DDR4 modules. Despite being non-ECC memory, this kit supports the DDR5 on-die ECC that corrects DRAM cells for stability.
As is the case with most DDR5 memory modules, TeamGroup's DDR5 memory does command a slight premium. However, compared to many other DDR5 kits, this one is quite affordable. The lack of RGB or included heat spreader has helped keep the cost down. Price wise this is in the same ballpark as some of the high-end DDR4 kits that are available on the market. This isn't bad considering we're looking at a significant performance uptick, and it's worth it if you're building a PC to last for some time.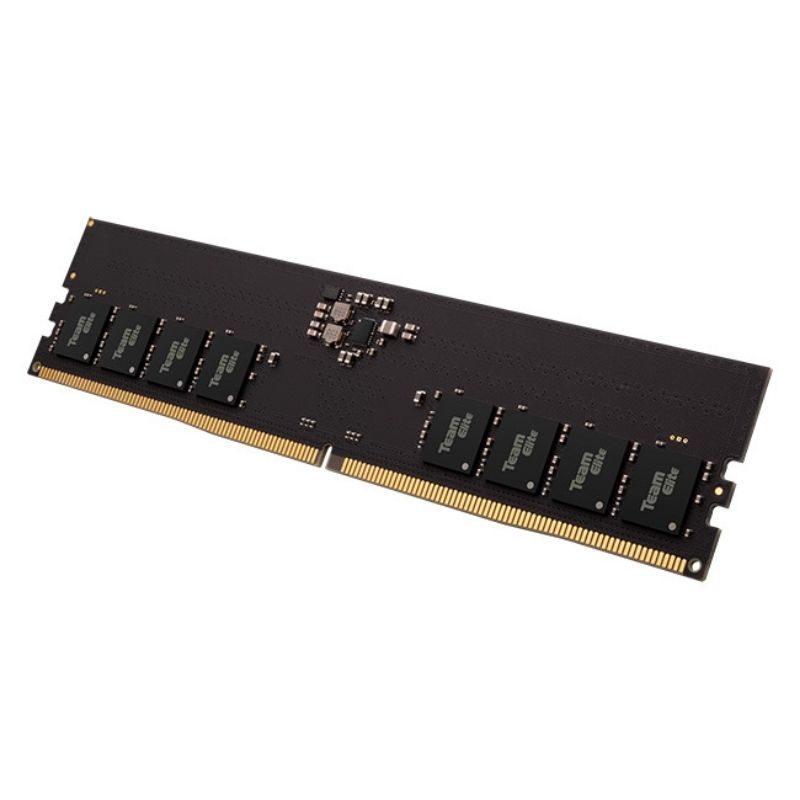 TEAMGROUP Elite DDR5
One of the first affordable DDR5 kits that doesn't bother with wacky designs or RGB lighting you don't really need.
Best high-speed DDR4 RAM kit for gaming: Patriot Viper Steel DDR4-4400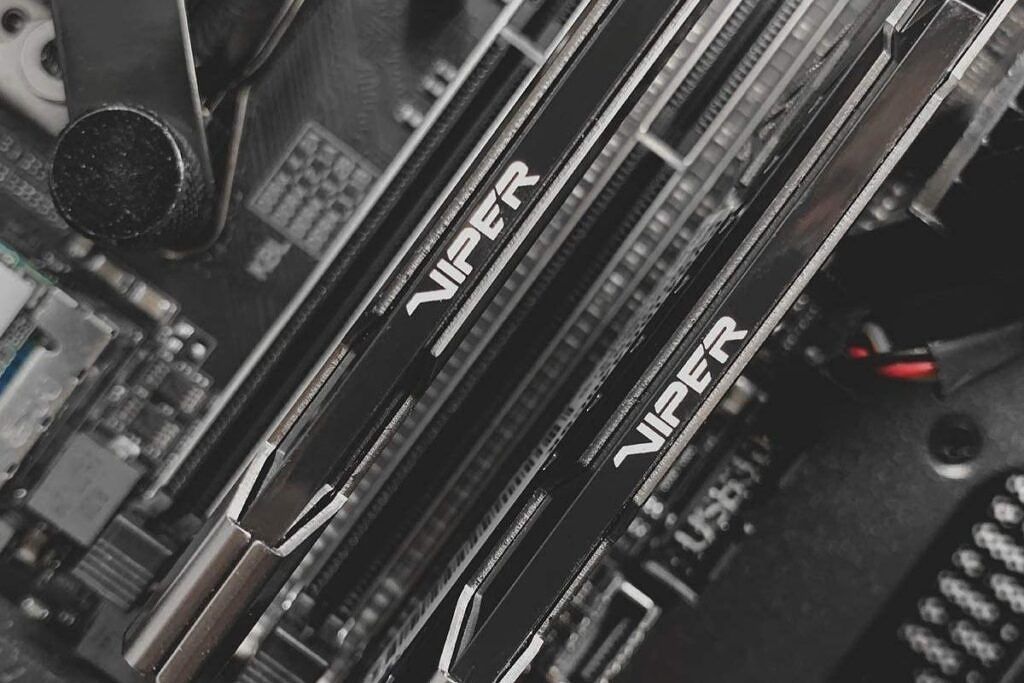 If you're after the fastest DDR4 RAM for gaming, then we think the Patriot Viper Steel is a great option to consider. This particular kit with DDR4-4400 speeds gets super close to even the newer DDR5 RAM modules on the market right now. The highlight of this kit is its superb timings at DDR4-4400 speeds.
One of the first things you'll notice about is its design. The modules come with a heat-spreader but there's not much to talk about in terms of the overall design. It's subtle and stylish, with no blinking RGB. The modules come with two XMP profiles which makes overclocking them a particularly effortless task. You get both a DDR4-4400 and DDR4-4266 profile you can activate. Both of them have the same enhanced 19-19-19-39 primary timings. Both profiles are also stable at 1.45V and 1.35V power.
DDR4 is also coming down in price which makes the Patriot Viper Steel one of the best value-for-money kits out there for gaming in 2022. The price-to-performance ratio is superb. DDR4 may well be getting replaced by DDR5, but with performance like this you're not necessarily missing out on much if you choose to stay with the older standard a little while longer.
Patriot Viper Steel DDR4 RAM kit
The Patriot Viper Steel DDR4-4400 is among the fastest DDR4 kits on the market right now but you'll miss out on the RGB bling.
Best budget DDR4 kit for gaming: Corsair Vengeance LPX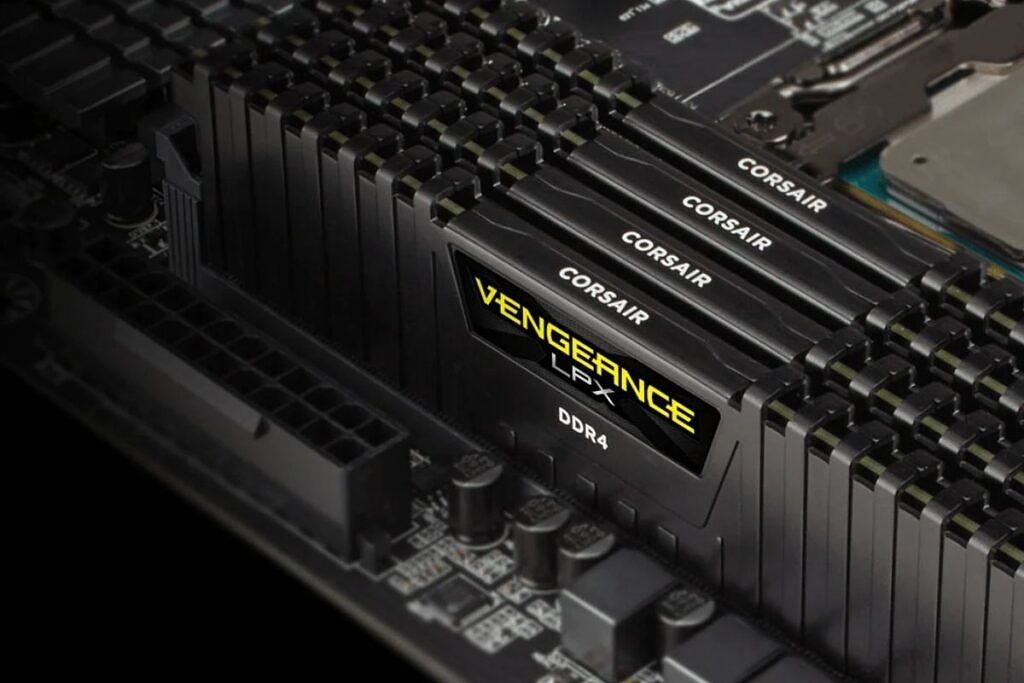 The Vengeance LPX DDR4 kit is what we think is the best budget option for those who're looking to buy some low-priced sticks. These are perfect for those who are just getting started with a basic low to mid-tier PC build. Despite the affordable price tag, though, the Corsair Vengeance 16GB DDR4-2666 kit handily beats a lot of other kits in its class, thanks to double the number of ranks per DIMMs. It's also worth pointing out that entry-level users who're still using a relatively older chipset like the H370 or even the B360, for instance, can get better performance by upgrading to this memory kit.
We recommend pairing kit with budget or mid-tier components. The timings of the Vengeance LPX memory kit are quite slow at 16-18-18-35 with a CAS latency of 16, which is amongst the lowest you'll see in this category. The Vengeance LPX memory doesn't post with the advertised speeds, so you'll also need a board that supports XMP to enable the kit's DDR4-2666 profile.
This kit shines when the voltage is bumped up to 1.35V. It may not be the fastest kit around but it's safe to say that the Vengeance LPX is extremely reliable. It's also a great alternative to some other non-RGB kits mentioned in this collection. The low profile design makes it also play nicely with larger coolers and smaller form factor builds.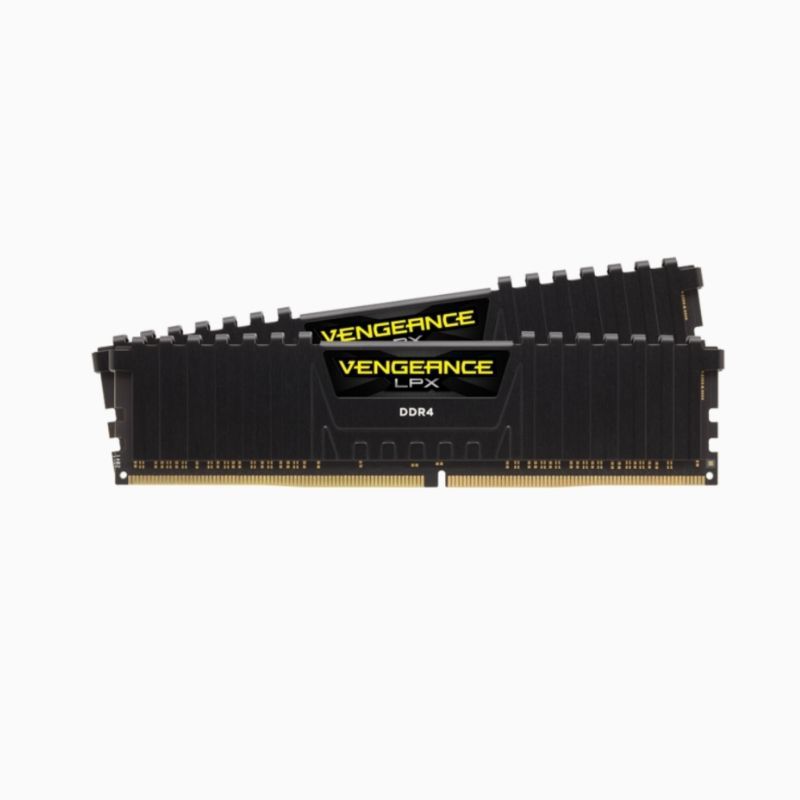 Corsair Vengeance LPX DDR4 RAM
The Corsair Vengeance LPX DDR4 memory is a great option for entry-level builds.
Best RGB DDR4 RAM for gaming: G.Skill Trident Z Neo DDR4-3600
The G.Skill Trident Z Neo DDR4 features a tri-fin body with a dual-tone color scheme. One half of the aluminum heat-spreader comes with a brushed finish while the other half comes in a shiny silver color. And instead of adding RGB lighting all over the modules, G.Skill limited it to the top of each module. The light passes through a diffuser, which makes up for subtle lighting instead of flashing bright colors. G.Skill allows you to control the lighting in two ways — either via the included Trident Z Lighting Control software or your motherboard's software.
The G.Skill Trident Z Neo modules are also just 1.73-inches tall, which means they play nicely with a variety of CPU coolers on the market. This kit features a 10-layer PCB and uses Samsung (B-die) integrated circuits (ICs). The Trident Z Neo posts at DDR4-2133 memory speed out of the box and it defaults to 15-15-15-36.
There's only a single XMP profile but that means an easy one-click overclock to the advertised DDR4-3600 memory frequency. The included XMP profile also sets the timings and DRAM voltage to 16-16-16-36 and 1.35V. Thanks to the Samsung B-dies, the Trident Z Neo can also be easily overclocked without any major stability issues. This particular kit is known to be stable even at 1.45V, which is, again, very impressive.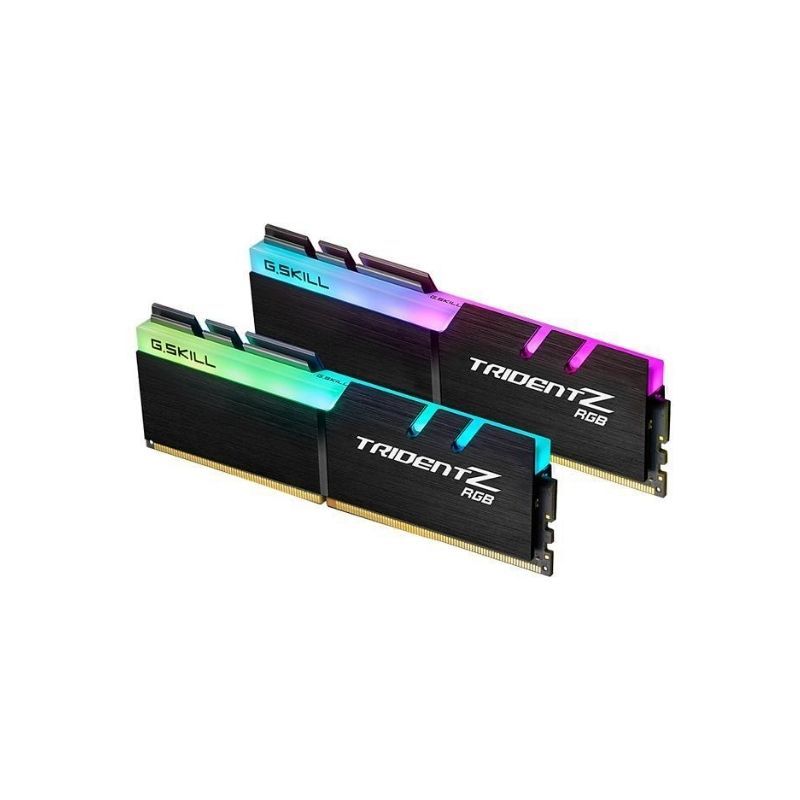 G.Skill Trident Z Neo DDR4
The G.Skill Trident Z Neo DDR4-3600 is one of the most reliable memory kits on the market that offers impressive performance and good looks.
The best RAM for gaming: Final Thoughts
There's no one size fits all solution when it comes to buying RAM for gaming PCs. For one, we're in this crossover period where DDR4 is still relevant but is gradually being phased out by DDR5. Essentially you want to get as much at as higher speed as your budget will allow. Sometimes more is definitely better. Any of the kits mentioned here will be perfect in a gaming PC, whether you're into RGB or like something a little more subtle.
If you're building a new gaming PC from scratch, then you can also check out some of our other collection articles including the best motherboards, best M.2 SSDs, and more. Alternatively, you can also join our XDA Computing Forums to discuss your build and get more product recommendations from the experts in our community.