In a world where we can pay for our groceries by tapping our phone or smartwatch at a kiosk at the store, or unlocking and starting your car without ever taking the key out of your pocket, still opening your front door with a physical key seems archaic. The best smart locks bring your once dumb deadbolt into the 21st century with great features to manage your deadbolt via apps, keypads, and even biometric unlocking capabilities. No keys, no problem. Smart locks are especially helpful when managing rental properties. No need to meet any new tenants. You can manage your guests' access remotely with a smart lock. And if your smart lock is compatible with Amazon Echo devices, or Google Assistant speakers, you can simply ask Google or Alexa to open or lock your doors for you.
As you can see, with a smart lock, there are a plethora of ways you can manage access to your home. There also happens to be an abundance of smart lock options. So, how do you choose the best smart lock for you? We're here to take the guess work out of it. I've installed many of these in my own home to give you the inside scoop on the right ones for you.
Our picks for the best smart locks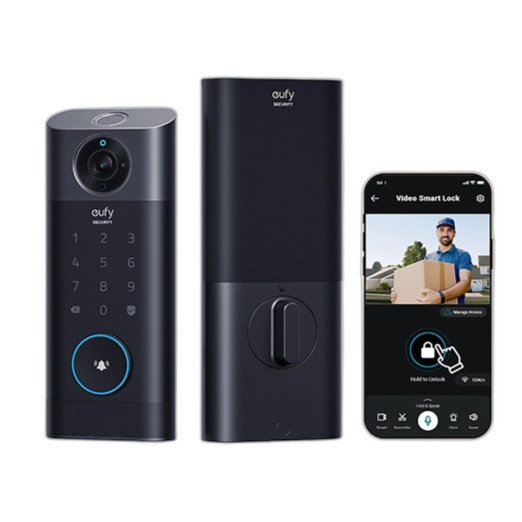 Eufy Video Smart Lock S330
Best overall
The most robust smart lock available
$245 $245 Save $0
The Eufy S330 Video Smart Lock is everything you could want or need in a smart lock. It even replaces your need for a video doorbell. With several ways to lock and unlock your door, including biometric and voice control, it's the most robust lock available.
Pros
Biometric scanner
Video doorbell
Google and Amazon voice assistant compatible
Cons
It is one of the pricer options available
The Eufy Video Smart Lock S330 is the best smart lock available right now. It's sturdy, the app is a breeze to use, and the video capabilities can essentially replace your need for a separate video doorbell.
The lock features five separate ways to lock and unlock your deadbolt, including keys, the app, biometric (fingerprint), Google Assistant or Amazon Alexa, and a keypad. For Google Assistant or Alexa use, the smart lock needs to be connected to a Google or Alexa-enabled device first.
Great auto-locking features sets the S330 apart from other smart locks. You can turn on auto-locking features to automatically lock the door once you close it. This is great for those forgetful homeowners (like myself). You can also set a timer to have it stay unlocked for a period of time (up to three minutes). This is especially helpful when you are making a quick trip to the mailbox or have to run the garbage to the curb or dumpster.
Video door capabilities are a great addition to this robust smart lock. The camera has a 160-degree field of view and clear 2K video. You won't get complete head-to-toe coverage, but it provides a wide angle to get a better view of people coming and going. The camera also boasts advanced AI to detect people, pets, and vehicles and keep unwanted notifications, like a bag blowing across your yard, at bay.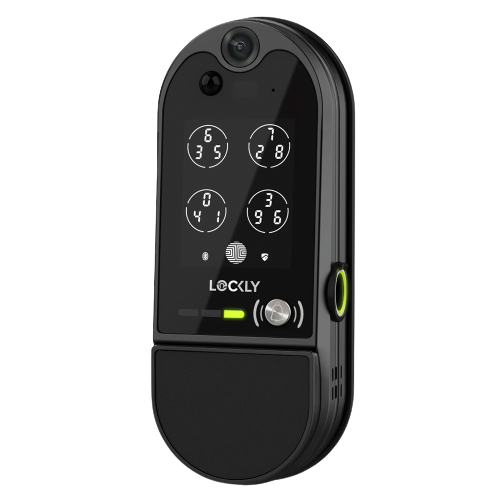 Source: Lockly
Lockly Vision Elite
Premium pick
A two-for-one smart lock plus video doorbell
$440 $500 Save $60
The Lockly Vision Elite is an all-in-one solution for your front door. It's a smart lock that also features a handy doorbell camera, which gives you peace of mind that other models on this list (top pick included) don't. Who doesn't want to make sure that their package or house sitter has arrived?
Pros
Amazon Alexa compatible
Built-in solar panel for continuous charging
Biometric scanner
Cons
Video footage takes a few moments to load on the app
Expensive
Smart features aside, which I'll get to momentarily, I would be remiss not to talk more about Lockly's video doorbell capabilities. Visitors can ring the doorbell, and you can view and use two-way communication to talk to whoever's at the door. Like all video doorbells, there's also a motion sensor that alerts you when someone is in range, so they don't have to press the button for you to be notified.
Otherwise, this lock has features you'll find on the Eufy pick, like a biometric scanner, key access, and a keypad. The keypad even has its own security measures to help protect key code snoops. The numbers on the screen are in four, three-number groupings, and these grouped numbers rotate every time the screen is turned on and off. This way, nobody can memorize which digits you pressed and when.
Passcodes are great, and this device can store many, but you don't have to remember passcodes at all with the biometric sensor. All you really need is your finger for access. The doorbell stores up to 99 fingerprints for family, friends, or renters. And when fingerprints and passcodes are assigned, you can track usage in the app. Badges or offline access codes are also great for one-time users, providing key codes or phone access for a limited, preset time.
With the video doorbell and all of its smart locking features, including Amazon Alexa capabilities that conveniently pair with Amazon Echo devices, this is one of the premier smart lock solutions.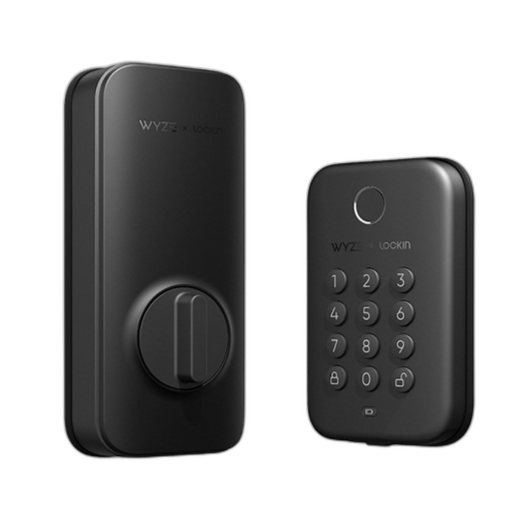 Wyze Lock Bolt
Best value
A completely keyless, affordable smart lock
A keyless smart lock at a great price. A reliable fingerprint sensor along with a backlit physical keypad bring your previous lock into the 21st century.
Pros
Fingerprint sensor
Comfortable keypad
USB-C charging port
Cons
No Google Assistant or Alexa support
For a true keyless smart lock experience, the Wyze Lock Bolt completely ditches key entry for biometric, keypad, and app control to manage your deadbolt. The biometric sensor can store up to 50 fingerprints, so you and your entire family can get in and out easily.
I appreciate a physical keypad. Some digital keypads I've tested in the past are too sensitive, and subtle grazing of the wrong number results in an incorrect combination entry. Having to push buttons on a keypad physically helps to eliminate those wrong code entries. Additional keypad safety measures include anti-peep technology. You can add extra digits before or after your code to prevent someone from eavesdropping on your entry code.
An auto-locking timer conveniently will lock the door behind you after a set amount of time. This can be helpful when your hands are full entering or leaving your home. You can expect about a year of battery from the 4AA batteries that power the smart lock. If you encounter a situation where the batteries are dead, an emergency USB-C charger located on the bottom of the lock can power the lock for you to still get back inside.
Level Lock Touch Edition
Most discrete
A secret smart lock in disguise
$299 $329 Save $30
This smart lock doesn't immediately present all of its smart capabilities. Disguised as your everyday deadbolt, the Level Lock Touch Edition features a biometric sensor and an easy to use app to manage your lock.
Pros
Small
Available in four finishes
Biometric sensor
Cons
Keycode pad sold separately
Upon first glance, there is nothing that indicates that Level Lock is indeed a smart lock. It looks like a standard lock. That's the genius behind it. All the tech is built inside of the lock, enabling it to remain unassuming and small.
You can manage the Level Lock Touch in a number of different ways. You can go old-school with keys, simply touch the outside of the lock, use your voice thanks to compatibility with Siri, or with the included physical key cards. But to do so, you'll need to be connected to a HomeKit hub. Without it, you still get nifty features like auto locking and unlocking, as well as a handy in-app log to monitor who is coming and going.
You can also pair Level Lock Touch with a keypad for an additional way to control your lock, but it is sold separately. The Level Lock is available in four different finishes, including matte black, polished brass, satin chrome, and satin nickel, to conveniently match your home decor.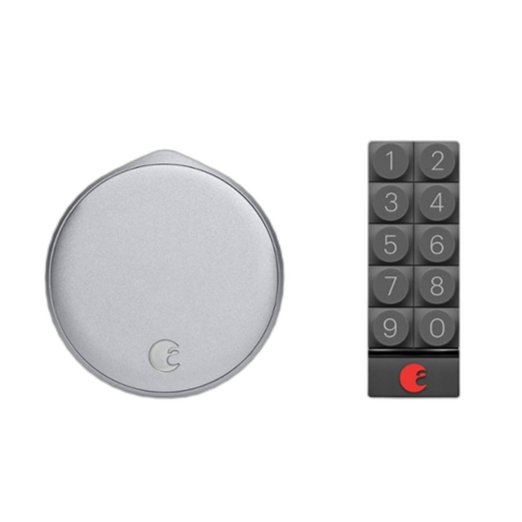 August Smart Lock
Best midrange
Easy to install and great locking features
$190 $250 Save $60
A uniquely designed smart lock that is easy to install. It's compact for those who don't like a long lock running up and down the door. Smart features like geofencing and auto-locking are also great attributes.
Pros
Geofencing capabilities
Auto-locking features
Easy to install
One of the easiest ways to get a smart lock on your door is with the August Smart Lock. The design allows for simple installation. Once you screw in the backplate, the lock connects to it with metal wings that snap into place. It's sturdy yet ultra-convenient. The other convenient piece to the easy installation is that you get to keep your old keys. The lock only replaces the inside of the door part of the lock, so you don't have to worry about cutting new keys for the whole family.
As for the locking features, they are equally as convenient. The geofencing and auto-locking capabilities are especially helpful. Your door will automatically lock and unlock when you get within or outside the perimeter. You can also set timers for auto-locking, which automatically takes the guesswork out of whether or not you remember to lock the door when you leave.
The app has a handy log of when and who locked and unlocked the door. You can also share virtual keys with friends and family and revoke the privilege whenever you need. This is especially helpful when the August Lock is used on a rental property. I did experience some connectivity issues with the app, as it would disconnect from the lock from time to time. But considering the convenience, great design, and feature set, this is a great choice for an easy-to-install smart lock.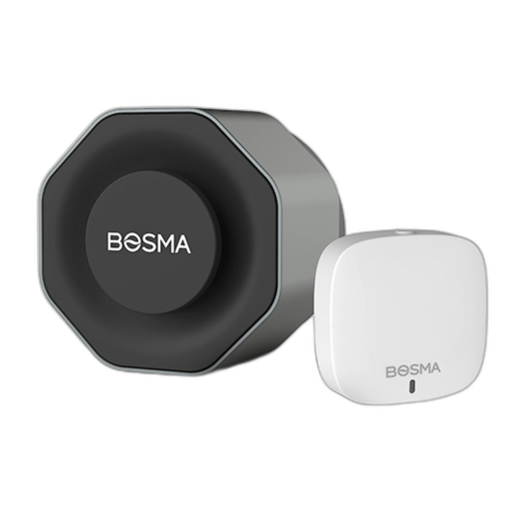 Bosma Aegis Smart Door Lock
Great security features
Enhanced security and easy installation
$80 $120 Save $40
With the Bosma Aegis Smart Lock, you can turn your deadbolt into a smart lock and keep your existing keys. It's quick to install and has extra security features like a siren to tighten up your home's security.
Pros
Tamper siren
Easy to install
Keep existing keys
Cons
Requires a hub to connect to home network
With a similar design to the August Smart Lock, the circular Bosma Aegis Smart Door Lock allows you to turn your existing deadbolt into a smart one. You only need to remove and replace the inside (of your house) part of the lock with the Bosma Aegis. This allows you to keep your current keys, which is convenient as many smart locks only provide one or two additional keys (when applicable).
Although it only goes on one half of your door, it is robust with security features. It supports voice commands via Alexa and Google Assistant as well as locks and unlocks via the app. The app has a handy log that lets you know who, when, and how the door was unlocked, as well as potential tampering attempts. When the lock is tampered with, a siren will sound to fend off intruders.
You can also expect convenient auto locking and unlocking features that are great for forgetful homeowners or those who try to make a single trip from the car to the house with too many groceries in hand. When you consider all the security features, including voice control and auto-locking features, this is a steal of a deal for a smart lock.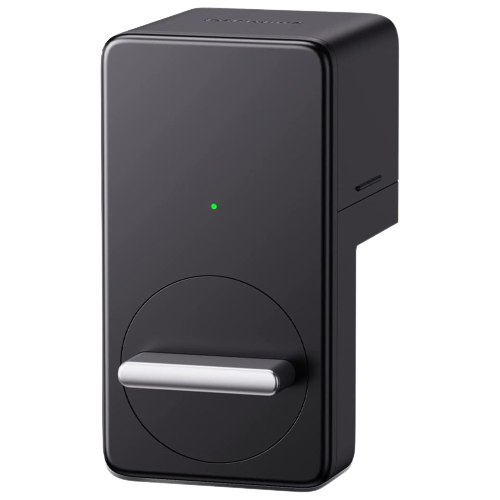 Source: SwitchBot
SwitchBot Smart Lock
No tools needed
A cheap way to turn a dumb lock into a smart one
$70 $100 Save $30
The SwitchBot Smart Lock is a cheap and quick way to make your deadbolt phone compatible. It hooks onto your existing deadbolt and connects to your phone via Bluetooth. After it is installed, the lock can be controlled from your phone (as long as your lock is easy to turn).
Pros
Affordable
Easily installed
Bluetooth compatible
Cons
Made entirely of plastic
Twisting torque is not the strongest
Few features
The SwitchBot effectively turns your dumb door lock into a smart one by attaching it to the inside thumb turn (the part that you twist to lock your door). It's a no-frills option that allows budget shoppers to unlock and lock their deadbolts from their phones without uninstalling their current lock. How convenient is that?
The SwitchBot won't wow you with locking features like those you'll find in other options, but it stands out in its own right. SwitchBot only attaches to the thumb turn on the inside of your door, so installation is quick, and your get to keep your own keys. Once installed, you can unlock your door via Bluetooth with your phone or Apple Watch. It's also voice AI compatible to lock and unlock your door with a brief chat, but you'll need to buy a separate hub.
The SwitchBot comes with a few different adapters to fit over most thumb turns. Once you select a size, the included M3 tape attaches the SwitchBot to your door, and, viola, your previously not-so-tech-savvy door lock can be opened and closed with your phone.
Of course, with such an affordable option, there are some caveats. The torque isn't the strongest, so if your mechanism doesn't work smoothly, the SwitchBot may have trouble locking your door. But if your lock is smooth to turn, and you can live without all the keypad and biometric stuff, this is a practical way to school up your current lock quickly.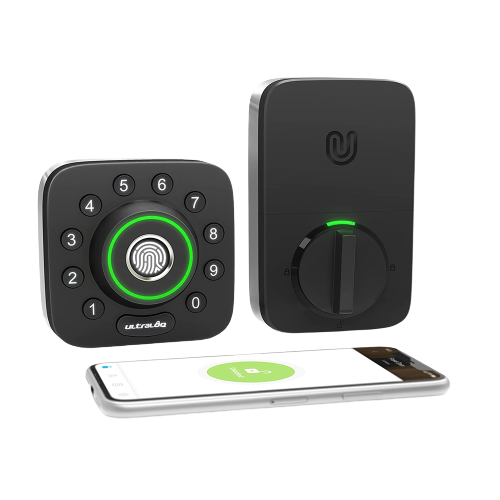 Source: Ultraloq
Ultraloq U-Bolt Pro
Best keyless
A forward-thinking lock that waves goodbye to keys
Akin to when laptops started ditching the disk drive to create slimmer, more portable laptops, Ultraloq U-Bolt Pro leaves behind key access for keypad and biometric entry. The result is a compact, easy-to-use lock with an equally easy installation and phone app.
Pros
Compact
Biometric
User-friendly app
Cons
Battery drains quickly compared to others
Between the keys to my house, my parent's homes, my in-law's homes, and our storage unit, I often feel like the Keymaster from The Matrix: Reloaded. That said, I welcome a smart lock, like this one by Ultraloq, that doesn't add another key to the key ring, especially since adding fingerprints and key codes is made as easy as it is through the lock's app.
One of the design features that I particularly appreciate is the rotary-style keypad with raised buttons. With a physical button to press, as opposed to a digital keypad, you don't have to worry about errant presses and starting over. It also has scramble code keypad protection, so you can add random numbers before or after your code to key your actual passcode safely from prying eyes.
The Ultraloq provides auto-locking features that go beyond simply locking when the door closes. With geofencing technology, you can enable the U-Bolt Pro to lock when you leave and to automatically open when you arrive back home. Even when you aren't home, or if the lock is installed on a rental property or guest house, you can manage and assign passwords for users on specific dates and at specific times. This makes it convenient to share access with guests without dropping off physical keys.
Speaking of physical keys, you might be asking, "well, what happens if the lock's four AA batteries run out?" If all else fails, there actually is a physical keyhole hidden behind the biometric and keypad faceplate. (It'll be your little secret, though.)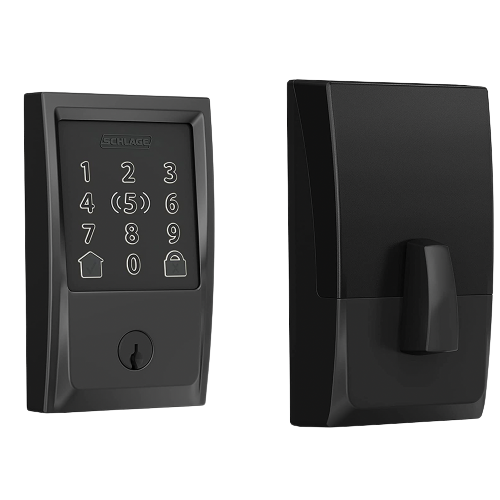 Source: Schlage
Schlage Encode Plus
Most durable
A smart lock plus mini alarm
The Schlage Encode Plus Smart Lock looks and feels sturdy with a low-profile, metal build. It's durable and will also scare would-be intruders away with a built-in siren. And with Apple Home Key (think NFC for your lock), the lock can be opened if your phone is nearby.
Pros
Great build
Built-in siren
Apple HomeKit and Home Key compatibility
With features such as a built-in siren, as well as tamper notifications, it's apparent that the Schlage Encode Plus takes security quite seriously. Schlage also goes to great lengths to provide an equal amount of convenience and ease of use to match its security features.
Wi-Fi is built-in, so there's no need for additional bridges or plug-in devices. With the lock and your phone, you can connect the device to your home network in a few minutes. Once connected, the Encode Plus is compatible with Apple HomeKit and Home Key, so you can unlock your door by putting your Apple Watch or your iPhone near the lock, much like NFC payments when your credit card is in your Apple Wallet. HomeKit isn't the only compatibility offered either; Google Assistant and Amazon Alexa are also available.
The Schlage Encode Plus has up to 100 key codes and allows you to assign those codes to guests, making it ideal for your home or rental property. The key codes you assign can also be made valid only during certain dates and times specified in the app. Regardless of where this lock lives, it comes in four different finishes and two different styles to match home decor.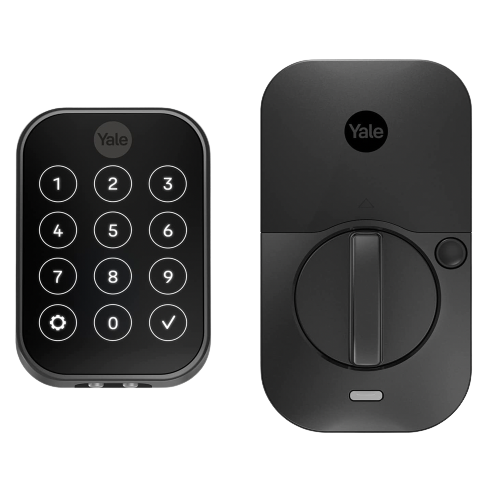 Source: Yale
Yale Assure Lock 2
Great auto locking
A smart lock that's prepared for the future
$120 $160 Save $40
The Yale Assure Lock 2 has a handful of great features. It connects to your home Wi-Fi network both with and without a bridge and is compatible with multiple AI peddlers such as Amazon, Google, and Apple. It even has compatibility with Google's Matter for the fastest connectivity available.
Pros
Sleek and slim design
Compatible with multiple voice assistants
Google Matter ready
Cons
The keypad screen leaves fingerprints
If you're a particularly forgetful person when it comes to locking the door behind you, the Yale Assure 2 has great auto-locking features that allow you to adjust how much time will pass before the door automatically locks. To take it a step further, there are also geofencing capabilities that can lock and unlock your door as you come and go. This way, you don't have to punch in your key code every time you want to enter your home.
Speaking of punching in your key code, the digital keypad is prone to leaving fingerprints. It's worth quickly wiping the screen every once in a while because the fingerprints can identify which digits are in your passcode.
I mentioned this lock is set for future-proofing your home. Google Matter is a smart home standard that helps Matter-compatible devices work faster on your Wi-Fi. Yale is the first smart lock (at this time) that is Matter compatible. It also can connect to Apple HomeKit, Google Assistant, and Alexa, so regardless of what your choice of voice AI is, the Yale Assure 2 has you covered.
Best smart locks in 2023: Final thoughts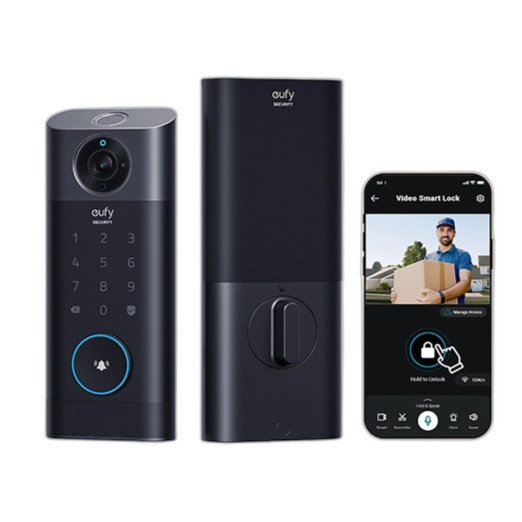 Eufy Video Smart Lock S330
Best overall
$245 $245 Save $0
Everything you could want or need in a smart lock. With Google Assistant and Amazon Alexa capabilities, along with biometric control, it's as robust a smart lock as you'll find. Plus, it replaces your need for a video doorbell.
The convenience of owning a smart lock can't be understated. No more looking for your keys, or locking yourself out of the house. And when it comes to the most convenient and robust with safety features, the Eufy Video Smart Lock S330 is the cream of the crop. It has a great combination of features, including voice control when paired with a smart speaker. It also boasts a video doorbell, essentially eliminating the need to purchase an additional video doorbell.
If our top pick is outside your budget, the Wyze Lock Bolt provides a keyless smart lock experience that's equipped with a biometric fingerprint scanner for access. I also liked the physical buttons on the keypad. It helps eliminate making mistakes when typing in your code. Another great option to ditch your keys entirely is the UltraLoq U-Bolt Pro with a slim, compact design with a physical keypad and no keys necessary.