These must-have accessories will level up your gaming experience and keep your Steam Deck safe.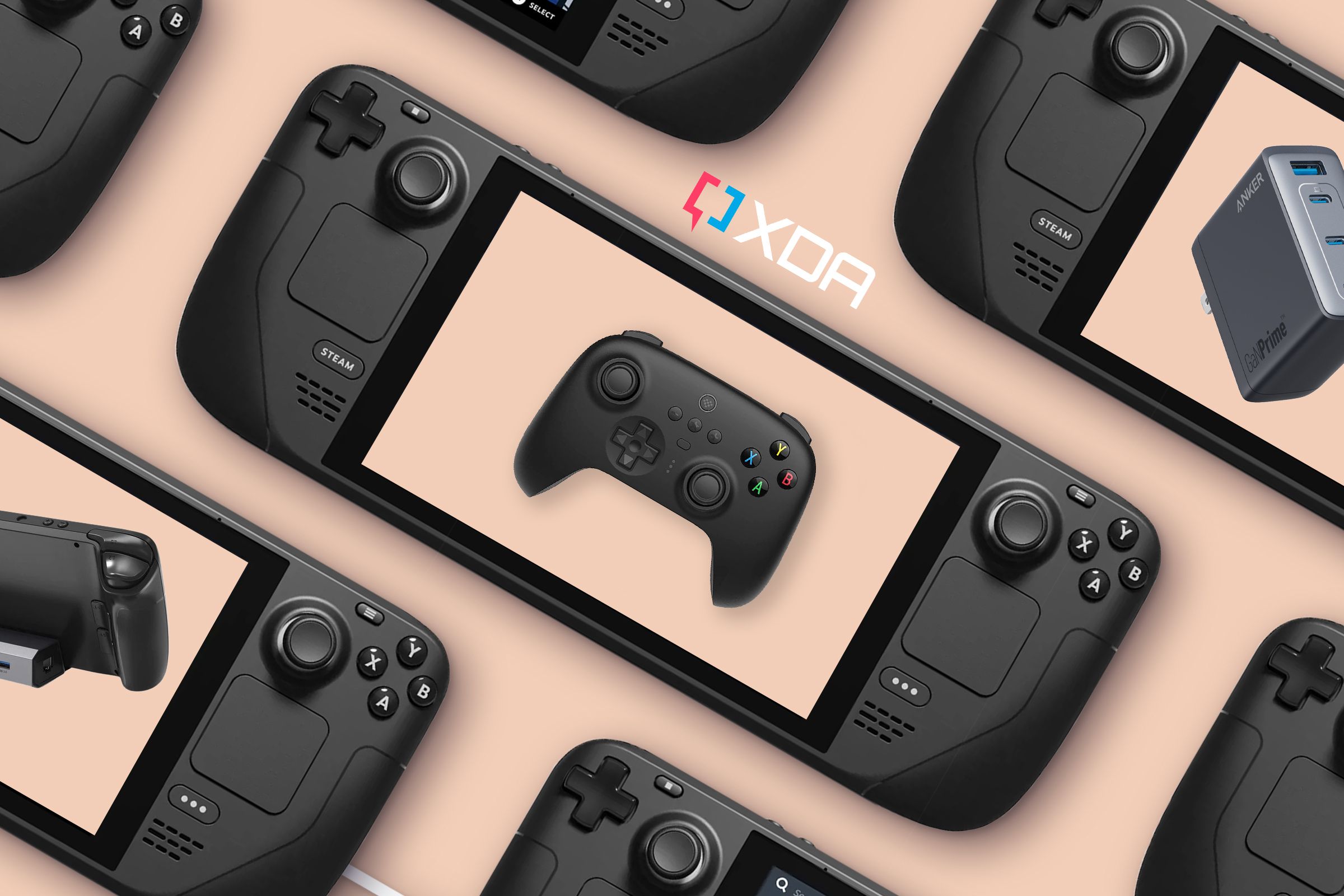 Valve's Steam Deck is a pretty capable handheld video game console by itself, letting you enjoy a vast collection of games as soon as you pull it out of the box. But you also have the option to level up your experience by investing in some useful accessories. For instance, you can purchase a Steam Deck dock to connect it to a gaming monitor, or you can get a compatible controller if you're more of a console gamer.
In addition to improving your gaming experience, you can purchase a few Steam Deck accessories that will protect the console when you're out and about or extend your gaming session by topping up its battery. If you've just bought yourself a shiny new Steam Deck, we recommend getting the following accessories to start.
Official Steam Deck Dock

Although a bit expensive, the Steam Deck dock is a great accessory for your new handheld as Valve officially supports it and you can buy it with your Steam credit. It features three USB-A 3.1 ports, an Ethernet port, a DisplayPort port, and an HDMI port, and it supports passthrough charging at 45W.

JSAUX Steam Deck Dock

The JSAUX Docking Station is the perfect companion for the Steam Deck for those who want a desktop-like gaming experience with the handheld console. It features an HDMI port that can output 4K video at 60 FPS, three USB-A ports to connect peripherals, an Ethernet port for a stable internet connection, and a USB-C port with charging support to keep the Steam Deck juiced up during long gaming sessions.

SanDisk 1TB Extreme

SanDisk Extreme microSD card

Worried about running out of onboard storage because of all the games in your Steam library? Get this 1TB SanDisk Extreme microSD card for your Steam and install as many games as possible without worrying about storage space.

8BitDo Ultimate Wireless 2.4g Controller

8BitDo Ultimate Wireless 2.4g Controller

The 8Bitdo Ultimate Wireless 2.4g Controller is a great affordable pick for those who want a console-like gaming experience. It features all the buttons you'd expect to see on a premium controller, including two joysticks and shoulder triggers. In addition, it offers rumble vibration support and comes with a charging dock that keeps it charged and ready at all times.

Xbox Core Controller

Xbox Controller

The Xbox Wireless Controller is another great option if you want a console-like gaming experience, especially for those who've used Xbox in the past. However, it's a bit more expensive than the 8Bitdo Ultimate Wireless Controller and requires batteries, which could be a dealbreaker for some buyers.

dbrand skins

Customize your Steam Deck with a premium skin from dbrand and protect it from scratches without adding too much bulk. Choose from over 30 different designs, including the iconic teardown skin that makes it look like your Steam Deck is transparent.

Spigen Rugged Armor Protective Case for Steam Deck

The Spigen Rugged Armor Protective Case offers a sweet spot between a sleek dbrand skin and a bulky carrying case. It adds a layer of protection over the handheld console without adding too much extra weight, and it has a TPU construction that will protect it from accidental drops.

Anker 737 PowerCore

The Anker 737 PowerCore portable charger packs a massive 24,000mAh battery and offers a peak output of 140W, making it a great pick for Steam Deck users who want no limits on their on-the-go gaming sessions. It features three ports, which let you keep your phone and another device charged simultaneously.

UGREEN 45W Nexode

The Ugreen 45W Nexode GaN charger is a great travel-friendly accessory for your Steam Deck. It features two USB-C ports that allow you to charge another device simultaneously and 45W power output with battery protection to prevent overheating, overcharging, and over-voltage.

Corsair K70 Pro Mini

The Corsair K70 Pro Mini is a great 60% wireless mechanical keyboard, and it's the perfect pick for those who often use their Steam Deck in desktop mode. It features Cherry MX Red switches, which are great for gaming, RGB backlighting, and an 8,000Hz polling rate for a lag-free gaming experience.
These are the best Steam Deck accessories you can get at the moment. If you're not sure where to start, we first recommend getting a Steam Deck dock, either the official one from Valve or the JSAUX one, if you're on a budget. You can pair it with a keyboard and mouse combo or the 8Bitdo Ultimate wireless controller. If you prefer gaming on the go, invest in the Spigen Rugged Armor case for added protection or slap on a dbrand skin to prevent scratches. The Anker PowerCore 10000 is also a great buy if you don't already own a power bank. Finally, because the Steam Deck has such limited storage, feel free to pick up a microSD card for easily expandable storage.