Need a new charger for your Surface Pro 9 or lost your original one? From Surface Connect chargers to USB-C chargers, here are some options.
The Surface Pro 9 is a device that's rated by Microsoft for 15.5 hours of battery life on the Intel-based model, while the 5G model is rated for 19 hours. In reality, though, we got between 8 and 10 hours of battery life during our Surface Pro 9 5G review period. So, eventually, when the juice runs dry, you'll need to charge up your new Surface device. Microsoft includes a Surface Connect charger for you in the box, but if you lost it or need a replacement, here are some suggestions for the best Surface Pro 9 replacement chargers.
Note that like with some of the best Windows tablets, the Surface Pro 9 can charge via USB-C. If you use a USB-C charger that's rated higher than 65W, you'll get enough power to juice up your Surface, without the need for Microsoft's own Surface Connect charger.



Surface Dock 2


Editor's Choice

$192 $260 Save
$68

The Surface Dock 2 is one of the best chargers for the Surface Pro 9. It isn't meant to be portable, but it is great to use at your desk since it'll charge your Surface Pro and give you extra ports at the same time with the included Surface Connect cable.




Microsoft Surface 127W power supply


Premium Pick

$117 $125 Save
$8

Did you lose your original Surface Pro 9 charger? This is a third-party charger that's cheaper than buying the original from Microsoft. It looks official and works just the same. Note that it also has a higher 127W wattage.




Ukor 65W Universal Laptop Charger


Best Value

This is an affordable USB-C charger for the Surface Pro 9, and any other USB-C laptops you might have. It provides 65W of power and has a long USB-C cable.




Anker Nano II


Three-port charger

$56 $75 Save
$19

You'll need to provide your own USB-C cable with this Anker charger, but unlike the stock Microsoft charger included with your Surface Pro 9, this one will let you charge up to three different devices at the same time, all at 100W.




Anker 537 Power Bank (PowerCore 26K)


Best power bank

Going to travel with your Surface Pro 9? This 26,800mAh Anker portable USB-C-powered battery bank is a great option. You can plug your Surface Pro 9 into the USB-C port on this charger using the included cable and recharge when away from outlets.




Baseus 20,000mAh 65W power bank


Affordable power bank

If you want to power up your Surface on the go, this is the power bank to consider. It comes with a large 20,000 mAH battery which can charge your Surface to nearly 80% when an outlet isn't near. There's also a LED indicator with a printed number to indicate how much juice is left in the charger.




E EGOWAY Surface Pro Charger


Best generic charger

This is yet another third-party Surface Pro 9 charger. This one resembles the original, but is much cheaper, and charges your Surface just the same via the Surface Connect port.




ixcv USB-C 100W Charger


Now in white

If you prefer to buy a 100W charger for your Surface from a brand other than Anker, then this is the one for you. It has a USB-C port that can be used to charge up your Surface, and it comes with a 7.2-foot cable.
Which Surface Pro 9 replacement charger is best?

If you want the very best charger, the Surface Dock 2 is the way to go. It might not be compact, but it works great at a desk and adds extra ports to your Surface. For a more portable solution, you'll want to check out the official Microsoft Surface 127W power supply, which is similar to the original that comes with your Surface but adds an extra USB-A port on the power brick for charging your other accessories. Other than that, Ukor's 65W charger is a more affordable solution, since it's a universal USB-C charger.
But if Surface Connect is a must, and you need something more affordable, the E EGOWAY Surface Pro charger will do the trick. If you can't find one of those and want something cheaper, then USB-C chargers will work fine, and you can even charge your other devices with them, too.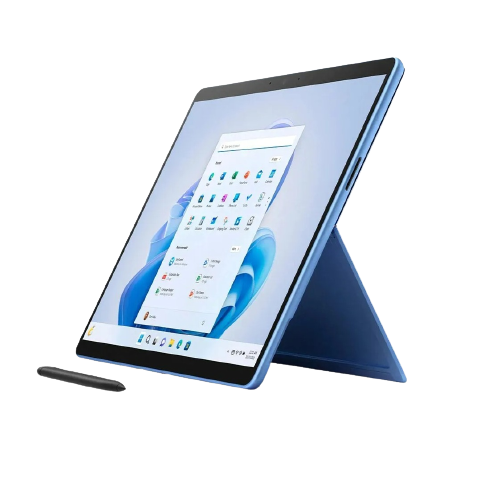 The Surface Pro 9 is the latest tablet from Microsoft. It comes in new colors and is available with either 12th Gen Intel Core CPUs or the ARM-based Microsoft SQ3 processor depending on whether you'd like 5G connectivity.