BurgerKing App Shake Phone Offer
BurgerKing App Loot – Open App Daily , Collect Points & Order items @ Just ₹1
---
BurgerKing App Shake Phone Offer – Hi guys, Hope you are enjoying our super duper free recharge tricks & free paytm cash tricks. Meanwhile , here comes another stunning offer from Popular food chain brand in India BurgerKing. They are running the Shake your Phone & earn Crowns offer in Their BurgerKing.
You just have to Open BurgerKing app daily & collect the daily crowns. After collecting sufficient crowns , you can redeem it for ₹1 products in their store or Online stores.
we daily spends lots of hours on smartphone on just scrolling social media & youtube. Now you can make this time productive by spending just few seconds daily on BurgerKing app. This is not big loot like other refer & earn apps but anything that comes free is loot for us guys… 😛
Now redeem below steps to read how to Open App Daily , Collect Points & Order items @ Just ₹1
BurgerKing App Loot – How to order items @ Just ₹1 Only
1. Download the Burger King App from Playstore
2. Sign up and click on King Deals tab
3. Click on shake phone to win crowns.
Sign up bonus is : 500 crowns 
Daily shake & win : 15 – 20 crowns per day
4. You will get random crowns once every day . Mostly between 15-20 crowns
5. Keep shaking and collecting everyday and redeem for deals.
6. As of now only one deal is there – Redeem 1000 points to get Veggie Stripes @ Rs 1 or Chocolate Sundae @ Rs1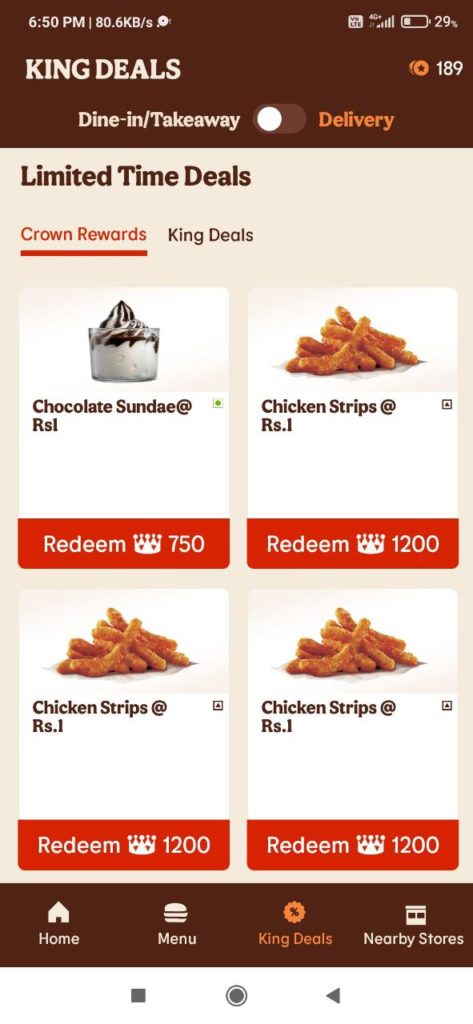 ₹1 Deals :-
Chocolate Sundae @ ₹1
Chicken Strips @ ₹1
Chicken Strips @ ₹1
Chicken Strips @ ₹1
7. More deals like Chicken Strips and Ice cream also comes from time to time.
8. Opening phone and shaking is hardly 10 sec task so keep doing and get food at Rs 1. Using this app since 3-4 months. Already redeemed twice.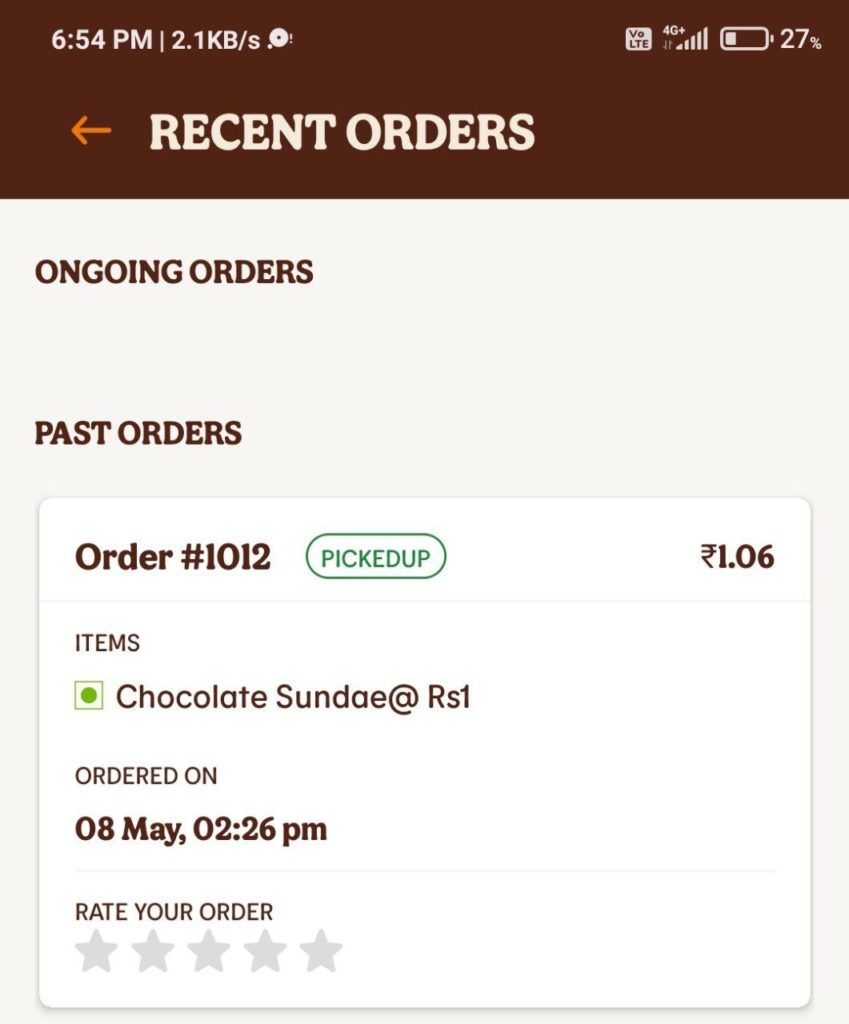 About BurgerKing :
Founded in 1954, BURGER KING® is the second largest fast food hamburger chain in the
world with about 18,000 restaurants operating in more than 100 countries and US
territories as at June 30, 2019.
The original HOME OF THE WHOPPER®, our commitment
to ingredients, signature recipes, and end-to-end online Burger King experience for
millennials is what has defined our brand for more than 50 years.