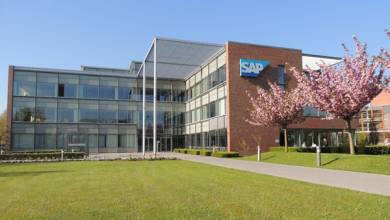 New marketing manager and old communication specialist in the team.
From January 2023, Attila Dénes was appointed by the Hungarian management of SAP to perform marketing management duties. The specialist joined the leading software manufacturer of business IT solutions a year ago, and before the appointment he performed his duties as a communications manager at the company. Among the primary tasks of the new marketing manager is to expand SAP Hungary's digital toolkit, develop a new content strategy, coordinate various customer and partner events, and the work of the Hungarian marketing team.
Attila Dénes came to SAP in the fall of 2021 from Vodafone Hungary, where he participated in many national and international campaigns over the years. Among other things, he worked on the introduction of the company's residential and business 5G services, and was also responsible for the communication support of the service provider's various B2B solutions.
The specialist with a degree in economics started his career on the agency side, gained experience in several roles in the FleishmanHillard Café team, mainly in the financial and IT fields.
From January 2023, Zsuzsa Halpert, who will return to the position after maternity leave, will once again perform the duties of communications manager. The management of external and internal communication is one of his tasks. Zsuzsa Halpert joined SAP in 2020 and has been working in the communications field for more than 20 years. He started his career on the media side: he worked as a copywriter and promotional producer for a Hungarian television channel, and then switched to PR. He spent more than 12 years as a communications consultant on the agency side: over the years, he managed the external and internal corporate and product communication, press relations, and CSR and employer branding programs of large ICT, financial, healthcare, energy, and FMCG companies.
Hardware, software, tests, interesting and colorful news from the world of IT by clicking here!