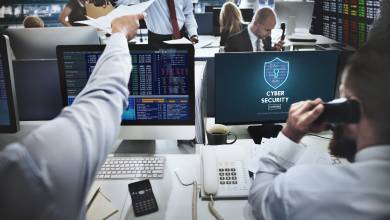 While a wide range of security solutions are in place, companies still need to improve the protection of identities, networks and applications, according to Cisco's first cyber readiness survey. The vendor would make it easier for organizations to balance security and usability with real-time risk assessment.
Workforce, tools and workloads – companies need to protect the three pillars of business against cyber threats. But while the structure of their IT environment used to be particularly static – people and devices had access to a fixed or only slowly changing range of applications in a well-defined location -, organizations now operate in a hybrid, fast-paced and constantly changing environment, in which people, the devices, applications and data can be in and move between many different locations.
Given that there has always been a difficult balance between security and usability, the IT teams responsible for cyber protection face an extremely large task in today's distributed, hybrid and multi-cloud environments – Cisco pointed out in the Cybersecurity Readiness Index, in which it examined for the first time the the development of protection developed in companies. The supplier has also expanded its portfolio with new, risk-based capabilities, which it is developing into a security cloud (Cisco Security Cloud) that protects the entire IT ecosystem of organizations.
– Security solutions must reduce risks without disrupting the user experience – said Jeetu Patel, executive vice president of Cisco, in connection with the announcements. – At the same time, organizations must comprehensively manage and enhance their resistance to cyber threats. At Cisco, we build an end-to-end portfolio of security solutions and integrate it into a single platform.
Risk-based identification
To create its Cyber ​​Security Readiness Index last fall, Cisco asked 6,700 companies in 27 countries and 18 industries about the security solutions they have in place to protect identities, devices, networks and workloads – applications and data – as well as their further plans to expand them. The supplier evaluated the security solutions named by the respondents from two points of view – what role they play in the protection of each pillar and how advanced their implementation was – and then by summing up the two results, it determined the score, which shows the level of preparedness of the given company on a scale of one to one hundred .
Looking at the first pillar, for example, 20 percent of companies with less than ten points fell into the category of beginners, according to Cisco's assessment, these organizations have only just begun to improve their cyber security readiness. At the next level, the readiness of companies is already developing, but it still does not reach the global average, 38 percent of companies with a score between 11 and 44 graduated in this most populous class. 22 percent of the organizations received an advanced rating (with a score between 45-75) for their above-average cyber security preparedness. A fifth (20 percent) of the companies earned the mature rating with their well-performing, robust cyber security strategy and a score exceeding 76 points.
Respondents ranked identity management and asset monitoring among the three areas with the greatest cybersecurity risks. With the widespread adoption of technologies such as multi-factor authentication (MFA), cyber attackers are increasingly targeting solutions that protect users and their devices, the authors of the report pointed out.
But while companies have reached a very convincing level of development in the area of ​​asset protection, there are still many tasks ahead of them in improving identity management. Almost half of the companies are already at the mature (31 percent) or advanced (13 percent) level of readiness for asset protection. On the other hand, only 20 percent of the organizations are considered mature when it comes to user identification, and more than half of the respondents are either beginners (20 percent) or organizations characterized by a developing strategy (38 percent).
Not only are these types of attacks becoming more and more common, and existing risk detection solutions fail to detect them, but user identification also causes too much friction with its inflexibility, which is at the expense of usability. With the Duo Risk-Based Authentication risk-based identification solution announced in February, Cisco tries to reduce this friction in hybrid work environments.
With the new solution, users can work safely even with less frequent identification in situations considered reliable. Thanks to the Remembered Devices and Wi-Fi Fingerprint capabilities, they can stay logged in to familiar applications, devices and networks, because they don't have to worry about their employer collecting personal or location data about them, the supplier said.
With its Verified Push capability, the solution also provides protection against phishing attacks aimed at obtaining identifiers. In risky situations, for example, when Duo detects behavior that suggests attack patterns, it prompts the user to enter a code instead of just pressing a button. And with enhanced Single Sign On (SSO) capabilities, the solution also increases security and efficiency in modern work environments by reminding users to update their passwords before they expire.
Safety Endurance
Companies must also urgently improve the security status of their applications and workloads, warns Cisco in its readiness index. During the evaluation, the degree of application security preparedness was found to be mature in only 12 percent of the companies, while the majority of the companies (65 percent) received the second lowest rating of "developing". This is a particularly dangerous shortcoming in the digital economy based on customer experience, in which applications are no longer merely supporting accessories of the business, but become one with it.
For this reason, Cisco has expanded its Full-Stack Observability portfolio with a new risk analysis tool, which provides full visibility and is necessary for the supervision, monitoring, optimization and protection of applications that provide an always available, outstanding and secure digital experience. Business Risk Observability is available as part of the Cisco Secure Application integrated with the Cisco AppDynamics cloud-based performance analytics solution and helps evaluate business risks – based on the Kenna Risk Meter and AppDynamics Business Transactions – and is also connected to the Panoptica API security and Talos threat analytics solutions .
The complexity of distributed IT environments increases not only security risks, but also operational costs. For example, the majority of corporate networks cannot adequately support the changes in data traffic that the use of SaaS solutions and the hybrid model of work bring with it, Cisco found. In the cyber readiness index, only 19 percent of the organizations proved to be mature in terms of network protection, while more than half of the companies received a below-average, formative or beginner rating. The supplier has therefore also improved its Secure Access Service Edge (SASE) solution. The newly announced Cisco+ Secure Connect is an off-the-shelf, unified SASE solution that combines the vendor's SD-WAN network fabric and cloud-based security services to give users secure access to all resources regardless of location.
As they are surrounded by cyber threats everywhere, companies must also approach defense in a new way, Cisco pointed out. Separate security solutions no longer work, as they focus too much on one area, on preventing and avoiding attacks, thus leading to siloing, and moreover, all threats are taken under one hat. Instead, organizations need to develop their security resilience, that is, focus on what is most important – preparing for what may happen and quickly restoring normal operations after an attack.
Many organizations are already thinking about how to increase their resilience in various areas, from finance to supply chain. Security resilience spans all of these, but cannot be obtained from any vendor as an off-the-shelf solution, Cisco added. It means that the company recognizes the threats in every situation, understands their impact, the risks they carry, and in this context can also assess what steps to take for the best response.
Hardware, software, tests, interesting and colorful news from the world of IT by clicking here!