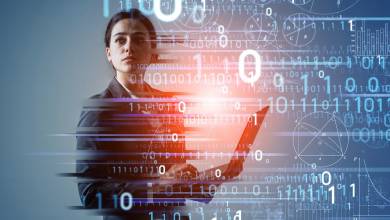 Portable services, self-service data movement, all-in-one data warehouse – Cloudera presented special, hybrid data capabilities with which companies can move and analyze large amounts of data in a multi-cloud environment while optimizing performance, cost and security. Customers using the vendor's data platform in the public cloud now have general access to the DataFlow Designer no-code development tool.
The amount of data collected and stored by companies on-premise, in the cloud and in various streaming locations is growing continuously and at an accelerating rate. According to estimates, in 2025, we will create and manage more than 180 zettabytes of data worldwide in diverse environments and platforms, and the hybrid data mass will confront users with an increasingly large and complex challenge. Many economic and market conditions urge organizations to obtain more and more valuable information from their data as soon as possible, to support the continuous digital transformation of the business with machine learning (ML) and artificial intelligence (AI) – however, all this is unthinkable without superior supervision of the large and varied data environment . During March, Cloudera presented its latest data analytics and monitoring innovations at regional online conferences, with which it helps companies manage hybrid data masses, from in-house data centers to public clouds.
– Cost or performance, companies would rather not choose between the two, as these days, when business increasingly relies on hybrid, multi-cloud environments, they are closely related to each other – said Sudhir Menon, Product Director of Cloudera. – Organizations following a data-driven strategy not only take care of how they spend money, but also focus on opportunities for value creation. In order to serve constantly evolving business needs, it is essential that they can move their data and workloads throughout the modern data architecture.
Services for data movement
Companies can move their data, metadata, data workloads and data applications more efficiently between the cloud and on-premise environments with the hybrid data capabilities that Cloudera added to its CDP data platform late last year.
These include Portable Data Services, which enable data analytics and data applications to move faster and more efficiently between different infrastructures by eliminating the need for application redesign and development. The CDP Data Services services – Data Engineering, Data Warehousing and Machine Learning – are all based on the same uniform code and provide exactly the same functionality in AWS, Azure, and locally created private cloud environments. Since the same data services are running in different clouds, it is easier for users, administrators and developers to gain value and insights from the data, the supplier said. All of this creates a uniform data experience for users, regardless of the location of data storage and application execution, including the uniformity of data analytics functions, Cloudera SDX security and data management, and seamless cooperation with cloud-based storage environments.
With Secure Data Replication, companies can copy or move their data and metadata quickly and securely between different Cloudera deployments in data centers and public clouds. The security of replication is guarded by Cloudera SDX's latest function, the Replication Manager, which – according to the supplier, in a unique way – also moves metadata containing data security and management rules together with the data, so that they do not have to be implemented again in the new environment. Replication Manager provides an easy-to-use, rule-based interface for moving data and metadata in real-time, thereby increasing hybrid data flexibility for companies.
Also a recent CDP service is Universal Data Distribution, with which companies can take control of the flow of their data, from the point of origin to all points of use, both in local environments and in public clouds, in a uniform, simple, secure, scalable and cost-effective manner according to the supplier. way. The universal data distribution is supported by the Cloudera DataFlow solution, which was specifically designed for the import of hybrid data masses (data ingestion). Unlike target system-specific, dumbed-down, wizard-based connector solutions, Cloudera DataFlow supports more than 450 connectors and processors to enable indiscriminate data distribution across an ecosystem of hybrid cloud services, including data lakes, data warehouses, and on-premises and edge network data sources. Companies can thus stream data from each of these and flexibly scale their data generation up to hundreds of thousands of sources.
Starting this March, CDP Public Cloud users will have general access to the improved visual editing tool of Cloudera DataFlow Designer, with which they can design the flow of data between their systems in a self-service manner, i.e. much more efficiently and develop the flow of data between their systems without writing code (no-code). DataFlow Designer adds enterprise-grade support to Apache Nifi, a real-time, integrated data logistics and event management platform that enables companies to automate the movement of data between distributed data sources and systems for fast, easy, and secure data ingestion.
All in one data warehouse
Self-service analytics and exploratory data science on any type of data is also supported by Cloudera Data Platform (CDP) One, which combines the advantages of data warehouses and data lakes as an all-in-one data lake house software. Widely available as a service in the SaaS model since the end of last year, CDP One has built-in enterprise-level security and machine learning capabilities, so companies can use the cloud without security or monitoring and operating staff, which means they can reduce costs and risks. Since the solution makes the work of both data scientists and professional developers more efficient, the business can gain valuable insights faster, which can increase its innovation power and competitiveness, the supplier said.
With the all-in-one data lake service, organizations can move their existing workloads to the cloud, to a modern data architecture, faster, easier and with less risk. As a secure, central data platform, CDP One offers low-code tools that enable novice data managers and professional developers alike to work faster, using data stream analytics and machine learning to create ad-hoc, highly customized analyzes throughout the entire data lifecycle .
– It is really necessary to build a modern data architecture in the cloud in order for everyone in the company to be able to make the real-time insights necessary for good decisions – said Ram Venkatesh, Cloudera's Chief Technology Officer. – However, many companies cannot line up the resources and expertise required for transformation, so they run out of time. CDP One completely changes this setup, it can shorten the implementation process by months or even years, while providing comprehensive data security.
While other solutions, according to the supplier, only partially address the problem or confine users to a limited range of analytical tools, CDP One as a data warehouse service operating in the SaaS model offers everything from cloud-based processing and storage to machine learning and streaming analytics to enterprise-level security in a unique way. it contains everything in one, built-in. It features Zero Ops functionality that allows companies to support self-service analysis of any type of data, while reducing total cost of ownership by 20-35 percent.
Hardware, software, tests, interesting and colorful news from the world of IT by clicking here!