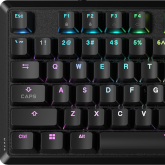 Corsair K70 Core RGB is another mechanical keyboard in the manufacturer's offer, but unlike most recent premieres, it represents a much more down-to-earth price segment. We are talking about a device costing PLN 399 (the version with a pad PLN 459), which is generally not the cheapest, but in the world of branded peripherals it is only the lower end of the mid-range. Corsair K70 Core RGB will therefore be the cheapest model in the portfolio, apart from membrane keyboards, of course, but its technical specification does not look budget-friendly at all. I would even say that most users will be satisfied with this functionality and quality of workmanship. Let's check…
Author: Sebastian Oktaba
Contrary to appearances and popular opinions, a computer keyboard is a relatively complicated device and comes in a surprising number of formats. We can find full-size models without a numeric block and miniature ones, offering a cable or wireless connection. However, this is only the beginning of the list. We can choose between designs with mechanical, optical, a combination of the above or membrane switches. Some are better for writing, while others have a gaming nature. There are dozens of mechanical switches with different characteristics. There are also issues of general functionality resulting from additional keys, backlighting, replaceable elements and software. However, the basic criterion when choosing a keyboard should be the type of switches and the dimensions of the device, which have the greatest impact on the overall usability.
Corsair K70 Core RGB is the cheapest mechanical keyboard in the manufacturer's offer, which has a solid technical specification and boasts high-quality workmanship. There is also a version with a wrist rest.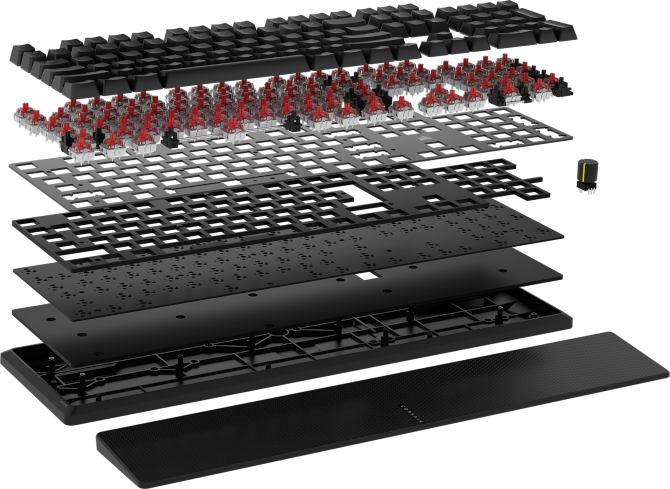 So far, the cheapest Corsair mechanical keyboards have been models belonging to the K60 family, using Cherry Viola switches and without wrist rests (even in the additionally paid form). The equipment is quite decent, but a serious problem was the low caps, despite the standard profile of the switches, which was not particularly conducive to aesthetics and stability. Corsair K70 Core RGB will probably replace its predecessor, as both would cannibalize each other, costing very similar money. In terms of design, the described novelty is much closer to more expensive models, for example through the use of full-size covers, so the product we get is simply more reliable. Corsair K70 Core RGB will also be available in two versions – without a wrist rest and with the above-mentioned accessory (the price difference should be ~10%).
| | | | |
| --- | --- | --- | --- |
| | Corsair K70 Core RGB | Corsair K60 RGB PRO | Corsair K70 RGB PRO |
| Dimensions without washer | 448 x 153 x 35 mm | 441 x 137 x 35 mm | 444 x 160 x 40 mm |
| Weight without washer | 934 grams | 880 grams | 1150 grams |
| Switches | Corsair MLX | Cherry Viola | Cherry MX |
| Macro buttons | – | – | – |
| Backlight | RGB | RGB | RGB |
| N-Key Rollover | Yes | Yes | Yes |
| Multimedia buttons | Roll | – | |
| Pad | Yes | – | Yes |
| Special feature | – | – | – |
| Interface | USB | USB | USB |
| Refreshing | 1000 Hz | 1000 Hz | 4000Hz |
| Suggested price | PLN 399 | PLN 399 | PLN 699 |
The Corsair K70 Core RGB keyboard, of course, offers multi-colored backlighting with the possibility of individual key programming, which is in no way inferior to more expensive models. So far, the manufacturer mostly used switches from the German company Cherry MX, then in top designs it experimented with optical ones (OPX), but now it is introducing mechanical switches of its own design. However, it is almost certain that Cherry remains the actual supplier of the switches, which is very good news. In addition, the device will be available not only in versions with/without a wrist rest, but also in two color variants: completely black and steel gray. However, the manufacturer did not provide any switch varieties other than the Corsair MLX RED tested today, whose linear characteristics should appeal to gamers the most.