Cuddables Water Baby Wipes Free Sample
Cuddables – Get Baby Wipes For FREE | Pack Of 3
---
Cuddables Baby Wipes Free Sample, Freebies, Free Sample In India – Hello Coolz Readers!! Our users have looted Gillette Razor Free Sample last week. Here is one more Free Sample for you guys. Get Cuddables Baby Wipes Free Sample. You just need to pay delivery charges only.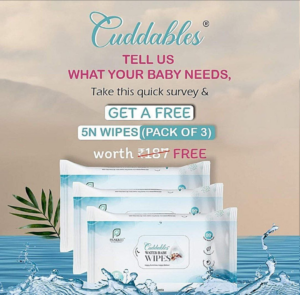 Cuddables Water Baby Wipes are extremely cottony soft wipes, made from plant-based fibres with no added fragrance or neutralizing agents. These wipes are 100% biodegradable and are free from harmful chemicals, toxins, parabens, SLS and alcohol.
Details About Cuddables Water Baby Wipes :
99% purified water
Cottony Soft
3x thicker
Safe for newborns and gentle for baby's soft skin
---
Get Cuddables Water Baby Wipes For FREE | Pack Of 3 :
1. First of All Open Given Link to Get Your Cuddables Water Baby Wipes FREE Sample.
2. You need to Tap on Start The Survey Button.
3. Complete Simple Survey by selecting given Options.
4. Enter Your Name, your Mobile Number and Enter Your Shipping Details.
5. There will be shipping charge of ₹100 only.
6. Enter Your Delivery Address where you want to get this Cuddables Water Baby Wipes Free Sample and You need to Pay Delivery Chargers worth ₹100.
7. You will get a Confirmation mail after your successful payment.
8. This is a limited time offer and user can avail only once per account / address.