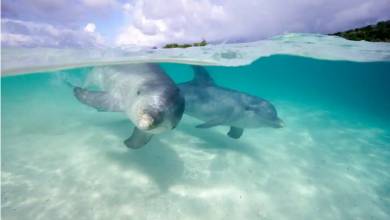 Anthropogenic sounds do not have a good effect on any living being.
In a new study, researchers have found that while dolphins have tried in vain to adapt to the modern world by doubling the volume and duration of their underwater whistles, their ability to successfully communicate has almost halved due to industrial noise.
As a result, dolphins are forced to "yell" and use other strategies to compensate for human-induced noise caused by economic and military activities, the research found.
According to the material published in the journal Current Biology, although marine mammals have developed several ways to deal with noisy environments, they appear to be far from perfect.
"We found that the success rate of dolphin pairs communicating with each other in their cooperative activity decreased as the level of anthropogenic noise increased, regardless of their attempts to compensate by whistling louder and longer and by changing their physical behavior to better track each other," they wrote. researcher.
Noise pollution has emerged as a significant problem for marine life, especially for animals such as dolphins that rely on echolocation to locate and track food sources. Scientists have linked increases in background ocean noise to strandings, behavioral changes and cetacean caisson disease.
"If groups of wild animals, for example, can feed less effectively cooperatively, then this has a negative effect on the health of individuals and ultimately on the health of the population," said Stephanie King, one of the co-authors of the study, Associate Professor at the University of Bristol.
Co-author Pernille Sørensen explained that "the same reasons that sound is so beneficial to animals also make them more sensitive to disturbance from environmental noise."
The researchers say the study is the first to "show how increasing levels of anthropogenic noise negatively affect coordination among conspecifics performing a cooperative task" in any non-human species.
Hardware, software, tests, interesting and colorful news from the world of IT by clicking here!