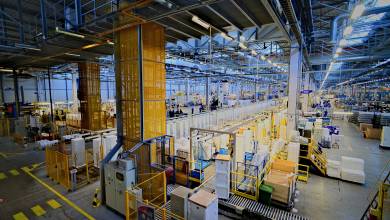 The balance sheet of the Swedish household appliance manufacturer Electrolux turned profitable in the third quarter thanks to the savings achieved with its cost reduction program, according to a report published on the company's website on Friday.
The Electrolux It ended the third quarter with sales revenue of SEK 33.427 billion, after SEK 32.653 billion in the second quarter and 7.9 percent below SEK 35.244 billion a year earlier. The quarterly net result was 123 million kroner, compared to a loss of 648 million kroner in the second quarter and a loss of 605 million kroner a year earlier. (1 Swedish kroner 32.50 HUF)
The organizational restructuring of the concern will entail a reduction in staff and additional cost burdens, but in the longer term, according to the plans, it will create the conditions for profitable growth. The expense reduction program introduced at the group level improved the income in the third quarter by a one-time item of 2.4 billion crowns. From the acceleration of the cost reduction program, Electrolux expects savings of 6 billion kroner this year compared to 2022, instead of the previously targeted 5 billion kroner, and 10-11 billion kroner savings by 2024, compared to the previously set goal of 7 billion kroner.
The operating result was 608 million kroner, which corresponds to a profitability ratio of 1.8 percent, compared to the operating profit level deficit of 385 million kroner, a ratio of 1.8 percent to revenue a year earlier.
The operating result included SEK 294 million in revenue from the sale of the Nyíregyháza plant as a positive one-time item. Excluding this, the operating result was SEK 314 million, or 0.9 percent of revenue, and a deficit of SEK 35 million, or 0.1 percent of revenue, in the third quarter of 2022.
Jonas Samuelson, the president and CEO of Electrolux, announced on the occasion of the report that the group is reorganizing its operations into three regional business areas and two global product lines, with greater centralization and fewer hierarchical levels, in the name of cost reduction.
The development of the new organizational structure is expected to affect approximately three thousand jobs, which will burden the balance sheet with a one-time item of 2.0-2.5 billion crowns in the fourth quarter of 2023.
Evaluation of Electrolux according to according to the forecasts, a persistently high inflation and interest rate environment will continue to affect the willingness of the population to purchase consumer durables, and the company's annual turnover is therefore expected to be lower than last year. However, with its cost reduction and structural reorganization program, as well as by increasing the share of mid- and high-priced items in the product portfolio, Electrolux considers it feasible to restore adequate profitability and profitable growth.