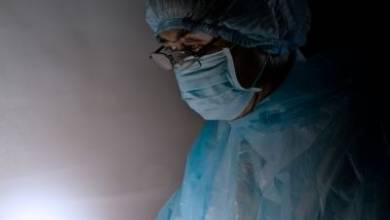 Patients can count on a better quality of life, less pain and faster recovery.
For the first time in the country, otolaryngological interventions were performed, during which benign lesions were removed with the help of a robot at the Clinical Center of the University of Pécs (PTE KK), the higher education institution in Baranya announced. With the recently acquired surgical robot called DaVinci Xi, it becomes possible to treat early tumors of the mouth and pharynx, avoiding the high degree of destruction caused by traditional surgeries. After that, patients can count on a better quality of life, less pain and faster recovery, they wrote.
As can be seen from the video below, according to András Papp, head of the Robotic Surgery Working Group of the PTE KK, the interesting thing about the surgeries is that a female doctor is currently the first console surgeon to operate with a robot in Hungary. Krisztina Somogyvári, otolaryngologist and clinical oncologist, said: a serious preparation process preceded the operations involving the two patients, during which benign lesions were removed as part of tonsillectomy. As he said, with the robot, they can remove early-stage otolaryngological, head and neck tumors, oropharyngeal, algal, and upper larynx lesions. And the machine is particularly suitable for the removal of early-stage oropharyngeal tumors. In the past, the latter could only be achieved with radical surgeries that worsened the quality of life, he added.
The first surgeries were assisted by Balázs Bendegúz Lőrincz, an internationally recognized otolaryngologist and head of the head and neck surgery clinic in Frankfurt.
According to the information, the robotic surgery working group has already performed several surgical, urological, gynecological and thoracic surgeries with the help of the double console DaVinci Xi robot, which has been in operation since last fall. Last December – according to the announcement at the time, also the first in the country – a chest surgery was performed using the new robot at a clinic in Pécs.
At the end of September last year, the institution announced in a statement that the first rural robotic surgery device was handed over to the clinic in Pécs as one of the key content elements of a project with a grant amount of 3.8 billion forints from the European Union. The university announced at the time that the surgical robot can be used by doctors who have previously qualified in an international robotic surgery examination.
Hardware, software, tests, interesting and colorful news from the world of IT by clicking here!