Cadbury Crispello Meet for Treat Contest
---
Cadbury Crispello Meet for Treat Contest: Are you ready for an exciting adventure filled with friendship, treats, and fantastic rewards? Cadbury Crispello brings you the "Meet for Treat" contest, where you and your friends can team up, scan QR codes, and earn points to win free vouchers!
Last time, We all grabbed Free BookMyShow & Zomato Vouchers from Cadbury Gems contest, now it's time for Cadbury Crispello Contest. Form a group of 2 to 6 members and participate in an exciting scanning adventure, On every meet of group collect the points & be in the journey to get Free Treats.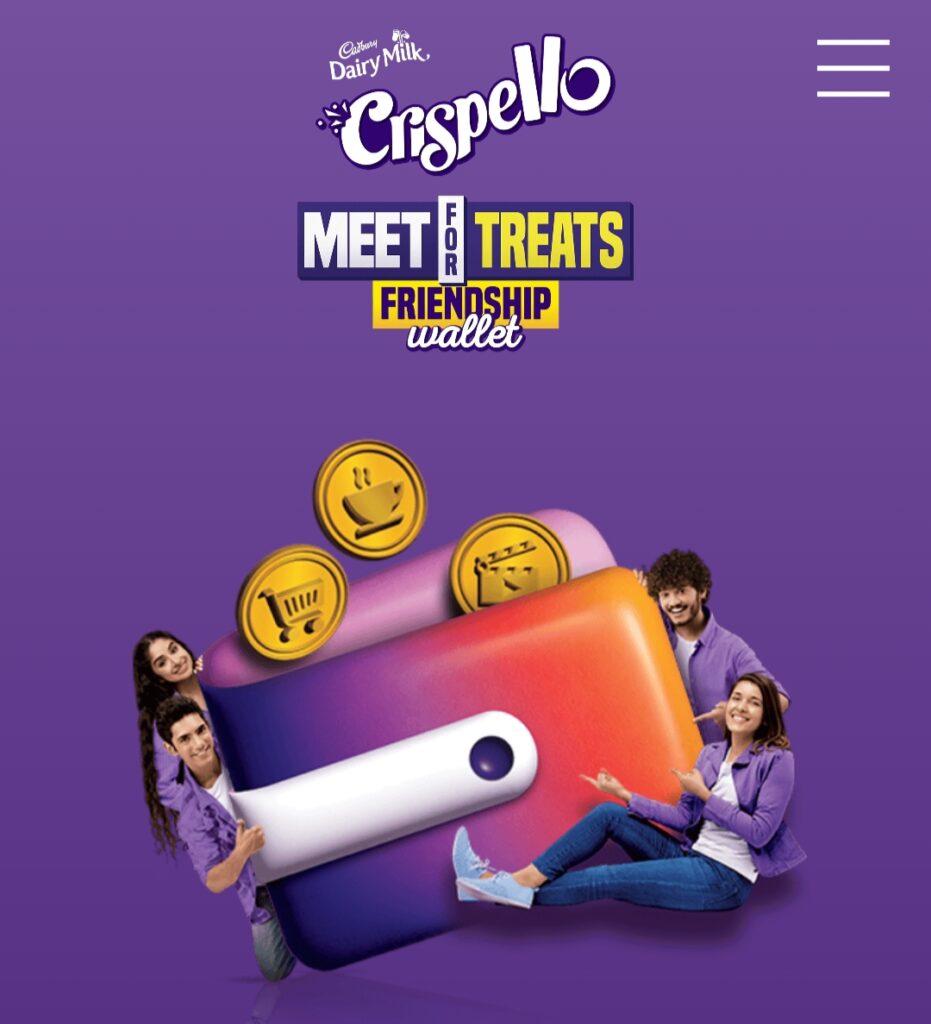 This unique contest lets you earn points by scanning QR codes and gives you a chance to win free vouchers from popular brands like Swiggy, Cafe Coffee Day (CCD), Bookmyshow, Myntra, Dominos, and even a grand Amazon voucher!
The group maker will be captain & will generate QR code, other members will just scan & collect points. You can meet any number of times. These points will let you to take the seat on the top of leaderboard. Top leaderboard groups will get Free Vouchers. See the vouchers description & Also, how to enter to the group & win Free Vouchers. Read out the steps below to Make a Free Treat for your friends group.
Cadbury Crispello Loot : Voucher Prizes
| Prizes | Prize Details | Winners |
| --- | --- | --- |
| Daily Prizes | ₹200 Gift cards | Top 100 Groups |
| Weekly Prizes | ₹1000 Gift cards | Top 50 Groups |
| Friendship Day Special | ₹10000 Amazon | Top 15 Groups |
Daily Prizes: Each day, 100 lucky users will win Rs. 200 worth of vouchers. The winners can choose between Swiggy or CCD vouchers to treat themselves to delicious food and beverages.
Weekly Prizes: Every week, 50 top-scoring groups will receive vouchers worth Rs. 1000. Winners can pick from Bookmyshow, Myntra, or Dominos vouchers, offering entertainment, fashion, or delicious pizza options.
Friendship Day Special: On Friendship Day, the ultimate celebration of friendship, 15 outstanding groups will receive a grand prize of Rs. 10,000 Amazon voucher. Imagine the possibilities with this exciting reward!
How to Win Daily Vouchers from Cadbury Crispello Contest?
1, Visit the Cadbury Crispello Meet for Treat Contest
2. Click on Let's go & Enter your Number.
3. Verify it with OTP.
4. Enter your name, email and Group name.
5. Select the group size from 2 to 6. Remember make a group with friends who meet you maximum times.
6. After making group, Send your Group link to friend's. They will join.
7. After joining, Make your QR Code & Tell friends to scan. On each scan, You will get 100 Points.
8. Meet & Scan number of times to get Free Points.
9. Top the leaderboard & Win Vouchers daily.
10. There will be daily, weekly & jackpot prize on Friendship day.
---
The Cadbury Crispello Meet for Treat contest is not just about winning prizes; it's an opportunity to bond with your friends and create memorable moments together. Whether you're enjoying a meal at a favorite restaurant, catching the latest blockbuster at the movies, or shopping for trendy apparel, these treats will be even more special with your loved ones.
The Cadbury Crispello Meet for Treat contest is a wonderful opportunity to bond with friends, enjoy delicious treats, and win exciting vouchers. So what are you waiting for? Form your group, generate the QR code, start scanning, and let the fun and rewards begin! Remember, it's not just about the prizes, but the memories you create and cherish with your friends that make this contest truly special. Happy scanning and good luck to all the participants!