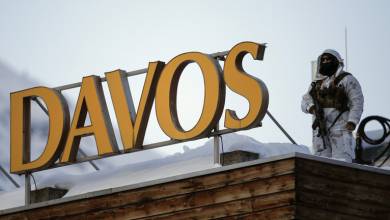 The American, Chinese and Russian leaders will not attend this year's World Economic Forum in the Swiss Alps.
The annual meeting of the World Economic Forum (WEF) began on Monday in Davos, Switzerland, and many high-ranking leaders stayed away. US President Joe Biden, French President Emmanuel Macron and Rishi Sunak, the new British Prime Minister, will also miss this year's meeting.
Russian President Vladimir Putin will also not attend the event, along with the entire Russian business elite, who were dropped from the guest list due to Ukraine-related sanctions.
Chinese leader Xi Jinping and Chinese businessmen are also skipping the forum after a recent spike in Covid-19 cases and the aftershocks of domestic stock market woes wiped out about $224 billion from the fortunes of China's richest people last year.
Among the leaders of the Group of Seven (G7), only German Chancellor Olaf Scholz will participate in Davos this year, along with Ursula von der Leyen, President of the European Commission.
Despite the declining number of political leaders, this year's participation list is rich in senior leaders. With 2,700 attendees at the WEF's official meetings, "we are likely to surpass the old 2020 record of 600 global CEOs – including 1,500 C-level executives overall," said WEF digital and marketing chief George Schmitt.
According to Bloomberg, a total of 116 billionaires will attend the WEF this year, which is 40% more than ten years ago. Representatives from the United States form the largest group with 33 delegates. Another 18 billionaires are coming from Europe, and 13 from India, including tycoon Gautam Adani, who is the fourth richest person in the world according to the Bloomberg Billionaires Index.
Founded in 1971, the World Economic Forum is a non-profit foundation, and the annual meeting held in Davos is the world's largest annual economic event. This year's forum lasts until January 20.
Hardware, software, tests, interesting and colorful news from the world of IT by clicking here!