Google has been working on the Pixel Watch for a long time now. Together with Samsung, the company is pushing the Wear OS operating system, whereas the acquisition of Fitbit is supposed to provide the right know-how in the field of health and wellness. However, does the long-awaited smartwatch really manage the ultimate mix of smart functions and sports smartwatch? Let's find out in our Google Pixel Watch review!
Good
Really powerful smartwatch features

Small, light, and good build quality

Nice AMOLED display

Smooth operation despite the old Exynos 9110 SoC
Bad
Proprietary charging adapter

Short battery life

Fitness tracking is moderately accurate

Requires subscription for full fitness features
The Google Pixel Watch in a nutshell
The bottom line is, the Google Pixel Watch is the successful first smartwatch with many strengths. The smartwatch features Wear OS 3.5 that include the entire Google ecosystem, including Google Assistant and Google Home as well as a wide range of both Google and non-Google apps from the Play Store.
Fitbit, on the other hand, takes care of the health features: The Google Pixel Watch basically contains an entire Fitbit Versa 4—with all its advantages and disadvantages. The Fitbit ecosystem remains largely closed and has its fair share of weaknesses in terms of fitness tracking. Plus there's the premium subscription that you need in order to access the full range of features.
The Google Pixel Watch is available in two different versions: with and without LTE. The major advantage of the LTE version would be enabling you to fully use the watch even when you leave your smartphone at home. The Pixel Watch with Bluetooth and Wi-Fi costs $349, while those who want to pick up the LTE version will have to pay $399.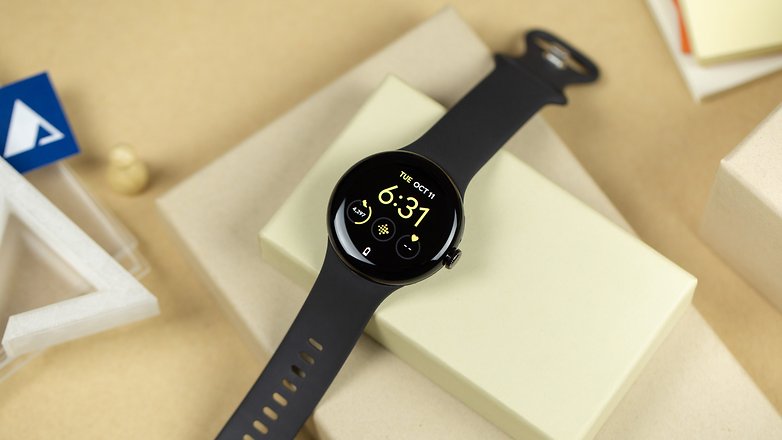 Design and display
The design of the Google Pixel Watch comes across as no big surprise.
Google already showed the watch at Google I/O earlier in June. I like the form factor in everyday use—the smartwatch is really compact and comfortable to wear. The Pixel Watch's case is made of stainless steel—80 percent recycled, by the way and has that high-quality feel.
---
What I liked:
Solid build quality.
Nicely made digital crown.
What I disliked:
Proprietary connector for wristbands.
Button is a bit hard to push.
---
In front, a "three-dimensional" Gorilla Glass 5 specially made by Corning for Google is used. With all its soft curves, the watch feels like you're wearing a pebble on your wrist that has been washed round and smooth over the millennia. The watch tips the scales at 36 grams without the strap and is not too thick at 12.3 millimeters. Included with the watch is a sports wristband that is made of high-quality fluoroelastomer. Google also offers numerous accessory wristbands but relies on a proprietary connector. That is very Apple-like!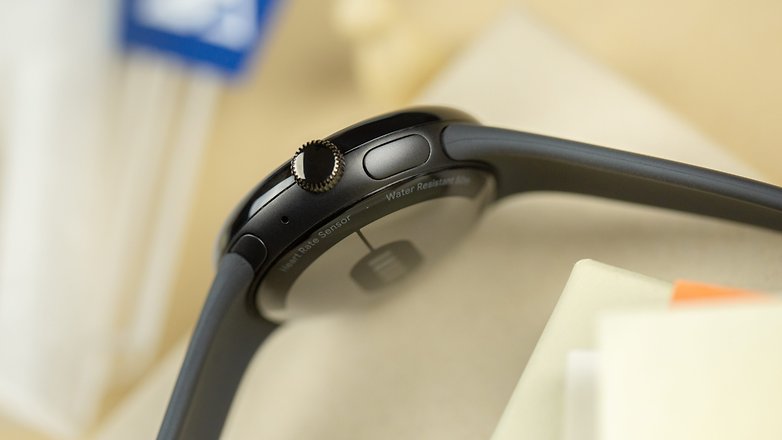 Of course, there's the circular AMOLED display with a pixel density of 320 ppi and a maximum brightness of 1000 nits. And yes: The 1.5-inch display has quite large bezels, but Google cleverly concealed them with predominantly dark menus. The first impression of the screen is positive: The display is razor-sharp and also offers nice colors, last but not least thanks to the DCI-P3 color space.
The Google Pixel Watch has a water resistance rating of 5 ATM. Thus, the watch is suitable for use in showers and non-competitive swimming. However, you should refrain from diving or high-speed water sports since that may lead to significantly higher partial pressures on the case.
System: Wear OS 3.5
The Pixel Watch is Google's first smartwatch—and a showcase for where the manufacturer wants to go with Wear OS that's co-developed with Samsung.
At the same time, the operating system is also the biggest differentiator in terms of functionality compared to the high-end smartwatches from Fitbit, which was bought over by Google since early 2021.
---
What I liked:
Extensive app support in the Play Store.
Many practical functions arrive pre-installed.
No bloatware.
What I disliked:
Occasionally jerky during operation.
---
The Google Pixel Watch runs on Wear OS 3.5. You'll be able to understand the interface structure in just a few minutes. Swipe downwards to open the quick settings and swipe upwards to display the list of notifications. Horizontally, you'll swipe through various widgets, which inform you about last night's sleep, your workout performance, or the weather. These are but just a little bit of what it can show you.
Pressing the crown opens the app list, and you can quickly navigate up and down the list by rotating the digital crown. Launch the respective item with a tap, and swipe from left to right to go back. The crown itself also serves as a home button. Above the crown is another button that opens the most recently used apps. In contrast to the crown, this button is a bit stiff to press.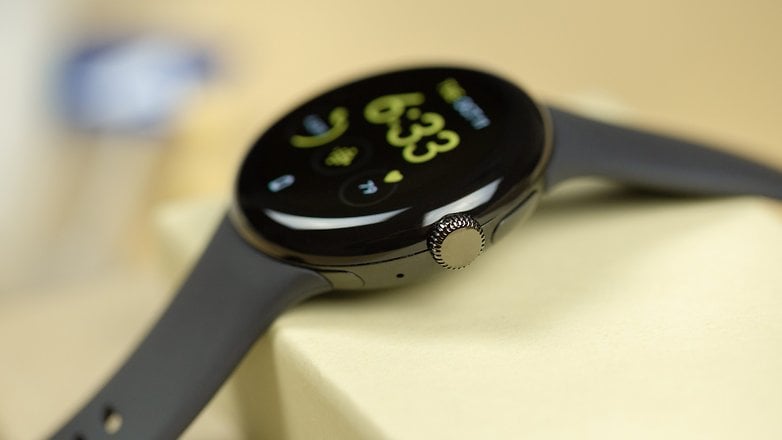 Of course, Google Assistant is also included, which is always at hand thanks to the built-in microphone and speaker. The voice assistant worked flawlessly during our review period and allowed us to control our smart home in addition to more mundane things like checking out the weather forecast. If you prefer to switch the lights on and off with a finger tap, there is also a Google Home icon located in the quick settings. However, the service is still in the beta phase—Google uses the word "Preview" here. Nevertheless: If you have set up devices in the Google Home app on the smartphone, you can already control them via your wrist.
Google Wallet is also available for mobile payments. If you have already stored your payment data on your Android smartphone, the service is ready for use in seconds. You can open Google Wallet on the smartwatch by double-tapping the crown—or you'll also find it in the quick settings menu. Everything worked as it should here.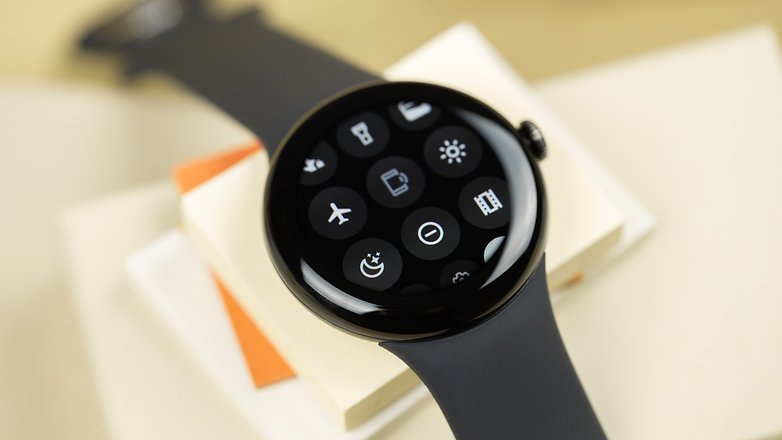 YouTube Music is also on board, so you can listen to music via connected Bluetooth headphones on the go. Connecting a Bose QC35 II to it worked flawlessly during our review. Thanks to 32 GB of built-in storage, you can also store music offline on your Pixel Watch. By the way, you get a three-month trial subscription for YouTube Music when you buy the Pixel Watch.
Of course, the usual functions are there, such as DND, night and movie modes, find my phone, music control, alarm clock, and screen lock. Google Maps include turn-by-turn navigation and is also fun and really practical to use on the smartwatch. Another recommendation is the Google Camera app from the Play Store: The smartwatch then serves as a remote shutter release including a live viewfinder. This worked with a Pixel 6 Pro right away without any further setup required.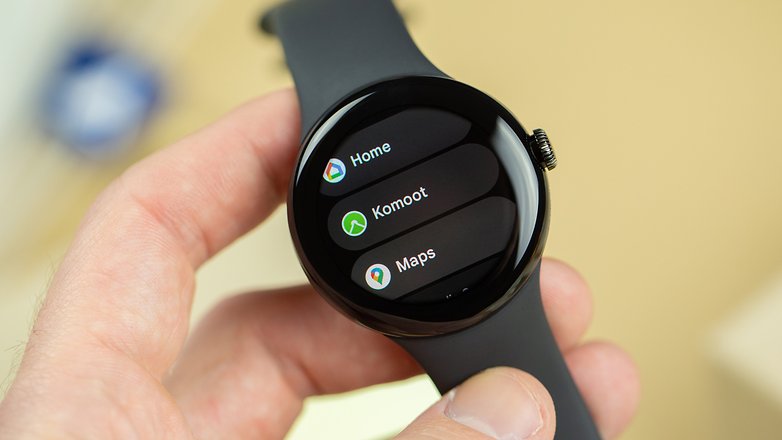 So far, Wear OS worked very well in our experience. You can even type fairly well on the mini-keyboard on the screen to reply to received messages or to search for apps in the Play Store, but it is more convenient to just use your voice with the pretty excellent speech recognition. However, I was annoyed by the standby mode that covers apps and then disappears rather slower than I preferred after tapping on the screen. Other than that, Wear OS runs pretty well on the somewhat outdated Exynos 9110.
Sensors & Fitness
The Google Pixel Watch includes all the fitness features found in the Fitbit Versa 4, and this means it also comes with all its advantages and known disadvantages.
To use the full range of functions, you need a Fitbit Premium subscription for $9.99 per month. As with the Fitbit smartwatches, you get six months of premium subscription for free when you buy the Google Pixel Watch.
---
What I liked:
Many fitness tracking features and sport modes.
Relies on the tried-and-true Fitbit app for analysis.
What I disliked:
Full range of functions only available with Fitbit Premium subscription.
Moderately accurate tracking of heart rate and GPS.
Closed ecosystem.
---
Probably the most important sensor of the Pixel Watch is located behind: the PPG sensor, which measures your heart rate once per second day and night. In addition, the Google Watch also tracks your blood oxygen saturation level. Furthermore, there is a so-called "multi-purpose electrical sensor" for recording ECG scans and Afib detection.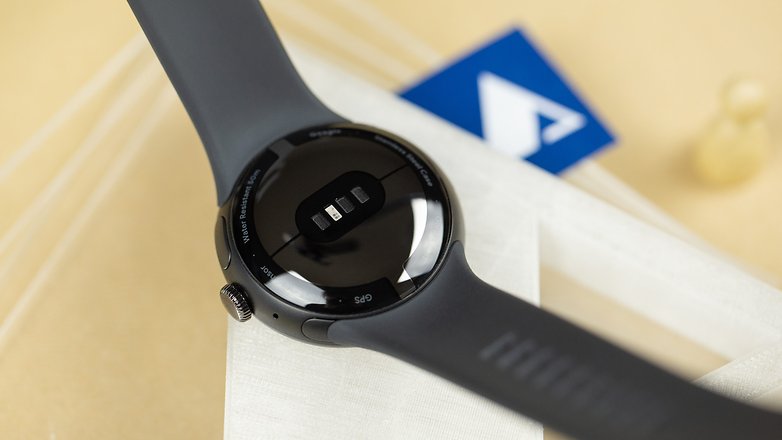 The Pixel Watch also generates your Daily Readiness Score from various values. This score is supposed to tell you whether you can really push through on that particular day, or should you rather slow down a bit. As with all Fitbit smartwatches, you can only view the Daily Readiness Score if you have an active Fitbit Premium subscription.
Outdoor sports & GPS
The Google Pixel Watch offers basic features for outdoor athletes: With integrated GPS and a heart rate monitor, you can measure your cycling routes and running training, respectively. In practice, this works quite well and should be sufficiently accurate for most casual athletes.
However, it is already visible that the Pixel Watch's GPS sometimes cuts corners, or routes that have been run several times are not logged exactly on top of each other. This overall tends to shorten your running distance. For example, while I covered 2.39 miles on my small standard run with the Pixel Watch, the Garmin Forerunner 955 measured 2.58 miles, which is an additional 0.2 miles. There is also a slight difference in the altitude measured difference of 253 feet (Google) versus 243 feet (Garmin).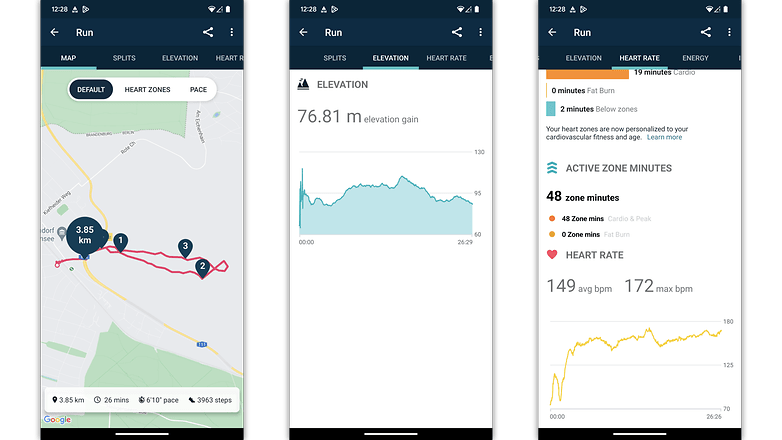 Otherwise, there are no special features for runners. Other rivals calculate or measure the stride length and stride frequency, the vertical oscillation while running or the ground contact time, for example. These values could be used to work on your running efficiency—but not with the Google Pixel Watch. That is just too bad, as Cupertino has just introduced some of these features for the new Apple Watch models.
In terms of heart rate measurement, the Google Pixel Watch measured a maximum of 172 bpm during a sample run, with the average heart-rate being 149 bpm. The Forerunner 955 measured 174 and 154 bpm, respectively. The difference becomes clearer during strength training, which involves the wrists more. Traditionally, optical heart rate sensors are generally less accurate here because the blood flow is impeded when the wrists are tense or bent. Especially in HIIT workouts with burpees and other similarly intensive exercises, the difference is clear.
Indoor sports & fitness
Apart from the usual outdoor sports, the Google Pixel Watch offers numerous other sports modes from Crossfit to HIIT and dancing to yoga. However, the different disciplines primarily differ in the information shown on the display and the way the respective training session is named in the app afterwards.
For example, there are no options to begin guided workout routines on the watch itself. In HIIT workouts, there are also no timers for rest and exertion phases, and in strength training, there is no way to differentiate between individual sets. And we're not even talking about automatic exercise recognition, as offered by the new Amazfit GTR4 or many Garmin models, for example.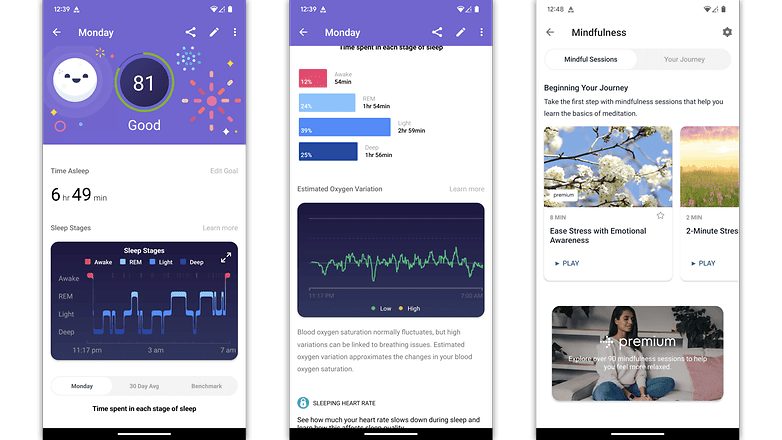 Sleep, stress, and more
The Google Pixel Watch naturally measures your sleep quality. In terms of sleeping and wake-up times, the recorded values also correspond well with my bedtime and alarm clock settings. Unfortunately, we cannot say much about how accurately the individual sleep phases are tracked due to the lack of a sleep lab.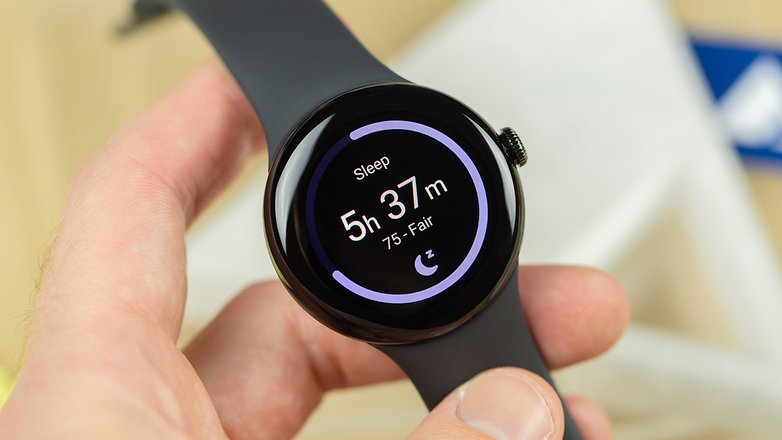 By default, the Google Pixel Watch still records the nightly heart rate variability, an important metric for calculating the Daily Readiness Score. Unfortunately, the Pixel Watch does not have a cEDA sensor for continuous stress measurement like the Fitbit Sense 2, but you can still view your stress management score in the app and complete various relaxation exercises. However, you will always encounter a paywall without a subscription. For a product that costs up to $400, that's just a shame.
However, at least as of today, it is not possible to connect third-party accessories to the Pixel Watch. So, for example, you cannot use chest straps or cadence sensors from other manufacturers for sports tracking. Speaking of other manufacturers and such: Google plans to add accident detection via a software update in winter 2022.
Battery and charging
The Google Pixel Watch has a 294 mAh battery. We managed to get through the day with the AoD display enabled by default—but not more.
So be prepared to charge the watch at least once a day—and that currently only works with the included charging puck.
---
What I liked:
Wireless charging and chic charging puck.
What I disliked:
Must be charged at least once or even twice every day.
Cannot be wirelessly charged by smartphones.
(Probably) does not support the Qi standard.
---
If you decide to get the Google Pixel Watch, get ready for it: You will have to charge the watch at least once a day. With one to one and a half hours of sporting activities per day, always-on display enabled, sleep tracking, and intensive use, we even have to plug in the Pixel Watch twice a day during the review period.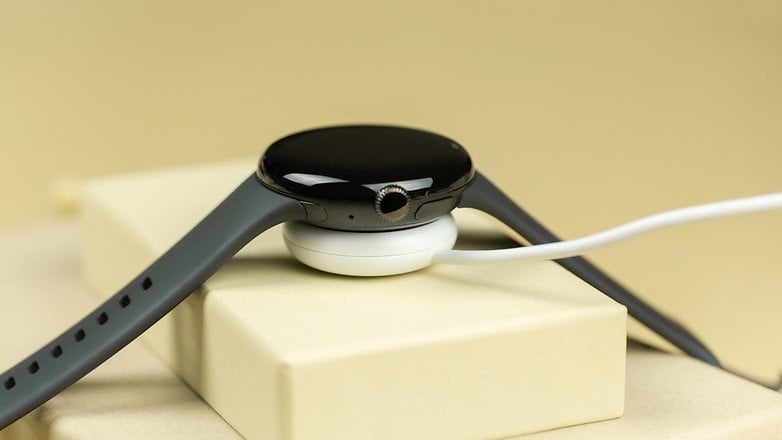 According to the manufacturer, to completely charge the Pixel Watch, you will need around 80 minutes. In our review, it took 20 minutes to hit 38 percent of the battery capacity on a completely discharged Pixel Watch. After another 20 minutes, the watch showed 67 percent, and it finally hit the 100 percent mark after a total of about one and a quarter-hour.
Charging is exclusively performed wirelessly. Google provides a smart charging puck with a USB-C connector that magnetically attaches to the Pixel Watch. Unfortunately, you cannot charge the Google smartwatch with third-party accessories due to the lack of Qi support—and unlike the Pixel Buds Pro, you cannot use reverse wireless charging with the smartphone.
Google itself also stated that on its Pixel Watch help page. We verified this with a Pixel 6 Pro: The charging process always stopped after a few seconds when Battery Share was enabled. We also could not charge the Pixel Watch with a Qi-compatible charging puck from a Huawei smartwatch during our testing.
Final verdict
The bottom line is that the Google Pixel Watch does a lot of things right. Wear OS 3.5 is a powerful smartwatch operating system that is really fun to use with broadly supported apps. The purchase of Fitbit and its years of experience in the fitness sector also paid off here.
Unfortunately, there are still some niggling issues: The performance is not always completely smooth with the old Exynos 9110 SoC, the operating system still looks a bit "beta" here and there, and the battery life is—as with many smartwatches—not particularly good. The integration of Fitbit also seems a bit strange in parts, and the fitness features are clearly inferior compared with rivals like Garmin, but also Huawei or Apple.
The bottom line is, the Pixel Watch is a decent first smartwatch from Google. However, Google still has some work to do before the watch reaches the level of the top competitors. This is especially noticeable when comparing it with the Apple Watch, going to show just how much there is still to catch up. At least Google has started the race to catch up, after all.
---
This article was updated on October 12, and comments prior to that date have been retained.