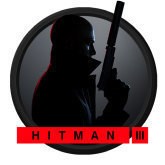 Almost two years ago, on January 20, 2021, Hitman III debuted, being the last part of the new trilogy with the adventures of Agent 47 in the lead role. It just so happens that soon this game will get a new title, namely World of Assassination. Behind this renaming is the fact that Hitman III will gain the status of a game-service, which will absorb the two previous installments. Thus, the owners of "Trójka" will also receive productions from 2016 and 2018.
In a few days, Hitman 3 will transform into Hitman World of Assassination. This means that locations from the two previous installments will be available in the game.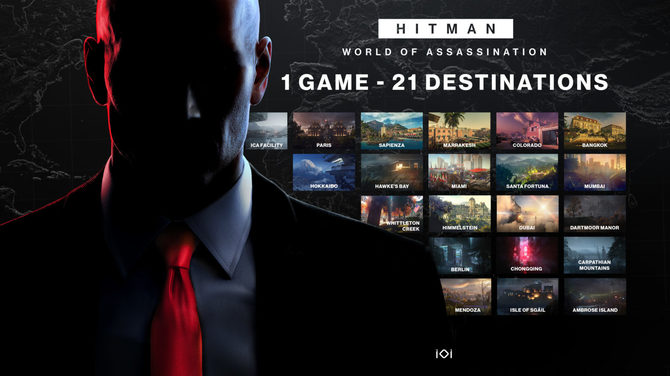 On the occasion of the upcoming production titled Hitman World of Assassination (premiere on January 26 this year), both Hitman GOTY and Hitman 2 will disappear from stores. As we have already mentioned, World of Assassination will include a whole new trilogy (more precisely – will provide access to locations from all three parts). If we want to buy it, we will have to prepare for an expense of USD 70 (approx. PLN 310). There will also be a Deluxe Pack priced at $30 (~130 PLN). It includes add-ons such as Hitman 3 Deluxe Pack, Hitman 3 Seven Deadly Sins Collection and Hitman 2 Expansion Access Pass.
However, if we already own Hitman 3, we will receive a free update to Hitman World of Assassination, and thus access to maps and missions from the two previous games. What if we already have the first or second Hitman? The developer calms down, ensuring that these titles will not suddenly disappear from our libraries. Finally, I would like to add that the current prices for Hitman 3 on PC oscillate around PLN 250. Fortunately, we can use it for more than 1 day steam promotion, "snatching" the game for ~ PLN 87 (Standard Edition) or for ~ PLN 130 (Deluxe Edition). So if we've been hesitant to buy a stealth game so far, given the current promotion and the upcoming update – there won't be a better moment in the near future.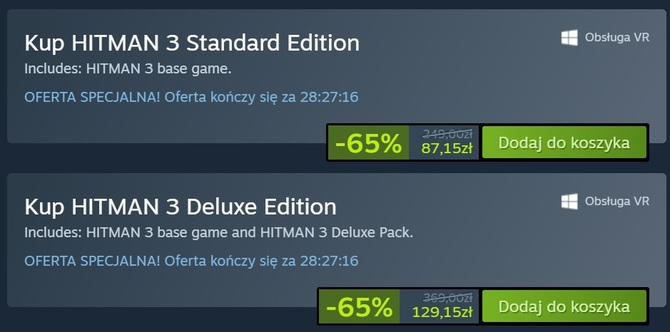 Source: IO Interactive