A traditional Indian vegetable festival organized by Isha's Man Kappom Movement was held in Madurai today (Nov 5) with great success. Around 2000 farmers and general public from all over Tamil Nadu participated in the function held at Yadava Women's College from 9 am to 5 pm.
Pioneer farmers and agronomists from various districts participated in the program and gave advice on vegetable cultivation. In connection with this event, the Tamil Nadu Field Coordinator of Man Kappom Movement Mr. Muthukumar said, "How to grow vegetables naturally? How to add value and market it has been discussed in this function. Also, successful pioneer farmers have shared in this program how to get the same yield as chemical farming in natural way.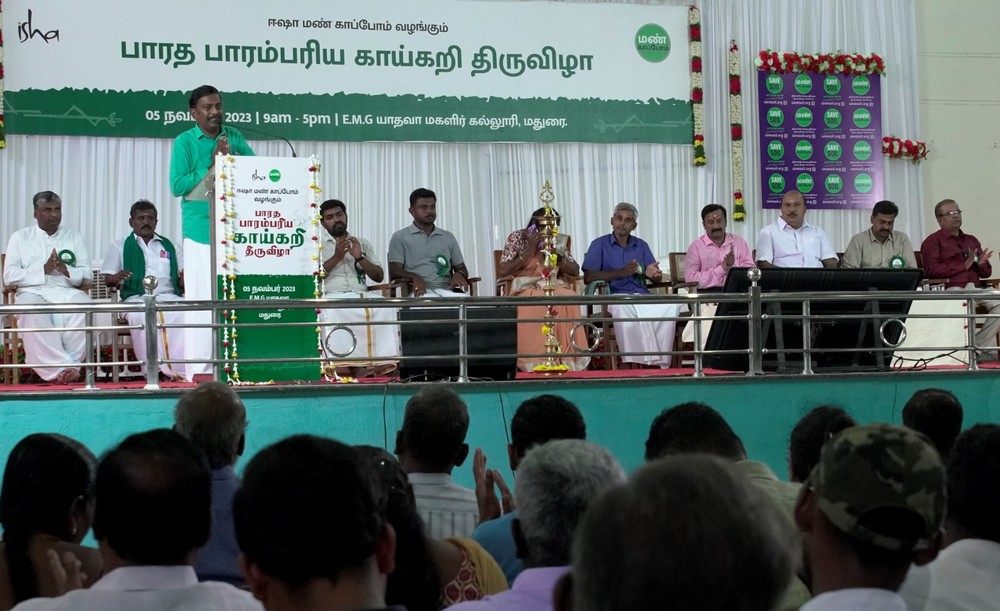 And today many young people who are in various fields including IT are coming to organic farming. We have designed a three-month training program for interested youth to become organic farmers. The three-month training will be held at Isha Model Farm in Coimbatore. "Youths who are interested in organic farming can stay there and undergo this training for three months," he said.
Mr. Ram, a pioneer organic farmer from Ramanathapuram, who participated in the program, said, "I am doing organic farming in 30 acres in Kamudi. I have grown chillies as main crop. We are producing 200 Tons of Chillies per year in quality and exporting to USA and Germany for the last 8 years. According to me, today almost 400 farmers are engaged in organic farming. Prime Minister Narendra Modi also met me in person and congratulated me," he said.
Also in this program entomologist Mr. Poochee Selvam explained how to improve vegetable cultivation with beneficial insects. Later, Palladam farmer Mr. He talked about how to create and run a successful Ponmuthu Natural Market.
He was followed by vegetable doctor Mr. on the medicinal properties of traditional vegetables. Arun Prakash, Seed Guardian on Home Health in the Home Garden. Mrs. Priya of Seed Island also said that Dindigul farmer Mrs. Ponnarasi and Coimbatore pioneer farmer Mr. Mr. Vijayan, Mr. Jana, a pioneer farmer from Kanchipuram, spoke about intercropping in Bandal kai and Mr. Gokul Nath, a pioneer farmer from Attur, spoke about how to earn daily income from spinach cultivation.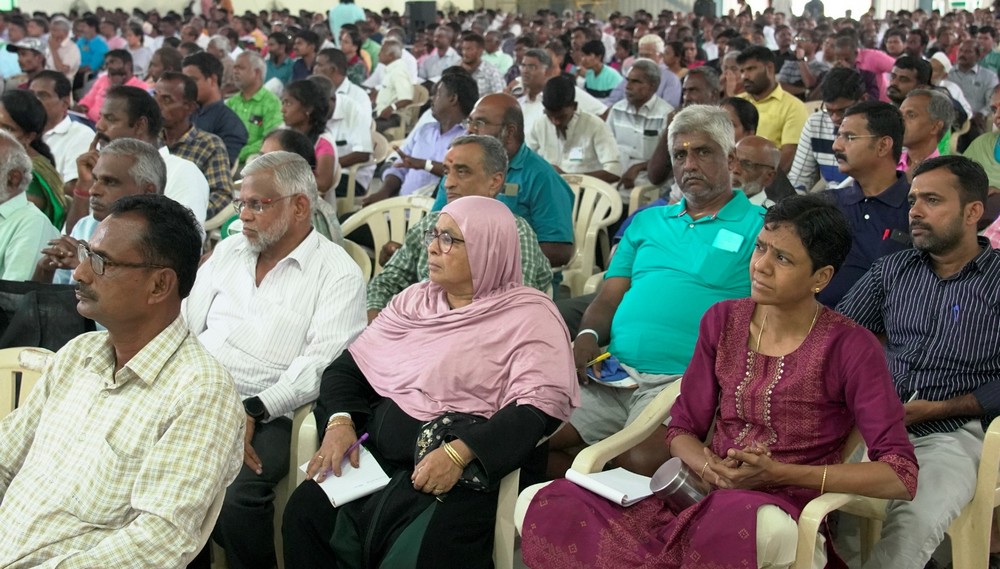 Also, in this program, many pioneer farmers had brought the products produced in the natural way for sale to the public by adding value. For this, more than 40 stalls were set up selling products including traditional rice, small grains, honey and handicrafts. And to preserve our traditional music, Sound Mani conducted a concert with more than 80 musical instruments.
After that, healthy food was prepared without stove and without oil in collaboration with Padayal Siva team to all those who came. Apart from this, all the participants were given a manual on organic vegetable cultivation and traditional country vegetable seeds for free. Also there was an exhibition of simple agricultural tools invented by the farmers themselves