After extensive testing of the preliminary versions, Graphisoft updated its entire product portfolio. With the new capabilities, Archicad users can more easily model, document and visualize their buildings under construction, thereby speeding up the design process.
We outlined a bold vision of the future when we announced our product development schedule last year, and we are already delivering the results – said Márton Kiss, Vice President of Graphisoft, the company known for its BIM (building information modeling) architectural and multidisciplinary design software, at the Building Together | held in Budapest in October. Connect online event.
The update across the supplier's entire product range took place after users were able to try out and comment on the preliminary versions of Archicad, BIMcloud, BIMx and DDScad within the framework of a robust test program. The final versions of the software that have just been released have, among other things, been expanded with professional visualization tools, and with new capabilities, they raise the management of complex projects and collaboration around multidisciplinary design to a higher level.
Secure collaboration in the cloud
Among other things, Archicad 27 has a new built-in feature for managing design variations, supported by a seamless end-to-end workflow. With the new solution, architects and multidisciplinary design teams can evaluate and present design options to their clients more efficiently than before, thereby finding the best alternative significantly faster, the software company said.
Further improving the manageability of projects in the new version of Archicad, Graphisoft also expanded the attribute management workflow with capabilities requested by users. The update increases the efficiency of design teams by, for example, organizing more attributes into folders, improved consistency and new, intuitive tools, including distance indicators to help place elements, which also facilitate the integration of architects switching from other design platforms.
With BIMcloud, design team members can collaborate in real time regardless of project size, location, or internet speed. With the solution available in the private and public cloud, on standard hardware and in the SaaS (software-as-a-service) service model, even smaller offices can enjoy the benefits of real-time, distributed work. With its recently announced multi-factor authentication (MFA), BIMcloud makes working in the cloud even more secure.
Multidisciplinary planning with better processes
BIMx is a 3D presentation and coordination application that can be used on different devices, with which designers can work on a personal computer, tablet or phone in the studio, in the client's office or on the construction site. The app now has built-in problem-reporting capabilities, with which emerging questions can be answered more quickly either during project coordination meetings or on construction sites, Graphisoft said.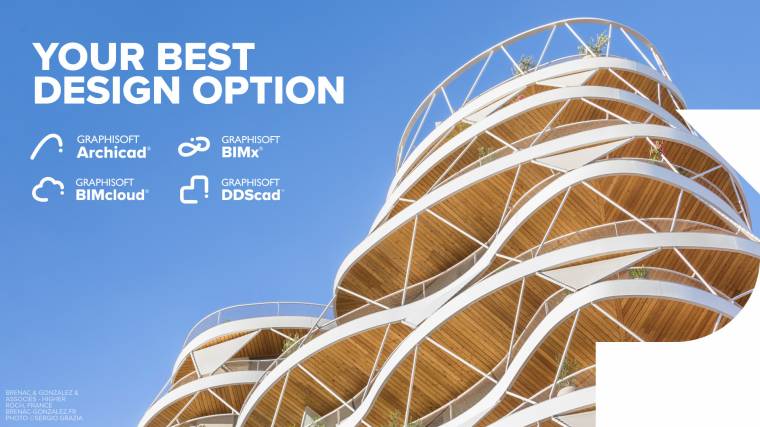 The software company also offers its Archicad, BIMx and BIMcloud SaaS solution in a single subscription package called Archicad Collaborate in its online store in order to make its products accessible to smaller design offices with the favorable price structure, it was announced at the online event.
Another new feature is that with DDScad's intelligent mechanical, electrical and plumbing design (MEP) tools, engineering teams now have direct access to product data from manufacturing companies. Thanks to out-of-the-box, ready-to-use data integration, MEP projects can be completed faster while keeping within budget, while design engineers can also seamlessly collaborate with colleagues working on BIM projects.
With its fresh capabilities, Archicad itself makes the work of architects and engineers working in multidisciplinary teams more efficient. The latest version of MEP Modeler streamlines collaboration with built-in modeling workflows, and the improved tools of Structural Analytical Model significantly reduce structural design turnaround time even for large, complex projects.