From carbon-neutral production to artificial intelligence and hydrogen technologies to energy monitoring, this year's Hannover Messe industry 4.0 line-up spanned the spectrum. The Manufacturing X platform, which connects the actors of the entire value chain to a data ecosystem, also premiered at the trade fair.
The fight against climate change is unthinkable without industry, which supplies and applies solutions that promote carbon-neutral production. The exhibitors of the Hannover Messe 2023 held at the end of April, together with the managers of the organizer Deutsche Messe, came to the conclusion that the technologies required for competitive and sustainable industrial production are already available. It is the turn of companies to take the next big step and implement and consistently use the available solutions.
– As a global platform, our exhibition connects the industry with actors from the government and academic spheres, as well as with society as a whole, and the sharing of knowledge and ideas is more important than ever these days – said Dr. Jochen Köckler, Chairman of the Board of Deutsche Messe. – Technological solutions for climate-neutral production are already available. However, to ensure the long-term competitiveness and sustainability of the industry, it will also be necessary to overcome bureaucratic obstacles and conclude international cooperation agreements to exploit opportunities.
More than four thousand exhibitors presented their digital, networked and sustainable industrial solutions at this year's trade fair, which welcomed 130,000 visitors and another 15,000 registered online participants in five days, as well as more than a hundred government delegations from 50 countries. According to the data of the organizers, the rate of international participation was particularly high this year, 43 percent of the visitors were foreigners – most of them came to Hanover from the Netherlands, China, South Korea, Poland and the United States.
A robot colleague with dexterous hands
This year, Bosch Rexroth received the Hermes Award, the prestigious industrial recognition of Hannover Messe, for its robotics development. The Smart Flex Effector is a sensor-based compensation module with six degrees of freedom active measurement functions, thus significantly increasing the accuracy of material handling robots and opening completely new areas of application for industrial robots and Cartesian multi-axis systems. With the end effector, position deviations of the tool can be detected with high-resolution position sensors and converted into active corrective movements of the manipulator. The smart sensor technology of the compensation module enables real-time readjustment, and the measured values ​​also provide information about the quality of the process, so they can also be used for quality control and logging.
According to Bosch Rexroth, the new compensation module can be used for tight tolerance material handling and joining operations in automation technology and robotics, such as close-tolerance joints, tool center detection, and automatic compensation of positional deviations along the rotation axes or the X, Y, and Z axes. Due to its sophistication, the Smart Flex Effector effectively supports the close cooperation between humans and robots, which is expected to play a key role in answering economic and social challenges such as optimizing industrial processes of assembly, increasing agricultural productivity and supporting healthcare and nursing work.
This year, more than 300 startup companies presented their innovations at the trade fair, their developments covered many areas, from blockchain technology and machine learning to digital twins and the integration of IT and operational technology (IT/OT) to e-mobility and green hydrogen . The Dutch MantiSpectra took home the Hermes Startup Award. ChipSense, a product of a young Eindhoven-based company, is an integrated near-infrared sensor that, with a footprint of only 1 square millimeter, is the smallest in its category on the market. The tiny sensor can be installed directly on the production line, where it transmits highly accurate measurement data in real time. With its help, companies can immediately detect quality-threatening errors, which is proven by the experience gained with ChipSense, which is already used in live environments in the manufacturing industry, agriculture and food processing.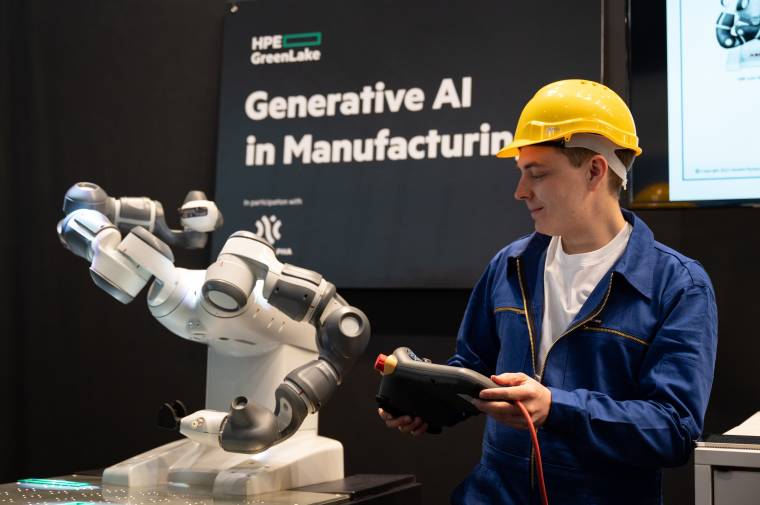 Photos: Deutsche Messe
Manufacturing automation intelligence
In addition to Germany, most of the exhibitors represented China, Italy, Turkey, the United States, and Indonesia, which was chosen as this year's partner of the trade fair. In addition to the leading German medium-sized technology companies, several global companies also set up a stand in Hannover.
Siemens and Microsoft, for example, use generative artificial intelligence (AI) capabilities to increase efficiency in engineering design, manufacturing and product lifecycle management (PLM). To support collaboration across enterprise domains, the two vendors have integrated Siemens Teamcenter's PLM engineering software platform with Microsoft's Teams collaboration platform, as well as Azure OpenAI Service's large language models and other Azure AI capabilities. Generative AI thus improves production automation through, among other things, artificial intelligence-supported software development, problem reporting and visual quality control.
Many people see the great hope of a sustainable energy transition in green hydrogen, since with the new energy source the industry could get rid of fossil fuels and greatly reduce its carbon dioxide emissions. However, today, the production of green hydrogen is still considered a complicated and expensive activity that has not reached an industrial scale, therefore it raises many questions regarding availability, transportation and large-scale storage. More than half a thousand exhibitors at Hannover Messe presented solutions to answer these challenges, among them Siemens Energy, for example, demonstrated simulations with which companies can study the effects of changes in the energy mix.
In the field of energy management and industrial automation, Schneider Electric presented new technologies and software solutions at the trade fair, which help organizations to increase energy security and use resources more efficiently, and to achieve sustainability goals. The latest version of the supplier's software-based industrial automation system, EcoStruxure Automation Expert V23.0, for example, already offers redundant automation solutions to water desalination companies. Other new features of V23.0 include improved integration with AVEVA's real-time operations control platform – which enables the reuse of graphical elements from existing applications for faster system design – and a graphical editor that supports more efficient operations. In the new version, the EcoStruxure Automation Expert HMI and archive is now available on Linux in addition to Windows.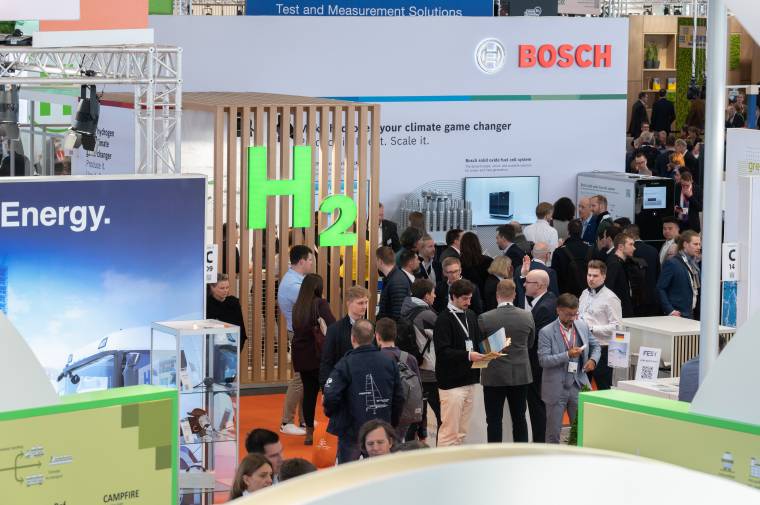 Photos: Deutsche Messe
And on Schneider Electric's new integrated ETAP software platform, organizations can create digital twins to model, simulate and optimize electric power systems, thereby managing the entire network lifecycle, from design and engineering to operation and maintenance.
SAP has expanded its supply chain management solutions with new developments. With the AI ​​capabilities of the Digital Manufacturing solution, companies can, for example, visually check production processes, and by early detection of errors, they can increase quality, the satisfaction of their partners, and the lifespan of their equipment. The flexible capacity of production is enhanced by the 3D product display function of the Enterprise Product Development solution, which SAP has integrated into the production, service and maintenance processes. Production managers can see 3D models of products on their digital dashboard created in the Digital Manufacturing solution, and they can speed up complicated assembly processes. And in the augmented reality of the SAP Service and Asset Manager mobile application, the 3D product models help the work of engineers working in the field, faster and effective maintenance on the first start, and reduction of downtime.
In order to seize the opportunities inherent in Industry 4.0 solutions, it is necessary for all the companies involved in the value chain to have access to a lot of data. A new platform solution, Manufacturing X, which was presented by the German Federal Ministry of Economic Affairs together with several professional associations at the trade fair, can help them in this.
Next year, Hannover Messe will be April 22-26. awaits its visitors to the market town between
Hardware, software, tests, interesting and colorful news from the world of IT by clicking here!