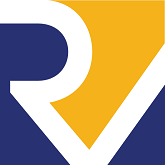 Have you ever wondered what will become of the mysterious Intel and SiFive project announced in 2021? How will Intel's love affair with the technology based on the RISC-V architecture, which is gaining more and more popularity, work out? Now we know that, and as they say, something really interesting came out. Are you curious what Intel and SiFive have armed their new baby with? What is the purpose of the new Horse Creek chip, manufactured in the Intel 4 process? You will find out later in the news.
HiFive Pro P550 will power the 4-core RISC-V Horse Creek processor created by Intel and SiFive in the Intel 4 process. The premiere of the premium platform has been announced for the summer of 2023.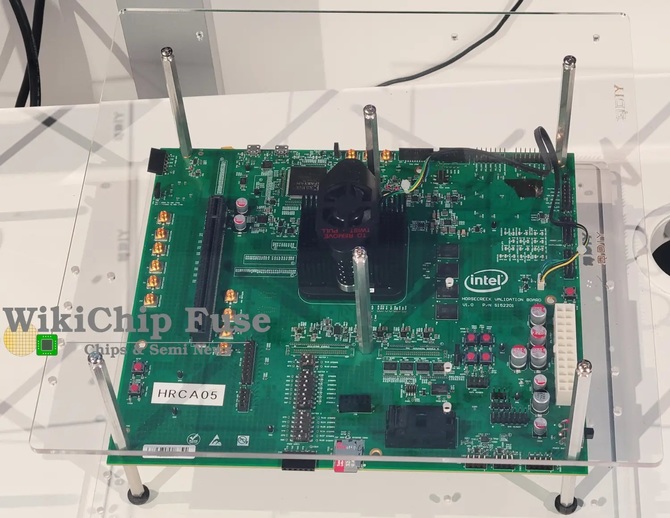 So what is the HiFive Pro P550? It will be a platform placed in servers and PCs for developers. According to Intel, it was developed in such a way as to be able to deliver premium software to the market. Its heart is the RISC-V Horse Creek processor manufactured in the Intel 4 process (7 nm). It was mounted on a microATX motherboard with dimensions of 244 x 244 mm. At the user's disposal, we get integrated graphics and the OCP DC-SCM interface, which is used for management in the cloud and server environment. The equipment also includes soldered DDR5 RAM with an effective speed of up to 5600 MHz and a capacity of 16 GB. In addition, there are two PCIe 5.0 expansion slots along with monitoring and debugging interfaces. The PCIe lanes will also power six USB 3.0 and two USB 2.0 ports.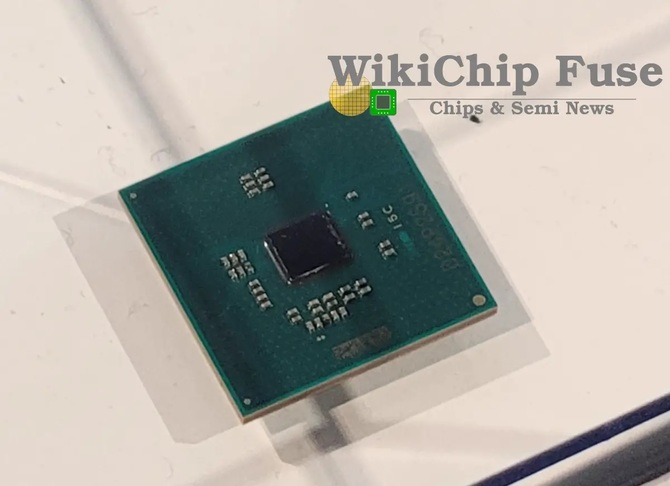 As you can see in the photo above, the user will also be provided with a 10 GbE network card and two M.2 slots in the E-key standard. The 2230 connector is to be used by the Bluetooth module, and the longer 2280 for a fast SSD. Let's also return for a moment to the SoC Horse Creek itself. This one will offer 128 KB of L2 cache for each of the four cores and 2 MB of total L3 cache. It also supports advanced 13-step RV64GBC ISA instructions. Without a doubt, it will be the perfect platform for software development. Unfortunately, we do not know the price of the product yet, as it is to appear with the official premiere this summer. However, we can guess that the HiFive Pro P550 will not be cheap – especially when it is Intel's premium shelf.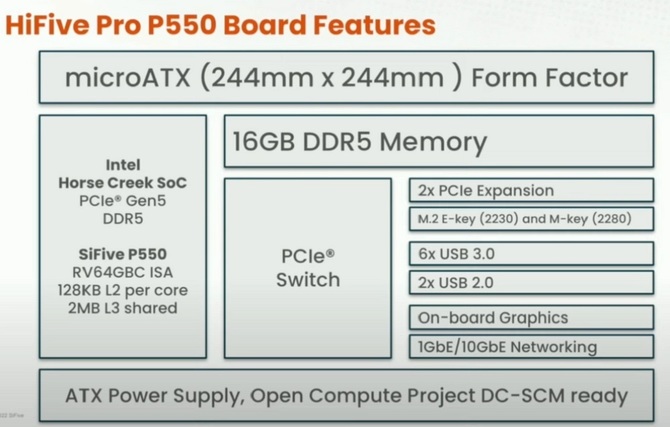 Source: WikiChip Fuse, WCCFTech