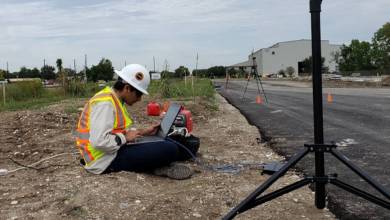 The technology can also be used to track the location of workers and equipment.
According to the US Occupational Safety and Health Administration, 4,764 workers died on the job in 2020. Workers working in construction and extraction occupations accounted for 20 percent of these deaths. Many were hit by vehicles or mobile machinery at construction sites. Although the construction industry has enlisted the help of safety experts, many deaths and injuries still occur.
Computer scientists at the University of Houston have developed a new system to keep construction workers safe on job sites. Their findings and procedure are described in a study published in the research journal Applied Sciences.
"The essence of our research project was to increase the safety of construction workers and equipment by tracking their location. This allows us to observe the enforcement of location-based policies related to the safety of workers and equipment on construction sites," said Alireza Ansaripour, first author of the study.
These location-based safety policies are created during the design phase of construction, such as when interior traffic management plans are created. These policies define safe areas for workers and equipment and a safe distance between them when the equipment is working on the construction site. ViPER+ automates the monitoring of these policies and detects policy violations while workers and equipment are at work.
ViPER+ uses ultra-wideband technology for positioning. "These radios communicate at high bandwidth, which allows them to be more precise than other wireless radios. We used this technology to track the location of workers and equipment," Ansaripour said.
Future changes to the system include eliminating user design issues, such as alerting construction workers when they are too close to moving machinery. "We also have the problem of creating a tracking zone that covers the entire construction site, not just a part of it. There are still some improvements that need to be made to make this a commercial product, but our work provides insight into how a real-time monitoring system can be used to monitor the safety of construction sites," Ansaripour told Eurasia Review according to.
Hardware, software, tests, interesting and colorful news from the world of IT by clicking here!