Source: Intel

Intel Core i5-14600K

Too expensive to make sense

Although the Core i5-14600K is a full generation ahead in name, it's actually just a i5-13600K with a slightly higher clock speed and a much bigger price tag.

Pros

Slightly faster than the i5-13600K
Same upgrade path
Same cheap RAM and motherboards

Cons

Far more expensive than it really should be
Makes very little sense as long as the i5-13600K is in stock

Source: Intel

Intel Core i5-13600K

The obvious choice

$310 $340 Save $30

The Core i5-13600K is a bit slower than the i5-14600K, but only by a very thin margin. Given how much cheaper it is than the i5-14600K, it's clearly the better chip.

Pros

Pretty much as fast as the i5-14600K
Same upgrade path
Same access to cheap RAM and motherboards

Cons

Lower clock speed may in some edge cases result in barely lower performance
The upgrades from the Intel Core i5-11600K to the i5-12600K and to the i5-13600K were all really big, and we'd think the same of the Core i5-14600K compared to its predecessor. Except that's really not how it's gone down with Intel's 14th-generation chips, since they're really not new at all, but a refresh of older 13th-generation chips.
Refreshes are not inherently bad, and in fact the Core i5-14600K comes with slightly higher performance than the i5-13600K, so on paper it sounds like no big deal. However, with the Core i5-14600K costing roughly $20 more than the i5-13600K (at least at the time of writing), it's simply not a smart way to spend your money, and as long as the i5-13600K is a cheaper option, the i5-14600K will ultimately never be able to replace it as one of the best CPUs today.
Intel Core i5-14600K vs Intel Core i5-13600K: Price, availability, and specs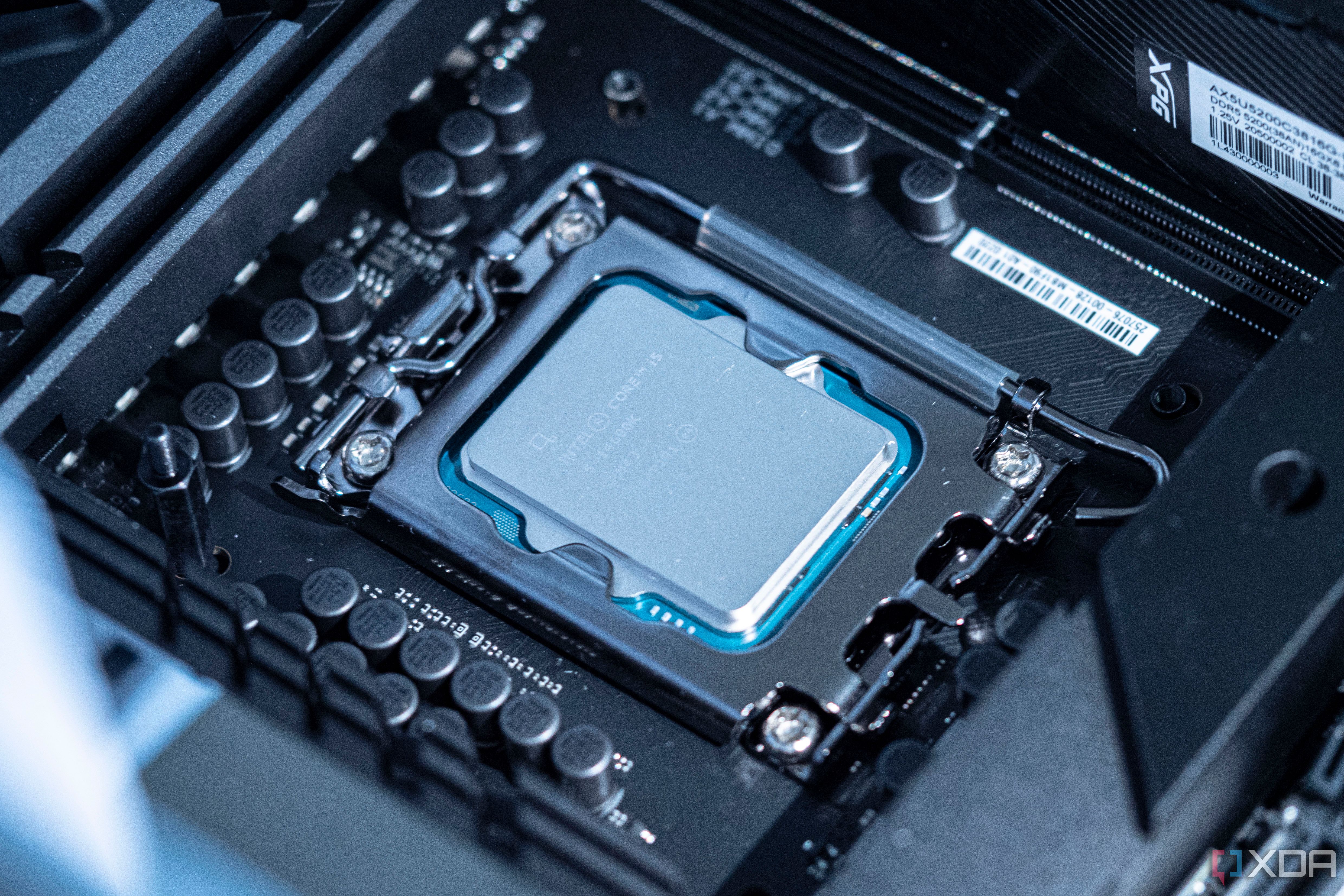 The Core i5-14600K and i5-13600K launched almost an entire year apart to the day, with the former coming out on Oct. 17, 2023, and the latter on Oct. 20, 2022. They both have official price tags of $320, but today the i5-13600K routinely goes for around $300 or less, which isn't a massive difference but it's definitely there.
But the thing is, these CPUs are essentially the same chip, and the only new thing the i5-14600K brings to the table are clock speeds that the i5-13600K doesn't reach out of the box. While the i5-13600K can hit up to 5.1GHz on its P-cores and 3.9GHz on its E-cores, the i5-14600K bumps this up to 5.3GHz and 4GHz respectively. However, that's only a frequency boost in the single digits, so it's not exactly a huge improvement.
| | Intel Core i5-14600K | Intel Core i5-13600K |
| --- | --- | --- |
| Cores | 6P / 8E | 6 / 8 |
| Threads | 20 | 20 |
| Architecture | Raptor Lake Refresh | Raptor Lake |
| Process | Intel 7 | Intel 7 |
| Socket | LGA 1700 | LGA 1700 |
| Base Clock Speed | 2.6GHz / 3.5GHz | 3.50GHz / 2.60GHz |
| Boost Clock Speed | 4.0GHz / 5.3GHz | 5.10GHz / 3.90GHz |
| Cache | 24MB L3 + 20MB L2 | 24MB |
| RAM | DDR4-3200 / DDR5-5600 | DDR5-5600 / DDR4-3200 |
| PCIe | 5.0 | 5.0 |
| Graphics | Intel UHD Graphics 770 | Intel UHD Graphics 770 |
| TDP | 181W | 125W |
Architecture and design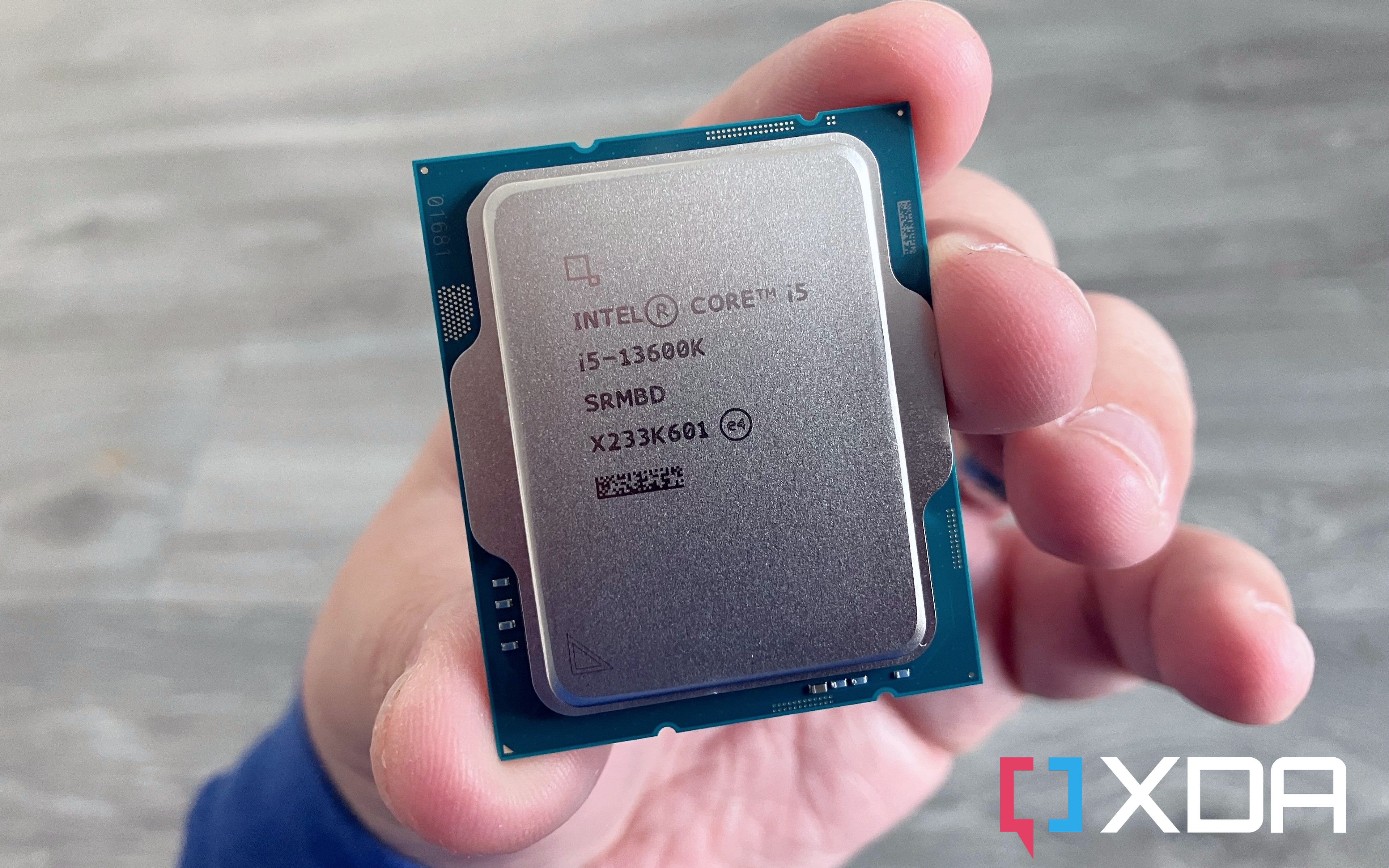 Both the Core i5-13600K and i5-14600K are hybrid Raptor Lake CPUs, which means they use two different kind of cores: P-cores and E-cores. P-cores are beefy and boast great performance but take up lots of space in the CPU and consume lots of power, while E-cores are pretty slow but are more efficient in space and power usage. Both chips have 6 P-cores and 8 E-cores, and they have more of the smaller E-cores since P-cores basically exist to boost single-threaded performance, and increasing multi-threaded performance is easier by simply adding more E-cores.
Compared to its predecessor, Alder Lake, Raptor Lake introduced lots more cache, which helps gaming performance. Raptor Lake also hits higher clock speeds than Alder Lake despite being manufactured on the same Intel 7 (formerly 10nm) process, which indicates that Raptor Lake is probably engineered a little better, but it's also a sure sign that the formerly troubled Intel 7 process is in good order now.
The thing is, Intel 7 matured with Intel's 13th-generation chips which explains why 14th-generation CPUs haven't exactly boosted clock speeds despite coming out a year later. It's hard enough to boost clock speeds as it is, even with an architectural upgrade, so it really shouldn't come as a surprise that the Core i5-14600K doesn't have a much higher frequency than the i5-13600K.
The LGA 1700 platform
The launch of 14th-generation CPUs did prompt many motherboard makers to launch new products, but there hasn't been any upgrade to the LGA 1700 socket or even a new chipset to pair with 14th-generation CPUs like the Core i5-14600K. Many or even most of these new motherboards are also high-end Z790 boards, which you're unlikely to pair with a i5-14600K or i5-13600K, which are firmly in the midrange.
LGA 1700 motherboards offer support for PCIe 5.0 GPUs, PCIe 5.0 SSDs, and both DDR4 and DDR5 RAM. That you can use DDR4 RAM is a pretty big deal particularly for the i5-14600K and i5-13600K since the slightly lower performance hardly comes into play with these chips, meaning you can enjoy much cheaper memory with no drawbacks. There aren't any feature differences between the i5-14600K and i5-13600K, not even in software.
Performance
In our review of the i5-14600K, we didn't have a i5-13600K to compare against, but we do have data from our older review of the i5-13600K as well as benchmarks from the wider community. This data won't give us a totally comprehensive view of the dynamic between these two CPUs, but then again they are pretty much identical and only differ in clock speed.
| Cinebench R23 | Intel Core i5-14600K | Intel Core i5-13600K |
| --- | --- | --- |
| Multi-threaded | 24,365 | 24,166 |
| Single-threaded | 2,050 | 1,935 |
In Cinebench R23, there's basically no difference between these two CPUs in multi-threaded performance, which is disappointing. Single-threaded performance thankfully is up, and by about 5% or so, but that's not exactly a massive upgrade. The fact that single-threaded performance is gradually becoming less and less relevant is also an issue.
| Geekbench 6 | Intel Core i5-14600K | Intel Core i5-13600K* |
| --- | --- | --- |
| Multi-threaded | 15,999 | 15,178 |
| Single-threaded | 2,752 | 2,729 |
* average of all user uploaded results.
The results in Geekbench 6 are even more unimpressive for the i5-14600K, which has not just a tiny multi-threaded lead but now not even a lead at all in single-threaded. Granted, this is an average score for the i5-13600K gathered from hundreds of user uploaded results, but it's clearly not a big enough difference to be apparent even with somewhat fuzzy data.
In gaming, the consensus is that these two CPUs are pretty much the same. In most reviews that tested both CPUs, the i5-14600K was maybe a couple frames ahead of the i5-13600K, which is in no way perceptible by humans. This is of course pretty much what you'd expect from the spec sheet, and while games like higher clock speeds, 100MHz or 200MHz here or there will not transform a CPU, and next-generation performance requires much larger frequency boosts as well as more cache (which was the case with Raptor Lake compared to Alder Lake).
Unfortunately for the i5-14600K, that's pretty much the end of its performance story. Ultimately, its slightly higher clock speed just doesn't cut it and fails to make it much different from the CPU it succeeds.
Intel Core i5-14600K vs Core i5-13600K: Which one should you buy?
This probably doesn't come as a surprise, but the obvious winner here is the Core i5-13600K. It has practically the same performance as the i5-14600K for a cheaper price, making it a no-brainer. Besides, you could just overclock your i5-13600K to be as fast or even faster than the i5-14600K anyways, so there's very little reason to ever buy the i5-14600K.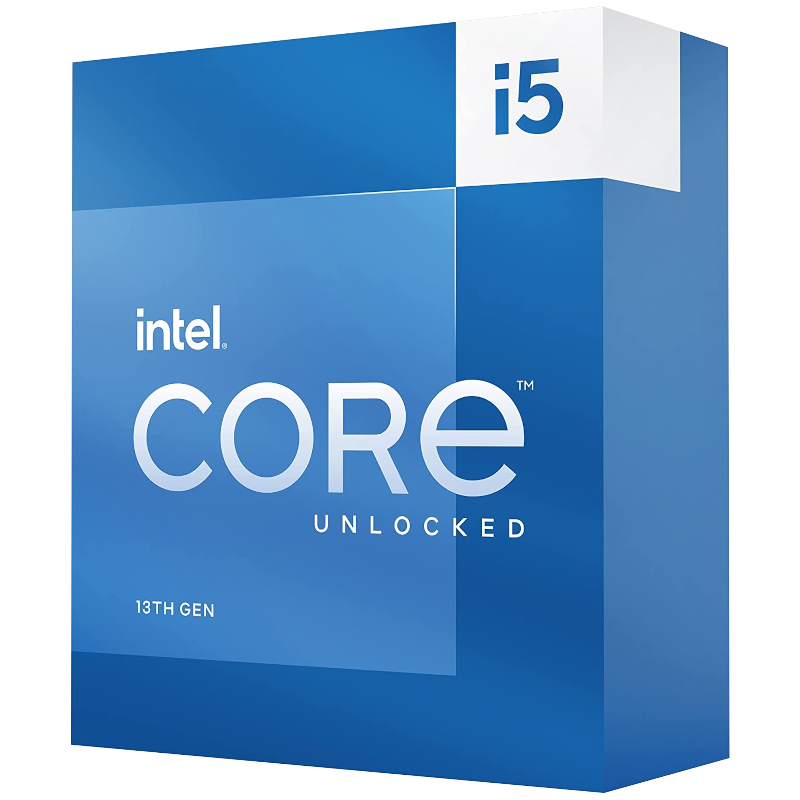 Source: Intel
Intel Core i5-13600K
Same as the i5-14600K but for less
$310 $340 Save $30
Intel's Core i5-13600K is the company's latest mid-range CPU and is an absolute winner, with much improved performance over its predecessor that makes this now one of the best CPUs to put in a gaming PC.
The i5-14600K may make sense if it's practically the same price as the i5-13600K, maybe within $10. Given what you can do with even $20 on a midrange budget, it's just not worth spending that much for what is basically the same CPU. Of course, if the i5-13600K ever goes out of stock, the i5-14600K may be your only option.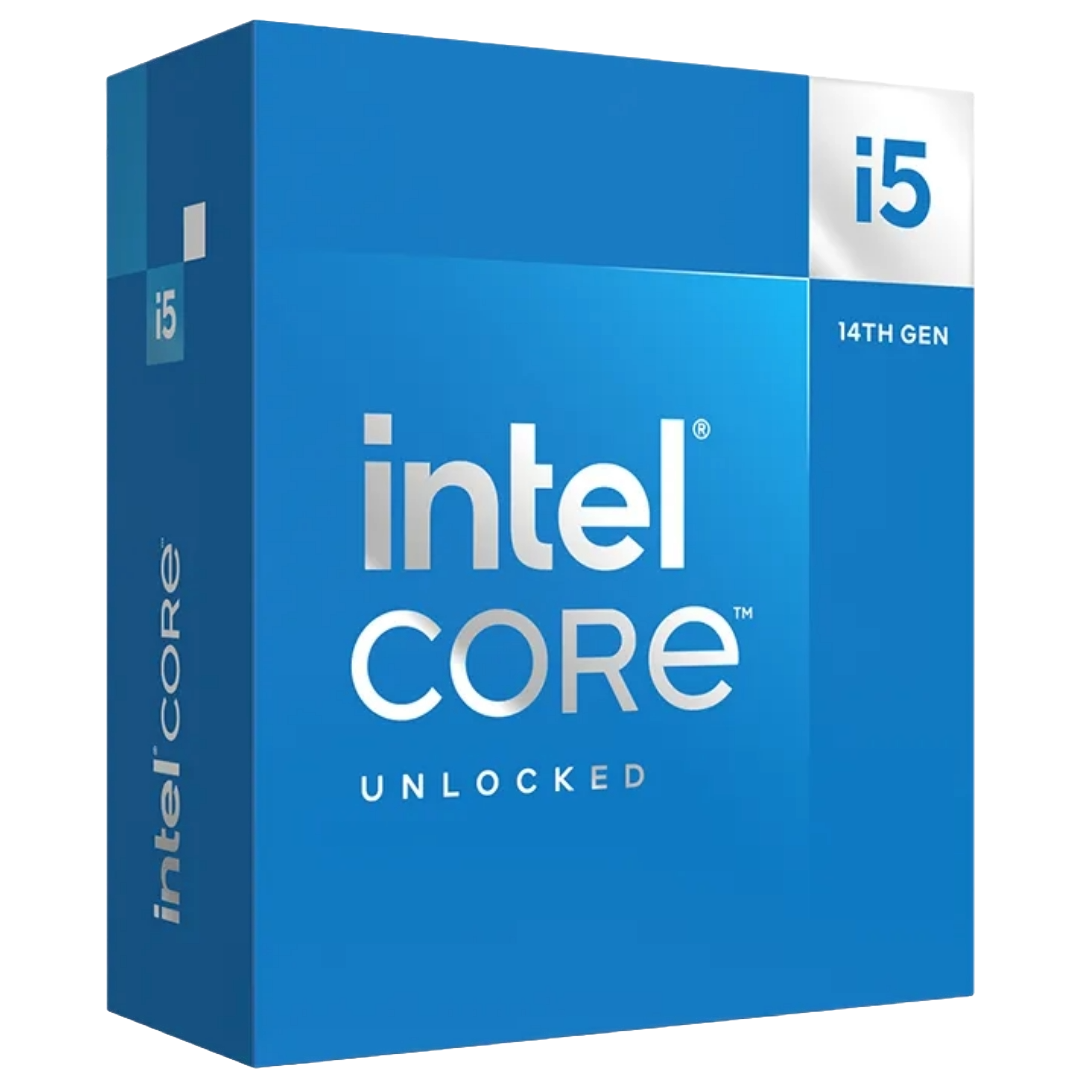 Source: Intel
Intel Core i5-14600K
Won't be worth it without a price cut
The Intel Core i5-14600K is the latest Raptor Lake CPU, and it sports higher clock speeds than last year's model. It's a straight-up refresh, though, and you won't miss out on anything if you're already on a 13th-generation CPU.