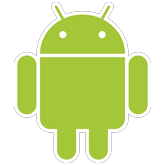 I use an Apple MacBook laptop and until recently I used an iPhone as well. Why I sold it is a topic for another publication, but the effect is that I only have an Android smartphone. In fact, I'm using it so well that I don't feel the need to go back to the iPhone for now. I really miss only one thing: fast, wireless transfer of photos from the phone to the computer. Preferably one that uses the AirDrop function built into the MacBook and does not require the installation of any extensive applications or setting up additional accounts. I need a simple, light, free application that focuses only on this one function. And I just found such an application on the popular GitHub. It is called NearDrop and I would like to present it in this very short tutorial. I invite!
Author: Tomasz Duda
My premise was extremely simple. I take many photos by phone and I often transfer them from a mobile device to a laptop or a disk connected to it. As I mentioned above, I work on an Apple laptop and I'm used to AirDrop sending photos and videos in no time. However, since I only had an Android smartphone on hand (Google Pixel 6a to be precise), this was not possible because Android does not have AirDrop, which uses AWDL (Apple Wireless Direct Link) technology. As you can guess, it is reserved only for Apple hardware, although it is worth adding that there is also an open implementation for Linux. However, Android has a Nearby Share feature, so an ingenious developer came up with the idea that you could combine Nearby Share and AirDrop, which resulted in NearDrop.
NearDrop is a lightweight, simple and free application that allows you to send files wirelessly from Android to macOS. Without installing anything on your smartphone. It's open source and it just works.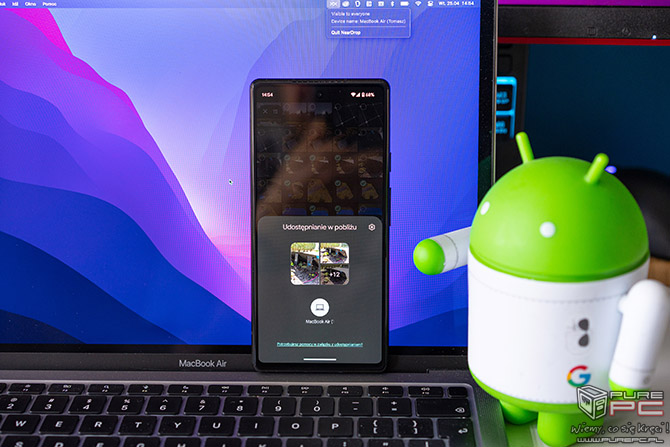 The best part is that NearDrop weighs only a few megabytes, does not require any login or subscription, performs one specific task, does not force the installation of applications on the phone, is open source and free. It is exactly what I need. Maybe there are people among you who are also looking for a similar solution. If so, below are some quick tips on how to wirelessly transfer photos from Android to MacBook. I would like to point out, however, that the whole process is so simple that probably most of you would only need the name of the program, because you would understand the rest in no time. Finally, I will also mention another, much more famous program AirDroid, which will allow you to transfer files via Wi-Fi from your phone to your computer and vice versa, and has a lot of other functions. However, I did not choose it deliberately, because firstly, I do not need additional functionality, secondly, it requires installing applications not only on the computer, but also on the smartphone, thirdly, it is necessary to set up an account and log in, and fourthly, it requires many permissions, so never it is not known what data it actually "pulls" from the phone.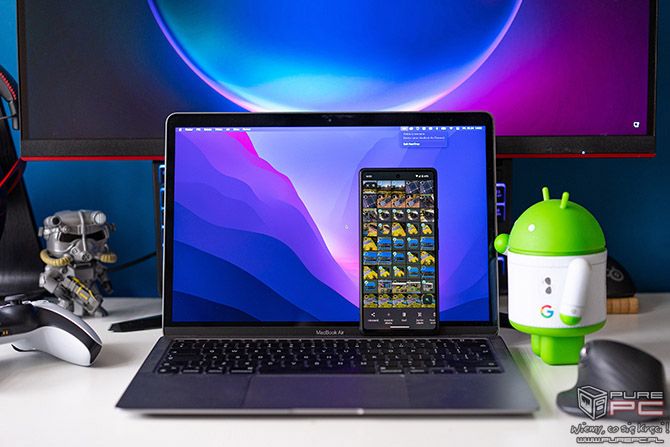 NearDrop is a combination of Nearby Share with AirDrop
Apps NearDrop must be downloaded from the project's GitHub page. The application is not available in the official Apple store, because the developer does not intend to pay for the possibility of publishing it (personally, I am not surprised), which is why the file is recognized by the system as unverified. However, this is an open source project and in addition without a license (The Unlicense), so those willing can analyze it for suspicious code, and if there was anything suspicious in it, I suppose there would be disapproval. Everyone should decide for themselves whether to trust this application. The installation file is only 6.4 MB, so it takes up little space on your Mac. You don't need to install anything on your phone. It is worth noting, however, an important thing: the developer declares that for now the application can only transfer data from the phone to the computer, but not the other way around. The developer of the software is "fighting" with the Multicast DNS service on Android and the display of a file sharing notification, but this is not his last word yet. It is possible that transferring from PC to smartphone will be introduced in the future. After downloading the program, it is recommended to right-click on the file and select Open. When a message appears that the file cannot be checked for malware, click again open (if you agree).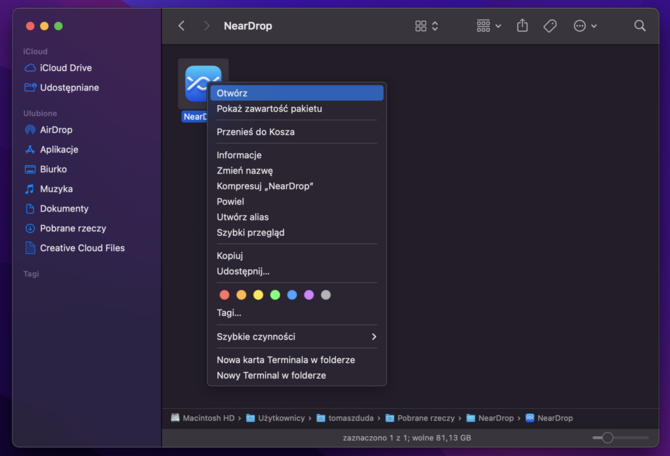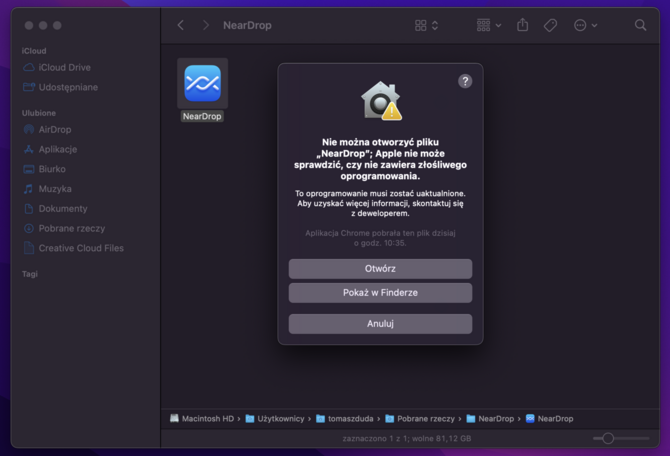 The beauty of it is that you don't really need to do anything else. No configuration, no extra options. NearDrop will automatically launch and its icon will appear in the system tray in macOS. From now on, you can send files from your smartphone to your computer. This application does not have a rich user interface, but is something like a service that activates and runs in the background and displays system notifications when files arrive. An important point that needs to be emphasized is that NearDrop allows you to transfer files over a local Wi-Fi networki.e. within an apartment, house or office. The computer with the application enabled will be visible to all devices connected to the same network and supporting Nearby Share. However, you don't have to worry that undesirable people will send unspecified files to your Mac, because after initiating the sending, a message will appear on the phone with a PIN code, the same on the computer and on the phone, only after checking these PINs and confirming that they are identical, you can select the Accept or Decline option. Yes, the application is not translated into Polish, but it is so simple that basically the operation is limited to clicking these two buttons.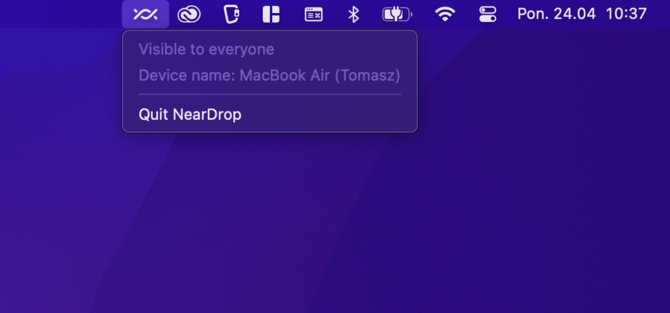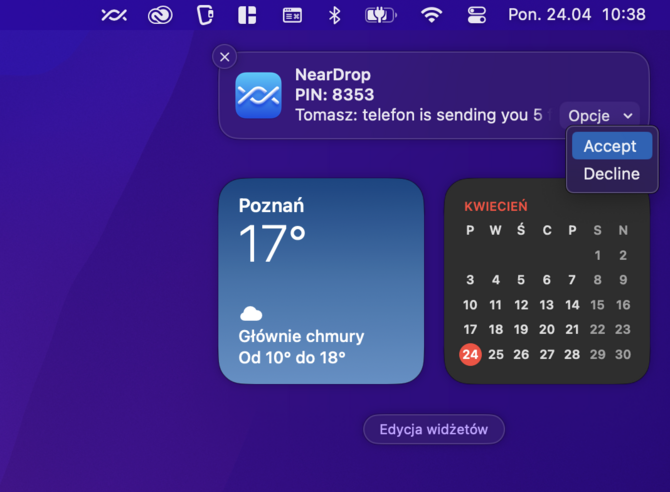 How to wirelessly transfer files from Android phone to Apple computer using NearDrop?
I will show it with the example of photos. Many smartphones have different graphical overlays (interfaces), so it may look a little different. I will present it on the example of pure Android, without the overlay. First you should select images in the gallery or file manager, and then use the share button. Then you have to touch the button More. An option will appear Near, i.e. sending files to devices found in the local Wi-Fi network – tap it. The NearDrop application running on your computer will make it your Apple device will be recognized and will appear on your phone. After selecting it, a PIN code will be displayed, and a cloud will be displayed on the computer with a notification about the possibility of receiving files with the same code. If the code is different, you should not receive these files because they may come from an untrusted person connected to the same network. If the codes are the same, click on Mac accept. The files will be saved in the folder Downloaded items. That's all! Unfortunately, the transfer speed is definitely slower than when transferring files from iPhone to MacBook, but it's still enough. For me, a video weighing 200 MB was sent in about 30 seconds. Sending a dozen JPG photos is usually a matter of several seconds.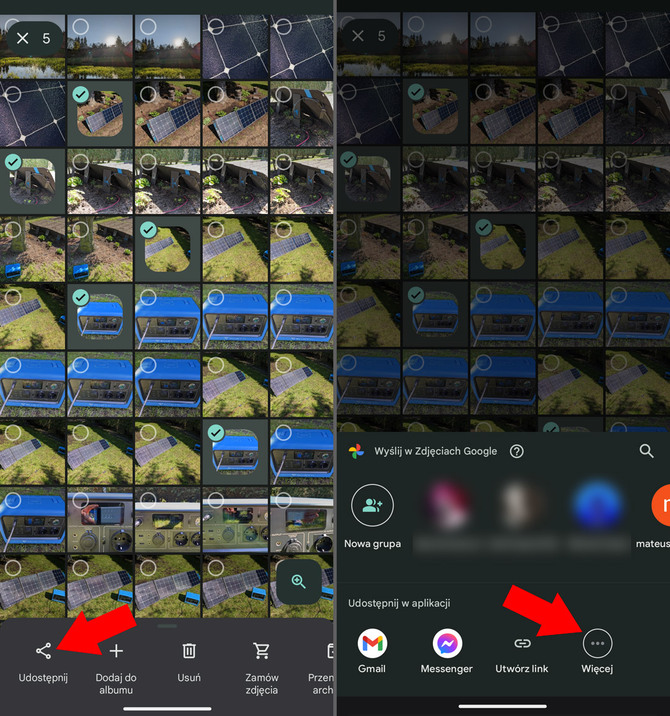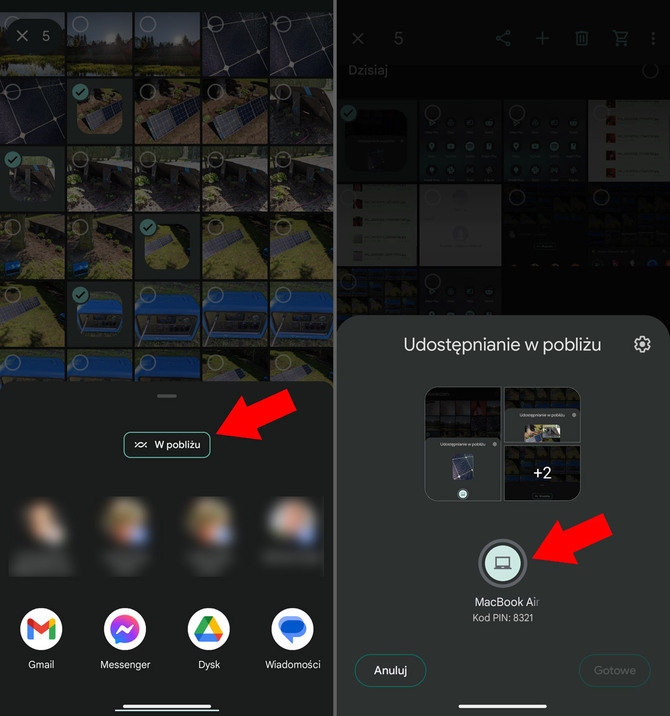 An alternative is, for example, AirDroid, but it's a real combine
I will also briefly mention one alternative program that many people may be familiar with. It has a name AirDroid and compared to NearDrop, it is a true harvester offering much more features, but also with more requirements. As I wrote earlier, unfortunately, it requires creating an account and being logged in, it is also necessary to install the application on both the computer and smartphone, and in addition it requires access to virtually all files and many other things. It is also not open source and is free only in the basic scope. The question is whether anyone trusts the company creating AirDroid enough to give it access to all their files on the phone. Personally, I try to be very careful in this regard. AirDroid allows e.g. access the phone camera from a computer, type on the phone using a physical computer keyboard, display and record the smartphone screen, and even operate the phone remotely. Everyone can answer if he needs it. For me, the only real advantage is the ability to wirelessly send files not only from the phone to the computer, but also the other way around.