We explain what are the steps you must follow to view Instagram content without creating an account on this social network.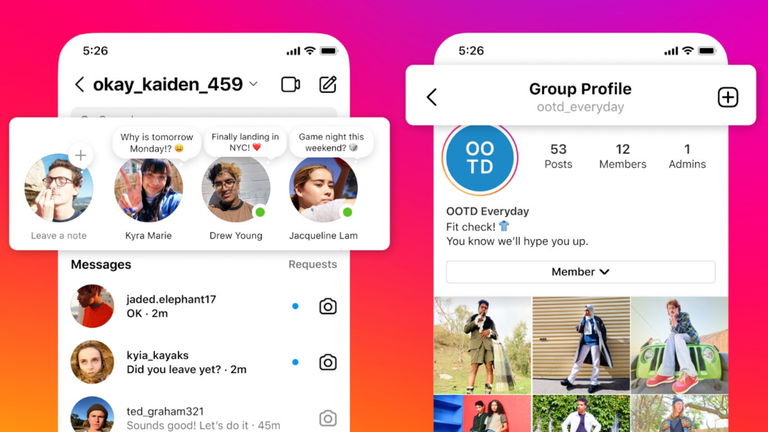 We are going to explain to you what are the most effective methods to view Instagram content without registering in your application. In fact, you won't even need to download the official client on your mobile. Everything that we explain here is done from the browser or third-party applications. Keep reading if you do not want to create a profile on Instagram or download your app, and yet you want to see content uploaded by some users.
Open Instagram links in browser
Much of the content on Instagram can be viewed through the browser. If the profile that uploaded the video or photo is public, then just enter the URL in the browser. And if the link has been sent to you by WhatsApp or by any other means, it also works.
The image above shows what Instagram looks like loaded directly into the browser. As can be seen, the content that they have shared with us is a Reel and can reproduce perfectly.
What contents will you not be able to see with this method? There are some occasions when this method will not work for you. They are the following:
When the profile is private. Even if they share the link of a private profile on WhatsApp, you will not be able to access it from the browser.
Some formats require registration. For example, sharing stories via a link is difficult and often doesn't work properly without the app.
Use a third-party client that doesn't require an account
An interesting alternative to enter Instagram without an account is use an unofficial client. Some of them are even open source and you will be able to download them from f droidan alternative store focused on developments open source.
Generally, the appearance looks a lot like the one on instagram, but its main feature is that you don't need to enter an account to browse user content. However, it is possible that the platform blocks access to its API for these types of applications because they go against their interests. So even after managing to install apps like Barinstathey may not work as expected.
See all the photos of a profile with web service
Another alternative to explore the content of an Instagram profile without an account is to go to a website designed for this purpose. There are hundreds of Internet options, but we would like to recommend you picuki.
The truth is that it works very well and you only need to know the name of the profile you want to visit. However, its search engine offers several suggestions, so don't worry too much if you don't know for sure what the user in question is called.
After clicking on the user's name, it will load the profile in a very similar way to how the official Instagram application does.
Regarding this type of web applications, you should know the following:
some disappear. We are convinced that on Instagram they are not very fond of this type of service that prevents you from having to enter your user account to view content. For this reason, from time to time they unsubscribe. But, there is no problem, because with each one that "turns off", many others appear.
Not all features work well. For example, although Picuki has allowed us to correctly see Andro4all's profile on Instagram, we have not been able to access other users' videos or see their stories. And that there is a button dedicated to this function.
In addition to viewing, it is possible to download. One of the most interesting features of this class of tools is that they allow download photos and videos from instagram.
In addition to Picuki, you have these alternatives that are also solvent to view Instagram without an account:
Imginn. A website with a simple search engine that helps you access the content of others on Instagram.
GreatFon. Another alternative that helps you explore Instagram with tags, profiles, and locations.
gwaa. After clicking the button that appears on the screen, you will be able to enter the username to search for specific content.
View Instagram stories without account
All the websites that we have mentioned in the previous section They have worked very well for us when viewing Instagram photos and videos without account. They're even great for downloading content, if you want to.
The only problem that we have appreciated is that They don't get along very well with stories.. For this reason, we have tried to locate a service that is specialized in this format, so that you can access it.
StoriesIG.me is the one we liked the most. It has a simple search engine to locate users. Once you have found the corresponding profile, click on it to access the content. If the user has new stories, your avatar will have a pink borderas it happens in the Instagram application.
Click on it to see the new stories that this user has published. Additionally, it is possible access photos and videos. It even shows the count of I like of each element.
Of course, it is not compatible with private accounts. Of course, it works perfectly with any web browser, so it is compatible with any phone capable of running the latest version of Chrome, Edge or Firefox.
How to watch direct from Instagram without accessing an account
Although Instagram directs are located in the stories area, the truth is that It is not possible to view this kind of content without an account. And without the official Instagram application, you will also not be aware of when a user has started a direct.
With this in mind, when it comes to watching live from mobile, The best thing is that you download the platform client on your Android mobileaccess your profile and click on the avatar of the user who has started transmitting.
Finally, for those who are more suspicious of their privacy, there is an alternative to everything we have explained in this guide. We refer to create an anonymous accountwithout your name or your personal data, which you only use to access the live broadcasts and other similar content.