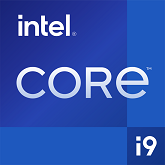 Intel has two major processor launches planned for the consumer market this year. The first is Intel Meteor Lake, i.e. the 1st generation of Core Ultra systems. However, we will have to wait until mid-December for these units. Earlier this month, 14th generation Intel Raptor Lake Refresh desktop processors will also hit the market. The manufacturer officially confirms the specifications and prices of three K series systems and three of their equivalents, but without integrated graphics systems. We can count on, among others: for even higher gaming performance and several additional improvements.
Intel officially presents the 14th generation of Raptor Lake Refresh processors: Core i9-14900K(F), Core i7-14700K(F) and Core i5-14600K(F).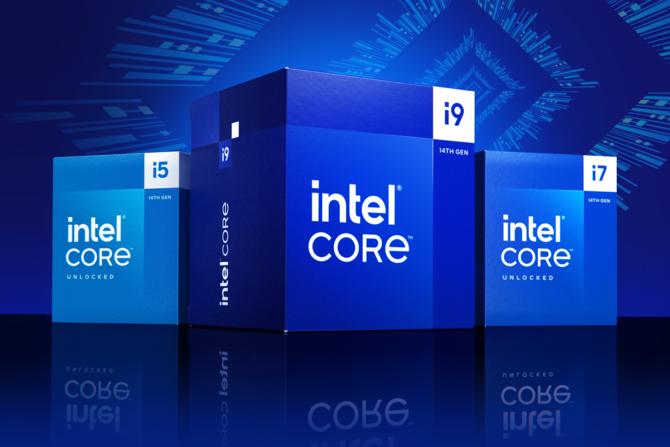 When it comes to the list of processors, there are no surprises. Intel introduces Core i9-14900K(F), Core i7-14700K(F) and Core i5-14600K(F). Only the middle one has a modified number of cores and threads, because now it has a total of 20 cores in an 8+12 configuration and 28 threads. Interestingly, Intel left the suggested prices the same as for the 13th generation. We therefore expect discounts for existing Raptor Lake models. Most specifications have also not changed compared to previous leaks. The most powerful Intel Core i9-14900K(F) in the offer is the only one with the Thermal Velocity Boost function, which allows you to reach a maximum of 6 GHz on a daily basis.
Core i9-14900K
Core i9-14900KF
Core i7-14700K
Core i7-14700KF
Core i5-14600K
Core i5-14600KF
Series
Raptor Lake Refresh
Lithography
Intel 7 (10nm)
Cores/threads
24C/32T
24C/32T
20C/28T
20C/28T
14C/20T
14C/20T
Configuration
8 P-Core + 16 E-Core
8 P-Core + 16 E-Core
8 P-Core + 12 E-Core
8 P-Core + 12 E-Core
6 P-Core + 8 E-Core
6 P-Core + 8 E-Core
P-Core base clock
3.2GHz
3.2GHz
3.4GHz
3.4GHz
3.5GHz
3.5GHz
Turbo P-Core Clock (Turbo Boost 2.0)
5.6GHz
5.6GHz
5.5GHz
5.5GHz
5.3GHz
5.3GHz
Turbo P-Core Clock (Turbo Boost 3.0)
5.8GHz
5.8GHz
5.6GHz
5.6GHz
–
–
Turbo P-Core Clock (Velocity Boost)
6.0GHz
6.0GHz
–
–
–
–
E-Core base clock
2.4GHz
2.4GHz
2.5GHz
2.5GHz
2.6GHz
2.6GHz
Turbo E-Core Clock
4.4GHz
4.4GHz
4.3GHz
4.3GHz
4.0GHz
4.0GHz
L2 cache
32 MB
32 MB
28 MB
28 MB
20 MB
20 MB
L3 cache
36 MB
36 MB
33 MB
33 MB
24 MB
24 MB
iGPU
UHD Graphics 770
–
UHD Graphics 770
–
UHD Graphics 770
–
RAM controller
DDR5 5600MHz
DDR4 3200MHz
Max RAM capacity
192GB
PCIe lanes
20
PL1
125 W
125 W
125 W
125 W
125 W
125 W
PL2
253 W
253 W
253 W
253 W
181 W
181 W
T&A price
$589
$564
$409
$384
$319
$294
One of the new features will be the expansion of libraries for Intel Dynamic Tuning Technology. The 14th generation Raptor Lake Refresh processors include a function called Intel Application Optimization, which constantly controls what processor resources should go to specific applications. This function was designed mainly to redirect the power of the most powerful gaming cores. Raptor Lake Refresh processors offer a DDR5 5600 MHz and DDR4 3200 MHz RAM controller, and Intel announces that the refreshed systems have even more refined XMP profiles, thanks to which it will be possible to work day after day with DDR5 RAM models with an effective speed above 8000 MHz (really 4000MHz). The new processors will also support a maximum of 192 GB of RAM.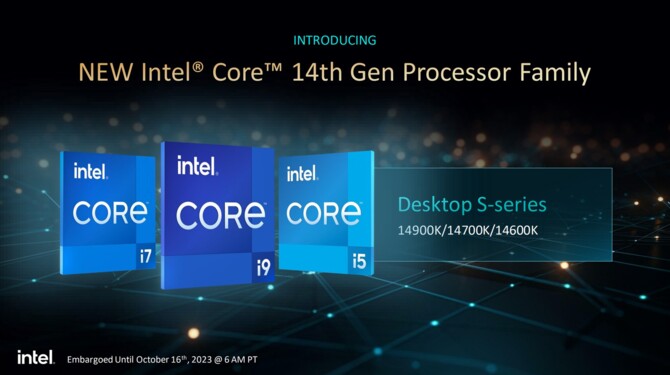 The issue of AI has recently become more and more important for Intel. Future Core Ultra processors will rely heavily on artificial intelligence capabilities. However, it turns out that Raptor Lake Refresh desktop processors will also benefit from AI to some extent. This is a new function that will be embedded in the Intel Extreme Tuning Utility software, which is supposed to allow for more effective processor OC by using machine learning to optimize overclocking settings for specific units. Unfortunately, the trained AI model will not be available for all 14th generation processors. Intel only mentions the Core i9-14900K and Core i9-14900KF units here.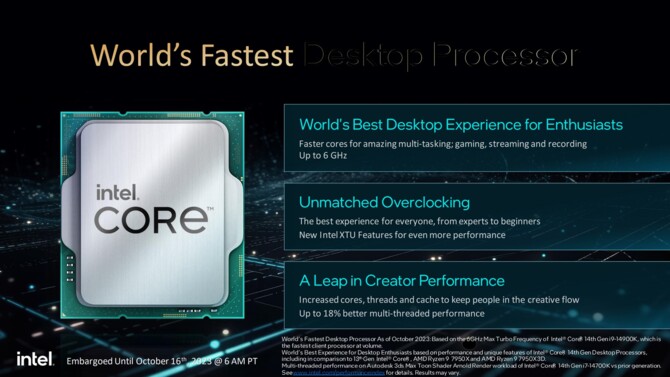 Intel also attempted its own performance comparisons in games. For example, in Counter Strike 2 (formerly Global Offensive), Total War: Warhammer III or Starfield, the new Intel Core i9-14900K is to be 14 to 23% more efficient compared to the AMD Ryzen 9 7950X3D. In the same games, the new Intel is to be equally more powerful compared to AMD Ryzen 9 7950X or Ryzen 7 7800X3D. In turn, in Horizon Zero Dawn, the Raptor Lake Refresh system is expected to be slightly weaker than the Ryzen 7 7800X3D, and in CoD: Modern Warfare II the performance should be similar.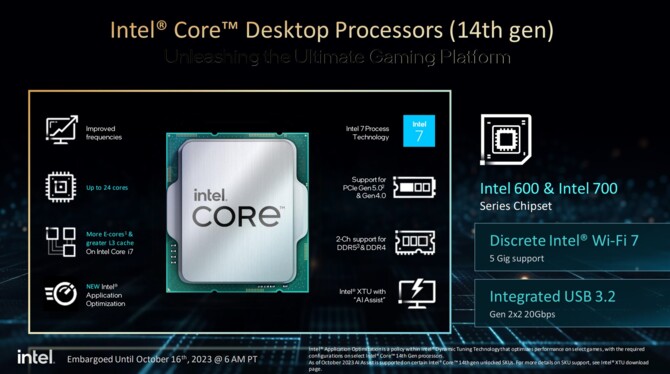 In the case of Intel Core i7-14700K, the manufacturer also raised the issue of increasing performance in popular programs for professional tasks. The promotion of this particular processor is not particularly surprising, considering the fact that only in this system there were changes in the number of cores and threads. Depending on the program, the Core i7-14700K will be several to several percent more efficient compared to the Core i7-13700K and up to 63% more powerful compared to the Core i7-12700K. There will also be a store premiere of the new Raptor Lake Refresh processors soon, so we expect a lot of tests and reviews.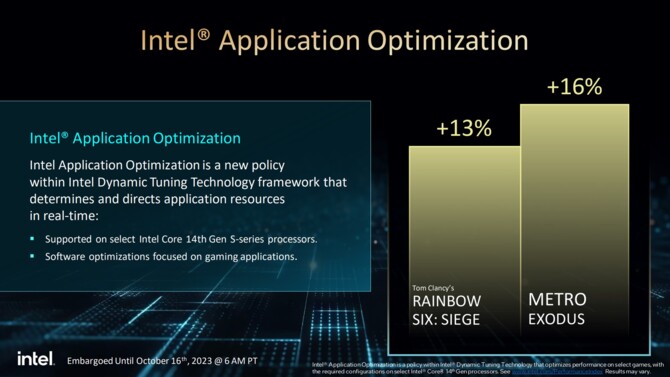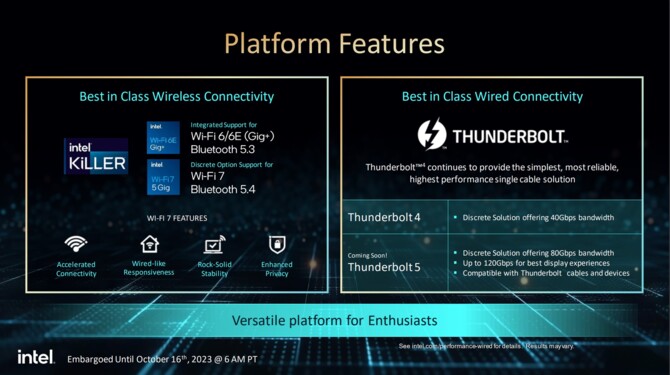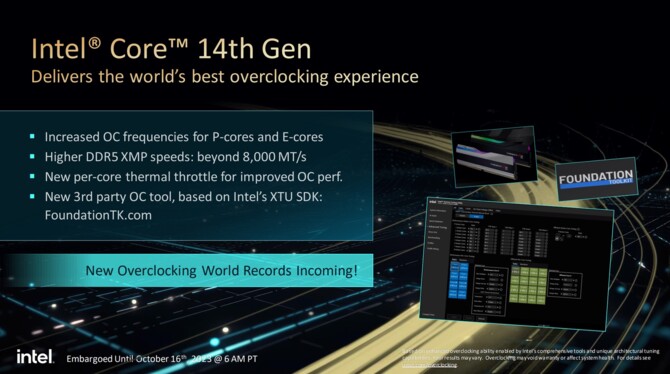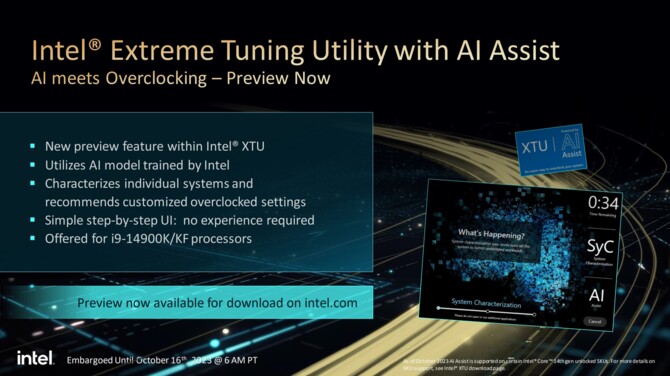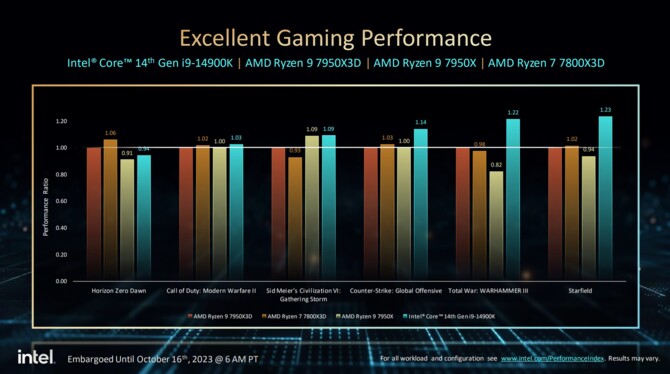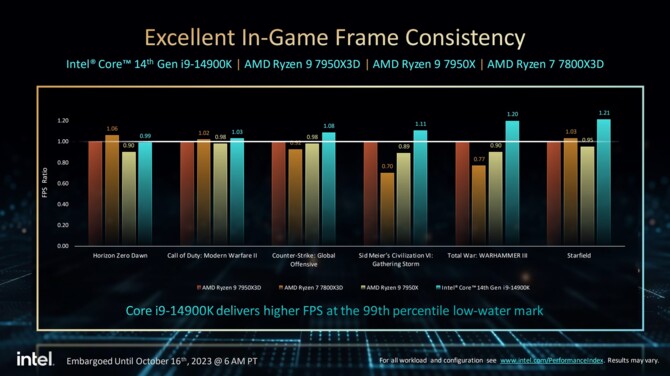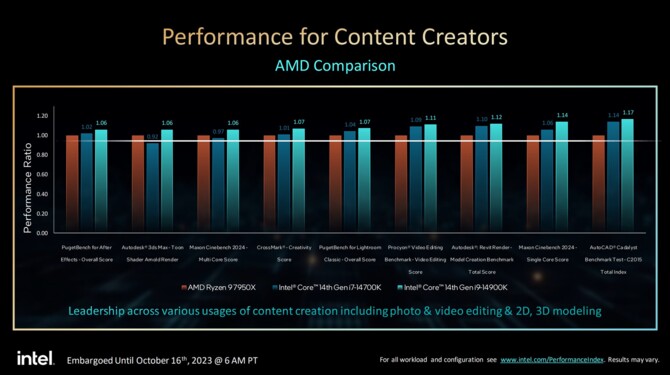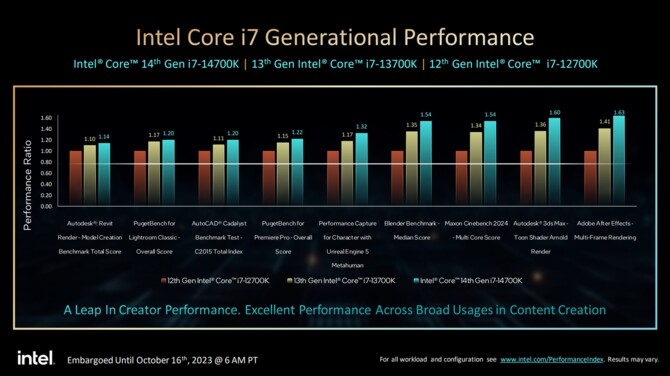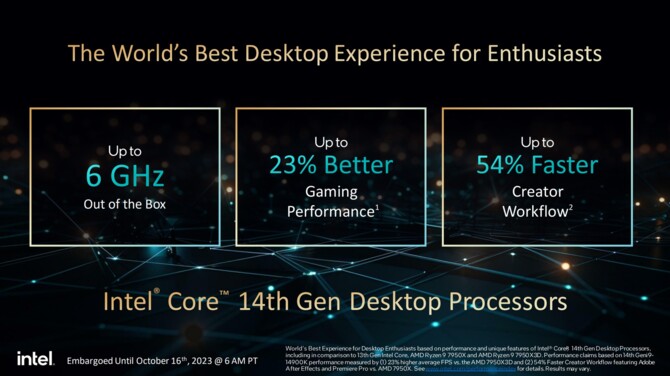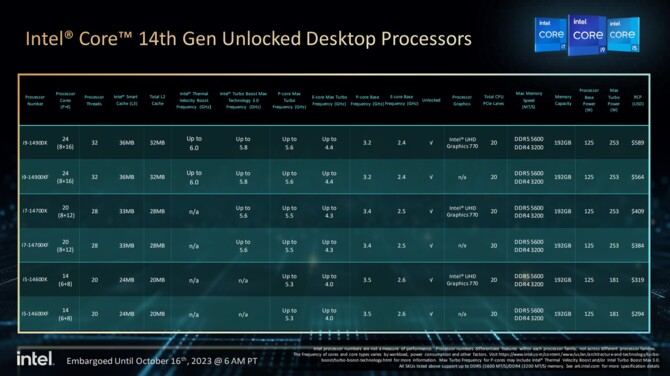 Source: Intel, PurePC