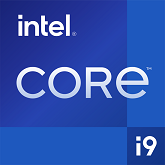 Last year, Intel introduced the first 13th generation Raptor Lake-S processors to its offer. We are talking about the strongest systems with an unlocked multiplier, i.e. Intel Core i9-13900K, Core i7-13700K and Core i5-13600K, as well as their counterparts without the integrated graphics chip Intel UHD Graphics 770 (these models have an additional letter F in the names). During the opening CES in Las Vegas, the manufacturer revealed details not only of the mobile Raptor Lake generation, but also of the desktop Raptor Lake-S with lower energy limits.
Intel officially presents the rest of the desktop family of Raptor Lake-S processors. We are talking about systems with lower energy limits.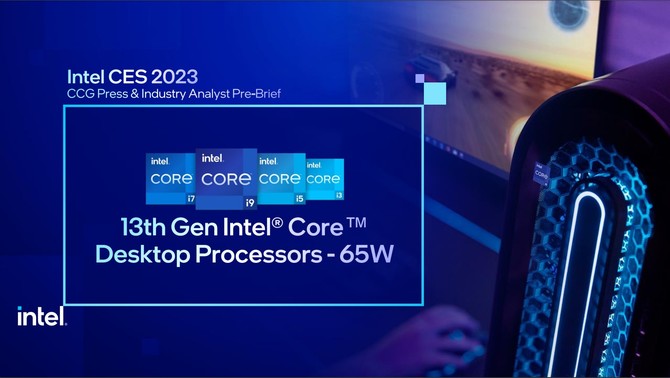 Intel has revealed details of a total of 16 13th Gen Raptor Lake-S processors, including six PL1 65W chips with integrated graphics, four units with the same limits but without built-in iGPU, and six processors with a T in the name , which corresponds to the lowest energy limits. The latter group, as is usually the case with Intel, was mainly assigned to smaller, ready-made computer sets. Other Raptor Lake-S systems will offer a base Processor Base Power of 65 W, while PL2 in the form of Maximum Turbo Power reaches a maximum of 219 W, but in the case of Core i5 and Core i3 systems, this limit will be reduced accordingly.
Core i9-13900
Core i7-13700
Core i5-13600
Core i5-13500
Core i5-13400
Core i3-13100
Series
Raptor Lake-S
Lithography
Intel 7 (10nm)
Cores/threads
24/32
16/24
14/20
14/20
10/16
4/8
P-Cores
8C/16T
8C/16T
6C/12T
6C/12T
6C/12T
4C/8T
E-Cores
16C/16T
8C/8T
8C/8T
8C/8T
4C/4T
–
Base Clock (P-Core)
2.0GHz
2.1GHz
2.7GHz
2.5GHz
2.5GHz
3.4GHz
Turbo Clock (P-Core)
5.6GHz
5.2GHz
5.0GHz
4.8GHz
4.6GHz
4.5GHz
Base Clock (E-Core)
1.5GHz
1.5GHz
2.0GHz
1.8GHz
1.8GHz
–
Turbo Clock (E-Core)
4.2GHz
4.1GHz
3.7GHz
3.5GHz
3.3GHz
–
L3 cache
36 MB
30 MB
24 MB
24 MB
20 MB
12 MB
iGPU chip
UHD 770
UHD 770
UHD 770
UHD 770
UHD 730
UHD 730
EU blocks
32 EU
32 EU
32 EU
32 EU
24 EU
24 EU
RAM controller
DDR5 5600MHz
DDR4 3200MHz
DDR5 4800MHz
DDR4 3200MHz
Processor Base Power
65W
Maximum Turbo Power
219 W
219 W
154W
154W
148W
89W
T&A price
$549
$384
$255
$232
$221
$134
Intel Core i9-13900, Core i9-13900F and Core i9-13900T processors are equipped with 24 cores with support for 32 threads. Intel Core i7-13700(F) and Core i7-13700T have 16 cores and 24 threads (8 Performance and Efficient cores each). The 13th generation Core i5 systems certainly promise to be interesting. Three main units were available: Core i5-13600, Core i5-13500 and Core i5-13400, where the first two are equipped with 14 cores and 20 threads (6 Performance cores and 8 Efficient cores), while the third one will offer a total of 10 cores and 16 threads (6 P-Cores and 4 E-Cores). All three units will also be offered in the T series, and in addition the Core i5-13400 will be available in a variant without integrated graphics (Core i5-13400F). The lowest in the hierarchy models Core i3-13100, Core i3-13100F and Core i3-13100T will have only 4 Performance cores on board with support for 8 threads. The new systems in games and software are to offer from several to several percent higher performance compared to their counterparts from the 12th generation. The official dollar prices are listed in all three tables, next to each of the processors. Intel Raptor Lake-S processors with lower energy limits will go on sale this month.
Core i9-13900F
Core i7-13700F
Core i5-13400F
Core i3-13100F
Series
Raptor Lake-S
Lithography
Intel 7 (10nm)
Cores/threads
24/32
16/24
10/16
4/8
P-Cores
8C/16T
8C/16T
6C/12T
4C/8T
E-Cores
16C/16T
8C/8T
4C/4T
–
Base Clock (P-Core)
2.0GHz
2.1GHz
2.5GHz
3.4GHz
Turbo Clock (P-Core)
5.6GHz
5.2GHz
4.6GHz
4.5GHz
Base Clock (E-Core)
1.5GHz
1.5GHz
1.8GHz
–
Turbo Clock (E-Core)
4.2GHz
4.1GHz
3.3GHz
–
L3 cache
36 MB
30 MB
20 MB
12 MB
iGPU chip
–
EU blocks
–
RAM controller
DDR5 5600MHz
DDR4 3200MHz
DDR5 4800MHz
DDR4 3200MHz
Processor Base Power
65W
Maximum Turbo Power
219 W
219 W
148W
89W
T&A price
$524
$359
$196
$109
Core i9-13900T
Core i7-13700T
Core i5-13600T
Core i5-13500T
Core i5-13400T
Core i3-13100T
Series
Raptor Lake-S
Lithography
Intel 7 (10nm)
Cores/threads
24/32
16/24
14/20
14/20
10/16
4/8
P-Cores
8C/16T
8C/16T
6C/12T
6C/12T
6C/12T
4C/8T
E-Cores
16C/16T
8C/8T
8C/8T
8C/8T
4C/4T
–
Base Clock (P-Core)
1.1GHz
1.4GHz
1.8GHz
1.6GHz
1.3GHz
2.5GHz
Turbo Clock (P-Core)
5.3GHz
4.9GHz
4.8GHz
4.6GHz
4.4GHz
4.2GHz
Base Clock (E-Core)
0.8GHz
1.0GHz
1.3GHz
1.2GHz
1.0GHz
–
Turbo Clock (E-Core)
3.9GHz
3.6GHz
3.4GHz
3.2GHz
3.0GHz
–
L3 cache
36 MB
30 MB
24 MB
24 MB
20 MB
12 MB
iGPU chip
UHD 770
UHD 770
UHD 770
UHD 770
UHD 730
UHD 730
EU blocks
32 EU
32 EU
32 EU
32 EU
24 EU
24 EU
RAM controller
DDR5 5600MHz
DDR4 3200MHz
DDR5 4800MHz
DDR4 3200MHz
Processor Base Power
35W
Maximum Turbo Power
106W
106W
92W
92W
82W
69W
T&A price
$549
$384
$255
$232
$221
$134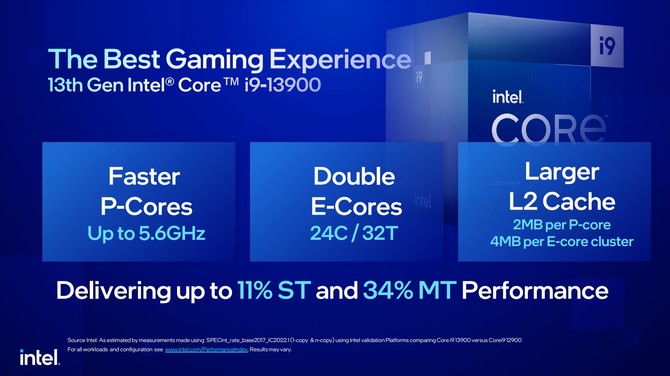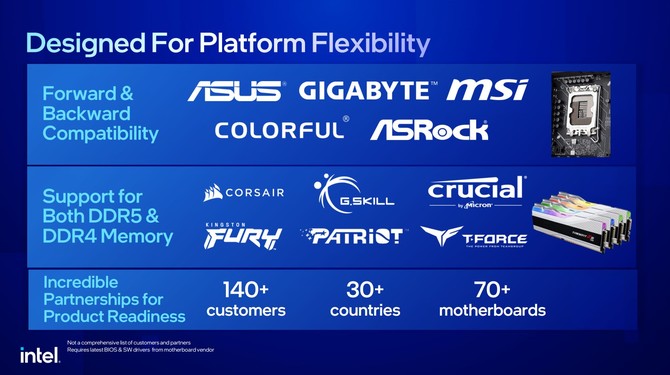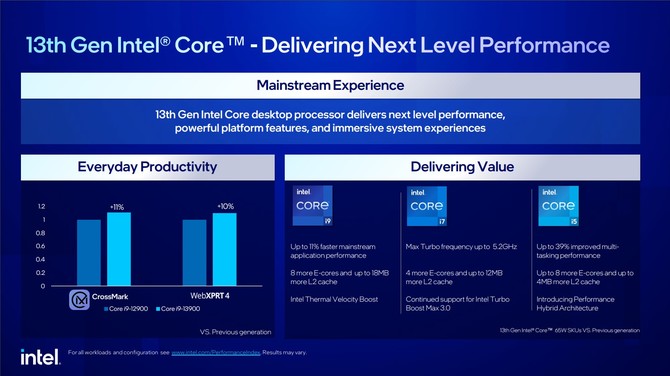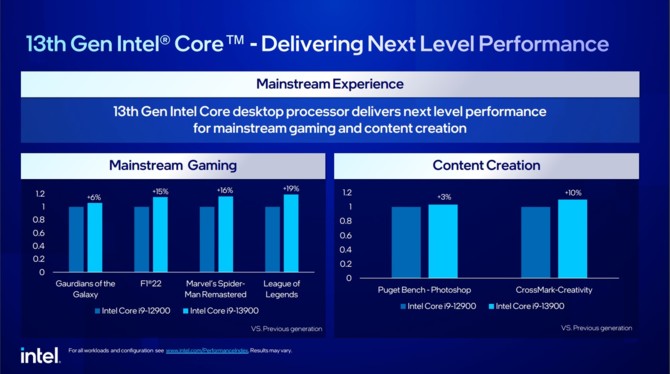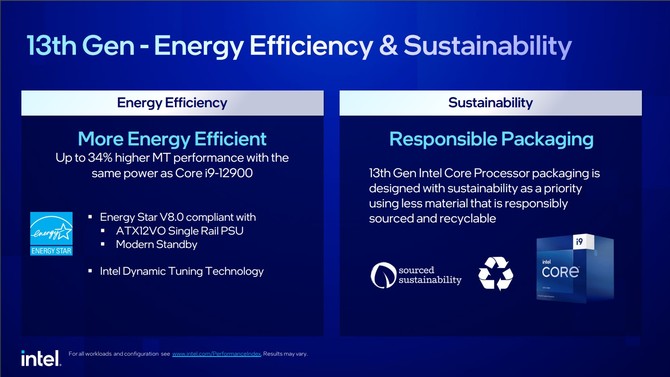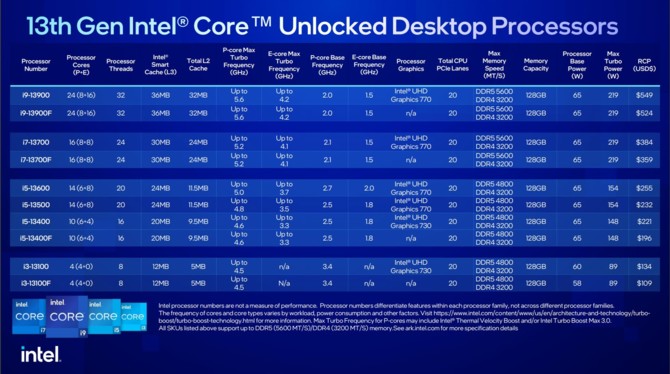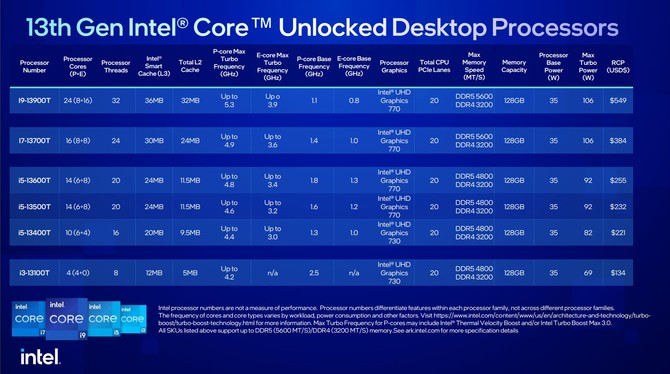 Source: PurePC