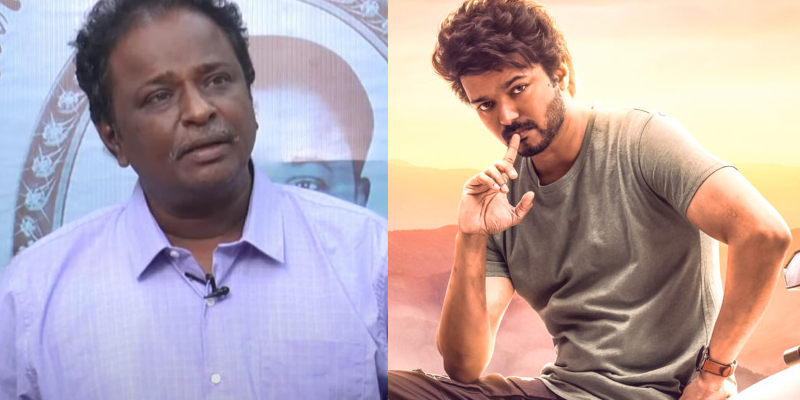 Vijay starrer "Varisu" released in theaters today amid huge anticipation. Fans are watching this movie with great enthusiasm. The first show of the film was screened today at 4 am.
Many fans who have seen the movie "Varisu" say that Vijay is crawling in style in the movie, but they are commenting that it is a movie for family audience. Also, fans are saying that the film does not have any mass scenes which are usually suitable for Vijay. Thus the film received mixed reviews.
In this situation, famous film critic Blue Shirt Maran has criticized the movie "Varisu" very badly in his video.
"The biggest problem with Varisu is that it is a family story? Or is it a masala story where the hero and the villain collide? The confusion is that there is more to those who took this film than to us who saw it.
Because if we show that there are many problems in the family, we should make the fans of the film feel that 'Oh, this family is facing so many problems'. But we don't connect emotionally.
Similarly, by keeping a knee-jerk villain in the film, it makes it seem like what if the hero fights with him, what if he doesn't.
If you see that they have made a film for the family audience, they have made a film that even a Chartered Accountant cannot understand. There is a line in the film that says 'Write down the shares you have and buy them'. How can India become a superpower in this day and age if you make a film like writing and buying shares? He has severely criticized.
Also Read: You might think that Ajithan is robbing the bank… but there is a twist… "Courage" review here…
He also said, "No character has been properly designed in Varisu. Just like a goat needs a beard and a country needs a governor, it is not clear which one is the heroine in this film. The hero advises the villain. Hearing that, the villain Prakash Raj turns away. It's like he can't play a villain anymore even if he wants to. Prakash Raj becomes so good. As if he will compete with Buddha himself.
When the trailer of this film was released, many people were saying that they have taken mega serial. But this is no mega serial. It's like a serial dubbed from Hindi to Tamil. In that, even the nanny who works at home will look like she came from a beauty parlour. "Those who say they like to watch Hindi mega serials should go and watch this movie," joked Blue Shirt Maran about the movie "Varisu".