The popularity of video conferencing is steadily increasing, but the necessary tools are still in their infancy. Lenovo's new device provides a "one-click" solution for next-generation meetings.
It has long been known to everyone exactly what a video conference is, but it was mostly used when they were in a difficult situation: a long distance had to be covered quickly, or it was not possible to meet in the office due to some kind of illness. However, the Covid epidemic brought to the fore the type of meeting that had previously only been used as a forced solution, and it remained with us even after the pandemic passed. Hybrid working is becoming more and more popular, in fact, it is now an expectation from employees that they can spend some days of the work week in the home office. According to a survey by Frost & Sullivan, this affects 80% of companies, which has brought with it the need for video conferences.
A good video conference isn't when everyone is sitting in front of their laptop cameras trying to be productive and efficient – it's horribly confusing when some people are sitting in the same meeting room, while others are in remote locations. The image quality varies from machine to machine, the sound almost certainly resonates with someone, someone is quiet, someone screams – misunderstanding and narration side by side are guaranteed. However, the survey by Frost & Sullivan also revealed that companies plan to increase the number of video meetings fivefold by 2025, which can be safely called an explosive breakthrough.
Lenovo ThinkSmart One
Lenovo has been on the market for a while with its ThinkSmart meeting room solutions, but the ThinkSmart One is something new, with which the company wants to conquer medium-sized meeting rooms. The device – as its name suggests – is an all-in-one conference device. You will find the central control unit, microphones, speakers, camera and all necessary connections in one compact and robust housing. A single controller is connected to this with a USB Type-C cable (it can be up to 5 meters long), which resembles a 10.1″ tablet and contains only the most necessary sensors and controls.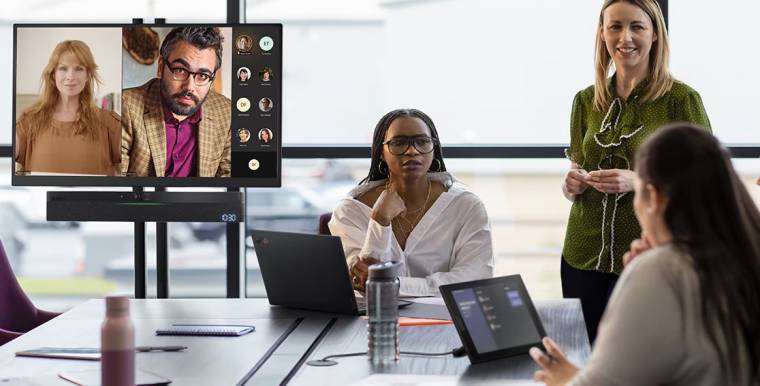 The main unit of the ThinkSmart One contains 2 x 25 watt speakers certified by Dolby, supplemented by a total of 8 microphones. The camera has 4K resolution and can be closed at any time with a physical cover plate. The advantage of the solution is that significantly fewer cables are needed, so installation can be completed in approximately 5 minutes. Another strength of ThinkSmart One is that the PC lurking in the house is based on Intel Core i5 and supports vPro remote management technology, which makes remote maintenance easier for system administrators. The Windows 10 IoT system runs on the machine, so Plug'n'Play operation is guaranteed for additional peripherals, and ThinkSmart Manager can be used for remote access at any time, for which the One also comes with a 1-year premium license.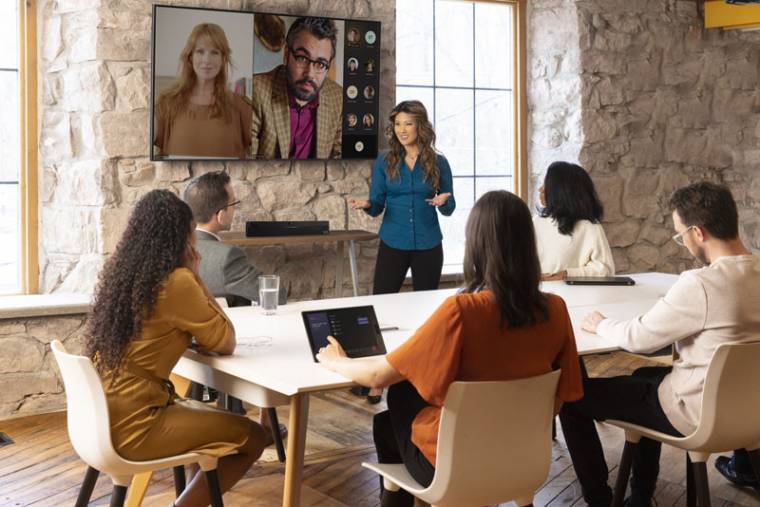 The Teams Rooms-based conference tool also supports multichat connection. This is Microsoft Direct Guest Login, which is compatible with Zoom and Cisco Webex, but the list is expected to expand further. You also get interactive services and the camera works with AI control, so, for example, it can automatically follow the individual currently speaking in the meeting room. A not to be neglected extra is the clearly visible digital clock in the lower right corner of the ThinkSmart One, which helps meetings not drag on too long. The ThinkSmart One comes with a 3-year premium warranty and support in Hungarian, which includes 24-hour repair in the event of an error.
Hardware, software, tests, interesting and colorful news from the world of IT by clicking here!