LG's Gram laptops have always been good, but they've pretty much had one value proposition: they're really light. Whether it's a 2.2-pound 15.6-inch laptop or a 2.98-pound 17-inch laptop, they're as light as they come. The design was always a bit dull, and the magnesium build never really felt premium, but they still did that one thing well. Things have changed. This year's lineup of Gram laptops is different, and the LG Gram Style just blew me away when I got to see it at CES 2023.
The LG Gram Style is the prettiest laptop LG has ever made
When I asked what the color of the LG Gram Style is (after looking at it), I was shown a spec sheet that just called it a dynamic color. Indeed, the word they were looking for was iridescent, so it changes color based on how you're looking at it. It's absolutely beautiful.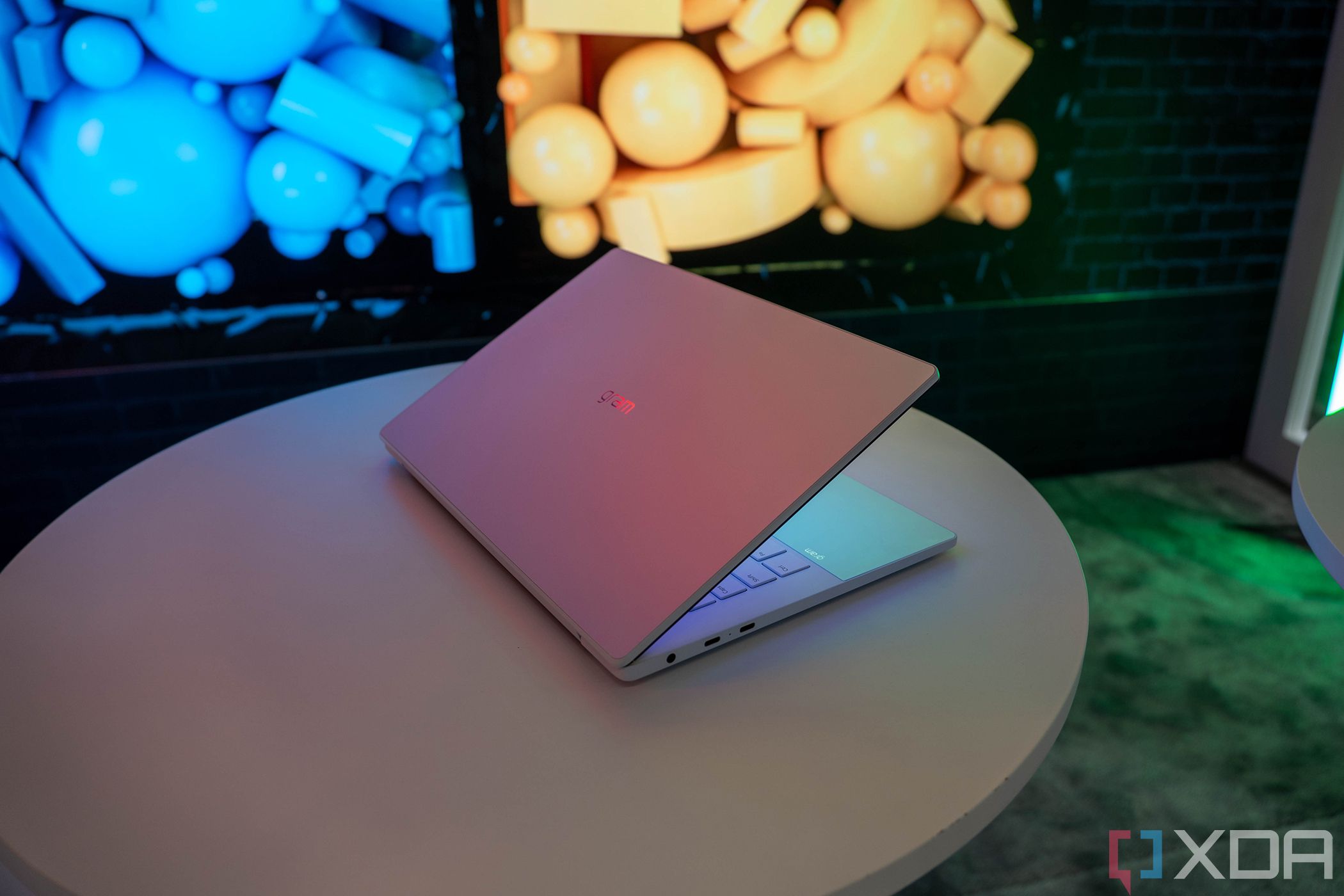 It's also not strictly made out of magnesium anymore. There's more glass involved, but the 14-inch model still weighs only 2.2 pounds, while the 16-inch one is more like 2.7 pounds. Yes, it's wildly light for something that feels and looks so premium.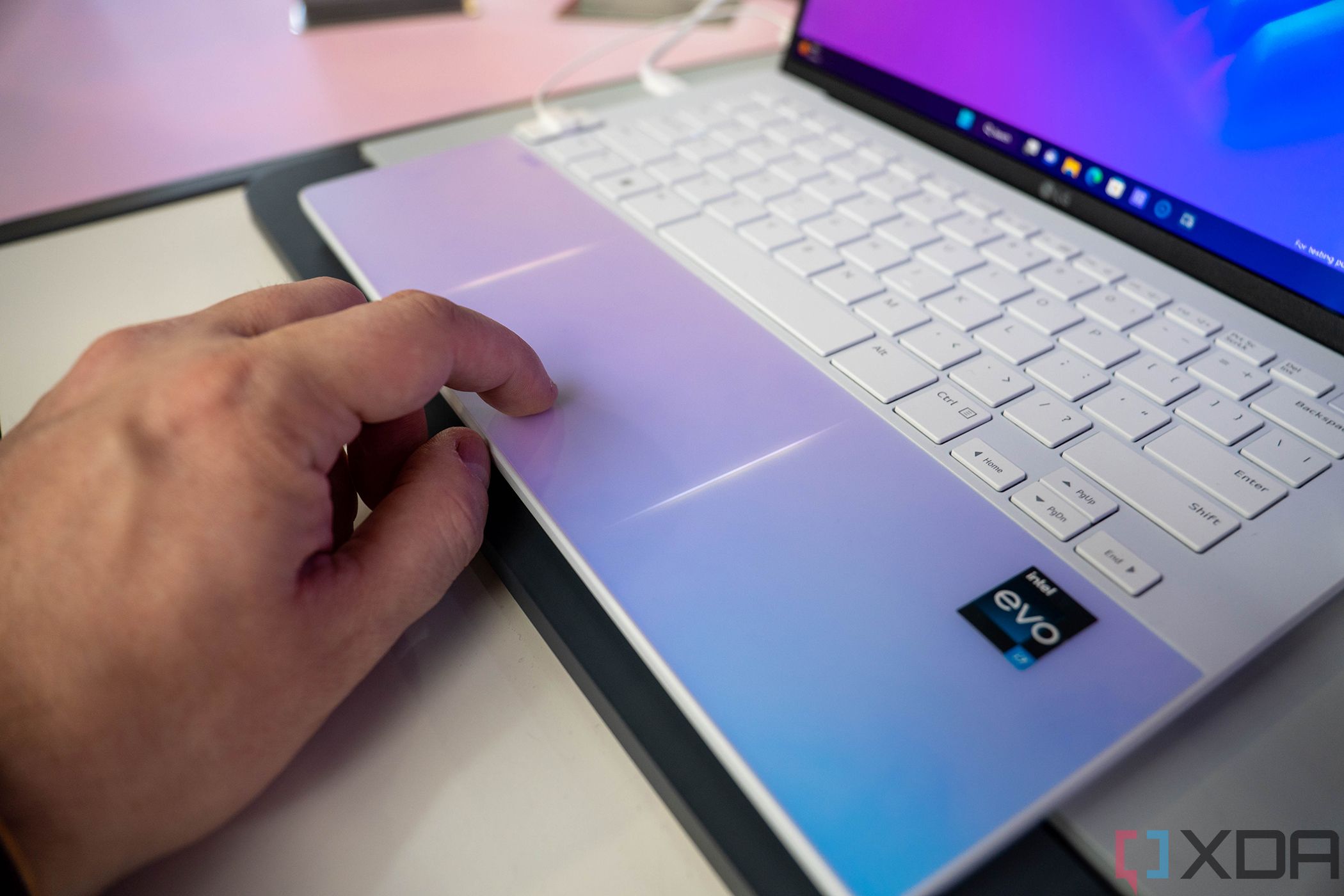 That's not all though, because it has a haptic touchpad that's reminiscent of Dell's XPS 13 Plus. The touchpad is entirely borderless, so when you look at the iridescent palm rest, you'll just see the palm rest. When you touch the touchpad, the two sides of it light up like you see in the image above. This should give you a bit more guidance than you get from Dell's option, which doesn't provide any indicator of where the touchpad ends.
This is a really nice touch to the design. Haptic touchpads are a great way to make a laptop feel modern and fresh, and this pulls it off nicely.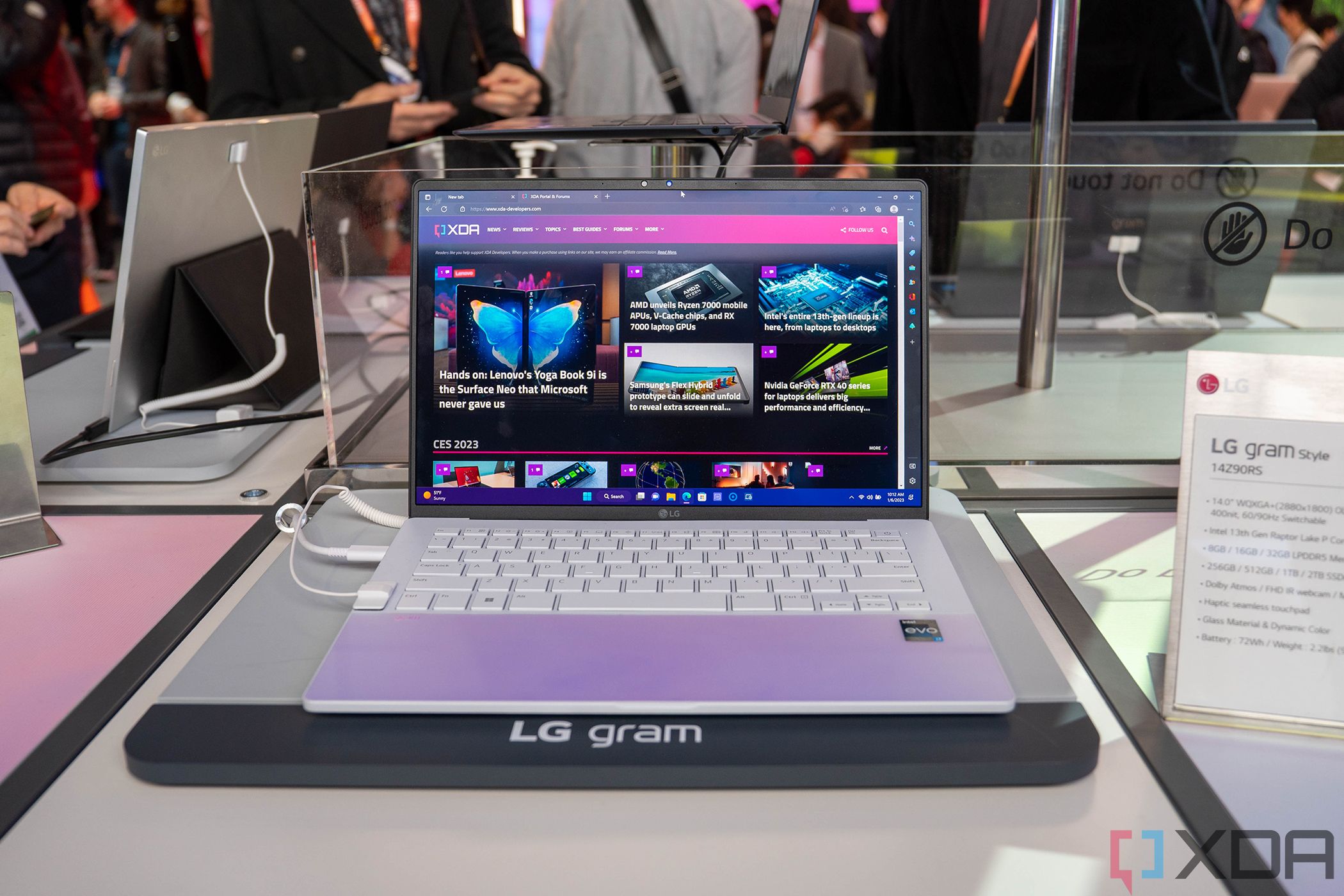 Another key part of LG's new Gram lineups is OLED displays. Coming in at 400 nits, it's either 2,880×1,800 at 90Hz on the 14-inch model, or 3,000×2,000 at 120Hz on the 16-inch model. Honestly, everything about this laptop looks excellent.
I really do appreciate laptop companies focusing on design. HP used to really focus on making a sexy Spectre x360, and now Lenovo has really entered the ring with the pretty Yoga 9i and its golden colors and glossy edges. Dell has redesigned its laptops as well, with the XPS 13 now coming in colors like Umber and Sky.
It's always great to see. Let's put an end to dull laptops that come in gray or silver.
The regular LG Gram is refreshed too
Speaking of dull, gray laptops, the more traditional LG Gram laptops got refreshes with 13th-gen processors. Not much else has changed, and they include the Gram 14, 15, 16, 17, 14 2-in-1, and 16 2-in-1. While the Gram 17 still comes in at 2.98 pounds, there's now an option for an Nvidia GeForce RTX 3050, and that unit comes in at 3.2 pounds. The 16-inch version offers a dGPU as well, and they both now have dynamic refresh rates of up to 144Hz.
The LG Gram Ultraslim is the other new entry
LG Gram has always been known for being light, but not necessarily for being thin. That's where the LG Gram Ultraslim comes in. It's 10.99-12.55mm thin, whereas the next thinnest Gram is 15.9mm thin (the LG Gram Style 14).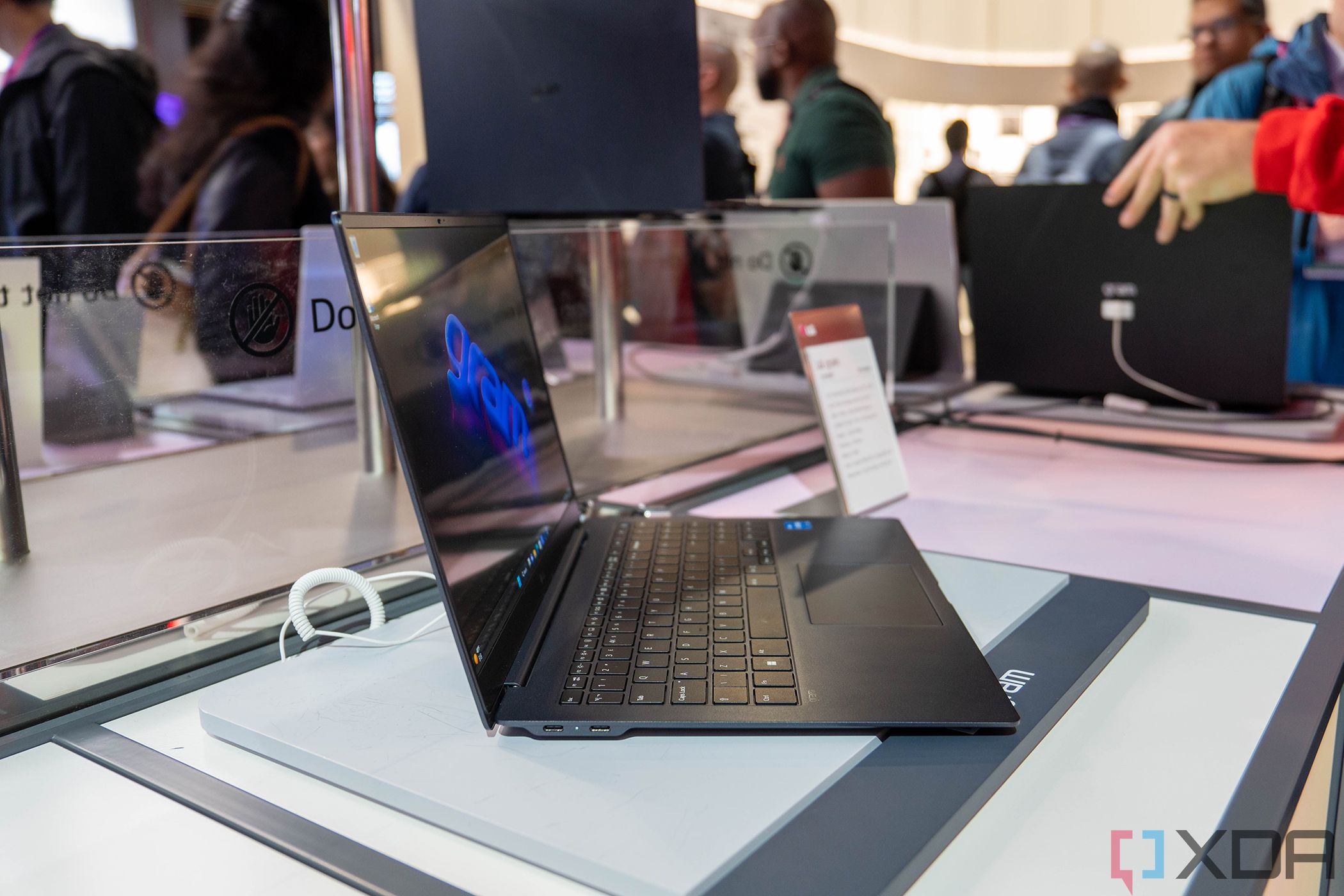 The LG Gram Ultraslim is also the lightest Gram, by one…gram. It weighs in at 998g, while both the Gram Style 14 and the Gram 14 weigh 999g. Usually when this happens, it's not a coincidence. For example, laptops end up being 999g because there's an internal goal for it to weigh less than a kilogram. I'm guessing that the Gram Ultraslim weighs 998g because there was an internal goal for it to be lighter than the rest of the lineup.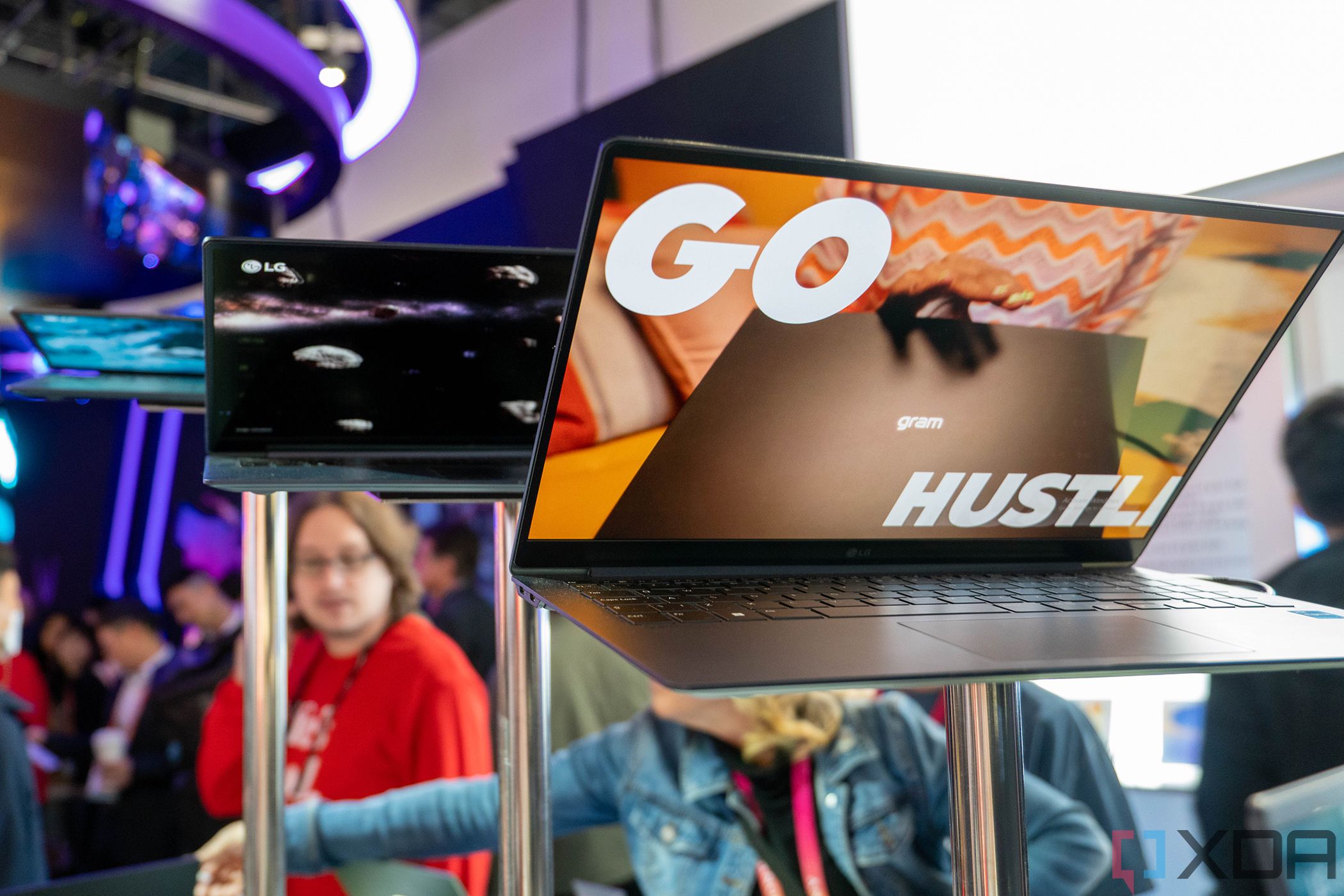 There are some interesting bits about the display. Like the new LG Gram Style, the screen is OLED, but it's 1,920×1,080, and it's 16:9 at 15.6 inches. The aspect ratio is a really strange choice for a brand new laptop, and I suspect it comes down to that weight goal. Using a 16-inch 16:10 panel means making a bigger device, which would certainly add more than a gram to its weight.
However, it's worth noting that the Gram 15 is the only other Gram to have a 16:9 display. I did ask LG why it continues to make four sizes, and I was told that people are still buying the 15-inch model.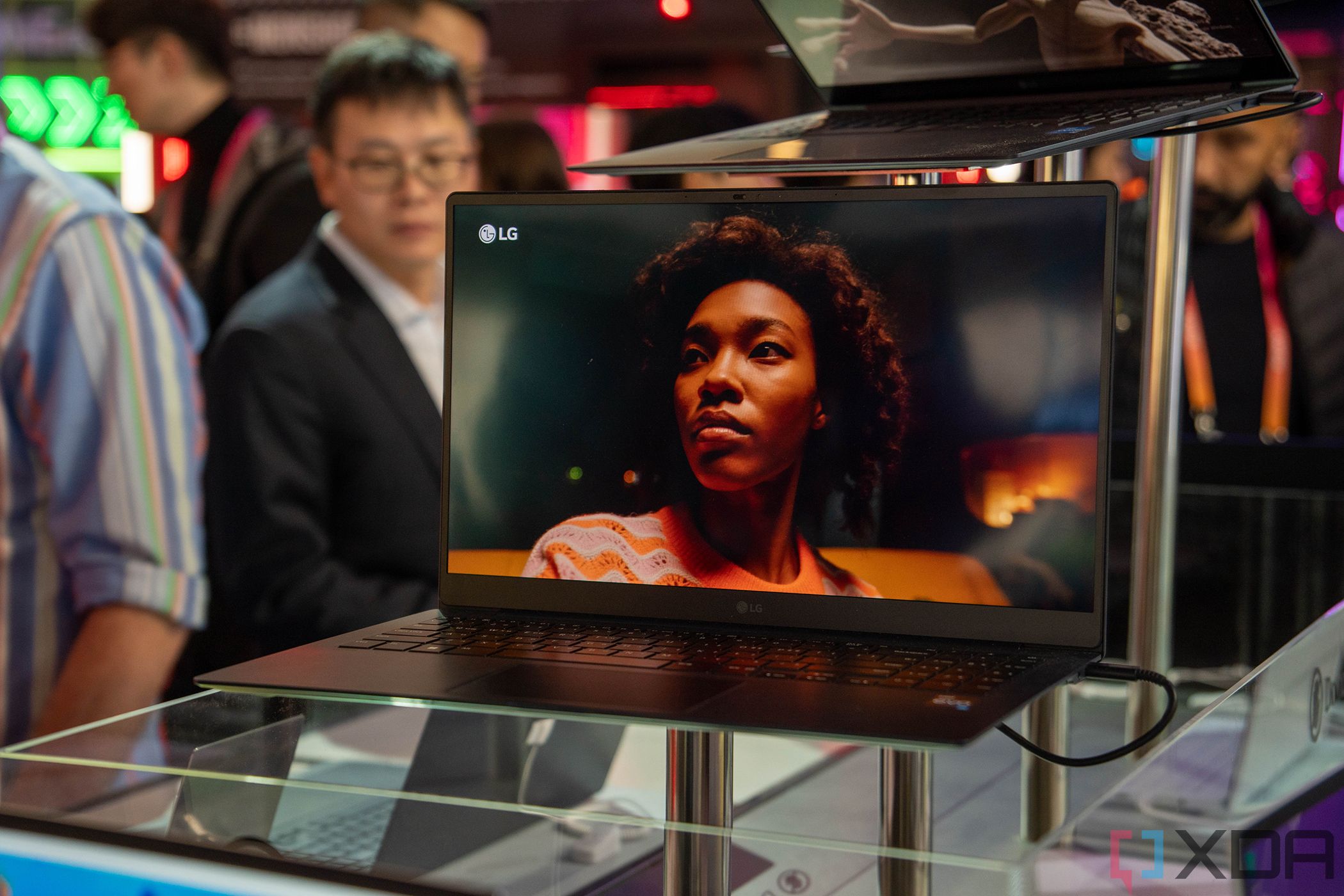 One thing to note is that the keyboard is shallow, definitely more so than with the rest of the lineup. I asked what the depth of the keys are, and I wasn't able to get an answer. I'll update this article if I hear back.
At 60WHr, the battery is the smallest of the Gram lineup. The second smallest is 72WHr, which is in the Gram 14.
While I'm absolutely smitted with the LG Gram Style, and the standard Gram lineup is mostly a spec bump, I'm skeptical of the Gram Ultraslim. Sure, it's really thin, light, and it's pretty sexy. But it also makes compromises to get there. It has a smaller battery, and the OLED display is lower resolution. The keyboard is shallower, the screen is 16:9, and more.
I think that along with being known for being really light laptops, I've also known the Gram lineup to not have to compromise to get there. The only thing you'd notice is the material, but other than that, they've packed great displays, full-size processors, and more. If LG had kept to that principle, it could have. The simple answer would have been to make the Gram Ultraslim a 14-inch laptop. The screen would be 16:10, the battery could be bigger, and so on.
In fact, we all know that smaller screen laptops are more mainstream. They just sell more. That's why when a company has two sizes of a laptop, the smaller one almost always has more color options. But now, LG has nine laptops under its Gram umbrella. One has a 17-inch screen, three have 16-inch screens, and two have 15.6-inch screens. LG has to be seeing success from larger-screen laptops, perhaps because it can make them lighter, and so much easier to carry, than the competition.